Despite his Christian upbringing, Craigie Aitchison cared less for religion than he did for art. His use of Christian imagery drew upon the art of the past and the landscape of his Scottish homeland.
InSight No. 118
Craigie Aitchison, Crucifixion with Angels, 1960
---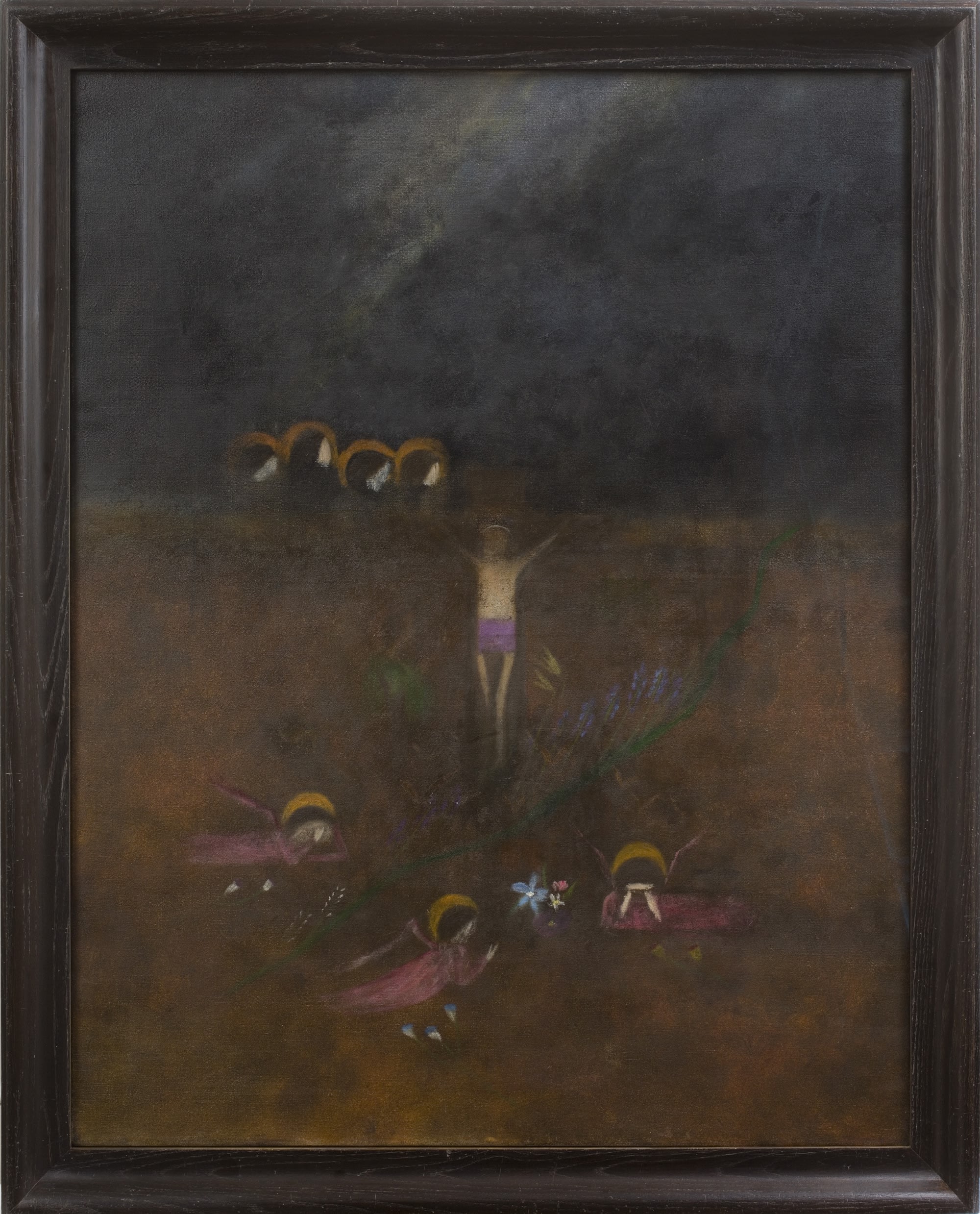 Like Giotto, Craigie Aitchison (1926–2009) understood that angels are a practical device to communicate emotion. In both painters' treatment of the crucifixion of Christ, angels haunt the air and exclaim with gestures of anguish: some raise hands to their faces, others throw their arms up in despair. The dynamism of these gestures is in marked contrast to the limp, corpulent figure of Christ, suspended from a crucifix, and heightens the urgency of the drama.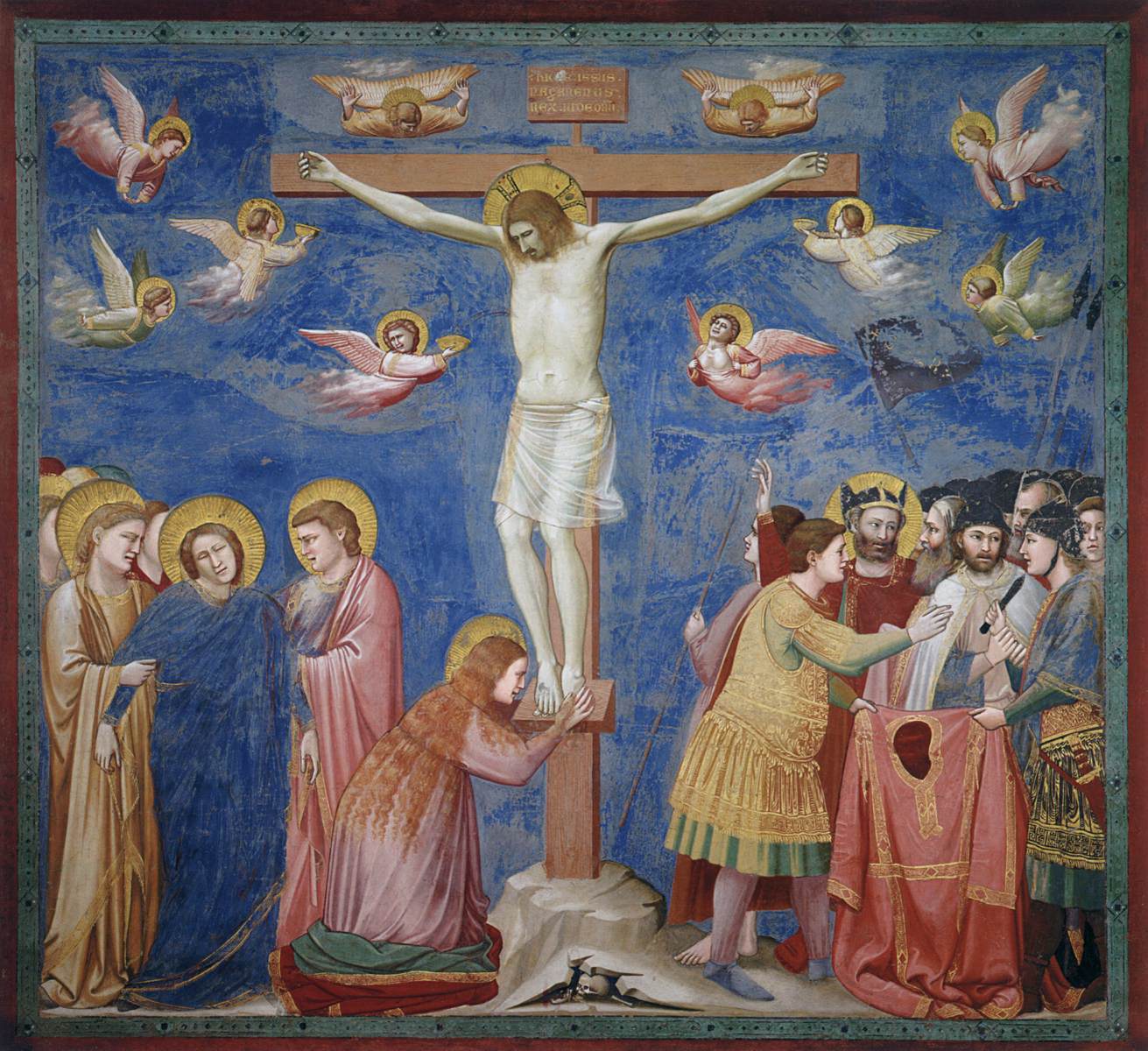 In his first solo exhibition held at Helen Lessore's Beaux Arts Gallery in January 1959, Aitchison showed only one crucifixion. He had made his first painting of this subject a year earlier in 1958 – a diminutive panel with Christ wearing pink shorts set against an upper register of gold. Aitchison was just then warming to the theme and his second exhibition in 1960 included no fewer than five crucifixions variously entitled 'Crucifixion', 'The three Crosses', 'Crucified' and 'Christ on the Cross'. This was the first time that Crucifixion with Angels, completed earlier in the year, was shown in public. It has since been acknowledged as a key work in Aitchison's oeuvre, being selected for his retrospective exhibitions with the Arts Council in 1981 and the Royal Academy in 2003.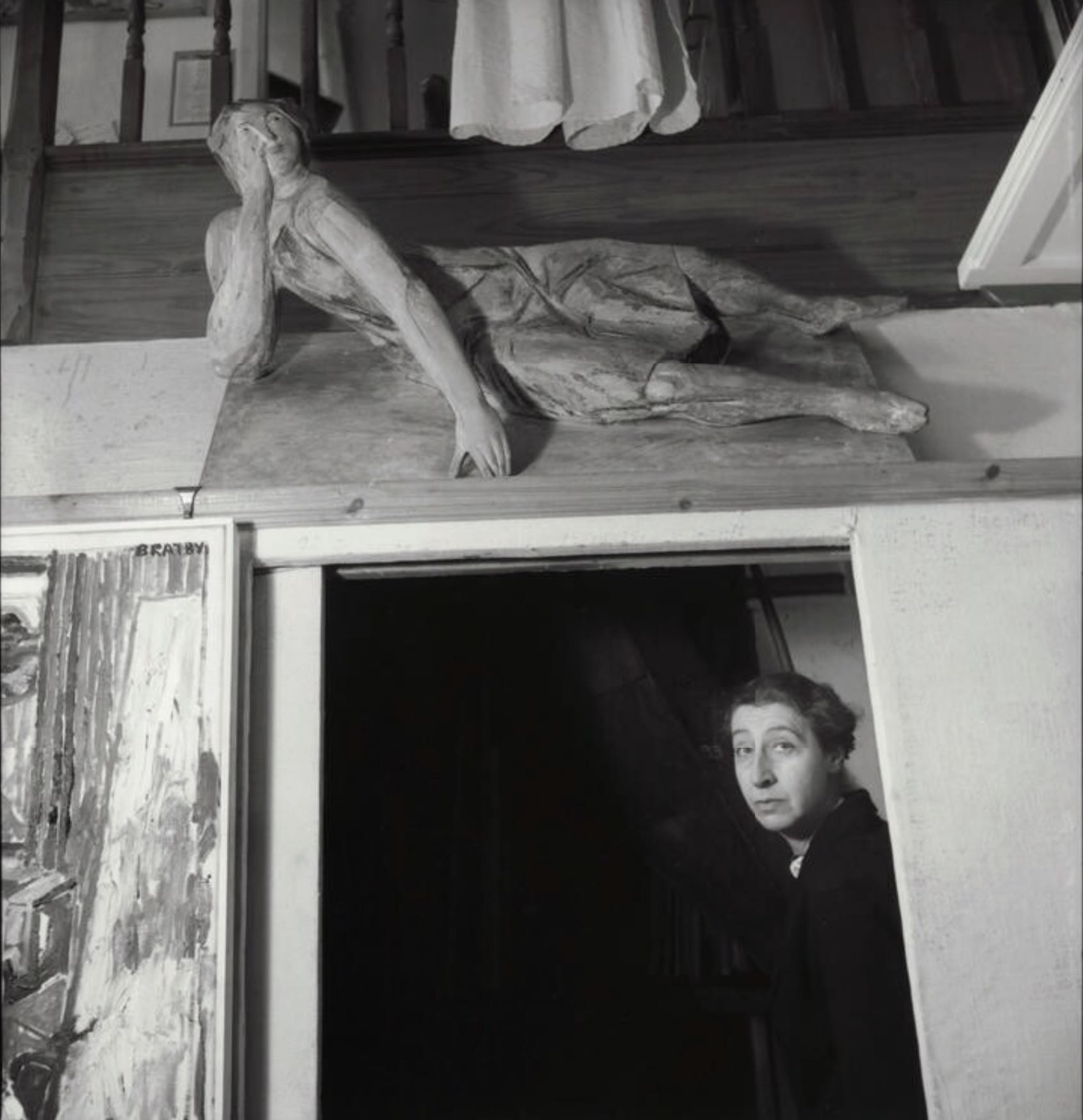 Drawing inspiration from a journey to Italy in 1955, Aitchison painted religious subjects that were less devotional than they were atmospheric. These works – including his crucifixions – borrow freely from a Mediterranean world of rich umber, dazzling sunlight and crepuscular heat (see InSight 94). Other Christian imagery to be found in his Beaux Arts Gallery exhibition in 1960 included 'Madonna and Child', 'Saint Sebastian' and 'Nativity and Angels'. The final work in the exhibition – Loggia, from Annunciation by Domenico Veneziano – makes apparent the essentially artistic basis of Aitchison's interest in Christian iconography. Although he himself had an eclectic Christian upbringing (see InSight 5), it was as a vehicle for art that Christian subject-matter came alive for him.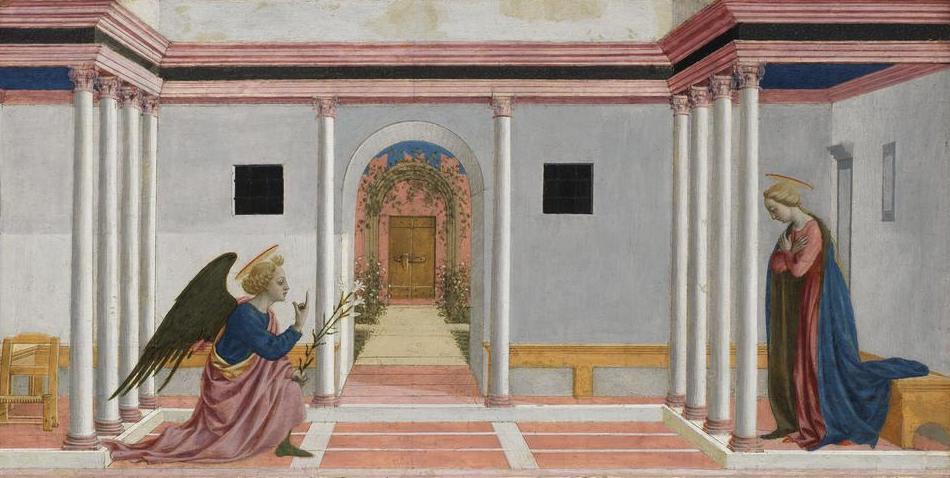 Crucifixion with Angels relates closely to another crucifixion made a year earlier in 1959. The depiction of angels – with bright golden halos and purple robes – is consistent between the two works, though Crucifixion with Angels of 1960 includes a line of bodiless bobbing heads along the horizon. In distinction to Aitchison's later use of bright unblemished colour, both apply colour in scrubbed surfaces that evoke atmosphere or weather. While the 1959 crucifixion represents the sky in a shade of midnight blue, the 1960 work uses black and brown to create rippling clouds that rush across the darkened sky. At the time Aitchison was living in Scotland, the country of his birth, and the subtext of these works is the unfolding seasons in rural Clackmannanshire. Both include still life elements, perhaps local wild flowers.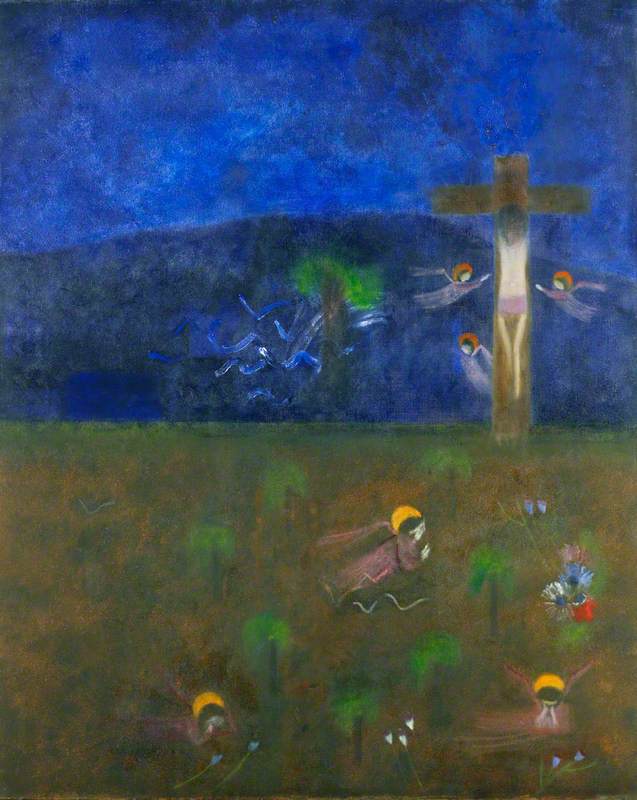 Aitchison's dealer Helen Lessore was sensitive to the propitious connection between his work and his surroundings. In a letter of 30 July 1959, she advised him not to relocate:
I think it must be beautiful up where you are in Scotland. I think it's because you live up there that you get that extraordinary serenity and collected quality in your pictures. I am afraid it might get battered out of you if you lived in London. […] Most young painters can't resist settling in London, and gradually they lose the purity and magic of their early work. I think so much of your work, I am terribly anxious that you should not make any move that might injure it.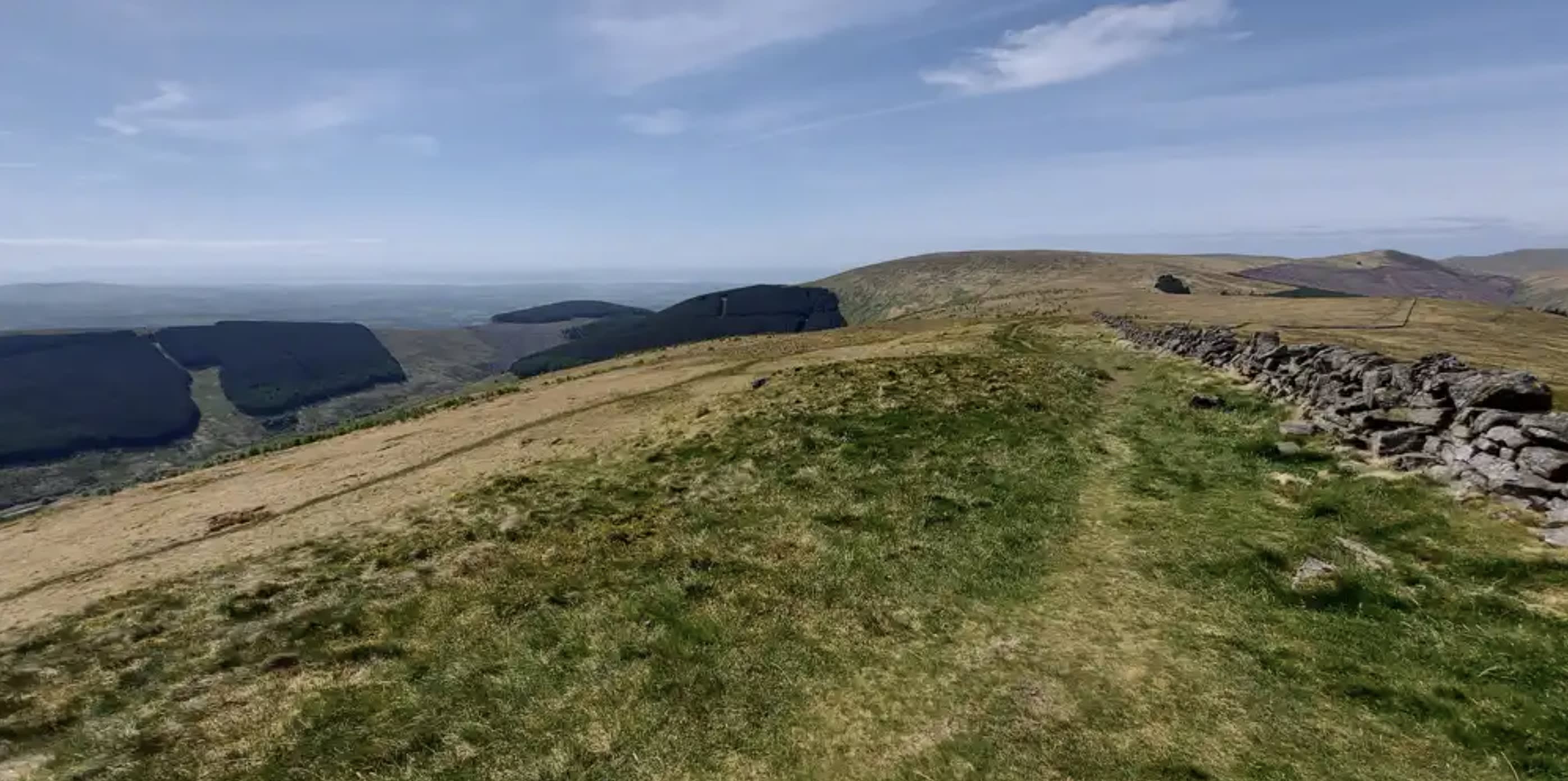 Notwithstanding their warm friendship, Lessore's advise went unheard and Aitchison moved to Lambeth with his mother in 1962 – just three miles from Lessore's home in Denmark Hill. Contrary to her expectations, his work continued to flourish: colour fermented into saturated, crackling, mineral hues; the outlines grew sharper; his method settled. Yet it was from Scotland that Aitchison's landscapes continued to derive their atmospheric intensity. He later returned to the Isle of Arran and its view of Holy Island, and the simple up-and-down summit that graces the horizon in so many of his paintings relates to that place. As well as being an original personal response to Giotto and a study in colour uniquely sensitive for the period, Crucifixion with Angels is an early reflection of Aitchison's important connection with Scotland.
Images:
1. Craigie Aitchison, Crucifixion with Angels, 1960, oil on canvas, 111.5 x 85.7 cm
2. The Crucifixion in the Arena Chapel, Padua, by Giotto
3. Helen Lessore at the Beaux Arts Gallery, 1959, photographed by Ida Kar © National Portrait Gallery, London
4. Domenico Veneziano, The Annunciation, circa 1442-1448, Fitzwilliam Museum, Cambridge
5. Craigie Aitchison, Crucifixion, 1959, Arts Council Collection, Southbank Centre
6. Clackmannanshire
7. Crucifixion with Angels (detail)
February 9, 2023