InSight considers an early work by the recently knighted artist Sir Grayson Perry. It is on display at the London Art Fair until this Sunday.
InSight No. 117
Grayson Perry, Untitled (She Is My Mind), 1985-87
---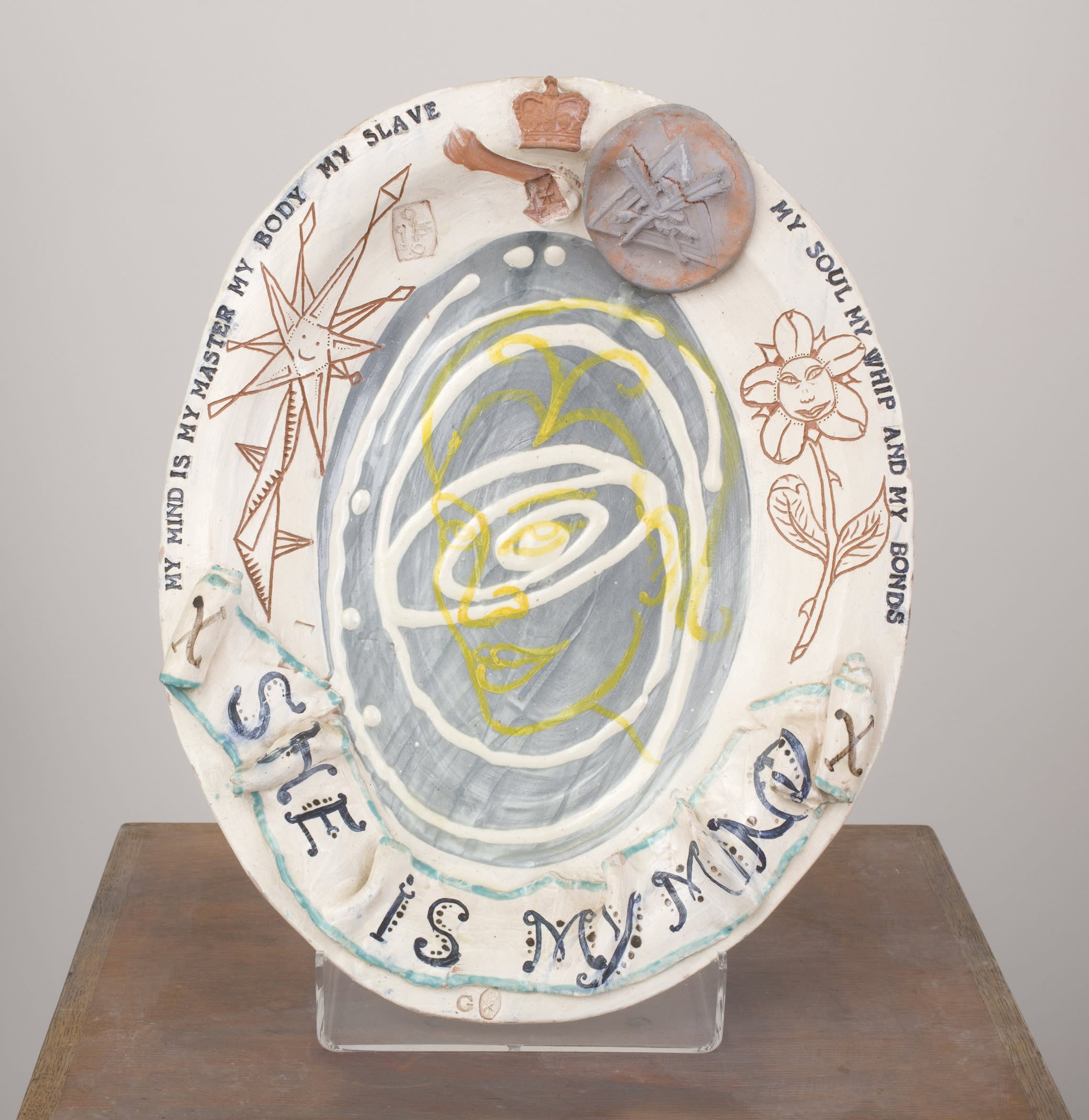 Sir Grayson Perry (b. 1960) has a strong sense of the absurd in life. His public accolades have mounted up over the last twenty years, beginning in 2003 when he unexpectedly beat the Chapman Brothers to win the Turner Prize, yet he has continued to flaunt his identity as a 'transvestite potter from Essex'. In 2013 he delivered the Reith Lectures, reportedly the first visual artist to do so, in which he cheerfully rebuffed art world norms by flashing his armpit hair, describing it as 'the last truly dangerous thing – the only thing you won't see in art today'. Most recently, in the New Year Honours List, he was awarded a knighthood for services to the arts.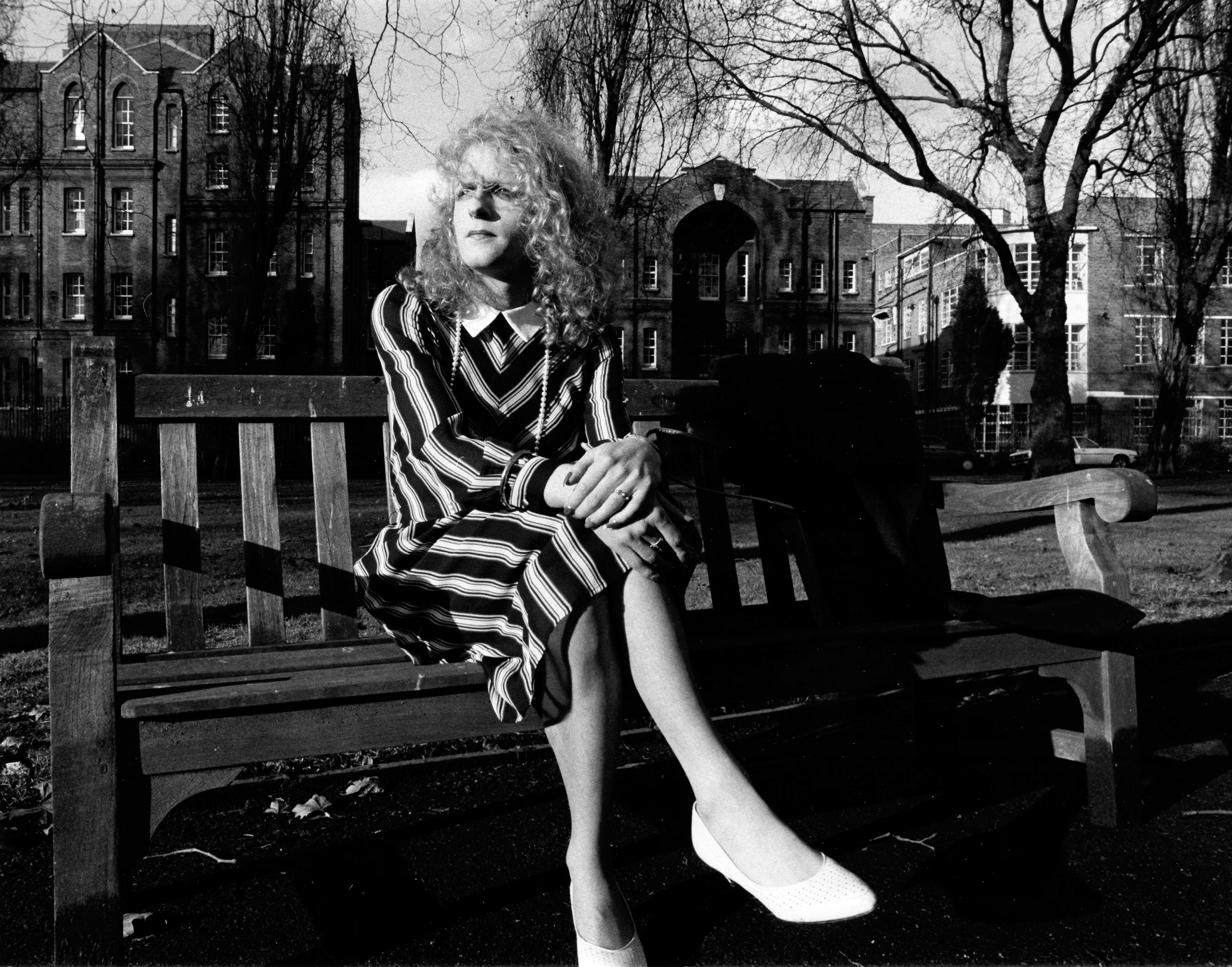 Even before his rise to art world renown, Perry had striking messages to communicate in interesting ways. In an untitled oval platter made in the mid-1980s, poetic and provocative language spooled its way round the edge of the cavetto:

MY MIND IS MY MASTER MY BODY MY SLAVE
MY SOUL MY WHIP AND MY BONDS
SHE IS MY MIND

References to sexual bondage are commonplace in Perry's work of the period. Instead of speaking to any specific reality, however, his playbook of words and images at the time consisted of any iconoclastic gesture within reach. His many and various potter's marks included the keys of St Peter and, more lastingly, a 'W' above an anchor (as in 'wanker'). Several works use Christ and the Roman Catholic Church as convenient idols for irreverent satire, and the artist's sperm was an occasional enhancement to his ceramic medium. Many works freely conflated fantasy and fact, spiritual and sexual ecstasy, and male and female identities.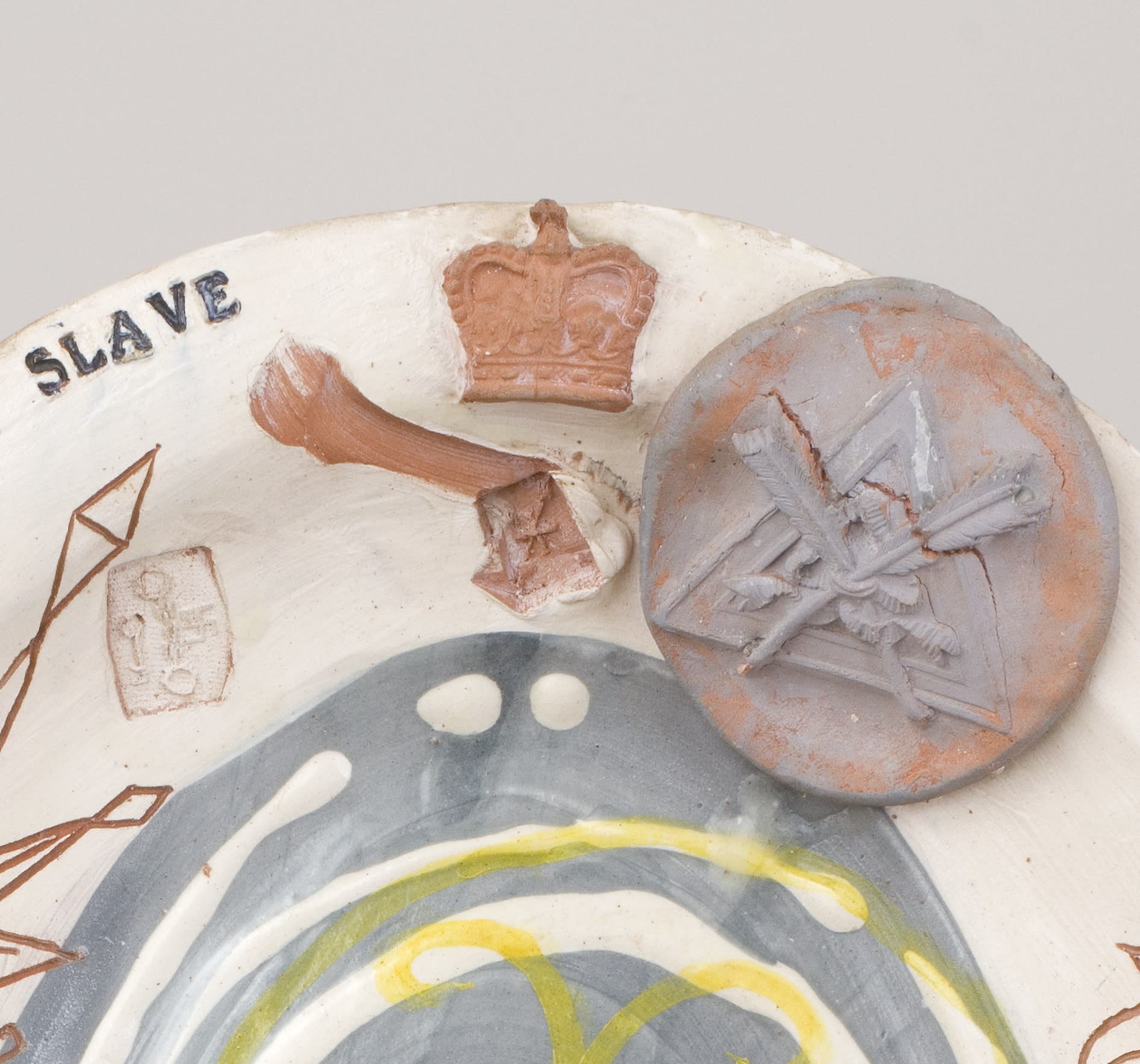 Perry's 'post-therapy' work, made since the mid-1990s, has taken a more disinterestedly analytical approach to gender, identity politics and contemporary affairs. By contrast, Untitled (She Is My Mind) belonged to an unselfconsciously autobiographical phase of his career. At the time, his personal life was inseparable from the identities he projected in ceramic form. It is presumably one of Perry's own interior voices who speaks the words 'SHE IS MY MIND', perhaps referring to his feminine alter ego Claire. A portrait of the elusive 'SHE' is drawn in a yellow glaze at the centre of the dish, her features generic and partially lost to underlying concentric circles of opaque white glaze. The variety of Perry's interior voices is hinted to with the use of different fonts: where writing at the upper edge of the plate is fastidiously regulated with hand-impressed type, the phrase 'SHE IS MY MIND' is hand-written in a scrolling, dot-decorated glaze.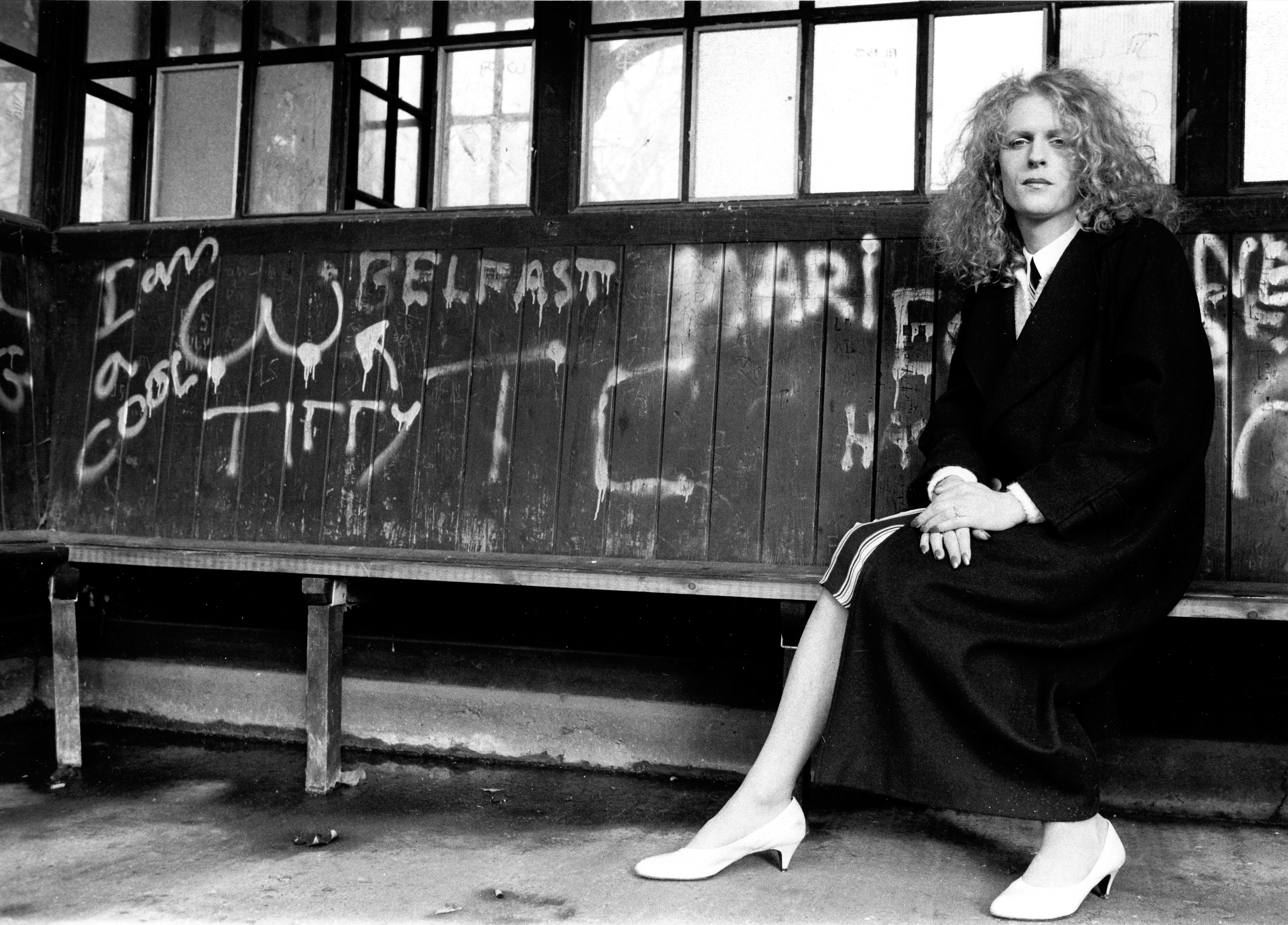 Perry's art has always been verbose. As he explained in 2020:

I have always used written text in my art and words featured a lot in my early ceramics. It seemed easier to be funny, and to convey complex ideas, with words. Also, back in the 1980s, Britain was not as much of a visual culture as it is today: I thought the audience would feel obliged to read all my texts and thus spend longer in the exhibition. I also love the look of words in art.

Perry's texts are rarely transparent, often providing cues that tie into accompanying imagery or, in more recent work, topics from the news or popular culture. In Untitled (She Is My Mind) the words appear rather as a cri de coeur, disconnected from most of the accompanying embellishments.
Notwithstanding the important shift from 'pre-therapy' to 'post-therapy' that took place in the 1990s, Perry's work has always been loaded with post-modern stratagems. Complex meanings are crafted using contradiction, redundancy and uncertainty. Untitled (She Is My Mind) was recently included in the important touring exhibition, Grayson Perry: The Pre-Therapy Years (see InSight 68), where it was shown alongside similarly eclectic ceramics. In this single work Perry used a cacophony of stencilled sunflowers, superadded terracotta cameos, line drawing painted in a glaze, moulded banderols, no fewer than three different potter's marks, and several stencilled motifs on the reverse. It suggests the working method of someone relatively out of control, possessed of a vision, and impatient to fill the void with pregnant symbols. Arise, Sir Grayson – or should that be Dame Claire?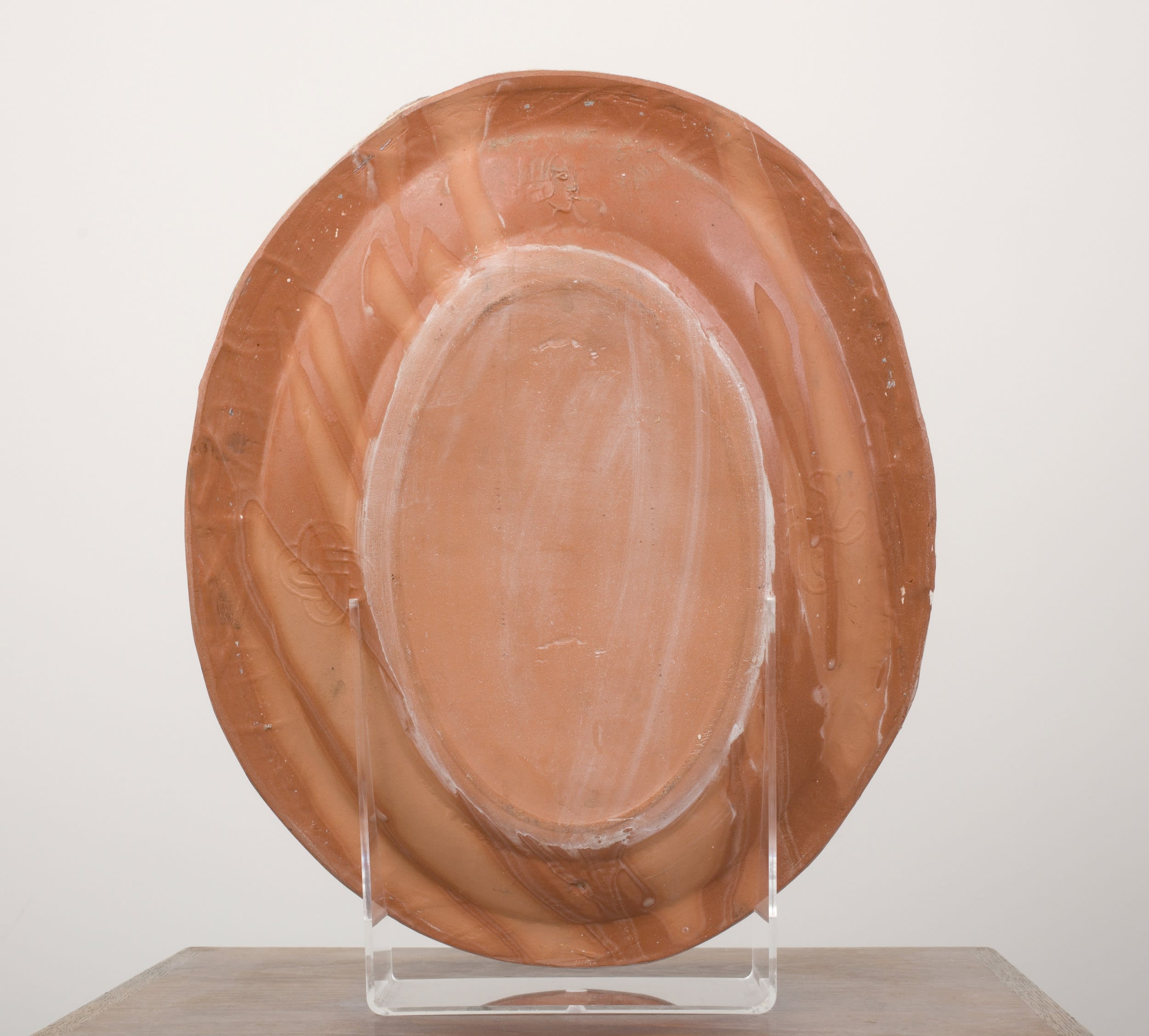 Images:
1. Grayson Perry, Untitled (She Is My Mind), 1985-87, glazed ceramic with incisions, impressed type and applied decoration, 39 x 35 x 5 cm
2. Grayson Perry in the early 1980s, photographed by Richard Gilbert
3. Untitled (She Is My Mind) (detail)
4. Grayson Perry in the early 1980s, photographed by Richard Gilbert
5. Installation shot of Grayson Perry: The Pre-Therapy Years at York Art Gallery
6. Untitled (She Is My Mind) (verso)
January 18, 2023