Once the chief enfant terrible of the Young British Artists, Damien Hirst has long since swapped formaldehyde sharks for a more nuanced kind of sculpture.
InSight No. 107
Damien Hirst, Trust, 2003


---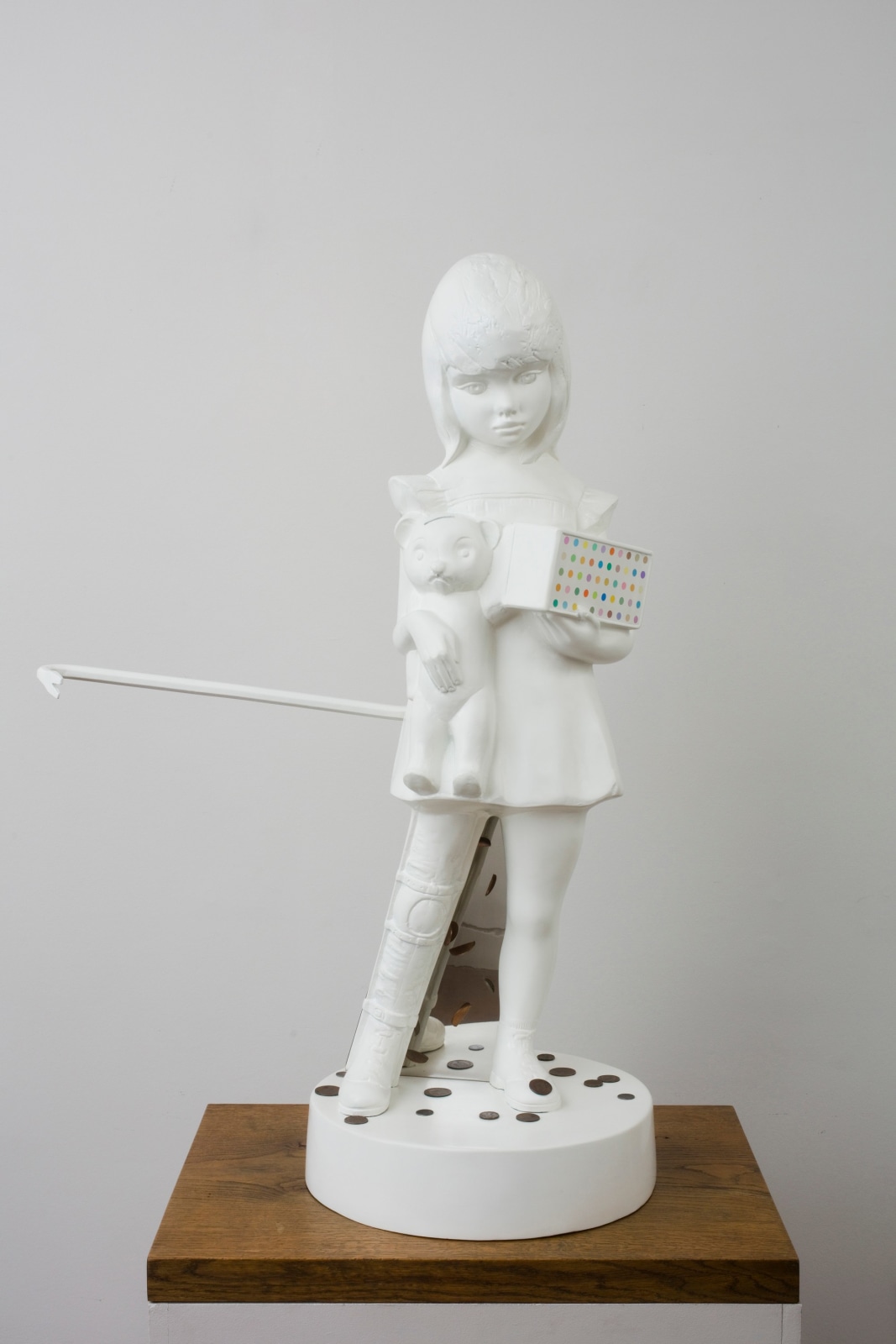 There are few things worse than stealing from charity. Nothing interests Damien Hirst (b. 1965) more than a taboo, however. In his sculpture Trust, he represents this taboo and challenges the historic misrepresentation of disabled people. The imagery is taken from charitable collecting tins used between the 1960s and the 1980s by the Spastics Society (since renamed Scope). When translated into a white-washed sculpture, this child with cerebral palsy assumes a Hoffmann-like quality, at once life-like and inanimate. A hatch at the rear of the figure has been broken into and coins cascade to the ground. More coins fixed to a sheet of stainless steel appear to fall through the air. Cradled in the child's arm is a collecting box decorated with Hirst's signature grid of colourful spots.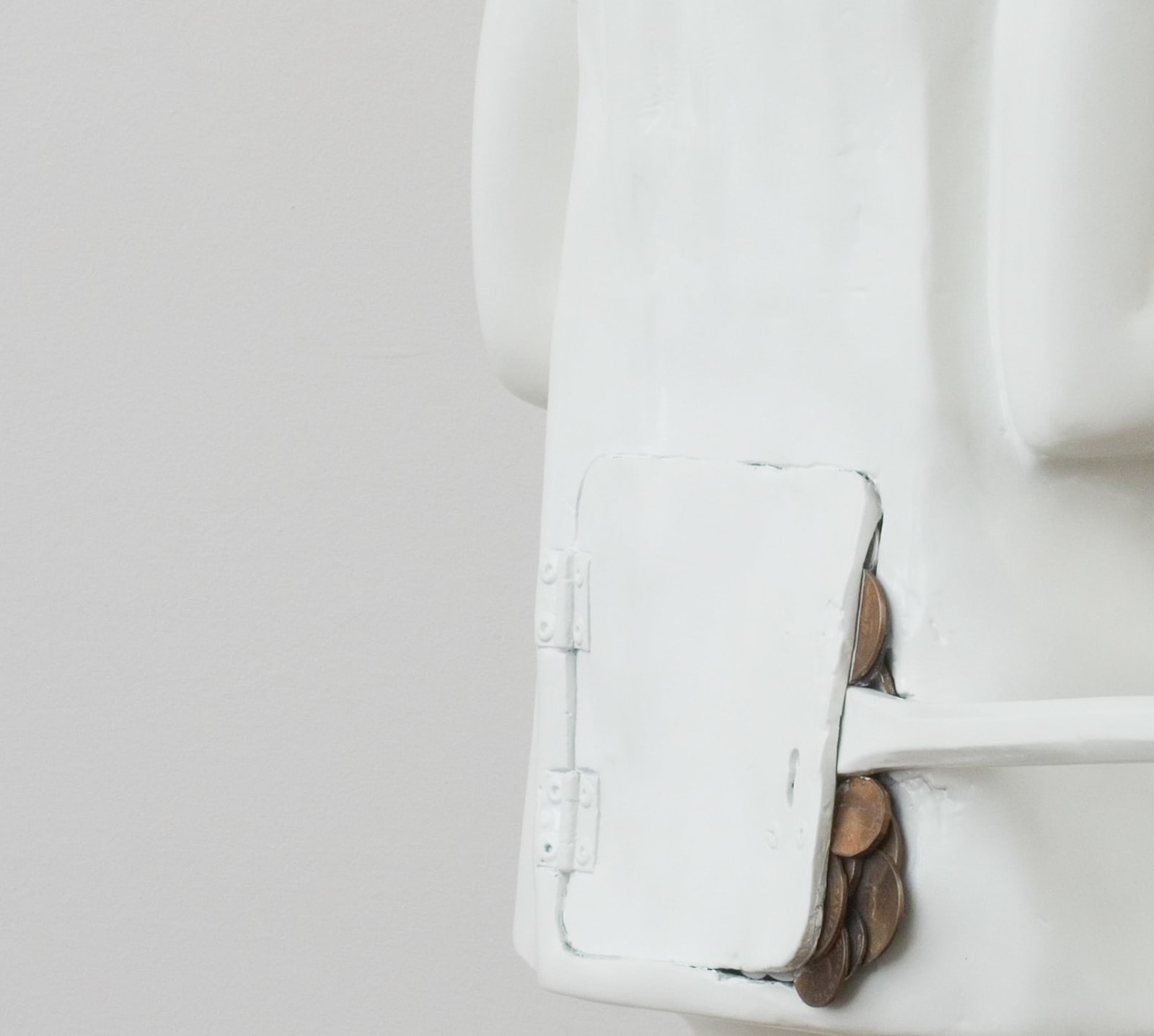 The hatch has been wrenched open by a crowbar that floats in mid-air. The perpetrator's identity is not revealed, and Hirst seems to spread wide the blame. Standing before the work, even the viewer seems to be implicated in the crime. Hirst's central message in Trust was to satirise the problematic historical representation of disabled people, focusing on the child's unduly pitiful appearance and the loss of agency this entails.
Alongside Trust was produced a monumental companion work called Charity, which uses the original collecting box colours of yellow and blue. This larger work has been widely exhibited, first in Hoxton Square at the time of Hirst's 2003 White Cube exhibition and subsequently at Yorkshire Sculpture Park and Houghton Hall. When it was included in Sculpture in the City 2015, a spokesperson for the charity Scope told the Sunday People:
This artwork highlights an outdated vision of charity and disability. However, while attitudes to disabled people have improved in this time, many people still feel awkward about disability. We hope that this sculpture will encourage conversations about disability amongst people in our capital.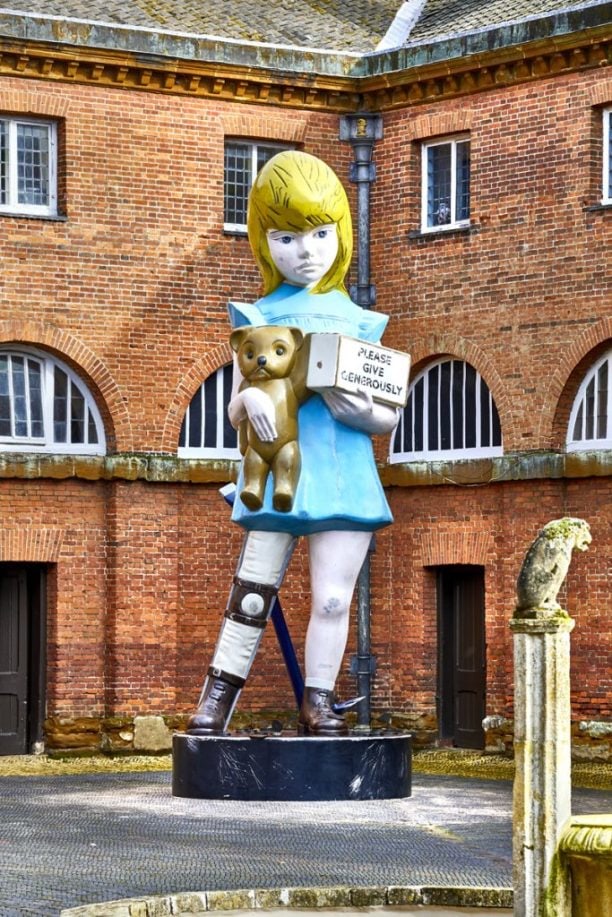 Hirst has produced a wide variety of sculpture since his iconic, black-framed, Koons-inspired glass tanks of the 1990s. Seminal works such as A Thousand Years were significant achievements but did not mark the limit of his sculptural imagination. Since then he has continually departed from sculptural norms, most often using the pseudo-medical imagery of a deconstructed human figure. A pregnant and locally famous example - Verity - graces the harbourside at Ilfracombe in Devon, for example. More recently, culminating in his Venice exhibition in 2017, Hirst forged a new idiom of coral-encrusted faux-antique discoveries, made in red marble and other lavish materials. One work in the cycle depicts the popular musician Rihanna in the guise of the Egyptian goddess Aten.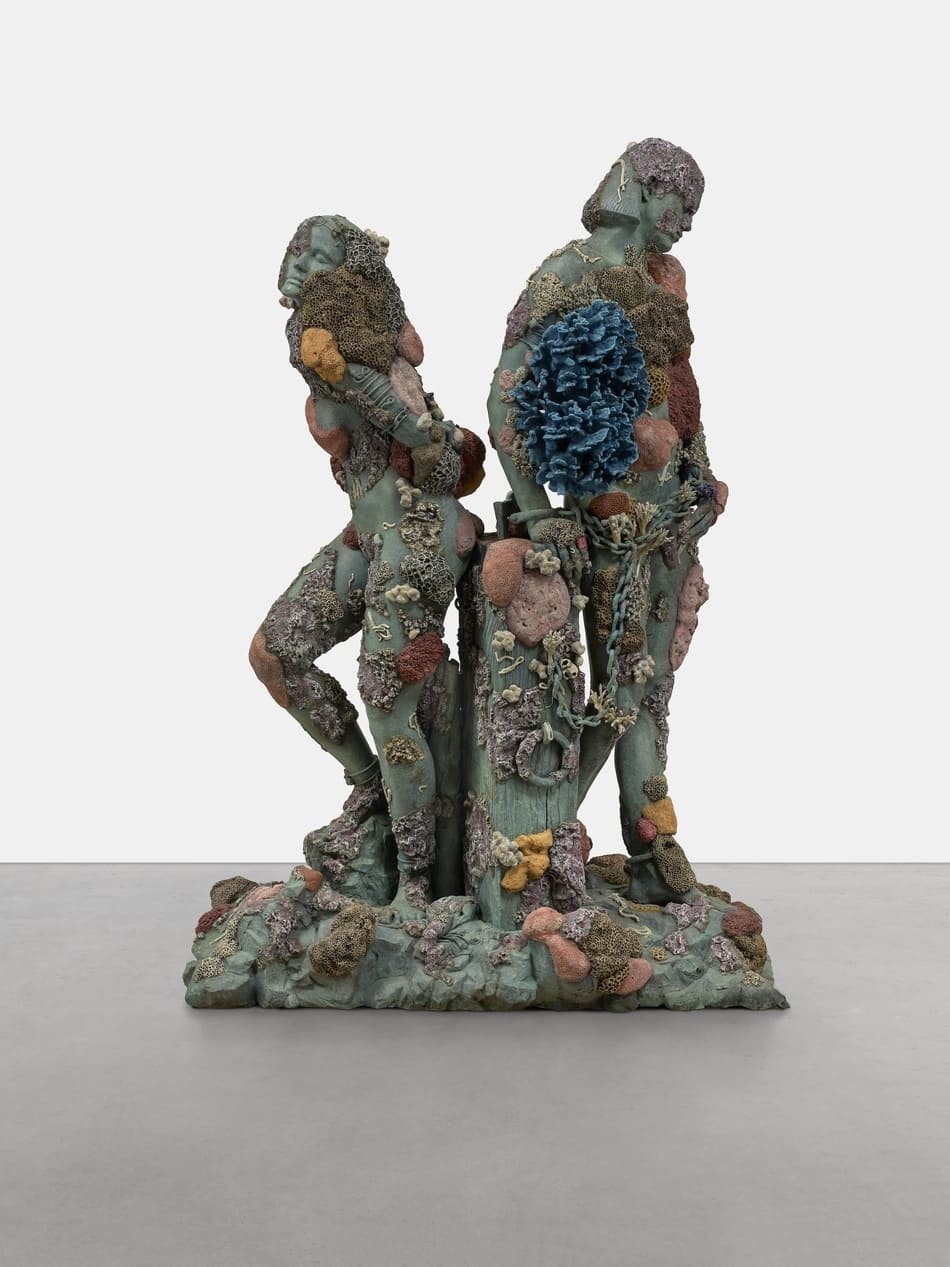 The production values of Hirst's sculpture are exemplary, with high quality materials and fastidiously detailed finishing. His workshop in Dudbridge, Gloucestershire, was established in 2006 to help realise his sculptural ideas, with the renowned foundry Pangolin Editions in nearby Brimscombe helping to realise his bronzes. (Trust was cast by Pangolin and is stamped with the foundry's mark.) These arrangements closely resemble the historical studio practice of sculptors since the Renaissance, with a clear distinction between artistic conception and execution. Those who question Hirst's agency over his sculpture are guilty of peddling an unrealistically narrow definition of authorship. On this view, most of Rodin's bronzes and Raphael's fresco cycles would also be ejected from the canon. Much of Hirst's work, including sculpture like Trust, is inseparable from his personal qualities: playfully transgressive, media savvy, commercially shrewd. However, shortly before the COVID pandemic, Hirst retreated from these industrious operations and returned to the studio to paint. Though he may yet return to his practice in sculpture, he has recently (and not for the first time) sought to redefine himself, this time becoming a painter of cherry blossoms. Though his current interests lie elsewhere, Hirst's sculpture studio awaits his renewed attention.
Images:
Damien Hirst, Trust, 2003, cellulose paint on bronze with coins and mirrored stainless steel, 100 x 65 x 36 cm | For Sale
Trust (detail)
A Spastics Society collecting tin © Scope
Charity on display at Houghton Hall in 2018 ©Damien Hirst and Science Ltd. All Rights Reserved, DACS 2018. Photo by Pete Huggins
Damien Hirst, Children of a Dead King, 2010, Private Collection © Damien Hirst and Science Ltd.

July 13, 2022