The writer N.M. Seedo was the defining model of Leon Kossoff's early career. A painting of her - Seated Figure No. 1 - is currently on display with Piano Nobile at Masterpiece.
InSight No. 106
Leon Kossoff, Seated Figure No. 1, 1958
---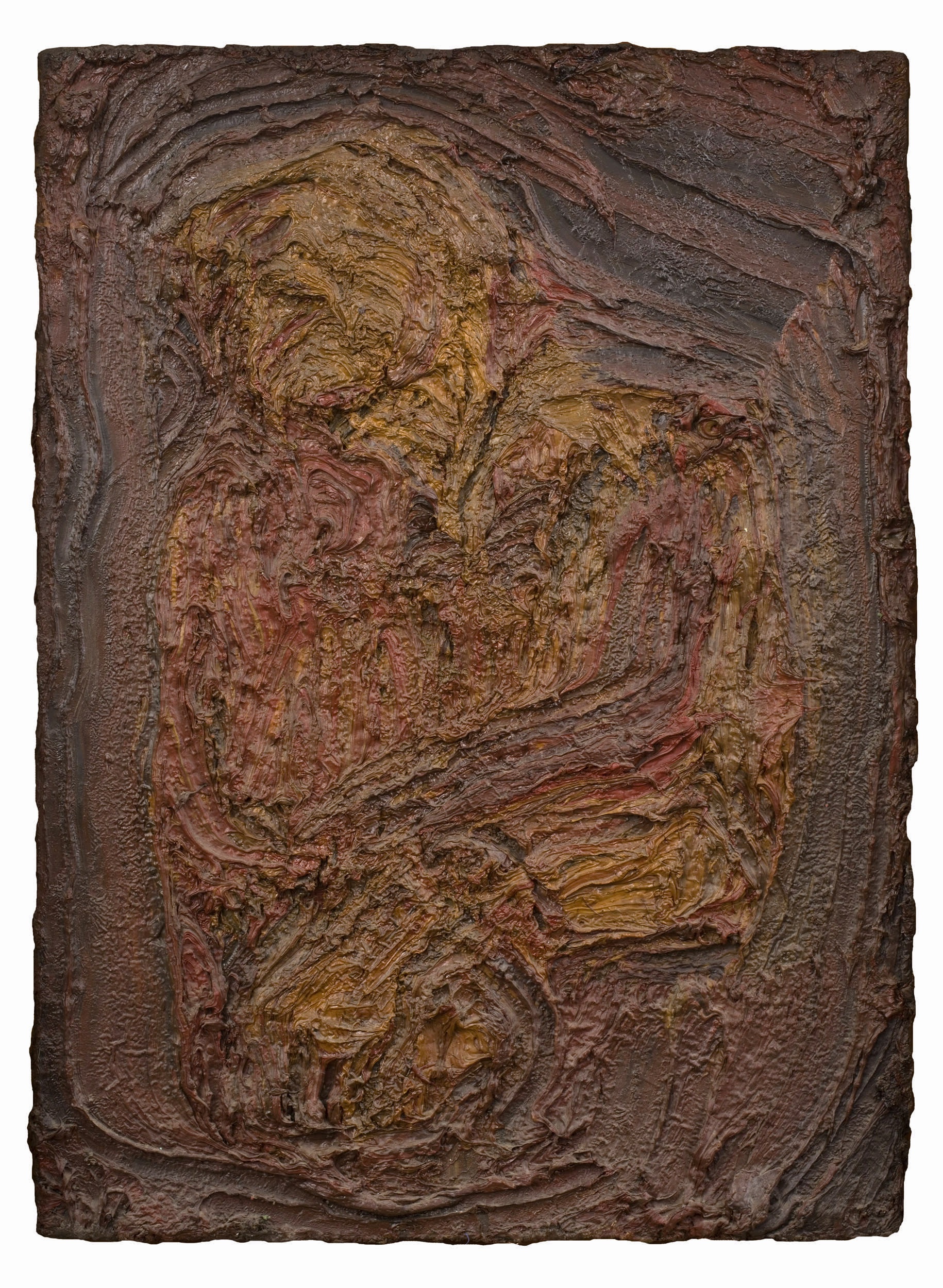 In 1935, an old widower married a younger widow. The widower's grandson was the painter Leon Kossoff (1926–2019) and the widow's daughter was Sonia Husid, subsequently known by the pseudonym N.M. Seedo or occasionally Sonia Seedo. The marriage made them distant cousins, but they later met and formed a close friendship. Seedo sat for Kossoff between 1952 and 1965, a formative period in which her image fused with his art. Kossoff made drawings of Seedo for several years, only making his first painting in 1957. Seated Figure No. 1 is one of the earliest paintings which he made of her.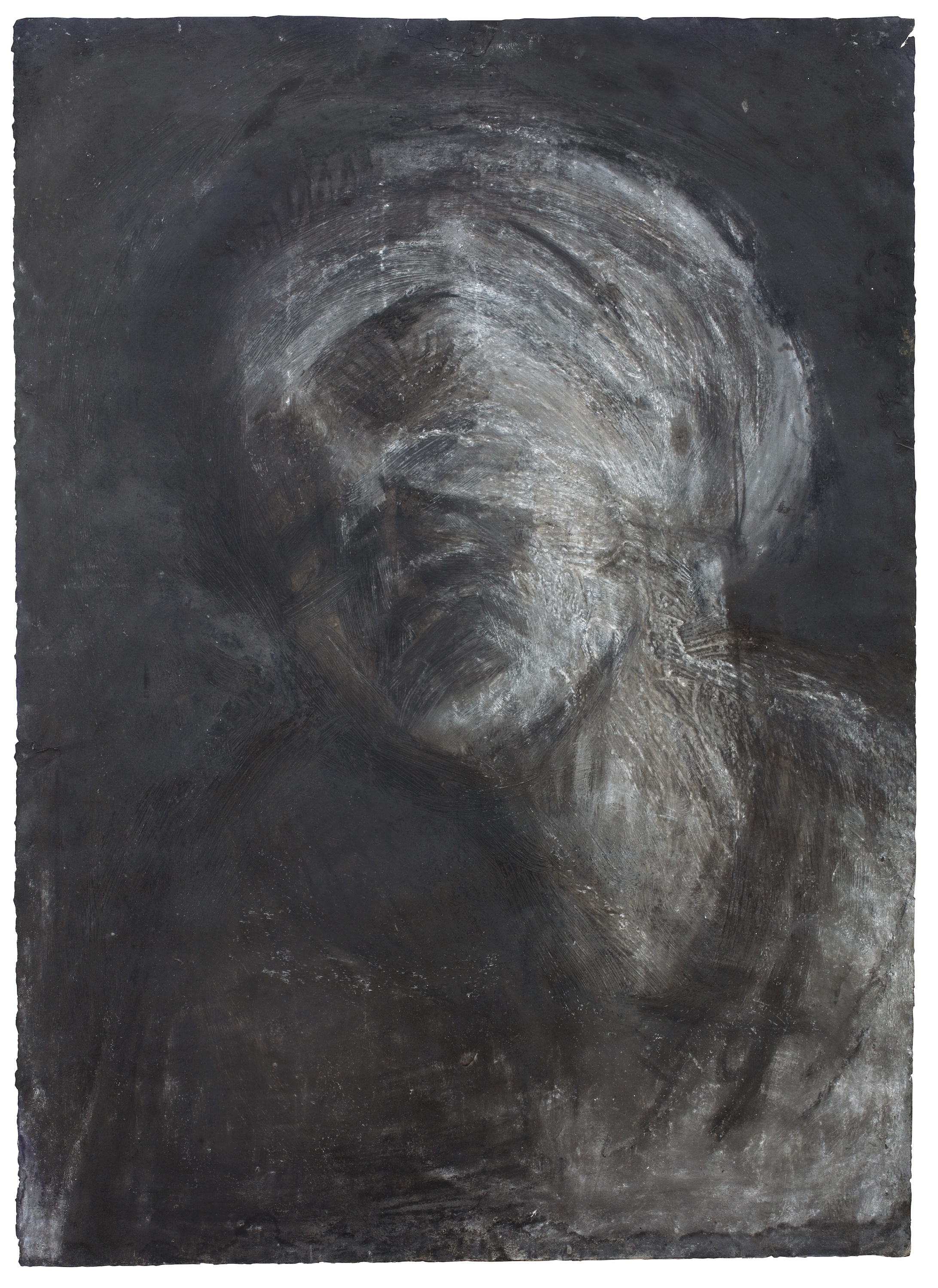 Though Seedo confessed in writing that 'I thought of myself as rather plain', she had a forceful presence. '[W]hen inspired by some ideal or other, when talking about something I believed in, I felt my face change and I could not fail to notice, at such moments, that the people with whom I had established a spiritual contact could not take their eyes off me.' It was perhaps this ardent nature which appealed to Kossoff, and their friendship – though platonic – was intense. Seedo later described it in powerful terms.

It was then that I met a young artist twenty years my junior, who indirectly, without his knowledge, confirmed my deep belief that there is no limit to the riches of human relationships, which may have nothing to do with sex, transcending all ordinary physical attraction and transcending even the much maligned, though true, friendship between people of different sexes, ages, beliefs and capacities. A relationship based on a common interest in art developed between us and brought us very close to each other.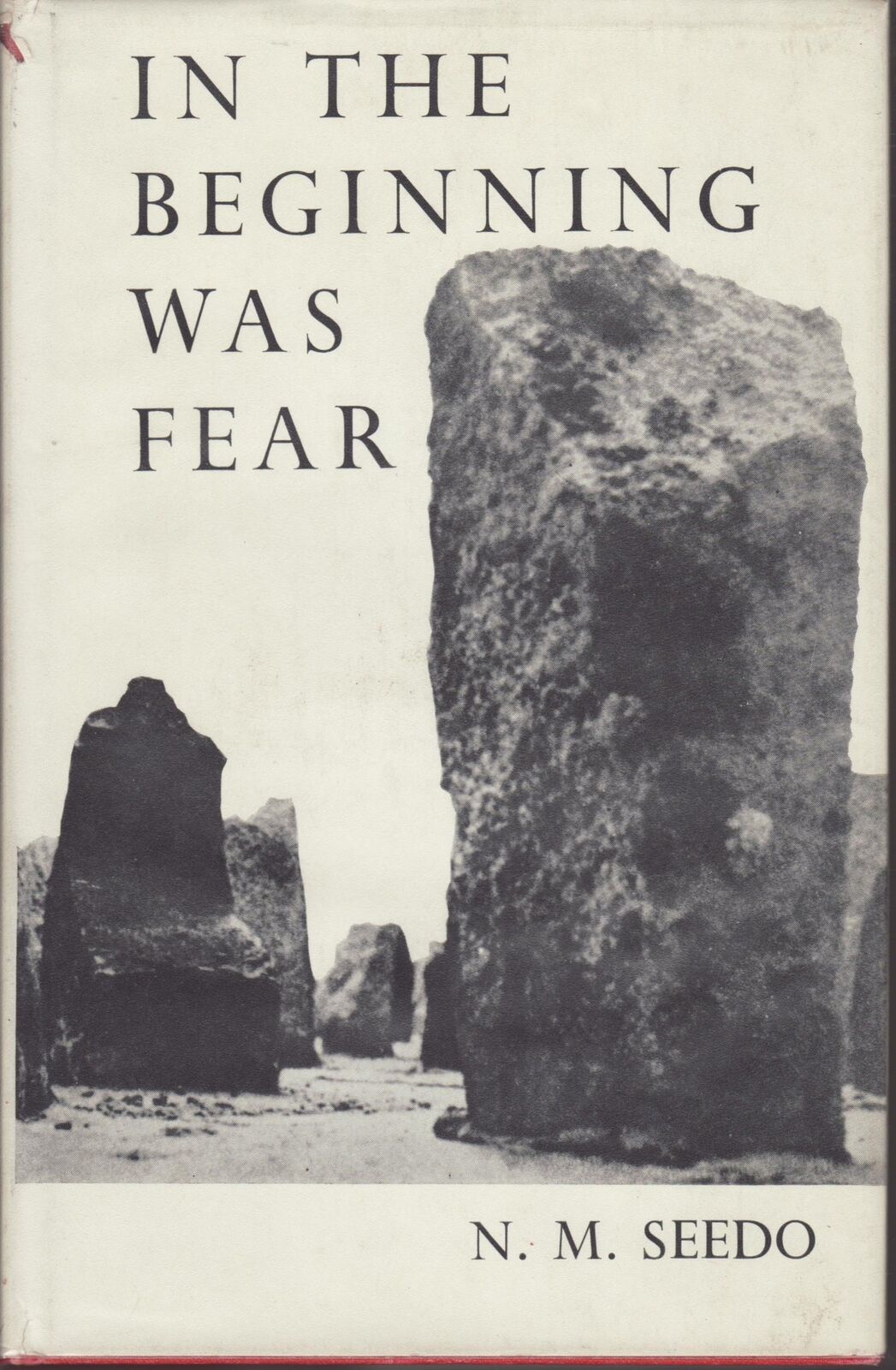 Seedo's written work included a fictionalised autobiography In the Beginning was Fear (1964), a novel The Sacrifice to Moloch (1967), and later two plays. These were published by Narod Press, which specialised in contemporary Jewish writing. In the Beginning was Fear describes in lucid terms those feelings of displacement, anger, false hope and occasional freedom which Seedo experienced fleeing antisemitism in Europe and finding a new home in London. A strong sense of disjuncture emerges as she recounts her varied life, remembering at once the casual violence of Romanian soldiers in her home town and the good music at London's 'Promenade' concerts. The book provides a remarkable insight into a fractured identity. A person of deep feeling and self-conscious bravery, Seedo was a model whose life mirrored and partly inspired the artistic struggle which Kossoff engaged in.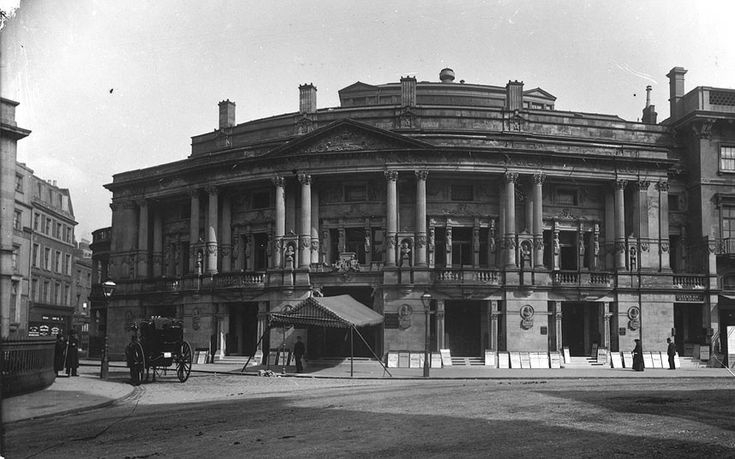 This was the struggle for artistic renewal and the search for a compelling new image. Seedo wrote of Kossoff's 'spiritual torment' as he worked at the easel, reaching for something true in art. One of the strategies to destroy any trace of convention was the use of an industrial paint, produced by the Sheffield-based company Stokes. It had a thickness and plasticity which permitted extensive reworking, and Kossoff shaped it into rhythmic, deeply grooved channels. Another strategy, partly imposed by thrift, was to use a restricted palette dominated by earth colours. Seated Figure No. 1 is composed largely from red, umber, and black. Even within such a narrow low-key palette, a decisive sense of contrast emerges: the figure is in lighter hues; the rippling surrounds, echoes of the figure's silhouette, are in darker colours.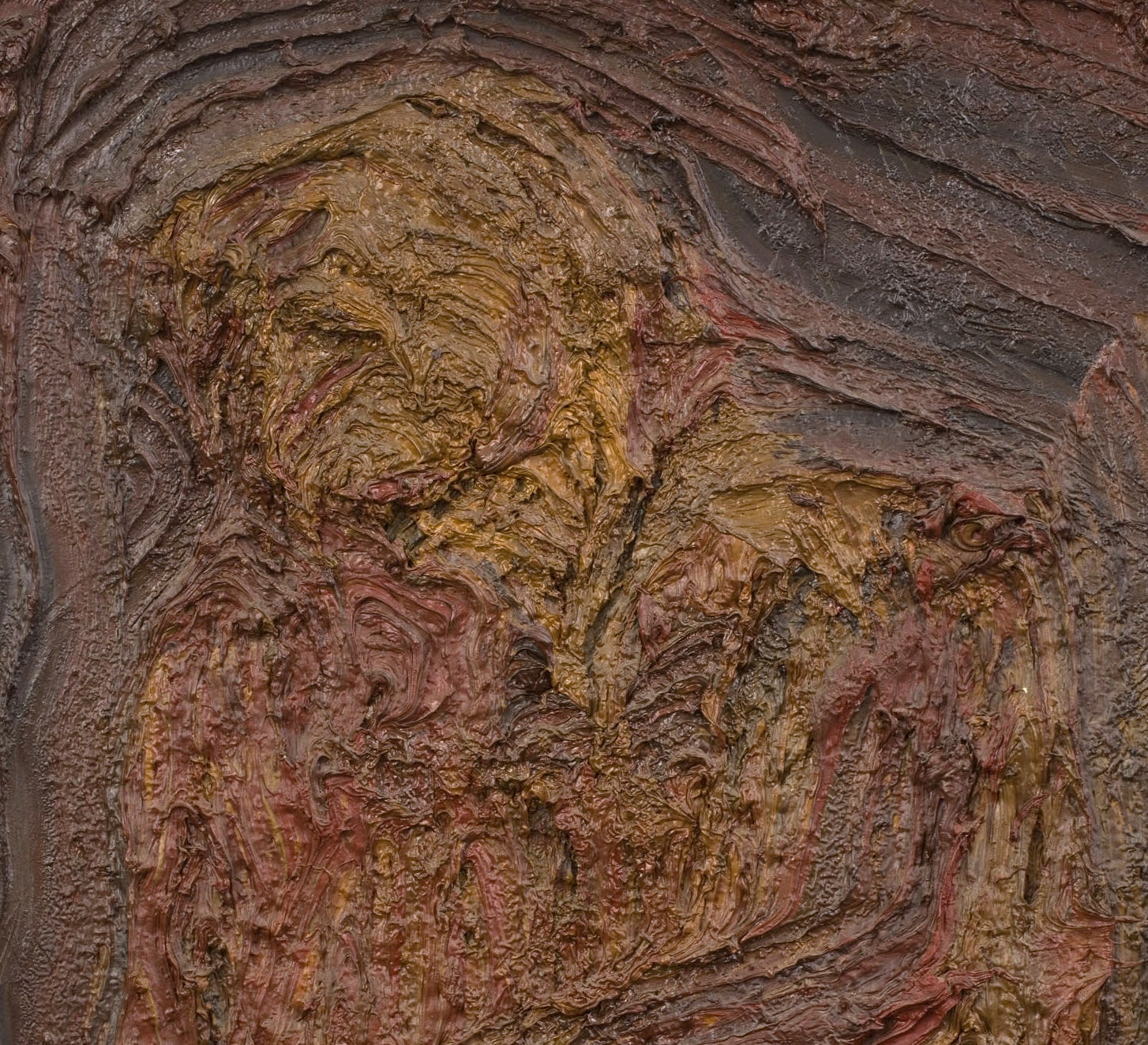 The work of Kossoff and his friend Frank Auerbach has been compared frequently – most recently in a room at the Barbican exhibition Postwar Modern – though their differences are seldom spelled out. Even in the 1950s and early 1960s when they were 'roped together', as Auerbach said, alluding to Braque and Picasso, personally discernible traits were apparent in their work. Though there was darkness and troubled silence in both artists' paintings and drawings, the darkness was not uniform and the silence had different timbres. The deep furrows in the surface of Seated Figure No. 1 is one point of difference, demonstrating a vital regular pulse which is unfamiliar in the pointedly irregular, self-confessedly 'quirky' images of his contemporary.
Images:
1. Leon Kossoff, Seated Figure No. 1, 1958, oil on board, 113 x 85 cm
2. Leon Kossoff, Head of Seedo, 1958, Private Collection
3. In the Beginning was Fear (1964, Narod Press)
4. Queen's Hall, Langham Place, the venue for Promenade concerts until 1941
5. Seated Figure No. 1 (detail)
June 29, 2022