A man of good ties and a painter of curiously vivid pictures, Simon Bussy was one of the few truly French nodes in the Bloomsbury network. A portrait by Duncan Grant shows him in a typically relaxed mood.
Duncan Grant
Portrait of Simon Bussy, circa 1922-25
---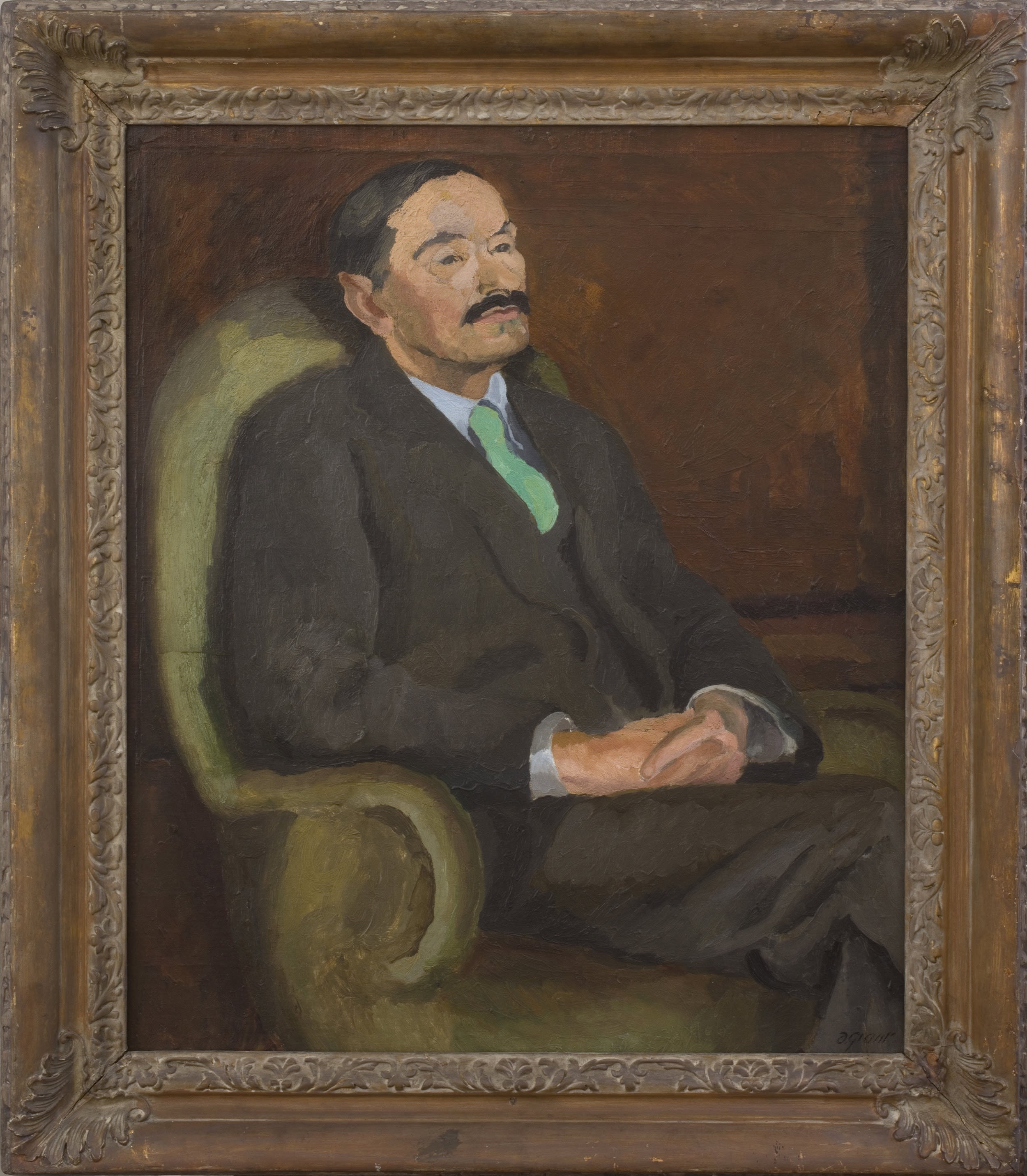 Neckties have been de rigueur since the early twentieth century. In this portrait of Simon Bussy by Duncan Grant (1885–1978), the sitter wears a dashing and compositionally important eau-de-nil neckpiece. The effect of this snappy apparel, providing a touch of flamboyance, might be compared to that of later neckties worn and made by chauvinist fashion designer Karl Lagerfeld.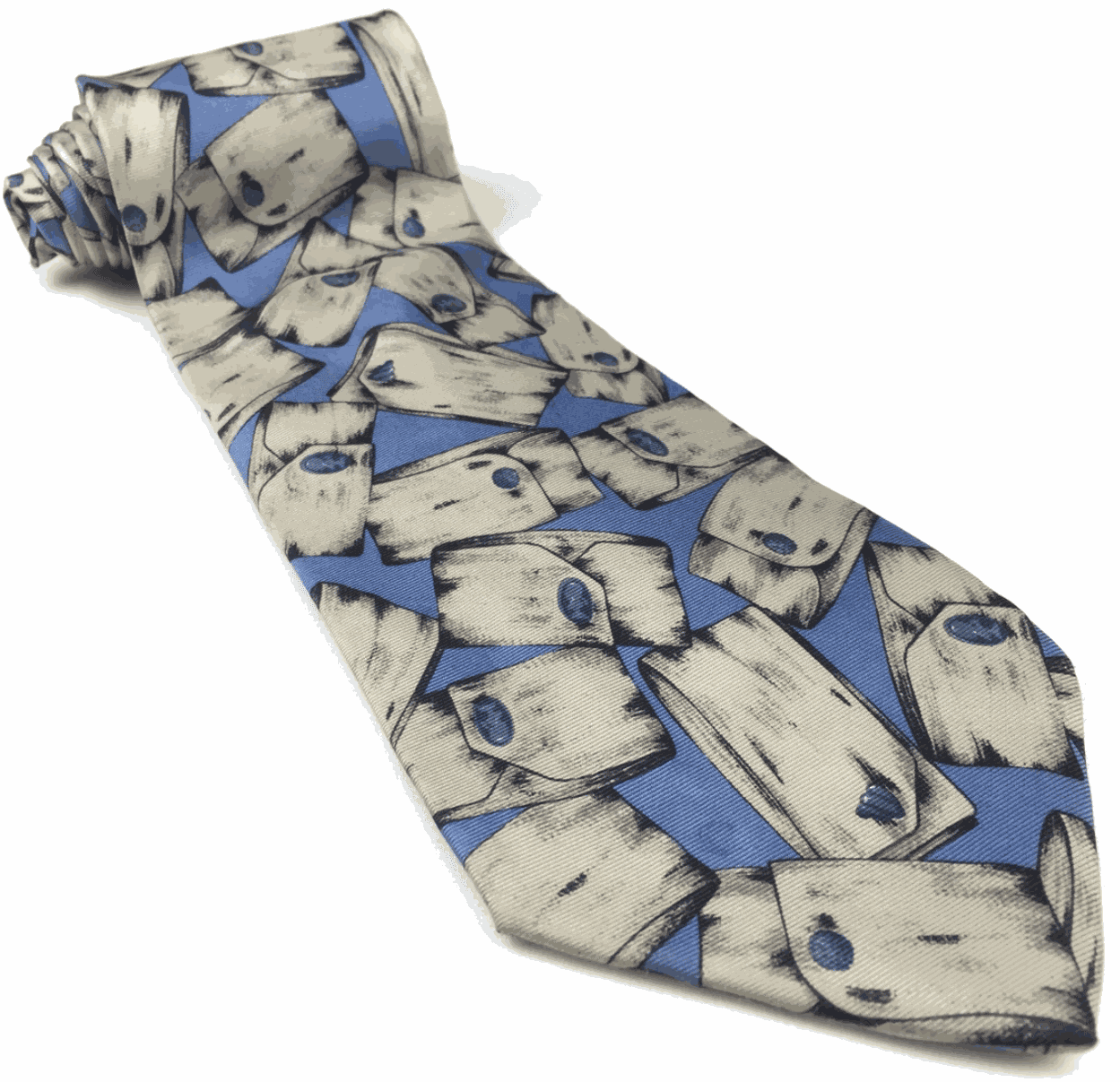 Another portrait of Bussy, painted by his sister-in-law Ray Strachey, shows him wearing a similar-looking green tie and looking slightly under the weather. (Strachey was an ardent campaigner for women's rights, but she also produced a number of vivid amateur portraits in a naïf style, mostly depicting family members, a group of which was given to the National Portrait Gallery in 1999 by Ray's daughter Barbara.) Bussy typically split the year between Britain and his home La Souco at Roquebrune in the south of France, and these portraits by his wife's family were most likely made while he was in Britain. In turn, Bussy often depicted friends and family on their visits to La Souco.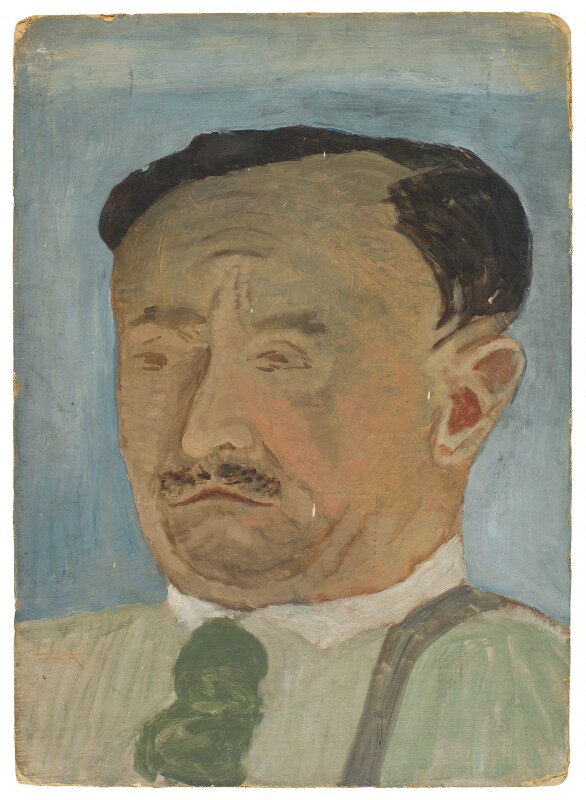 Bussy was an artist of singular vision, enmeshed in the networks of 'Bloomsbury' by friendship and by marriage (to Dorothy Strachey in 1903), and distinguished above all by his strangely animated pictures of birds and animals. He provided a strong enabling connection to the continental art world. As Vanessa Bell once noted, 'he gets very uneasy when he tries to talk English'. His wife Dorothy was one of Duncan Grant's Scottish cousins and Bussy played a formative role in Grant's education, advising him about where to study in Paris and providing a letter of introduction to see Matisse in spring 1911 (see InSight 50). (Bussy befriended various of his contemporaries in Gustave Moreau's classes at the École des Beaux Arts in Paris in the 1890s, Matisse being chief amongst them.)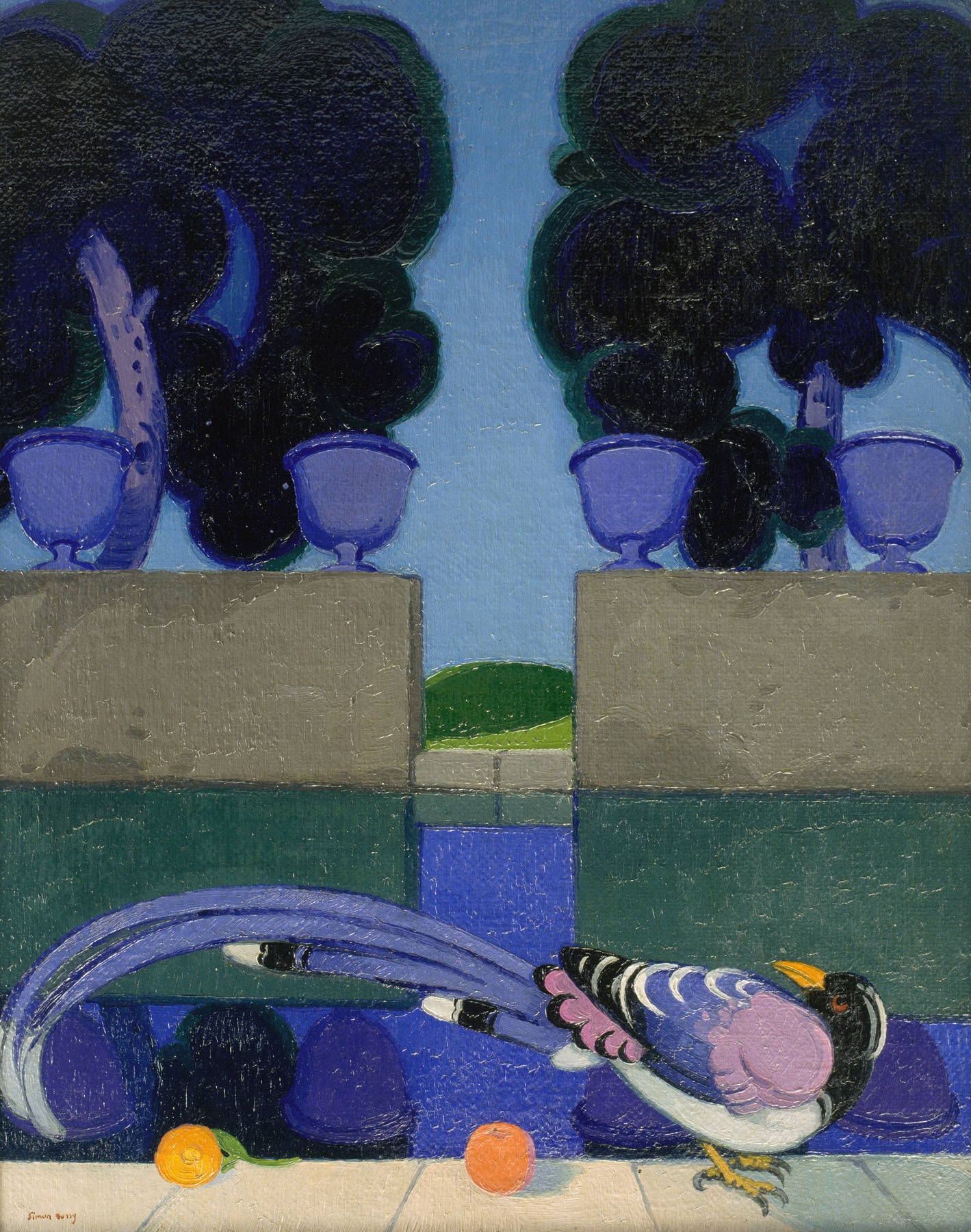 Beside animal pictures, Bussy's output also included accomplished and characterful portraits, several depicting literary sitters. The Musée national d'art moderne in Paris owns one pastel head of Paul Valéry and two of André Gide. (Regrettably, the Musée nationale has neglected to reproduce these works since before the advent of colour photography.) Portraiture was the definitive genre of Bussy's milieu, with artists producing portraits of friends much as chickens lay eggs: Duncan and Vanessa Bell painted 'Bunny' Garnett, Duncan and Vanessa painted each other, Roger Fry painted E.M. Forster, Duncan and Bussy painted George Mallory, and so it went on. Grant's painting of Bussy from the mid-1920s belongs to this intimate mode of portraiture-amongst-friends.
Parts of the Bloomsbury milieu were frequently weekend guests of Lady Ottoline Morrell at Garsington Manor, and Bussy visited on at least two occasions as a friend of Vanessa Bell and Duncan Grant. Lady Ottoline's snapshot photographs show tout le monde, from Aldous Huxley and D.H. Lawrence to Bertrand Russell and Mark Gertler, passing through the rooms and gardens of her Oxfordshire home. Bussy painted one of the definitive portraits of Lady Ottoline and he in turn appears in one of Lady Ottoline's snapshots in a relaxed pose, reclining with his legs crossed and face turned towards the camera, an engaging smile spread across his face.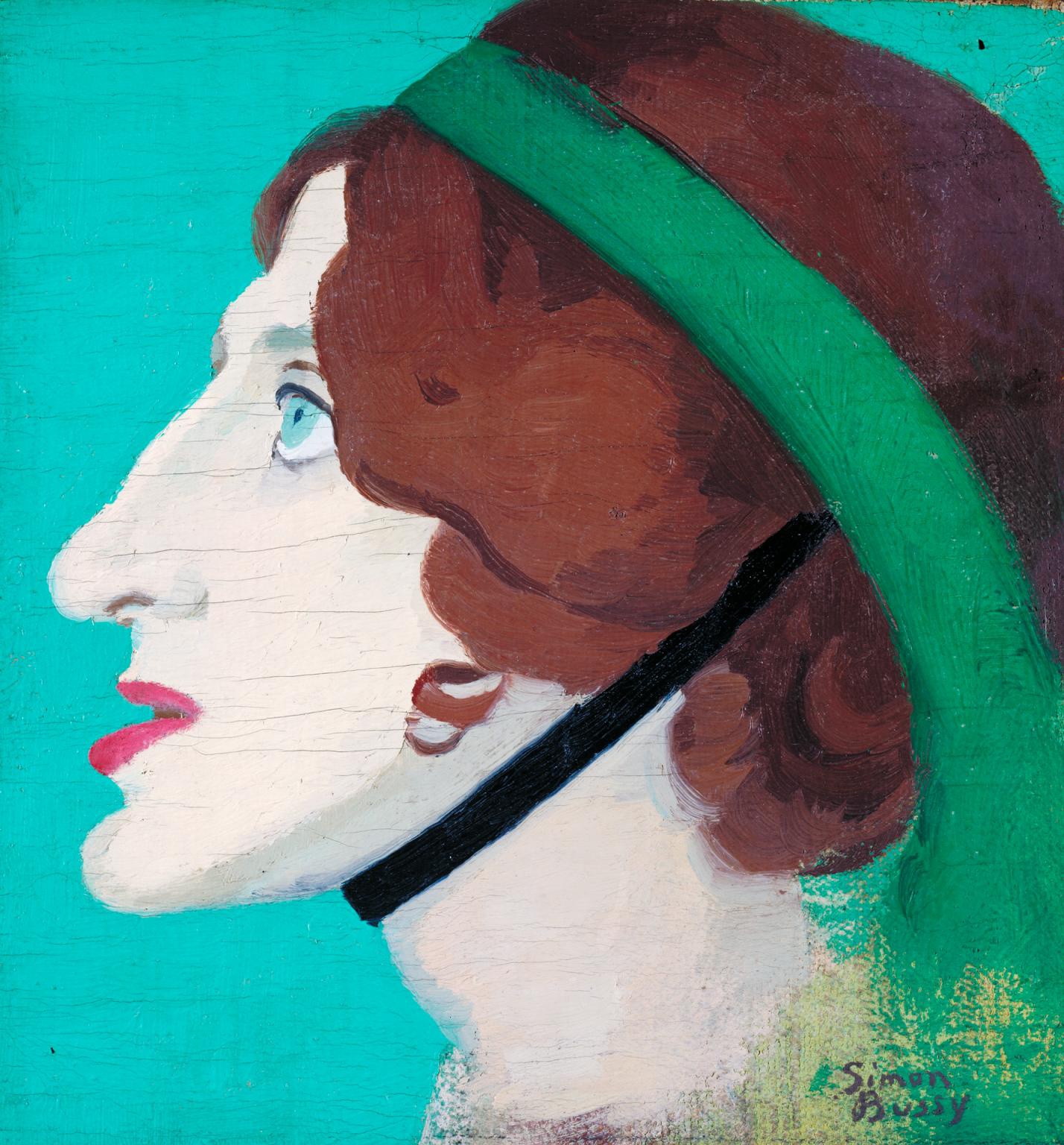 Bussy was good company. Walter Sickert wrote in 1911,

Simon Bussy told me an enchanting story: A painter, entering the studio of a colleague, is so struck with a work on the easel that he seizes it and rushes to the door with it. 'Malheureux, où alles vous avec mon tableau?' 'Au Louvre!' ['Wretch, where are you going with my picture?' 'To the Louvre!']

Grant's portrait of Simon Bussy paints him as a demur character, somewhat apart from the Bussy in Lady Ottoline's snapshot and Sickert's joke. He gazes into mid-air, his head slightly tilted and a shoulder slightly raised. His clasped hands and crossed legs suggest a moment of absent-minded contemplation. It is a sympathetic portrait, painted by the sitter's friend.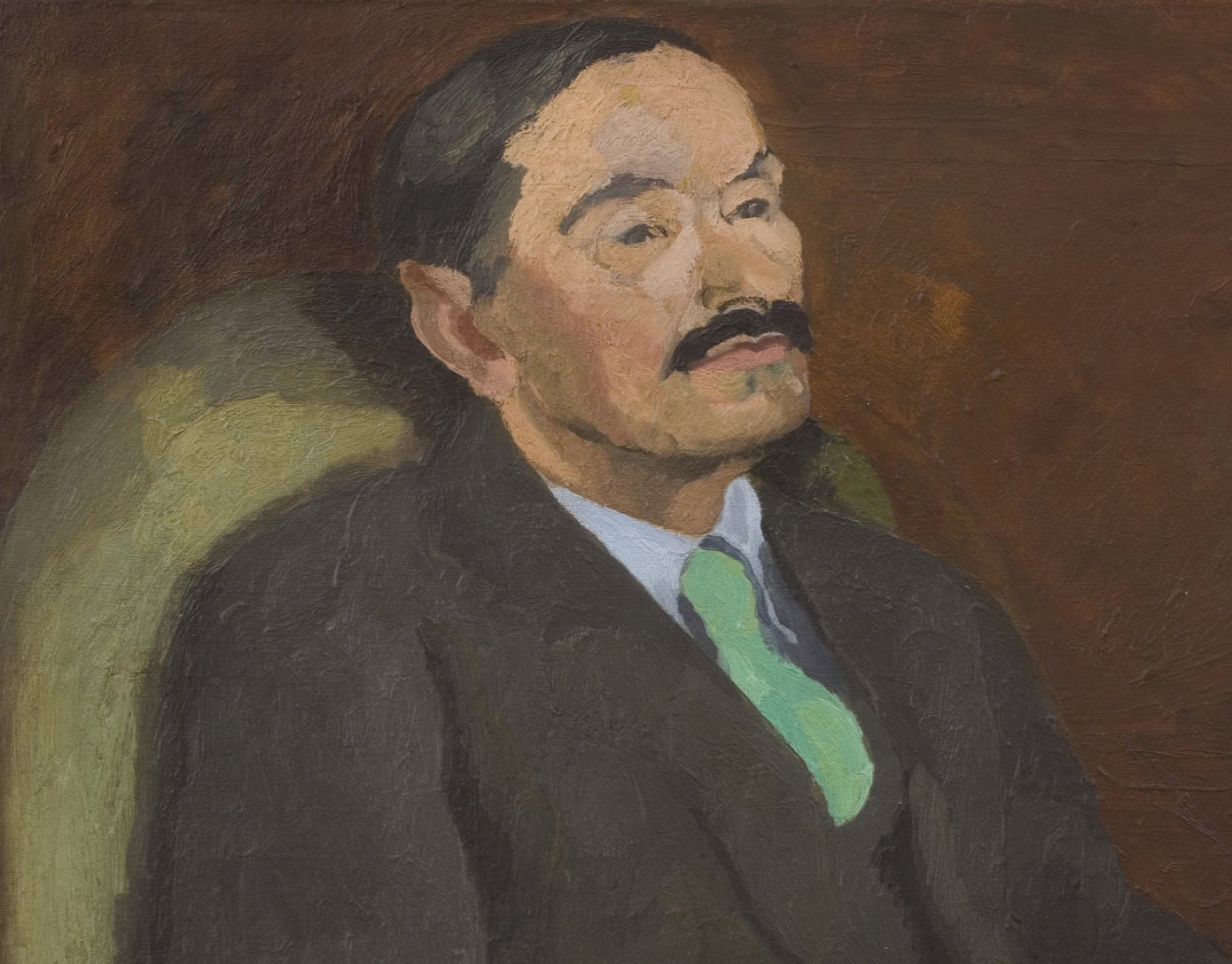 Images:
1. Duncan Grant, Portrait of Simon Bussy, circa 1922-25, oil on canvas laid on board, 73.5 x 62 cm
2. A necktie designed by Karl Lagerfeld
3. Ray Strachey, Simon Bussy, late 1920s or early 1930s, National Portrait Gallery © National Portrait Gallery, London
4. Simon Bussy, La Pie bleue de l'Himalaya, 1925, Musée du national d'art moderne, Paris © Estate of Simon Bussy
5. Lady Ottoline Morrell, Simon Bussy, Vanessa Bell and Duncan Grant at Garsington Manor, 1922, National Portrait Gallery © National Portrait Gallery, London
6. Simon Bussy, Lady Ottoline Morrell, circa 1920, Tate Collection © Estate of Simon Bussy

7. Portrait of Simon Bussy (detail)

May 26, 2022