For its one hundredth edition, InSight considers a remarkable London street scene by Harold Gilman – a famously diligent, slow working painter whose late work is hallmarked by detailed observation and exaggerated colour.
Harold Gilman
London Street Scene in Snow, 1917
---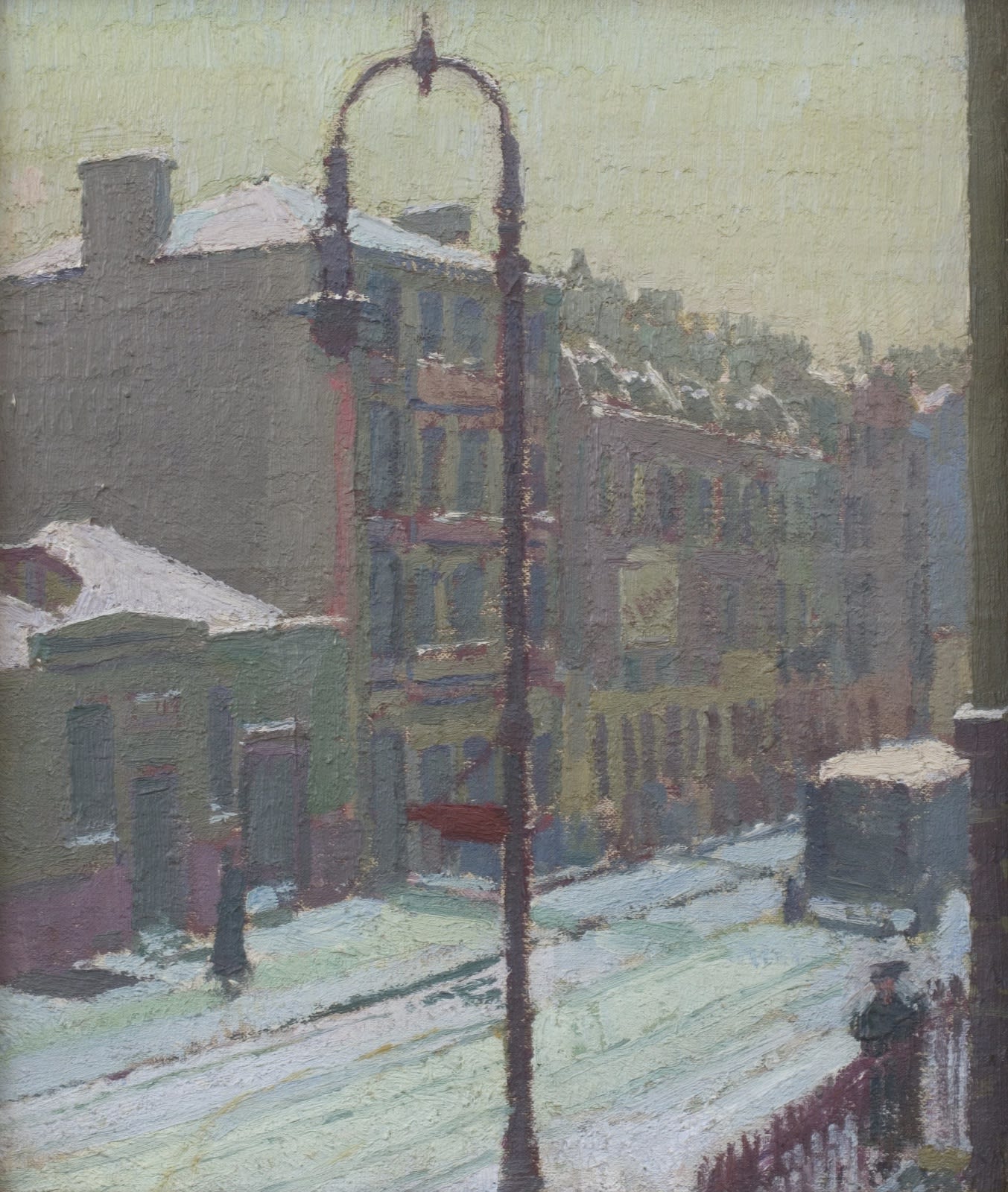 At one time or another, all of the 'core' Camden Town Group painters depicted the streets of London. Their works are by turns colourful, busy and mucky, in each case recalling some new aspect of changeable London. Charles Ginner variously treated the neat railings of Leicester Square, the bushy foliage of Victoria Embankment Gardens and the noisy traffic of Piccadilly Circus; Robert Bevan and Spencer Gore preferred the spacious outer reaches of North London; Walter Sickert painted, re-painted, etched and re-etched the very place where Harold Gilman (1876–1919) lived and worked – Maple Street in Fitzrovia. The son of a Kent clergyman, Gilman was at ease with bucolic countryside and some of his London paintings render the leafy in-between spaces of Mornington Crescent and Clarence Gardens.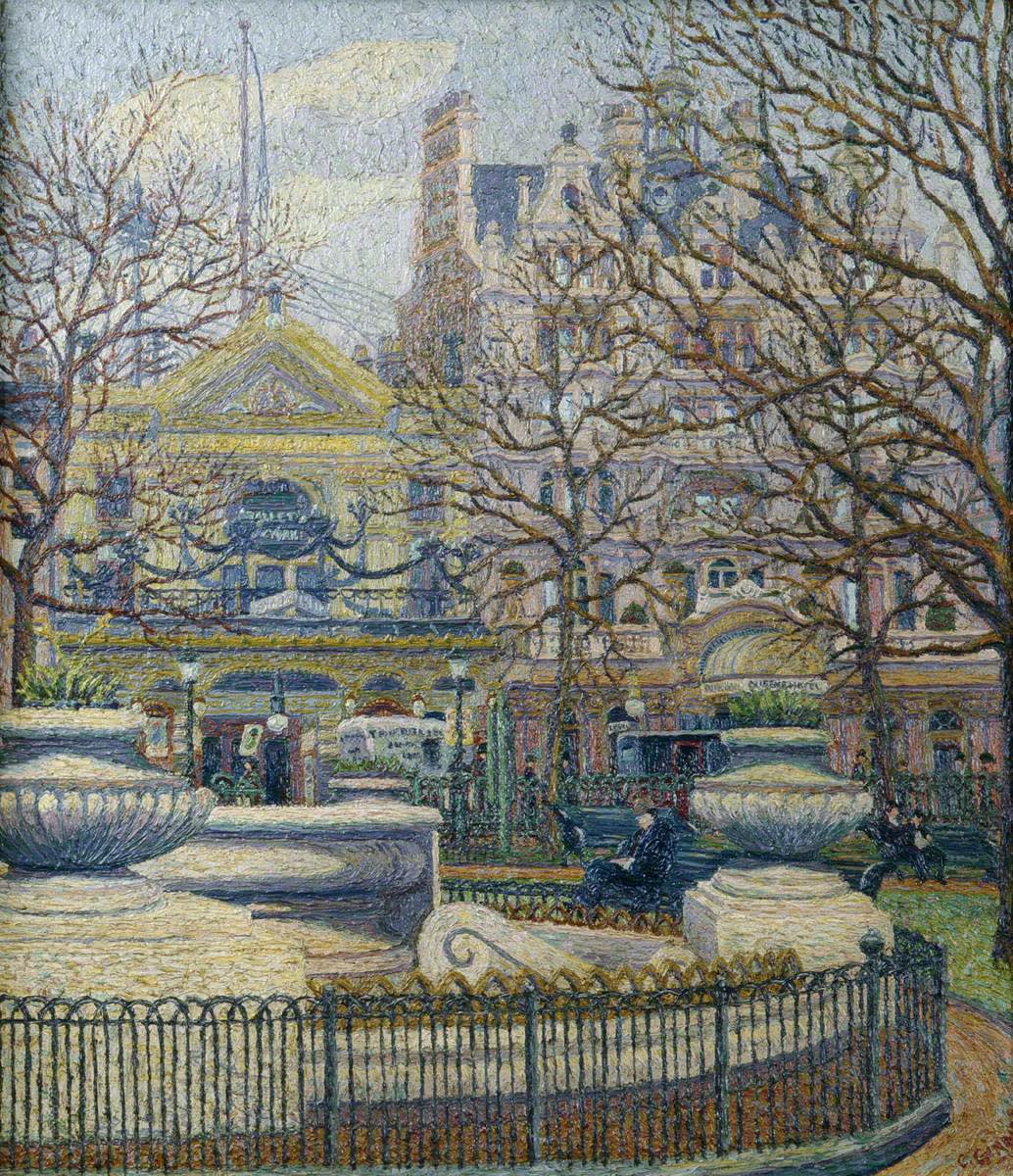 Two of Gilman's most interesting and accomplished London subjects depict a snowy street in Fitzrovia. The location of these paintings has been the subject of confusion until now. The art historian James Beechey is currently researching Gilman's work and, among many other discoveries, has learned that London Street Scene in Snow shows a location spitting distance from where Gilman lived and painted: Conway Street in Fitzrovia, which was known between the 1850s and the 1930s as Southampton Street. The two snow scenes can therefore be identified with a painting Gilman exhibited at the London Group in April 1917: Southampton Street, W. (Because the title was not recorded on either painting, this work was once thought to be 'untraced'.)
It follows that London Street Scene in Snow does in fact show a Fitzrovia street which Gilman overlooked while living in rooms at 47 Maple Street between 1914 and 1917. Beechey's discovery is instructive as it proves not only that Gilman's lodgings were on the first floor, as was long suspected, but also that London Street Scene in Snow must have been painted in early 1917 before the artist left Maple Street. By a quirk of urban planning, as Beechey's photograph shows, a lamp post still stands in the same spot as that depicted in Gilman's paintings.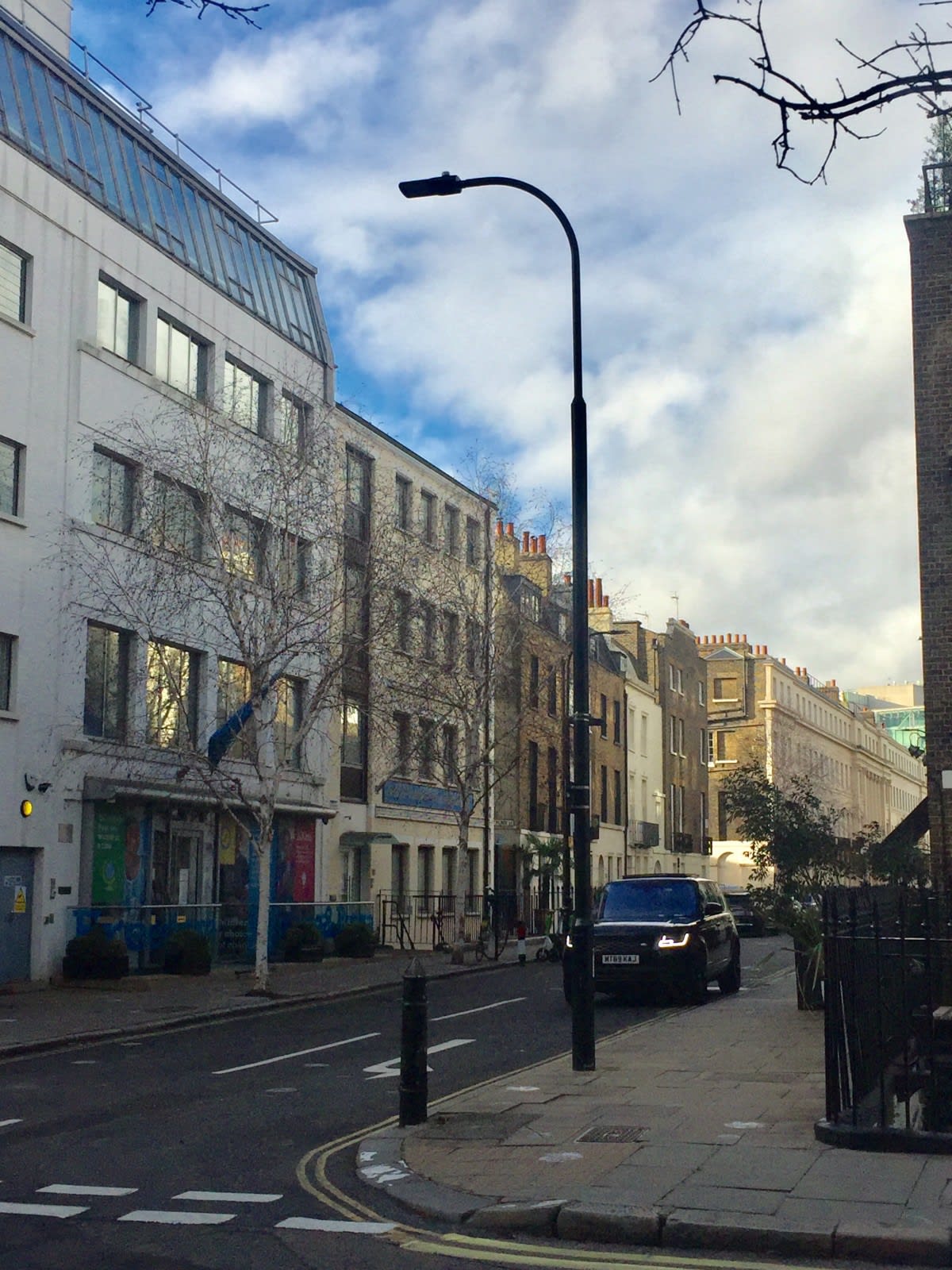 The winter of 1916-17 was severe and protracted. This is partly reflected by the fact that Gilman was not the only painter who took London's frozen, snow-covered streets as inspiration. William Nicholson also treated the subject in a work called April 1917 (a title which attests to how long the snowfall continued). It is unclear exactly when Gilman painted his two versions of snowy Southampton Street; one of them must have been painted before April when the London Group exhibition took place. Unlike Nicholson's low-key, silver-brown rendition, Gilman exploited the prismatic qualities of snow reflecting daylight: where the tracks run, the road is rendered in eau-de-nil green; where snow lies untouched at the edges of the road and on the pavements, gradations of blue, white and green have been used; on the rooftops, hues of lilac and blue predominate.
As Lisa Tickner has observed, the advent of modernism and the internal combustion engine were roughly coincident. As Sickert tellingly remarked, 'if efficiency could be considered a fault, and incompetence alone sublime, […] Picassos and Matisses would be painted by all the coachmen that the rise of motor traffic has thrown out of employment'. A snow-covered wagon is viewed from the back, crunching its away along the street in Gilman's snow scene. Whether it is motorised or horse-drawn is unclear. Many other tracks churn the surface of the painted road, its surface growing thinner – as if gouged by wheels – along the line of each one. In some places the coarse canvas grins through, a poignant contrast to the otherwise rich impasto finish.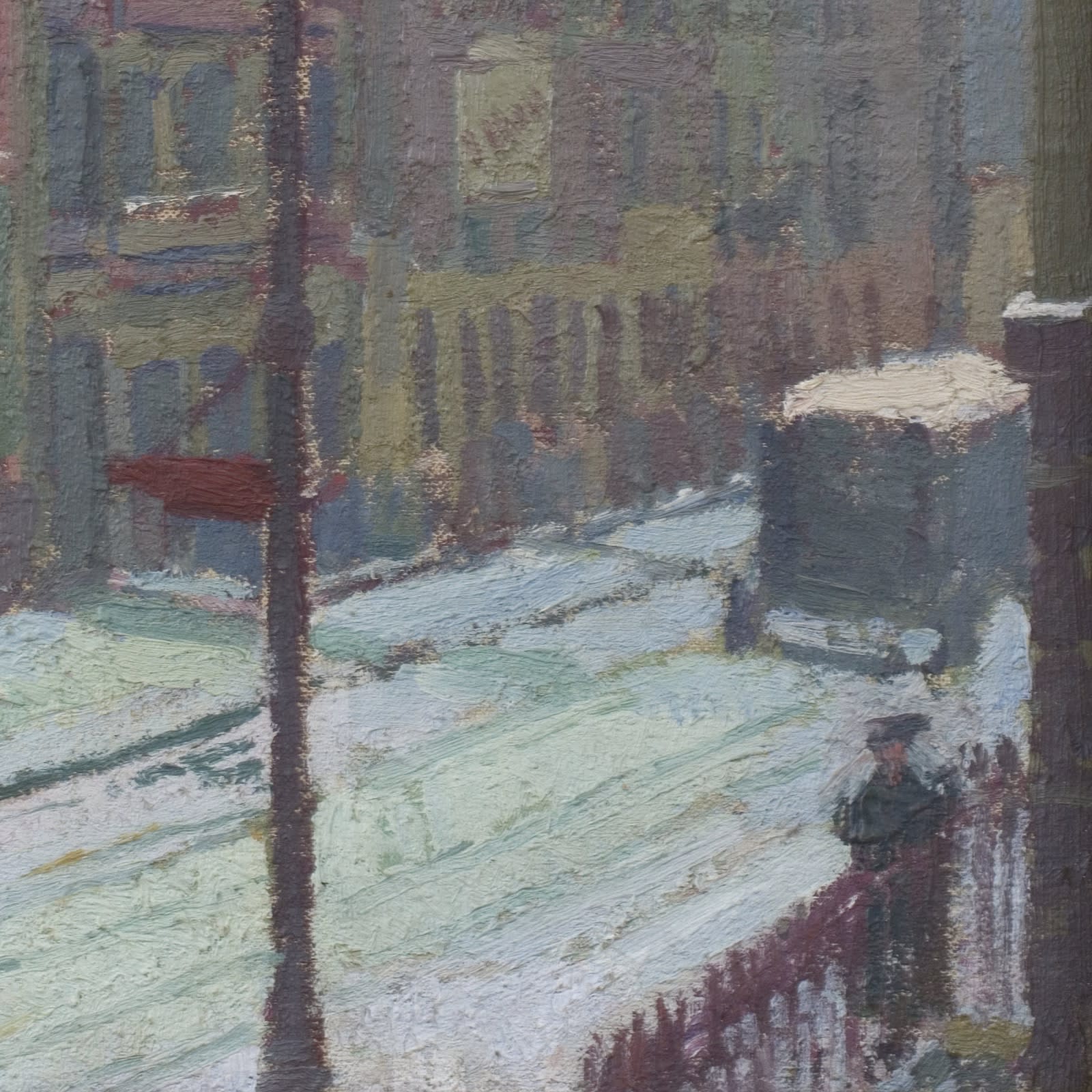 Images:
1. Harold Gilman, London Street Scene in Snow, 1917, oil on canvas, 32.2 x 27.4 cm
2. Charles Ginner, Leicester Square, London, 1912, Brighton Museums
3. The larger version of London Street Scene in Snow (1917, Private Collection)
4. The view along Conway Street from Gilman's lodgings in Maple Street (photo: James Beechey)
5. William Nicholson, April 1917, 1917, Private Collection
6. London Street Scene in Snow (detail)
March 30, 2022