Barbara Hepworth,
Two Forms, 1933-34
---
Where her earlier sculptures took the form of rounded semi-abstract figures, after the birth of her triplets in October 1934, Hepworth's (1903–1975) work had a decidedly different look. A shift from organic shapes to clearly defined Euclidean volumes had taken place. In 1952, Lund Humphries published a monograph about Hepworth's work in which she herself described the progress of her career, offering this explanation for the change of style in her carvings after the triplets' birth.
When I started carving again in November 1934, my work seemed to have changed direction although the only fresh influence had been the arrival of the children. The work was more formal and all traces of naturalism had disappeared, and for some years I was absorbed in the relationships in space, in size and texture and weight, as well as in the tensions between the forms.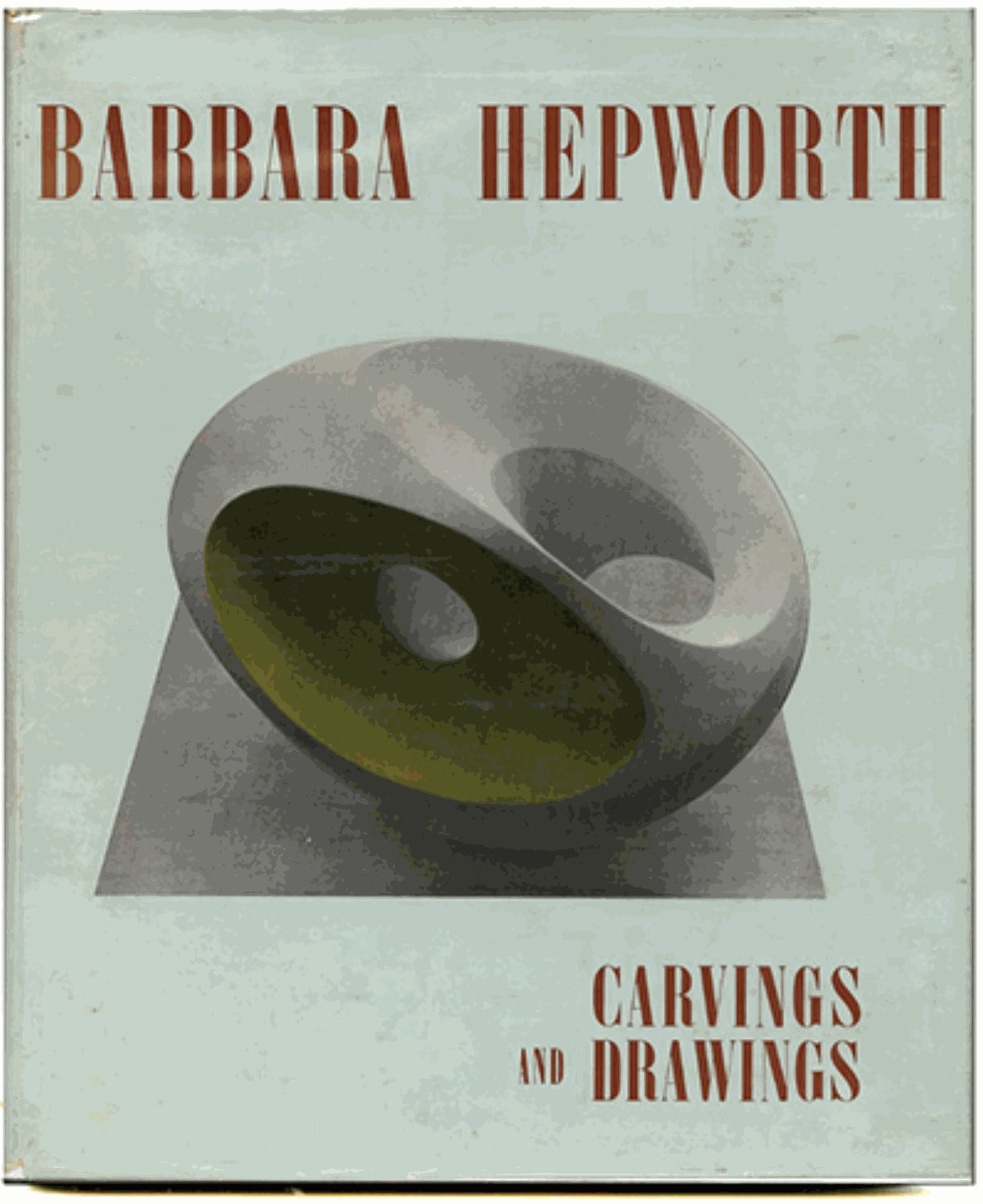 In the 1930s, Hepworth was living and working in London with relatively few opportunities for visiting Paris – itself a dense hive of artistic creativity in those years. Despite remaining in England for the most part, Hepworth was acutely conscious of developments in Paris and was aware of the leading initiators of modernist sculpture, especially Brancusi, Giacometti and Arp. (One photograph of Hepworth at home shows a handsome Picasso monograph in a cabinet beside her; well-illustrated books evidently helped the flow of ideas across the Channel.) Keeping a distance from Paris was no disadvantage, affording Hepworth a space to foster ideas of her own. She was never a follower and developed her own mode of abstraction, epitomised in works like Two Forms, even as she noted from a distance contemporary developments like Giacometti's Suspended Ball.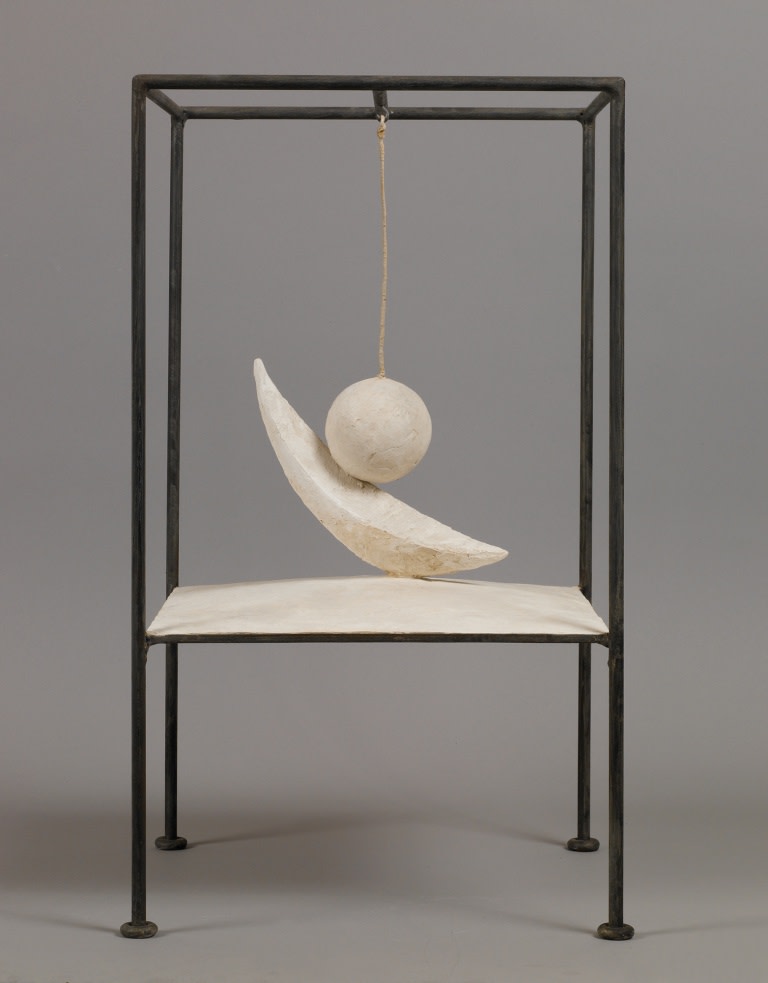 Many artists in London at the time had recourse to small and affordable mews properties. Two Forms was made in one of The Mall studios in Hampstead, a purpose-built row of studios whose occupants at various times included George Clausen, Walter Sickert and Herbert Read. Hepworth took the studio in 1928 with her husband the sculptor John Skeaping, shortly before their marriage failed. From November 1931 she was joined there by her new partner, Ben Nicholson. A photograph of Hepworth's workspace, published in 1934, shows a jostling arena busy with a work bench, tools, stones, plinths, and half-finished pieces. As Aldous Huxley wrote about another London mews studio a few years earlier, 'it was not a very large room and there were too many things in it'.
Consistently throughout her life, Hepworth kept a remarkably detailed record of the work she produced. The typed volumes in which she recorded her sculpture – now preserved in the Tate Gallery Archive – include a work's dimensions, provenance and, perhaps most interesting of all, a photograph usually made shortly after a piece was completed. Though she and Ben Nicholson collaborated with the studio photographer Paul Laib until 1939, several works from the 1930s including Two Forms were photographed by Hepworth herself. (In the records of her sculpture, her authorship of a photograph is indicated by her initials typed at the right-hand side in red ink.)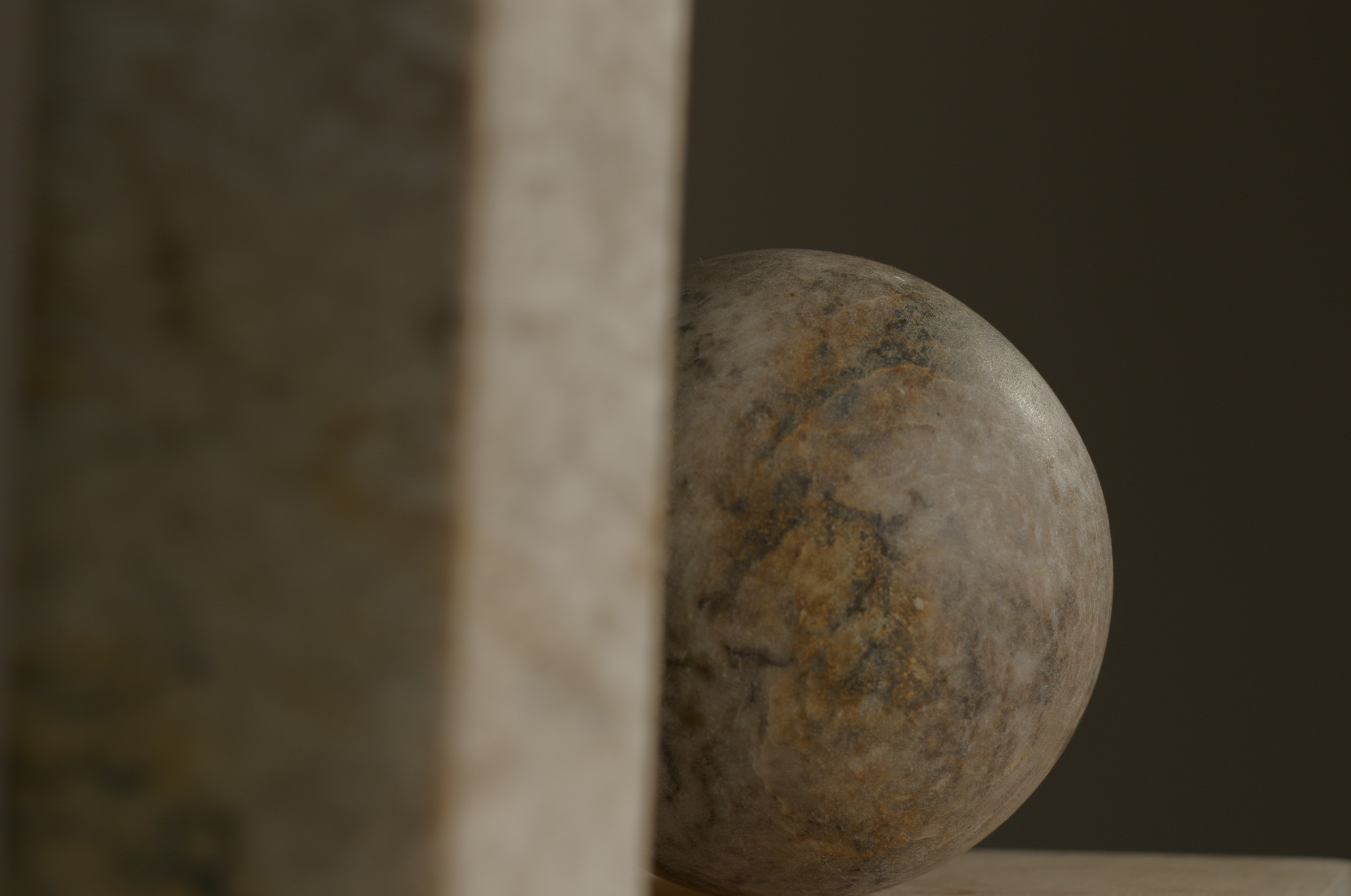 Alabaster was one of Hepworth's preferred carving materials, though she also made use of others like white Seravezza marble and teak wood. To Hepworth, the act of carving by hand was highly significant. She perceived the finished form to have a life independent of the artist, a vitality that was achieved through the process of hand-carving. In a statement for that pioneering coalition of British modernism, Unit One, she articulated the ethos of direct carving and described what kind of sculpture she aspired to create.

It must be stone shape and no other shape. Carving is interrelated masses conveying an emotion; a perfect relationship between the mind and the colour, light and weight which is the stone, made by the hand which feels. It must be so essentially sculpture that it can exist in no other way […].

It was ideas like these, along with the highly original geometrical abstraction of sculptures like Two Forms, which made Barbara Hepworth one of the group's foremost members.
Images:
1. Barbara Hepworth, Two Forms, 1934-35, Private Collection
2. Barbara Hepworth with Herbert Read, Barbara Hepworth: Carvings and Drawings (1952, Lund Humphries)
3. Alberto Giacometti, Suspended Ball, 1930-31, Fondation Giacometti, Paris © The Estate of Alberto Giacometti (Foundation Giacometti, Paris)
4. Hepworth's Mall studio, Hampstead
5. Two Forms (detail)
February 2, 2022