Caught between the exciting, sometimes shocking events of the time and an intense, insular focus on artistic form, it was artists like Elisabeth Frink that made London's post-war art scene a hotbed of invention and creative renewal.
Elisabeth Frink
Assassins I, 1963
---
On 22 November 1963, a shocking event took place on the streets of Dallas, Texas. Three rifle shots were fired at a motorcade travelling down Dealey Plaza. The open-top presidential limousine was carrying the Governor of Texas and his wife, alongside President John F. Kennedy and his wife Jacky. The Governor was severely injured. The President was killed. These events resonated around the world, with muddled photographs and film footage veiling them with a sense of fear and confusion. In England, the sculptor Elisabeth Frink (1930–1993) made two striking bronzes in response to the assassination. As she said later, 'the small groups of assassins were associated in my mind with the Kennedy assassination'.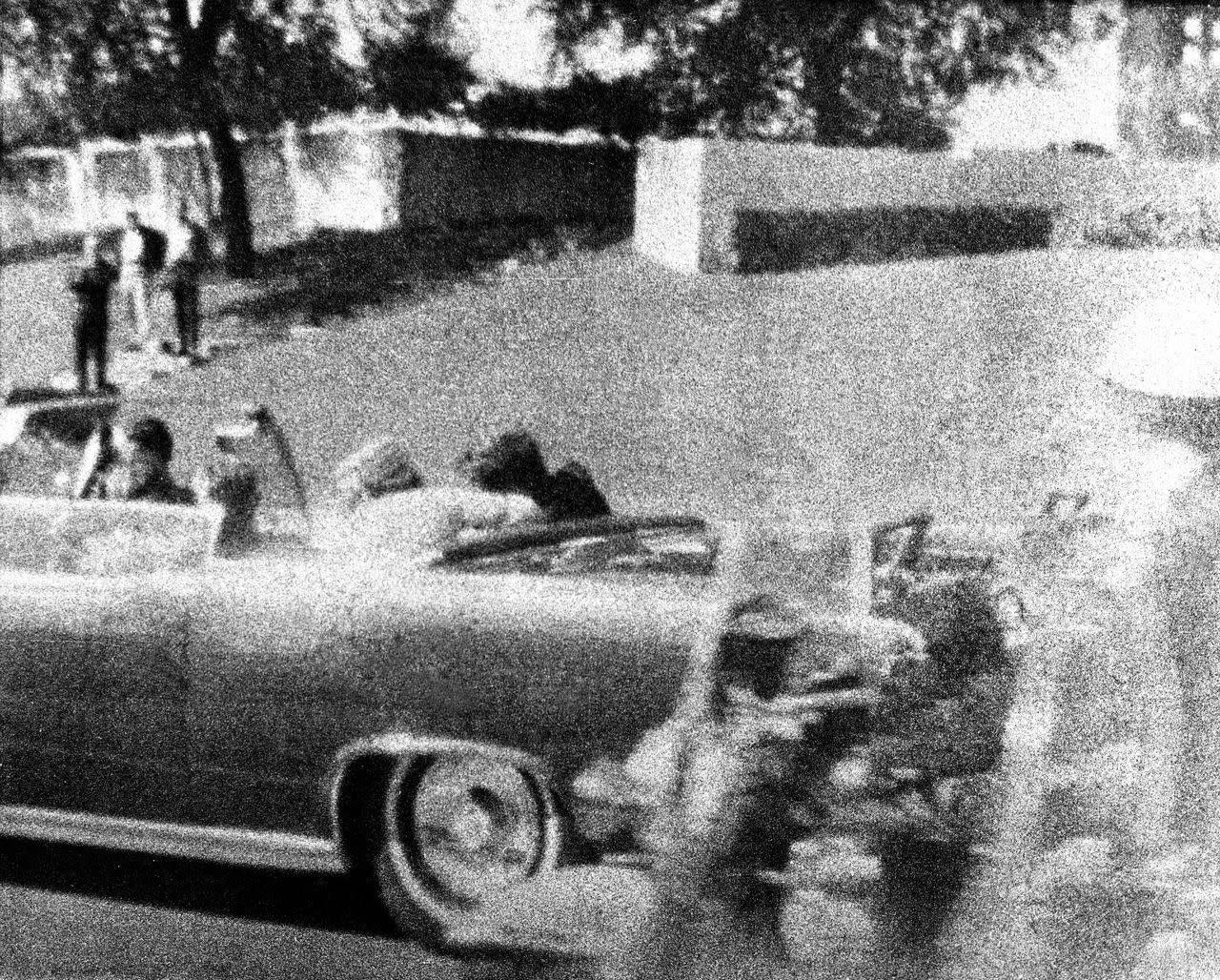 Though the title of Assassins strikes a note of sinister plotting, in appearance these figures seem more like heroic guardians. Their heavily encased heads, redolent of helmets, are one of the artist's original devices for enhancing the human body, developed around this time. Frink tended to work on a subject in cycles and Assassins relates to other standing figures of this period, variously named 'Warrior', 'Sentinel' and 'Judas'. The formal development introduced in Assassins was the addition of a second figure. None of Frink's previous work used this composition and the suggestion of a collaboration between the two – a wordless compact – is implicit. It could be that Frink had absorbed rumours about Lee Harvey Oswald's involvement with other conspirators. (Investigations by a president-appointed commission, the US House of Representatives, and the US Department of Justice have all dismissed suggestions of a conspiracy.)
Having completed her studies in drawing and sculpture at Chelsea School of Art, Frink was one of those young talents to be exhibited by Helen Lessore at the Beaux Arts Gallery. Her work was shown with sculpture by John Harvey and Michael Werner in 1952, when two of her pieces were acquired by the Tate Collection and the Arts Council. In her distinctive output of this period, including works like the Tate's Bird, human figures are invested with animal qualities and animal subjects, in turn, with human qualities. The force of these works is to elide man and beast, with all the troubling implications for human nature which follow. The 'geometry of fear', described by Herbert Read, was made disturbingly real in Frink's commended entry to the Unknown Political Prisoner competition in 1953.
The auspicious beginnings to Frink's career were underpinned by her original outlook. She developed a distinctive figure type, rich in zoomorphic ambiguities. Deriving from her signature 'Bird' sculptures of the early 1950s, much of her most recognisable work until the mid-1960s is characterised by extended spindly legs and contracted or reshaped limbs. In the later 1950s, Frink's vision of flawed humanity found expression in her Birdman series, an early plaster prototype for which was recently donated to Leeds Art Gallery. This haunted figure is redolent of Giacometti's work in both handling and mood, with the original addition of anthropomorphism. Works like Assassins sit in a direct formal lineage with Birdman, being wreathed in the same murky humanoid complexities.
Despite the evident seriousness and depth of her work, Liz Frink was a vivid and widely liked personality. Evoking some of the personalities on the Soho circuit in the early 1950s, one writer has described Frink's place alongside painters like Michael Andrews, Prunella Clough and 'the two Roberts' (Colquhoun and MacBryde). 'A younger friend, the sculptor Elisabeth Frink, kept a dead fox she was drawing in her studio fridge down the Fulham Road. It was all part of the type of career-building many of us were occupying ourselves with, despite countless late nights.' It was colourful individuals such as Elisabeth Frink – complete with dead foxes and youthful haircuts, caught between the exciting, sometimes shocking events of the time and an intense, insular focus on making and artistic form – that made London's post-war art scene a hotbed of invention and creative renewal.
Images:
1. Elisabeth Frink, Assassins I, 1963, bronze with gold brown patina, height 56 cm | For Sale
2. A polaroid photo of the presidential limousine, moments after the fatal shooting
3. Assassins (detail)
4. Elisabeth Frink, Bird, 1952, Tate Collection © The Estate of Elisabeth Frink
5. Elisabeth Frink, Birdman, 1956-59, Leeds Art Gallery © The Estate of Elisabeth Frink
6. Elisabeth Frink, 1956, photographed by Ida Kar © National Portrait Gallery
December 2, 2021