A contemporary and compatriot of Picasso, Joan Miró won fame as a Surrealist in the 1920s and later built an international career around a fluent, highly personal style.
Joan Miró
Untitled, 1959
---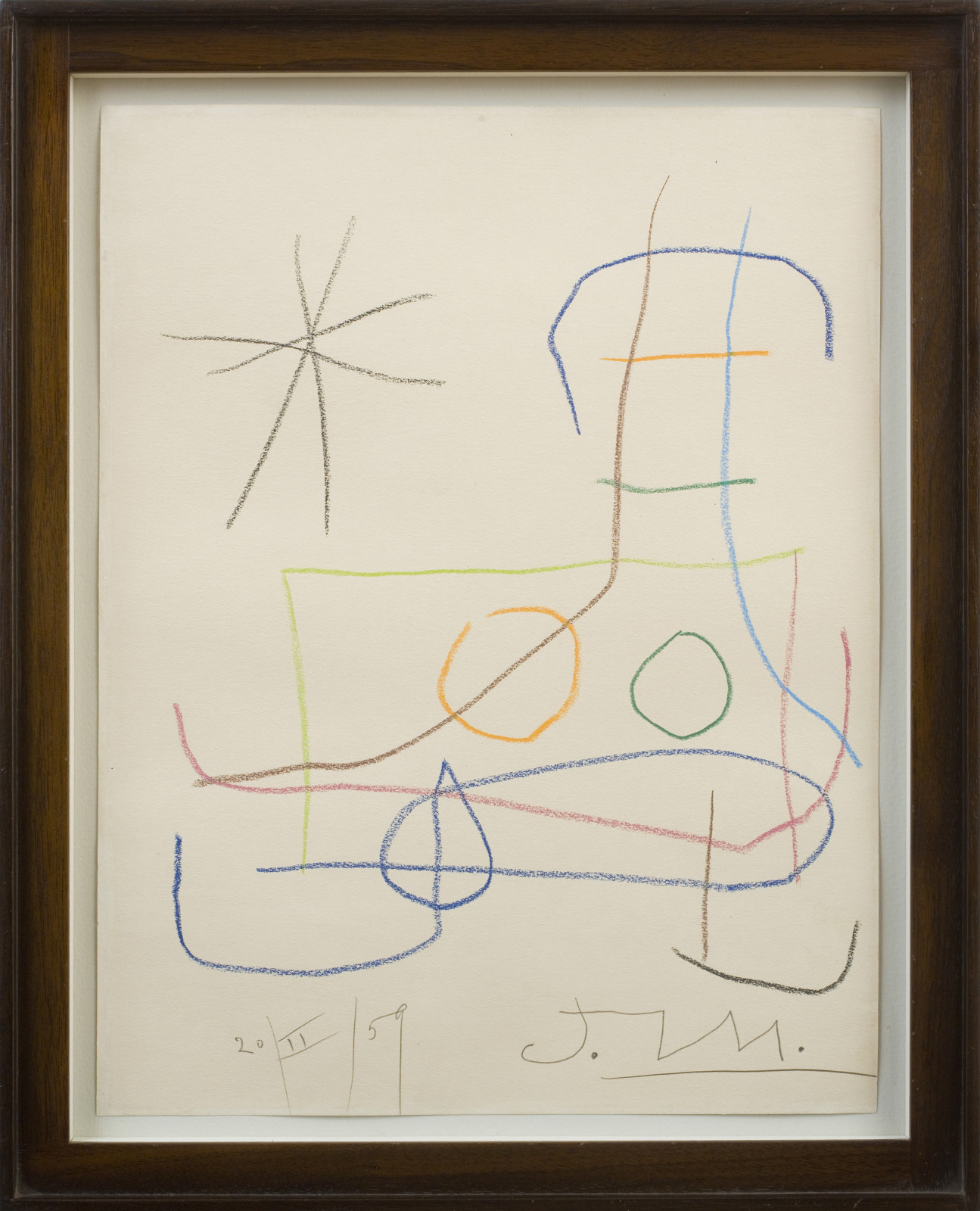 In his later years, following the Second World War, Miró (1893-1983) ascended to the status of a demi-god of modern art. His unfailing invention and the insatiable public appetite for his work propelled him into a rarefied category, occupied by just a small number of great artists including Picasso, Matisse and Giacometti. From 1945, Miró largely abandoned easel painting, securing his reputation with a variety of collaborative projects. Murals, book illustration and ceramics became his principle creative outlets. Not content with this type of work, however, his output of the 1950s and '60s also included small and highly personal autograph works, of which his crayon drawings are some of the most intimate.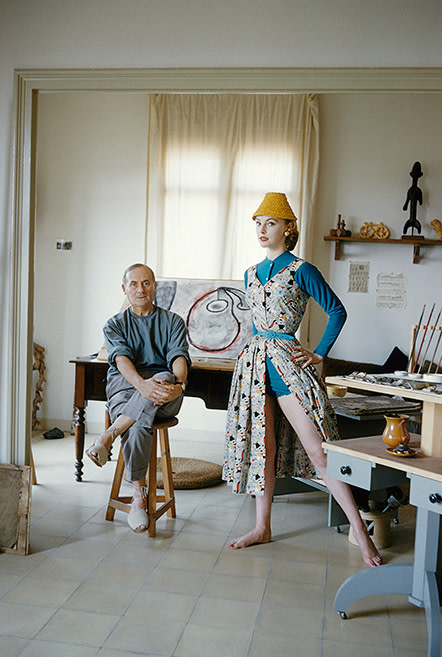 At the start of his career in the 1920s, Miró first gained recognition for his vivid, hallucinatory oil paintings. Often painted against a ground of uniform colour, a work like Tic Tic from 1927 has all of the recognisable qualities: semi-representational elements (the small area of yellow resembling a lemon), singly-applied black calligraphic strokes and block-like counterweights, and a restricted palette of primary colours. These works have the quality of a surreal landscape, summoned from the inky depths of the artist's mind and brought to fruition with a free and improvisatory manner.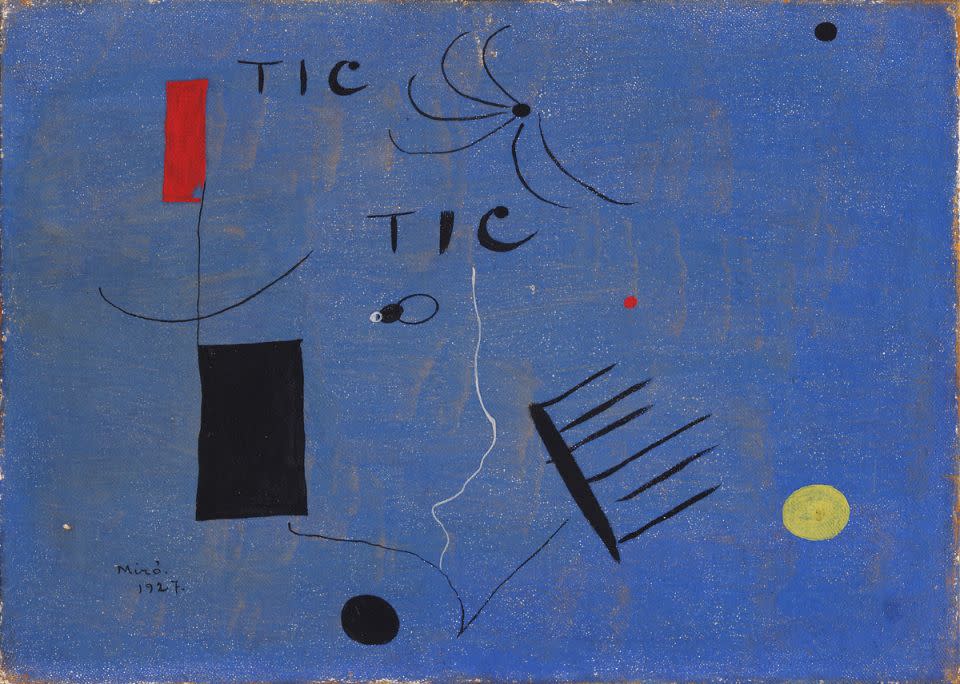 Miró's reputation was not limited to Europe. Some critics and artists have credited him as an inspiration for New York's post-war school of abstract painting, and his effulgent palette and jagged non-naturalistic forms belong to an unbroken chain connecting 1930s Paris to 1950s New York. Writing in 1959, the American curator James Thrall Soby described him as 'the most instinctively talented artist of his generation'. It was a period of heightened recognition for the artist in the United States and Thrall Soby's comments coincided with a significant exhibition of Miró's work held at the Museum of Modern Art, New York. His other transatlantic achievements of the time included a large-scale mural commissioned for Harvard's graduate dining hall.
Buoyed up by his warm reception in America, Miró's autograph works of this period are alert and elemental. A series of crayon drawings of the 1950s and '60s displays a distinctive motific language, including certain recurrent features such as the star-like asterisk and centrifugal spirals. Each line of these drawings was executed with singular precision, without addition, subtraction or alteration. A single crayon was rarely pressed to the same sheet of paper twice. Together, these terse lines form technicolour inventions of fluent simplicity. The emblazoned signatures and extravagant dating (always a specific day, echoing Picasso's habit) indicates the serious intent behind these playful works on paper.
Much of Miró's work speaks to a singular artistic vision. Explaining his attitude to representation, he once said, 'For me a form is never something abstract; it is always a sign of something. It is always a man, a bird, or something else. For me painting is never form for form's sake.' This comment begs the question of what signs are encoded in his untitled crayon drawings. Flickering skies and ghost-like faces come in and out of focus, with the drawing repeatedly re-shaping itself before breaking apart once more into pithy compositions of line and colour. On one reading, these drawings are the self-contained obiter dicta of a great, visionary artist.
Images:
1. Joan Miró, Untitled, 1959, crayon paper, 41 x 31 cm | For Sale
2. Miró in his Barcelona studio with the model Margaret Philipps, 1955, photographed by Mark Shaw © Mark Shaw
3. Joan Miró, Tic Tic, 1927, Kettle's Yard, University of Cambridge © Successió Miró
4. Harvard University's graduate dining hall in the 1950s, with Miró's mural in the background
5. Joan Miró, Sans Titre, 1968, Private Collection © Successió Miró
November 24, 2021