Euan Uglow was a painter's artist, exploring proportion and perspective with fastidious care and transcribing appearances into art with cautious ingenuity.
Euan Uglow
Still Life with Honeysuckle, 1968
---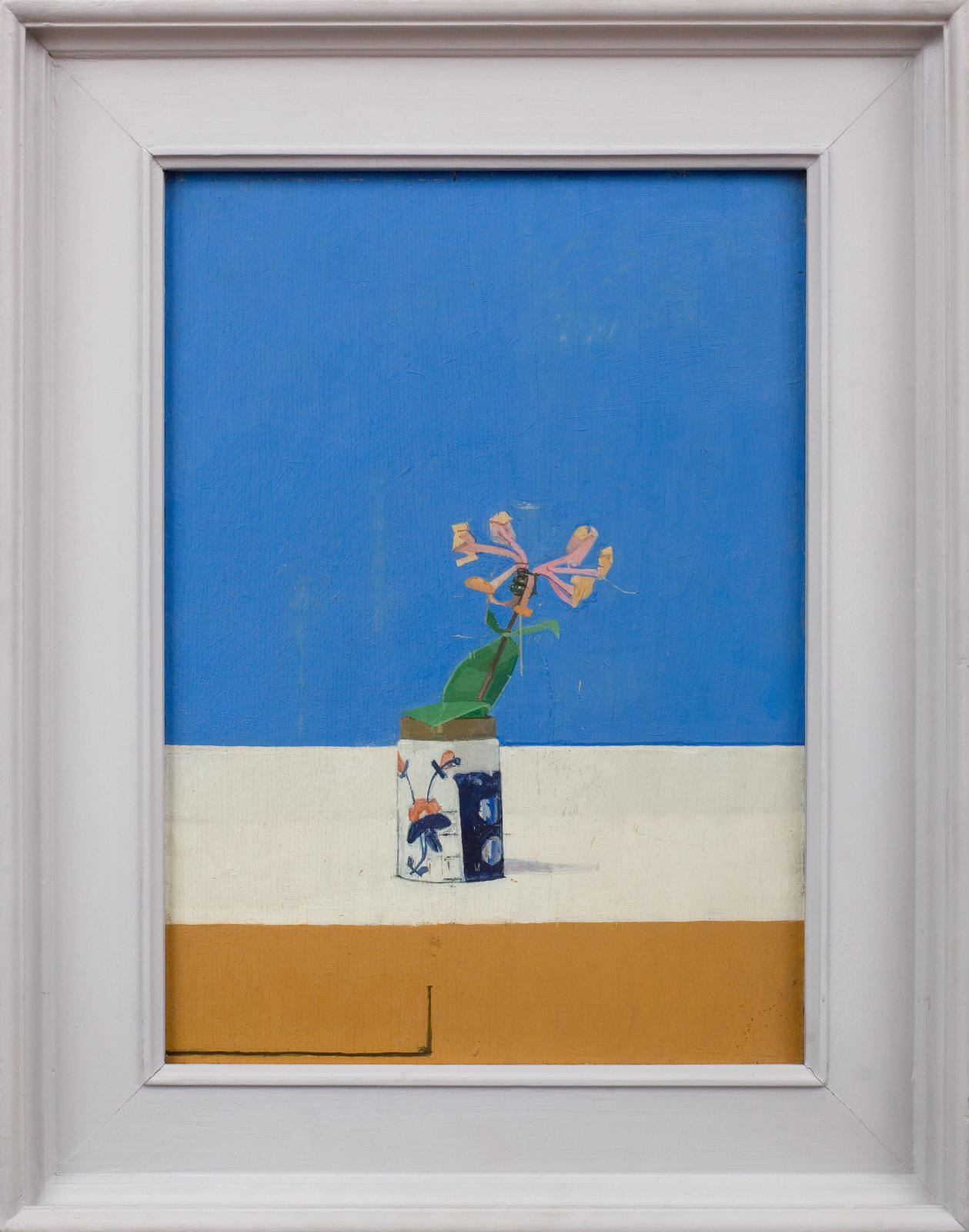 Image: Euan Uglow, Still Life with Honeysuckle, 1968, Private Collection
The artistic interests of Euan Uglow (1932-2000) are conveniently apparent from the titles which he gave to his still life paintings. While it is apparently simple, the title 'Still Life with Honeysuckle' nevertheless implies the artifice which underpinned the artist's approach. The work is not simply 'Honeysuckle' and the grammar of 'still life with' implies that this is a painting, not the thing itself. The phrasing draws attention to the artwork's fabrication. Other paintings make this clearer still. Passionate Proportion (1964) and Large Oval Still Life (1968) have titles which refer not to what is depicted, but rather to the way it is depicted or the shape of the painting itself.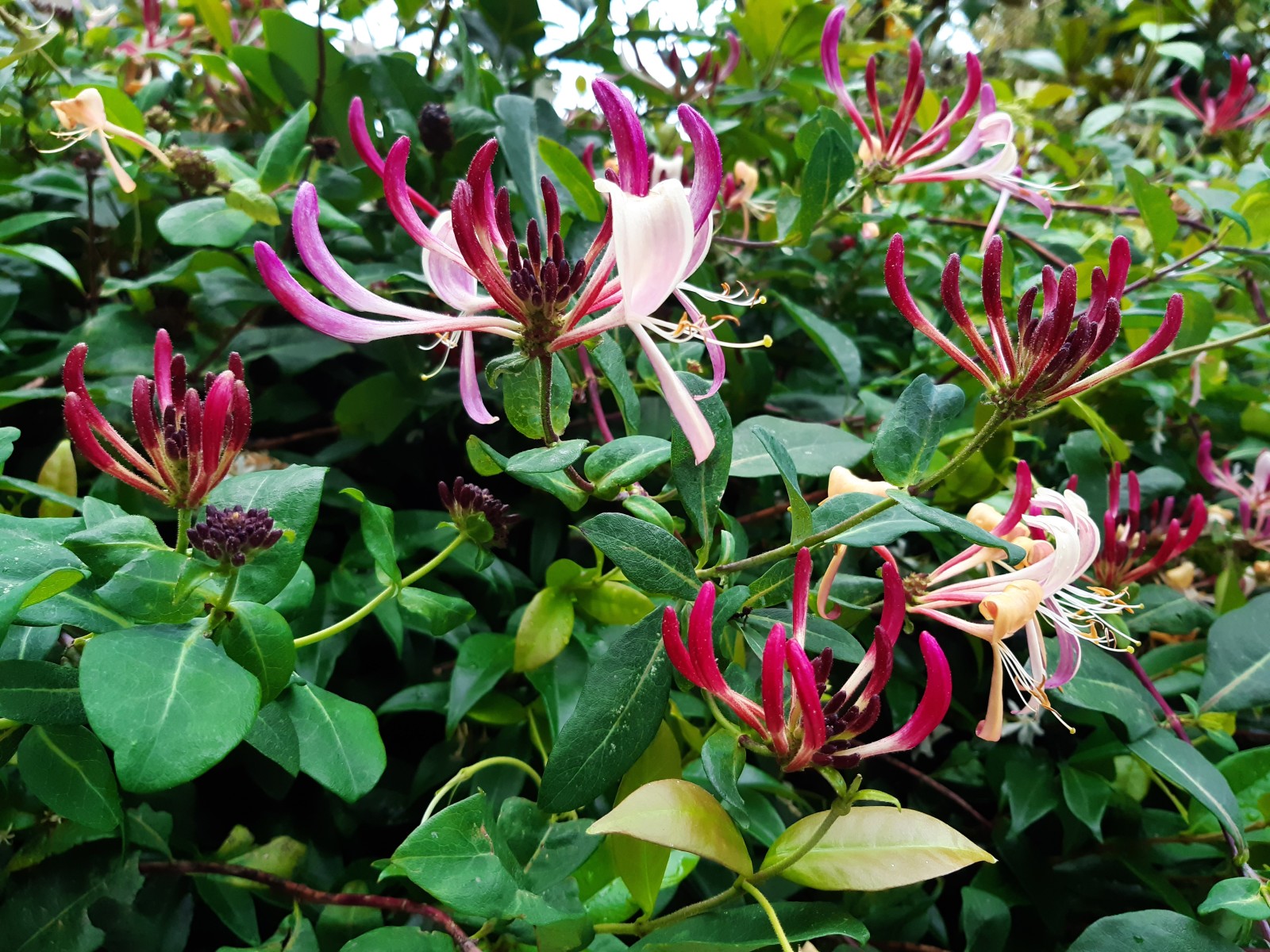 Image: Honeysuckle flowers
Uglow's critical approach to representation and binocular vision make his still life paintings some of the most original produced in the twentieth century. In a series of line drawings made from the still life paintings of other artists, Nicolas Party acknowledged Uglow's significance, placing him together with three other masters of the genre – William Nicholson, Félix Vallotton and Giorgio Morandi. For all of Uglow's long hours spent scrutinising the subject in the studio, his paintings rarely overwhelm the viewer with superfluous detail. His paintings have intensity not because they overflow with visual information, but rather because they distil it. Still Life with Honeysuckle mostly describes surfaces – the petals of the flower, the ceramic container – using flatly applied planes of unmodulated colour. The effect is to make the honeysuckle appear as vital and fresh as it did when Uglow was painting it.
Image: A drawing after Uglow reproduced in Nicolas Party: Still Life Paintings (2018) © Nicolas Party
Still life was a constant source of visual interest to Uglow throughout his career. He painted both conventional and unconventional subjects, ranging from fruit and flowers to a cow's tongue or a Bakewell tart, achieving an equal degree of visual interest with each. To begin with, his still life paintings of the 1950s had a marked tonal quality; a low key harmonisation of colour was preferred over full colour. Still Life with Delft Jar was painted in 1958 and, aside from its muted tonality, shows a characteristically sophisticated attitude towards the placement of objects in the picture plane. Objects of differing sizes are placed at different intervals of depth. When it was exhibited at Uglow's solo exhibition at the Beaux Arts Gallery in 1961, it is unsurprising that the work was acquired immediately by the Arts Council.
Image: Euan Uglow, Still Life with Delft Jar, 1958, Arts Council Collection © The Estate of Euan Uglow
A few years after Still Life with Delft Jar was painted, Uglow started to use 'full colour' in his work. His paintings of the 1960s are notably brighter and have a complementary clarity of design. The three bands of colour which structure the composition of Still Life with Honeysuckle are notably similar to the work of Uglow's close friend, the painter Craigie Aitchison, who used the same three-tiered layout in Baker's Egg(see InSight LXXXV). However, even as Uglow left behind tonal painting, he never adopted the decorative colour schemes that Aitchison used. A fastidious empiricist to his fingertips, Uglow used 'full colour' to describe his subjects more acutely and to evoke them more tangibly.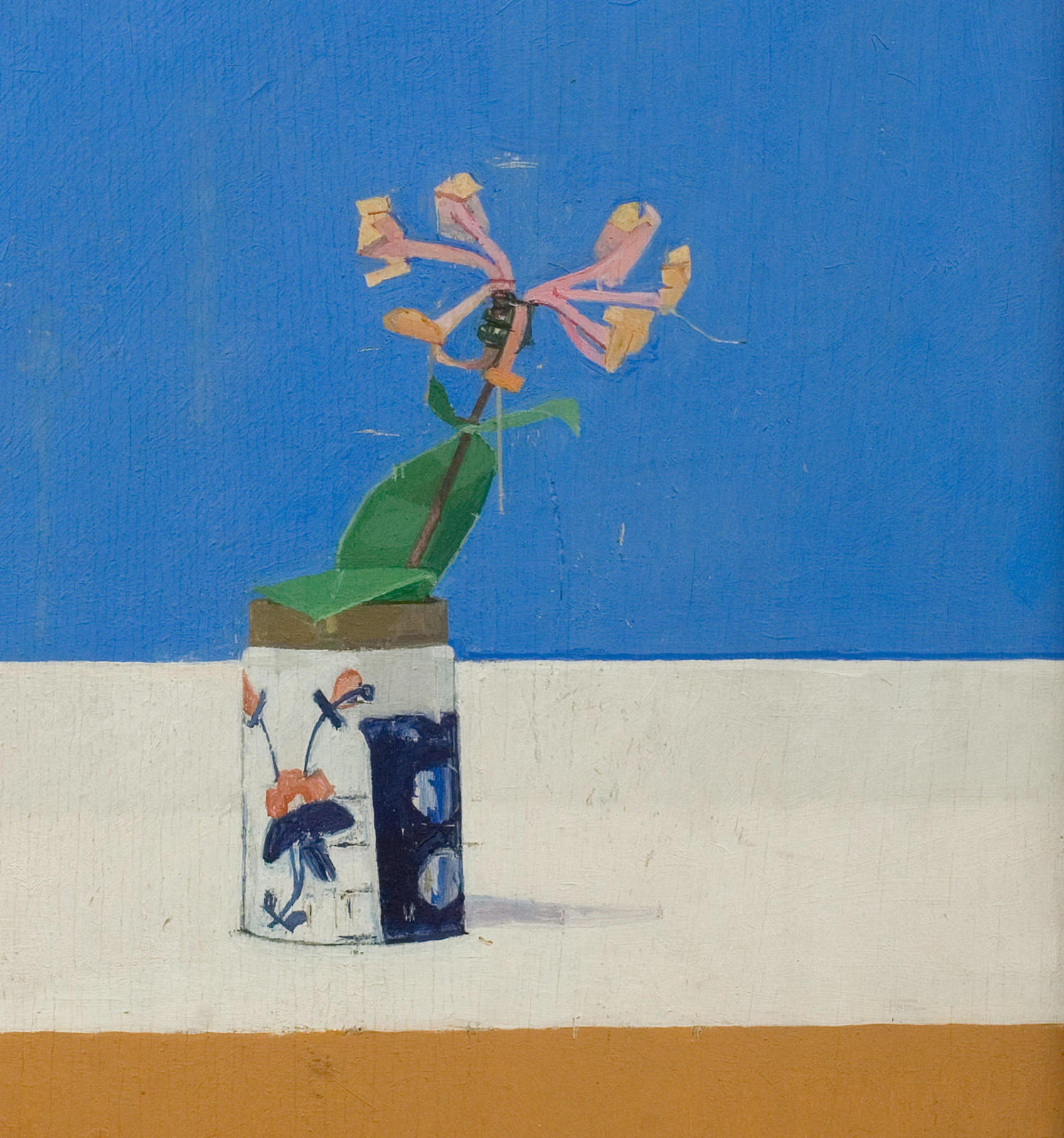 Image: Still Life with Honeysuckle (detail)
In recent years, the clean outlines and 'controlled passion' of Uglow's work have appealed to a range of audiences. Aside from a significant retrospective of his work held at Museum MORE in the Netherlands in 2019, at which Still Life with Honeysuckle was exhibited, this particular painting has also been featured in various publications. The Chinese painter Zeng Fanzhi admires Uglow, including this painting in a publication about Cézanne, Morandi and Sanyu, while Phaidon's recent coffee table book, Flower: Exploring the World in Bloom, positioned the work between certain prints by Gary Hume and an advertisement from the Parisian haute parfumerie Caron. The terse, principled exploration of appearances and their transcription into art has made Uglow into a painter's artist. Works like Still Life with Honeysuckle help to demonstrate why.
October 20, 2021