A lifelong lover of 'kitsch', Craigie Aitchison achieved a rare synthesis of style and content in paintings that stand out as much for their unusual subject-matter as for their dazzling colour.
Craigie Aitchison
Baker's Egg, 1974
---
'Kitsch' is a contested subject. Originating in 1920s Germany, the word derived from a dialect word (kitschen,'to coat' or 'to smear') and literally means 'trash'. Though it started life as a pejorative, it migrated into the English language as a loan word and gained a post-modern irony, being adopted as a strategy to undermine the art world's suffocating seriousness. The art of Craigie Aitchison (1926–2009) is nothing if not kitsch and begs a familiar set of questions about the definition of high art and the usefulness of low culture.
Writing in 1979, the critic John McEwen suggested that, '[i]n England one of the most notable exceptions to the general conformity is the work of Craigie Aitchison.' From a painting like Baker's Egg, it is clear what McEwen was talking about. The painting depicts an Easter egg balanced on top of a china ornament. Aitchison's home in Lambeth was filled with similar trinkets, many purchased from charity shops or tourist kiosks abroad. The one in this painting is characteristically gauche: a pussy cat rolling on its back with a top hat on its belly. The work was made as a gift for Aitchison's friend, Jonathan Robinson, whose nickname 'Baker' is inscribed on the egg.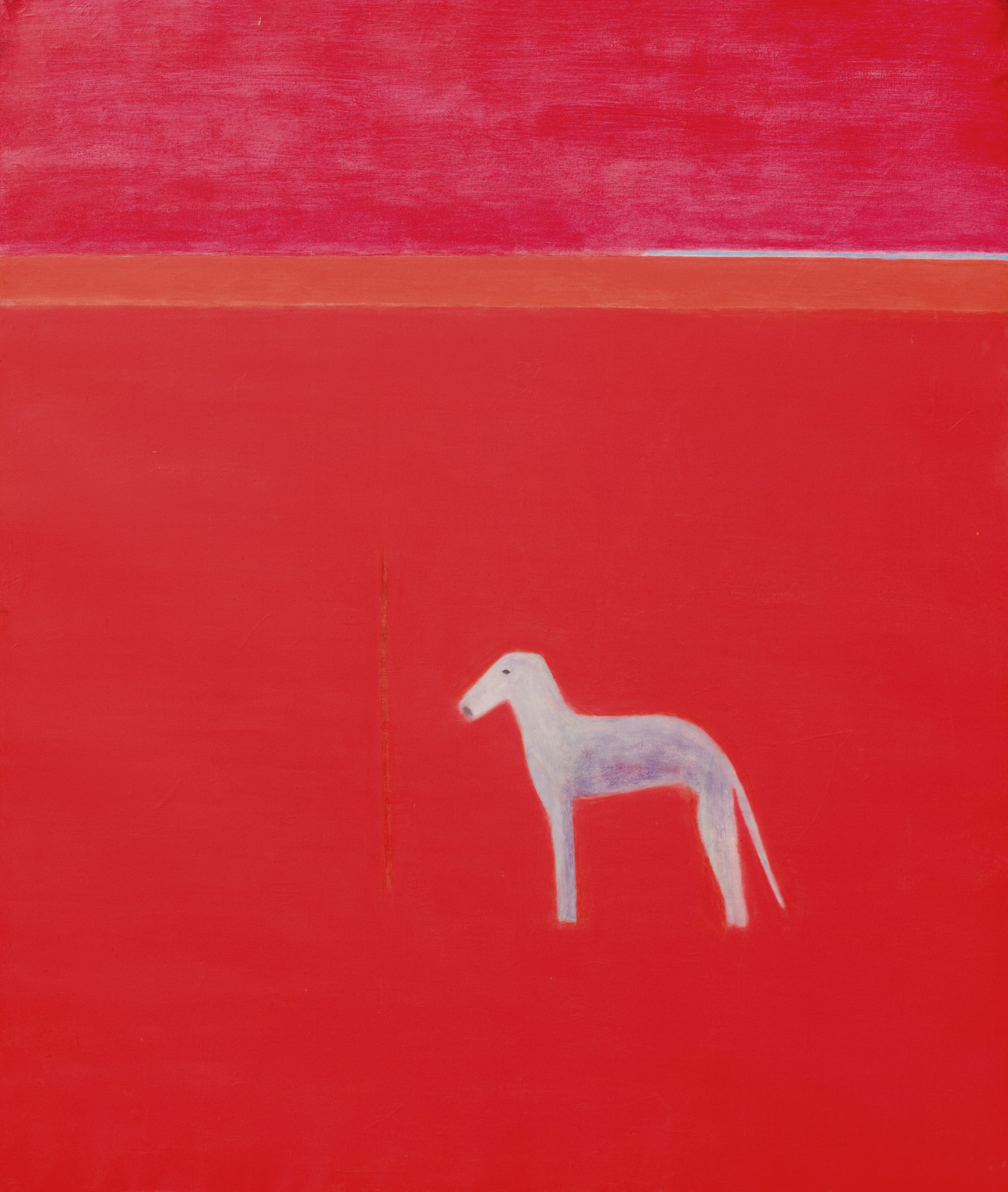 While Baker's Egg is eccentric, it is also original. The unusual subject-matter is complemented by the three-banded composition of vivid colour: fluid, thinned-out red; mat Seville orange; vermillion. It is notable that the same format, colour and consistency of paint were replicated in a contemporary work, Dog in Red Painting; the recurring use of these colours suggests a sustained exploration. While his work was always representational, his sensibility for colour and its deployment in a shimmering haze resonates with post-war American 'colour field' painting. Aitchison's dealer Helen Lessore thought that he balanced the two qualities in his art, writing that 'decoration and representation, each understood in its highest sense, were always equally balanced in him.'
Aitchison painted many Easter eggs in his career, though Baker's Egg was perhaps the first. Executed in 1974, it precedes by three years his discovery of glamorous Italian Easter eggs, which he later started buying in London and using as a regular subject. As he explained to Andrew Lambirth,
the first one I started in London was of an egg I got in the local bar in Italy. As soon as I saw it I thought I could try to paint it, so I brought it back. Now the ones I do I get from an Italian shop in South Lambeth Road.
As much as anything, it was the gaudy packaging which appealed to the artist. The advertising which accompanied Easter eggs in the 1970s certainly had a certain resemblance to the playful colour of Baker's Egg.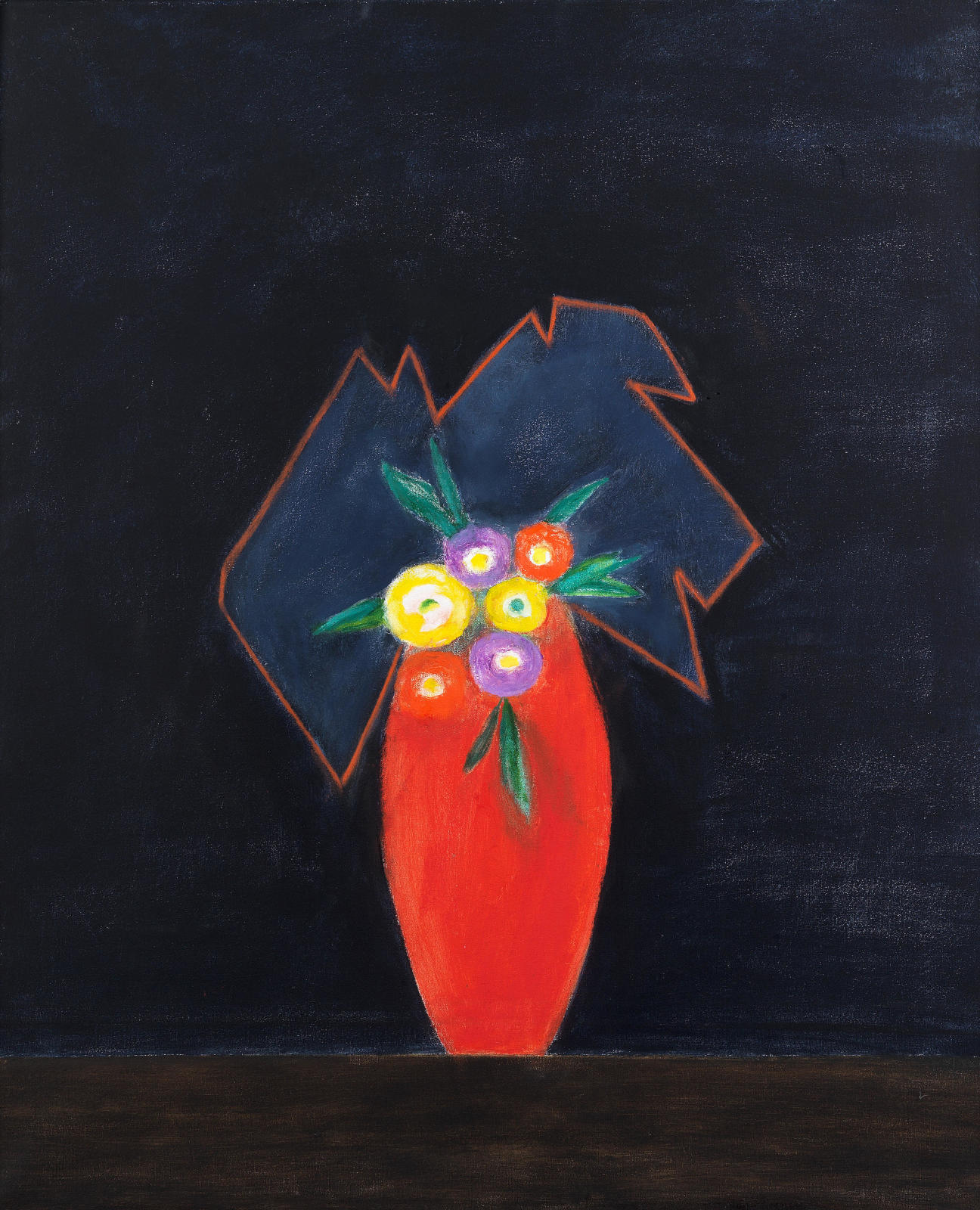 Kitsch has its critics. Roger Scruton regarded it as 'a disease of faith'. Yet it remains popular and in this age of heightened cultural self-awareness, it is perhaps surprising that kitsch now has both knowing and unknowing admirers: those who love how awful it is, and those who just love it. (According to official statistics, recent episodes of the BBC's Saturday night glitterball project Strictly Come Dancing have consistently attracted one tenth of the UK population.) Like the orchestral music of Korngold or the pseudo-pornography of Jeff Koons, Craigie Aitchison's art begs a question of taste. The visual appeal of a work such as Baker's Egg remains undeniable, however. And even as it widens the scope of Western art and lowers the drawbridge of high culture, his paintings more generally continue to communicate sincere sentiments of joy and nostalgia.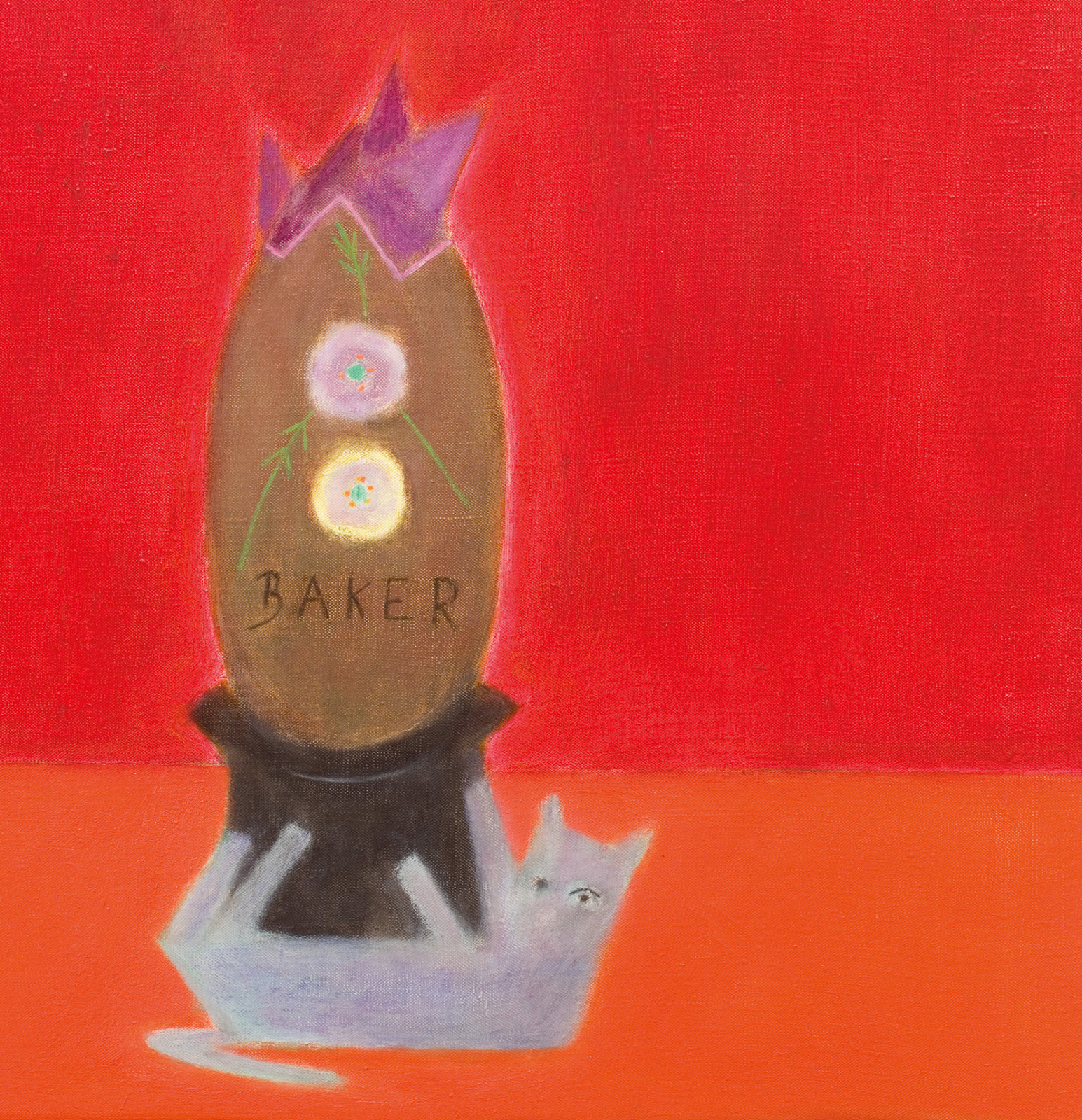 Images:
1. Craigie Aitchison, Baker's Egg, 1974, oil on canvas, 24 x 20 in | For Sale
2. One of Aitchison's china ornament
3. Craigie Aitchison, Dog in Red Painting, 1974-75, Private Collection © The Estate of Craigie Aitchison
4. Rowntree Mackintosh Easter advert, 1977
5. Craigie Aitchison, Italian Easter Egg, 1994, Private Collection © The Estate of Craigie Aitchison
6. Baker's Egg (detail)
October 13, 2021