Despite his melancholic temperament, R.B. Kitaj made dazzling paintings which promised 'not only to do Cézanne and Degas over again after Surrealism, but after Auschwitz, after the Gulag.'
InSight No. XLIX
R.B. Kitaj
Fed Up, Again, 1981
Today, we categorise the many forms of inward distress under a neat, catch-all phrase: 'mental illness'. In the ancient world, however, a person's mood was accounted for not by a universal sliding scale between wellness and illness, but rather by an individual's balance of the four humours. An excess or deficiency of choler, melancholy, phlegm or blood (sanguinity) could have harmful effects. Following this doctrine, a pseudo-Aristotelian author described a melancholy man thus:
He is brown in complexion, unquiet, his veins hidden, eateth little, and digesteth less, dreameth of dark and confused things, is sad, fearful, exceeding covetous, and incontinent.
An imbalance of humours is apparent in certain paintings from the 1980s by R.B. (or 'Ron') Kitaj (1932–2007). Fed Up, Again and Melancholy After Dürer both make reference to the antique gesture of 'the melancholy man': a slumped figure with a despairing hand to their face. (Kitaj was much inspired by the art historian and anthropologist Aby Warburg who aptly described this type of embodied feeling as a pathosformel.) Though the later work makes overt reference to Dürer's engraving Melencolia, I as its source, both paintings were prompted by a bigger network of imagery and feeling. In Fed Up, Again, instead of reimagining Dürer's fallen angel, Kitaj appears to have used his bearded self as the model.
Kitaj suffered from depression perennially throughout his life. Where his first wife Elsi committed suicide in 1969, his second wife died of an aneurysm shortly after the opening of his Tate retrospective in 1994. Kitaj often presented an embattled character to the public, sometimes using his paintings to convey personal messages to an informed audience. Believing that his wife's aneurysm was caused by savage reviews of his Tate show, he reacted angrily in a work called The Killer-Critic Assassinated by His Widower, Even – a title which well describes its emotionally fraught message.
However, though many of Kitaj's paintings contain a degree of coded autobiography, his wide-ranging references traversed politics, Jewish identity, art history, poetry and iconographical scholarship. His approach to making pictures was characterised by a fleet-footed post modernism, and it would be a mistake to regard a work like Fed Up, Again simply as an expression of the artist's private emotion.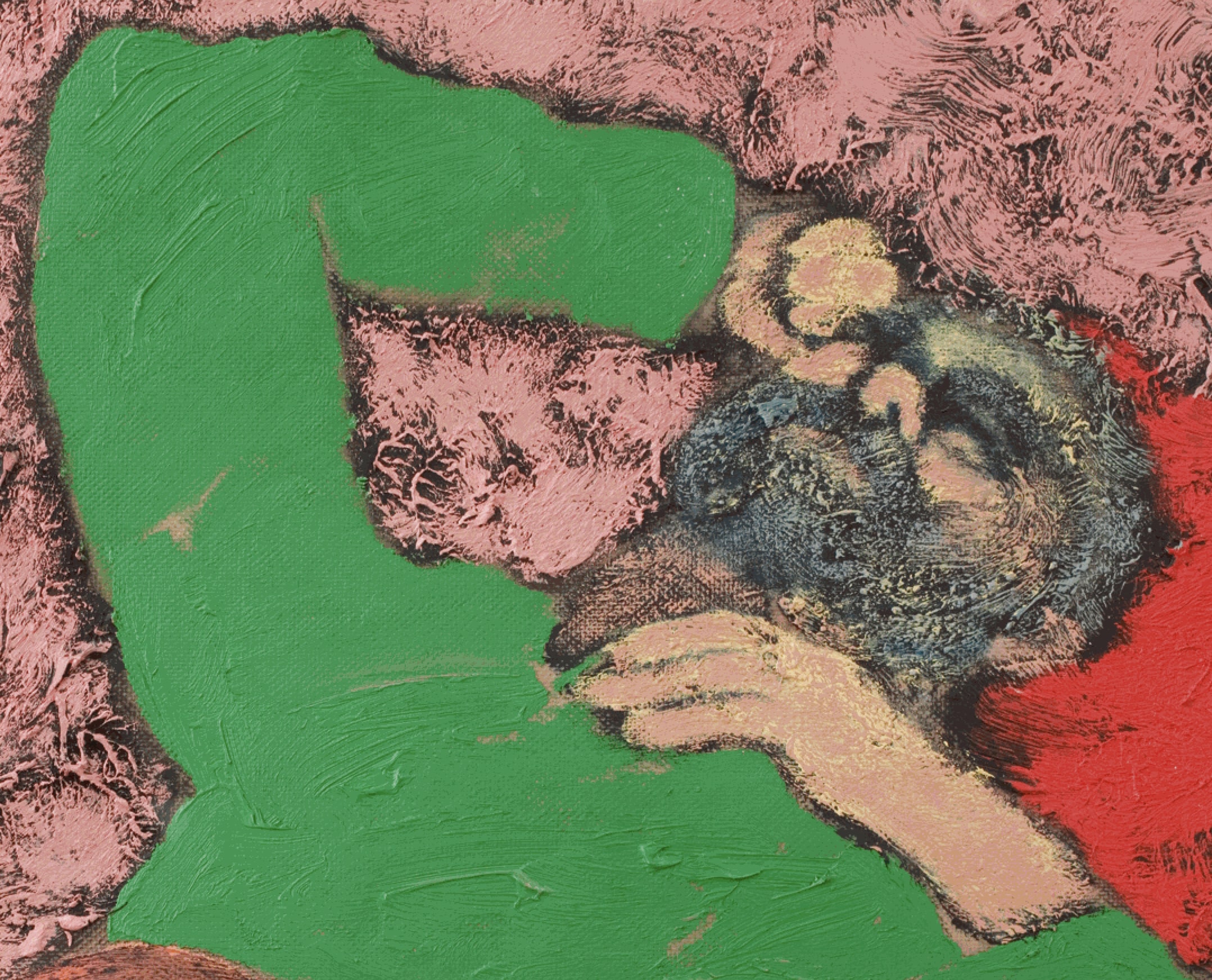 One of Kitaj's fascinations was the painting of late nineteenth-century France. He once suggested that his focus as an artist was 'not only to do Cézanne and Degas over again after Surrealism, but after Auschwitz, after the Gulag.' Fed Up, Again shows Kitaj acting on his statement. The smoothly brushed impasto of the vermilion trousers relates closely to the painterly, wet-in-wet surface of Degas's own version of Melancholy. The sitter's state of troubled repose and the stark contrast of pink and green in Fed Up, Again delivers the undertow of surrealism which Kitaj promised in his declaration.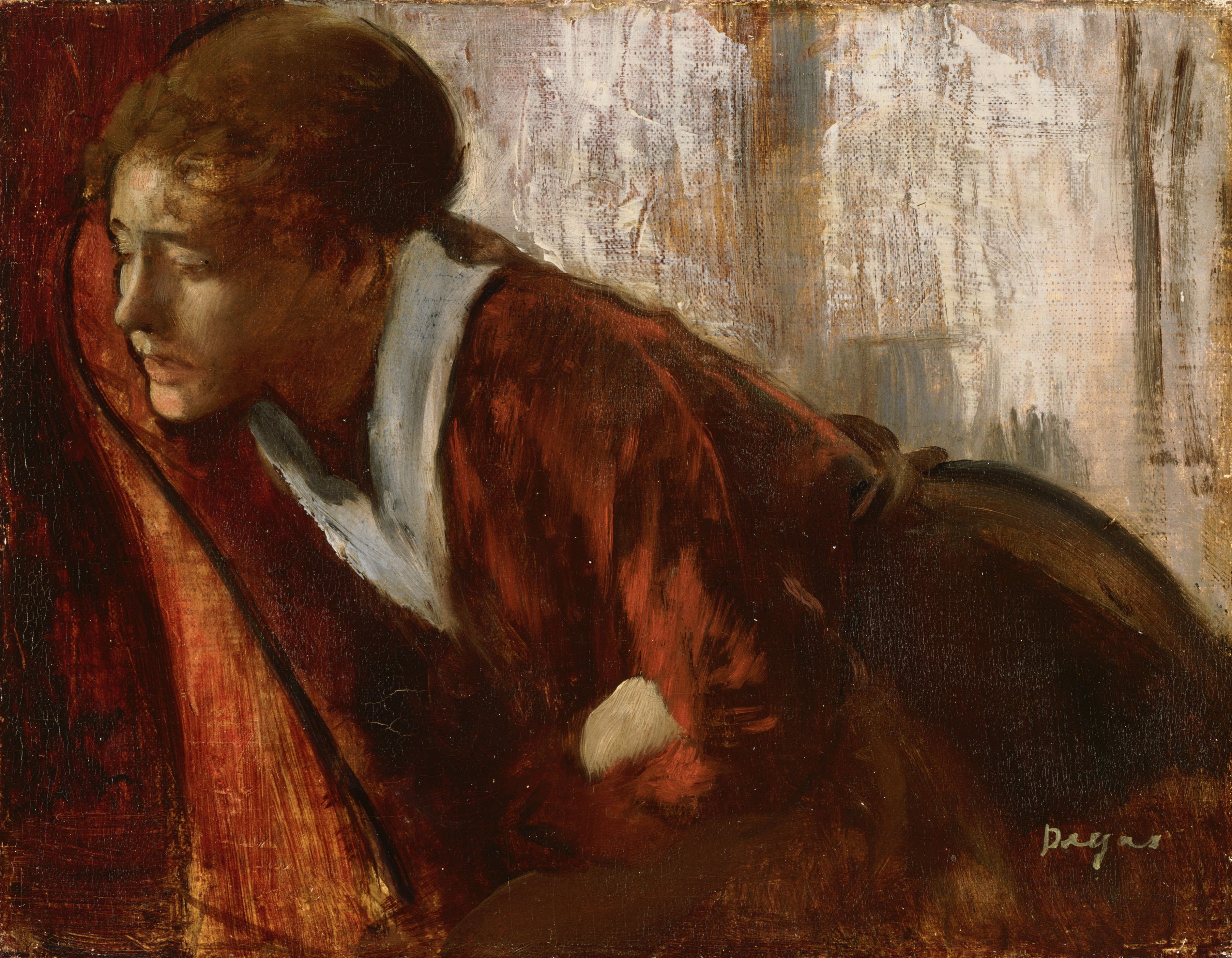 Like the works of surrealism, Kitaj's paintings were resolutely figural. Aside from a passing fancy for one of John Golding's pastels (see InSight XXXII), abstraction did not interest him. When invited to select works for an exhibition at the Hayward Gallery in 1976, he conceived a project which did much to reshape perceptions of contemporary art. 'The Human Clay', as the exhibition was called, promoted the notion of an identifiable 'London Group' and included work by Michael Andrews, Frank Auerbach, Lucian Freud, David Hockney and Leon Kossoff.
In turn, Auerbach's series of portrait etchings from 1980 – Six Etchings of Heads – helped to cement the notion of a select group of London-based figure painters. The series depicted three of the artists included in The Human Clay, namely Freud, Kitaj and Kossoff. Dating from one year after Auerbach's portrait, the self-portrait in Fed Up, Again shows a very different vision of Kitaj. Nevertheless, both images attest to the importance of their subject and his pivotal place in British painting at the time.
IMAGES
1. R.B. Kitaj, Fed Up, Again, 1981, oil on pressed paper pulp, 71.8 x 61 cm
2. R.B. Kitaj, Melancholy After Dürer, 1989, British Council Collection © The Estate of R.B. Kitaj
3. Albrecht Dürer, Melencolia, I, 1514, engraving
4. Lee Friedlander, Kitaj, London, 1984 © Lee Friedlander
5. Fed Up, Again (detail)
6. Edgar Degas, Melancholy, late 1860s, The Phillips Collection, Washington, D.C.
7. The exhibition catalogue which accompanied The Human Clay (1976, Arts Council)
8. Frank Auerbach, R.B. Kitaj, 1980, etching © Frank Auerbach
December 16, 2020