Horses were the life-long passion of Raoul Dufy. No other animal recurs so frequently in the history of art, yet Dufy was one of the few to explore their potential across book illustration, fabric design and painting.
InSight No. LXIV
Raoul Dufy
Dans les prairies de l'Eure, c. 1919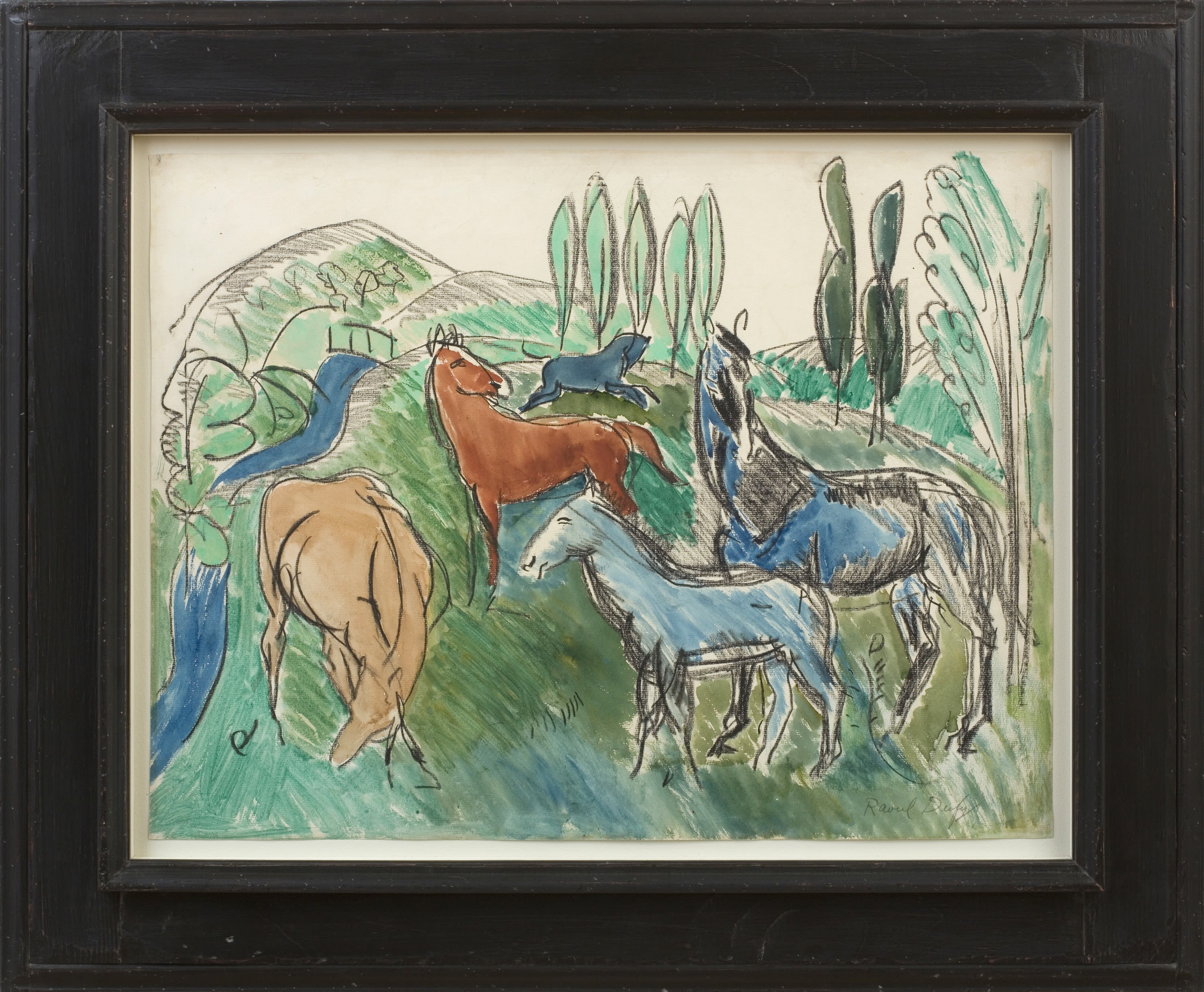 The French art critic Louis Vauxcelles is attributed with coining two well-known 'isms': Fauvism and Cubism. Neither were intended as a compliment. Reviewing the 1905 Salon d'Automne, he dismissed Matisse and Derain's offerings as the work of 'wild beasts'. Fauvism later came to describe other artists like Georges Rouault, Maurice de Vlaminck and Raoul Dufy (1877–1953). Before he set upon his own distinctive approach to picture-making in the late 1910s, Dufy went through several different phases, beginning with a plein air beachside Impressionist manner and later following the decorative simplifications of Matisse. His association with the Fauves is best symbolised by the charming wood-cut engravings he made for Guillaume Apollinaire's bestiary poems.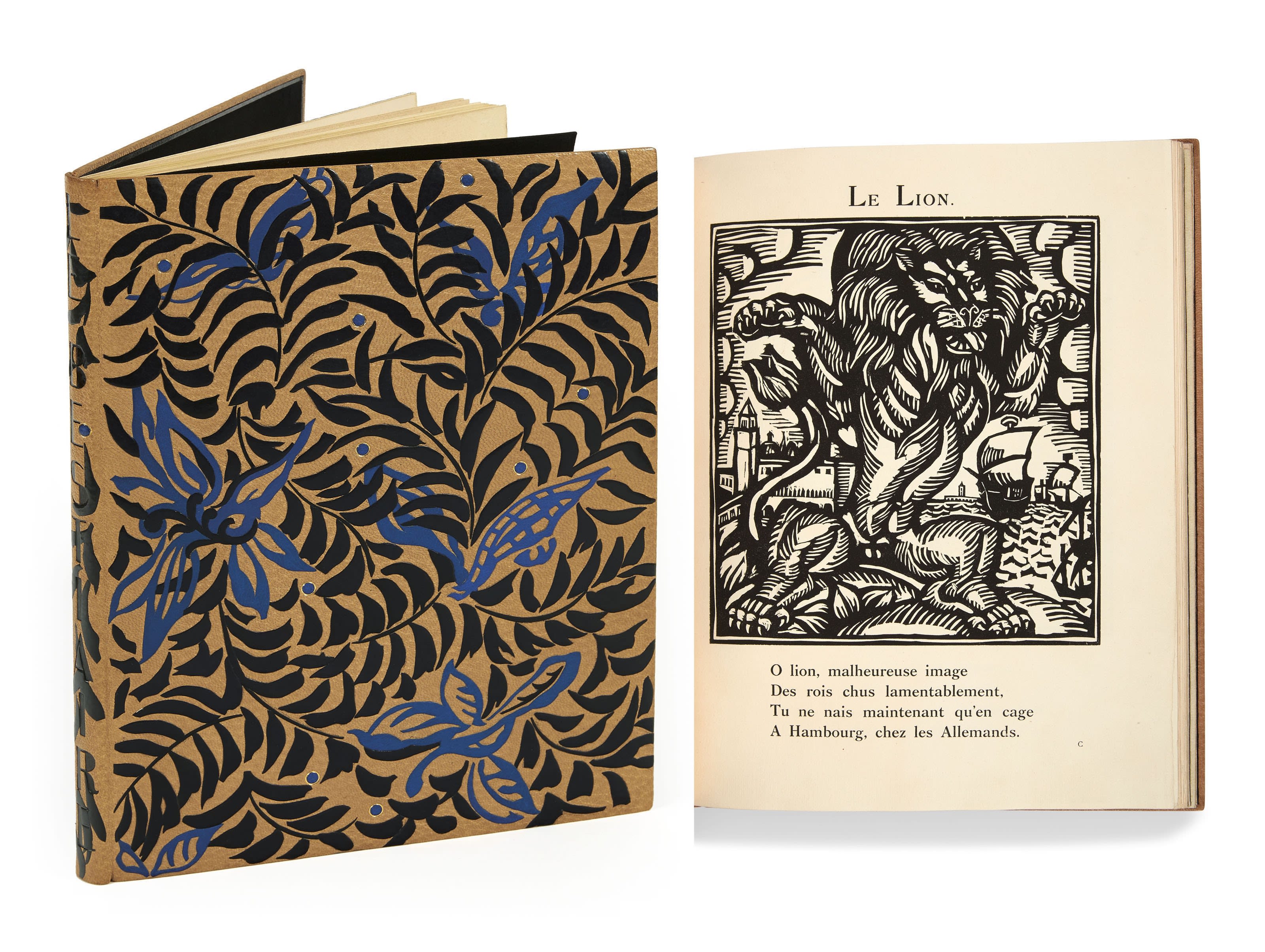 Aside from the elephant, octopus and dolphin required by Apollinaire's text, Dufy was also required to depict the subject which was his life-long passion: the horse. No other animal recurs so frequently in the history of art. They have been represented since being domesticated by the nomadic people of the Steppe in central Asia, with notable examples being the bronze Flying Horse from the Han dynasty, a mutilated head among the Elgin Marbles, and the late medieval equestrian portraits by Paolo Uccello, Andrea Verrocchio and Donatello. Albrecht Dürer even made studies towards a treatise on the proportions of the horse, though these were unhappily stolen before publication.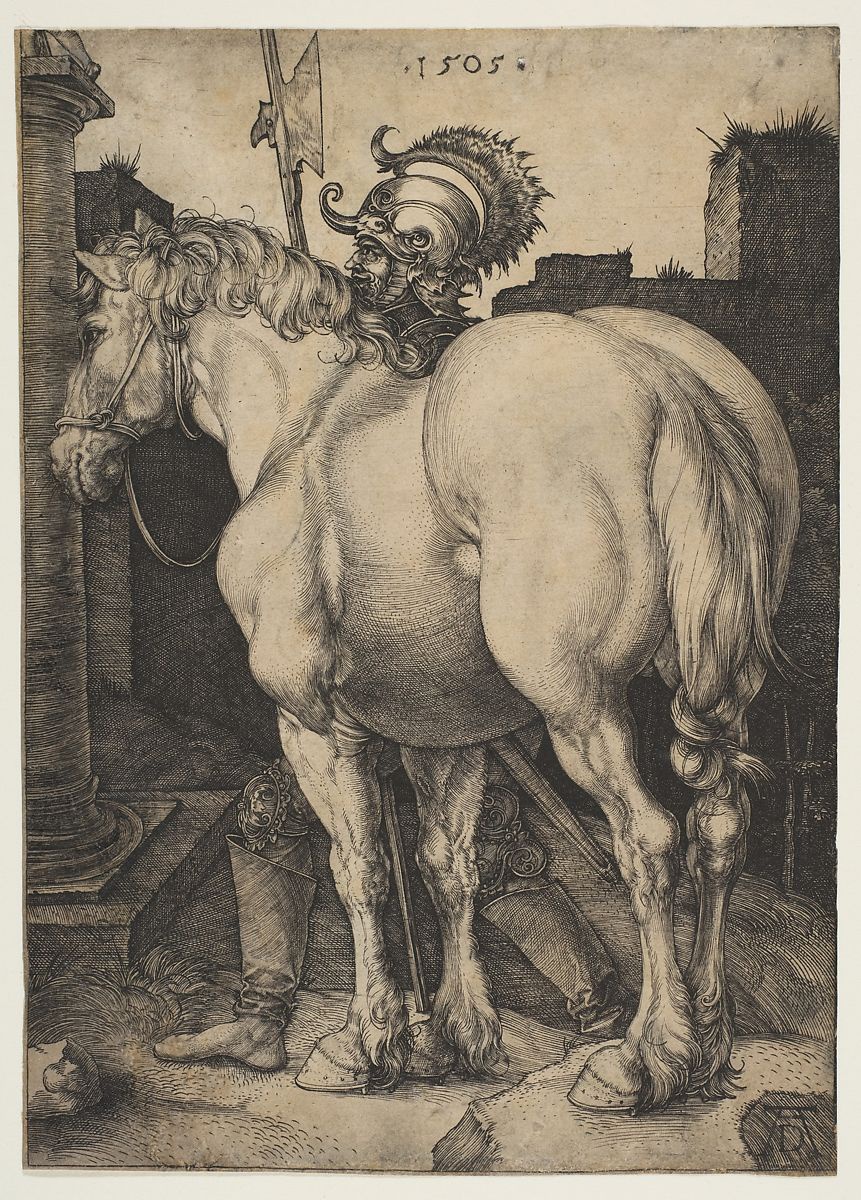 Whether or not Dufy was aware of this venerable history, the horse paintings of Degas were of much greater significance to his own imagining of the horse than these less French precedents. Degas caught the agitated movements and listless energy of the animal and some of his pictures give meaning to the phrase 'horseplay'.
Dufy's images also capture this wild freedom. Dans les prairies de l'Eure depicts a scene in rural Normandy, animated by the grazing and galloping of five horses. They are unbridled, if not wild. There is no fixed perspective, a post-Cubist development, and the landscape appears to wrap around the horses. The hatching of Dufy's crayon encompasses the fields and the animals, making both shimmer with implied movement.
Aside from an interest in roving horses and equine agriculture, Dufy was also attracted to the racecourses of northern France and southern England. Over his career, he depicted meetings at Deauville, Longchamp, Epsom and Ascot among others. In these paintings, he espoused the principle that light should be represented with pure colour. A picture, such as that reproduced on the front cover of Vanity Fair in 1934, would be organised around blocks of colour which pay no regard to details of the scene (the jockeys, the stands, etc.). As a consequence, the underlying drawing only approximates to the vivid colouring. Contours break down and the flatness of the picture plane is exposed. It was a joyous, self-satisfying approach and Dufy himself conceded,
Whether the pleasure he has gained for himself be shared or not, whether his work be in concord or contradiction with the tastes of the times, whether it be ahead or behindhand, the artist is neither able to do anything about it nor concerned to try.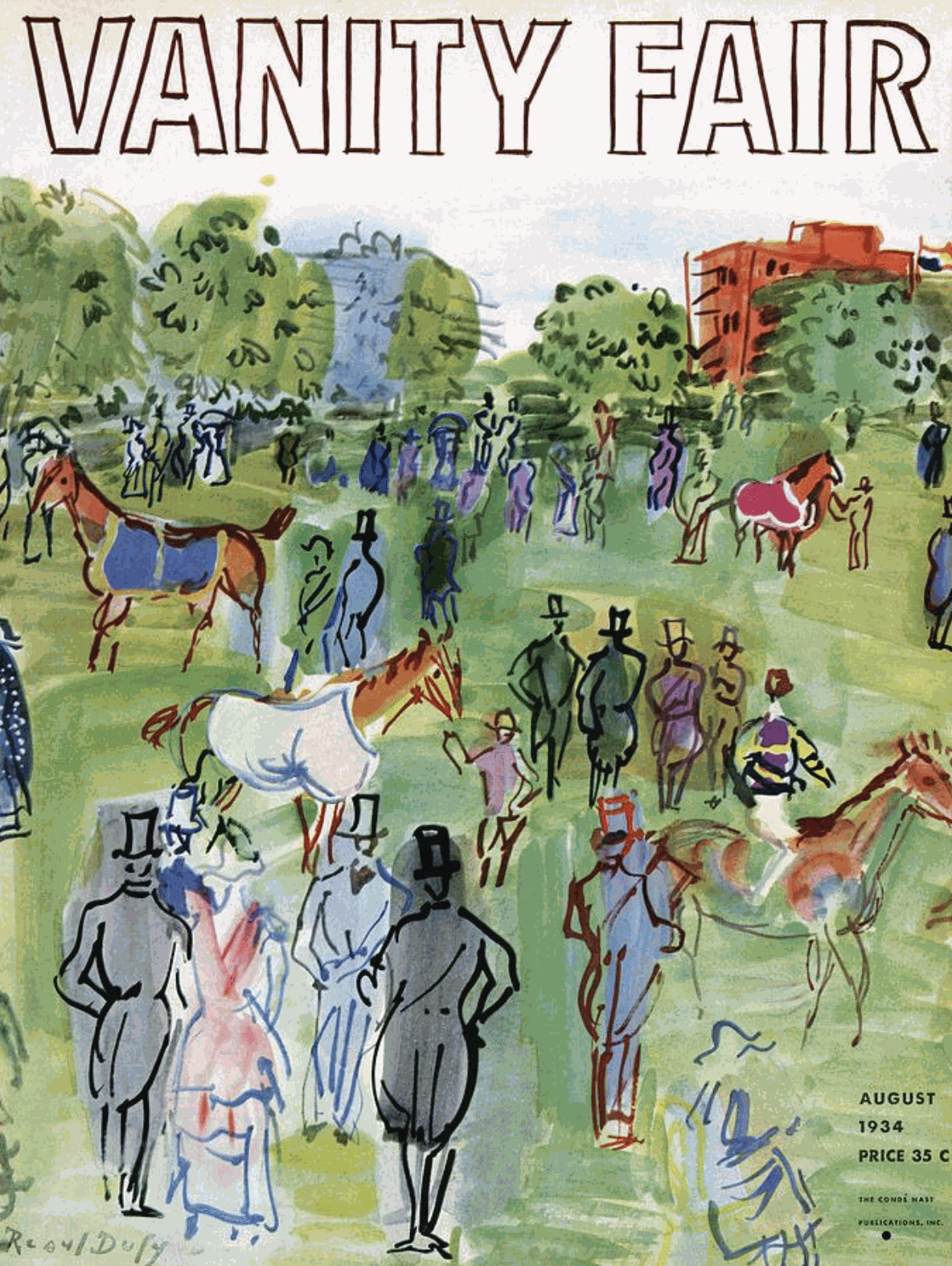 Aside from his interest in horses and painting, Dufy also pursued a career as a designer. In 1910, he met the fashion impresario Paul Poiret and began designing stylised floral textiles in black and white. His talents were recognised almost immediately in the fashion world and within two years of meeting Poiret, he had accepted an offer of work from the luxury silk manufacturers Bianchini-Férier (initially to the chagrin of Poiret).
In prints from the later 1910s, he progressed to more colourful designs. Some of these were inspired by the monied lifestyle played out in the Bois de Boulogne just outside Paris, with particular attention to the racecourse at Longchamp. Dufy's affection for horses was never far from the surface and a print called 'Longchamp' from 1919 is filled with jockeys and fine millinery. It was no doubt this sort of flamboyant scene which, half a century later, inspired Cecil Beaton's Edwardiana costumes for My Fair Lady.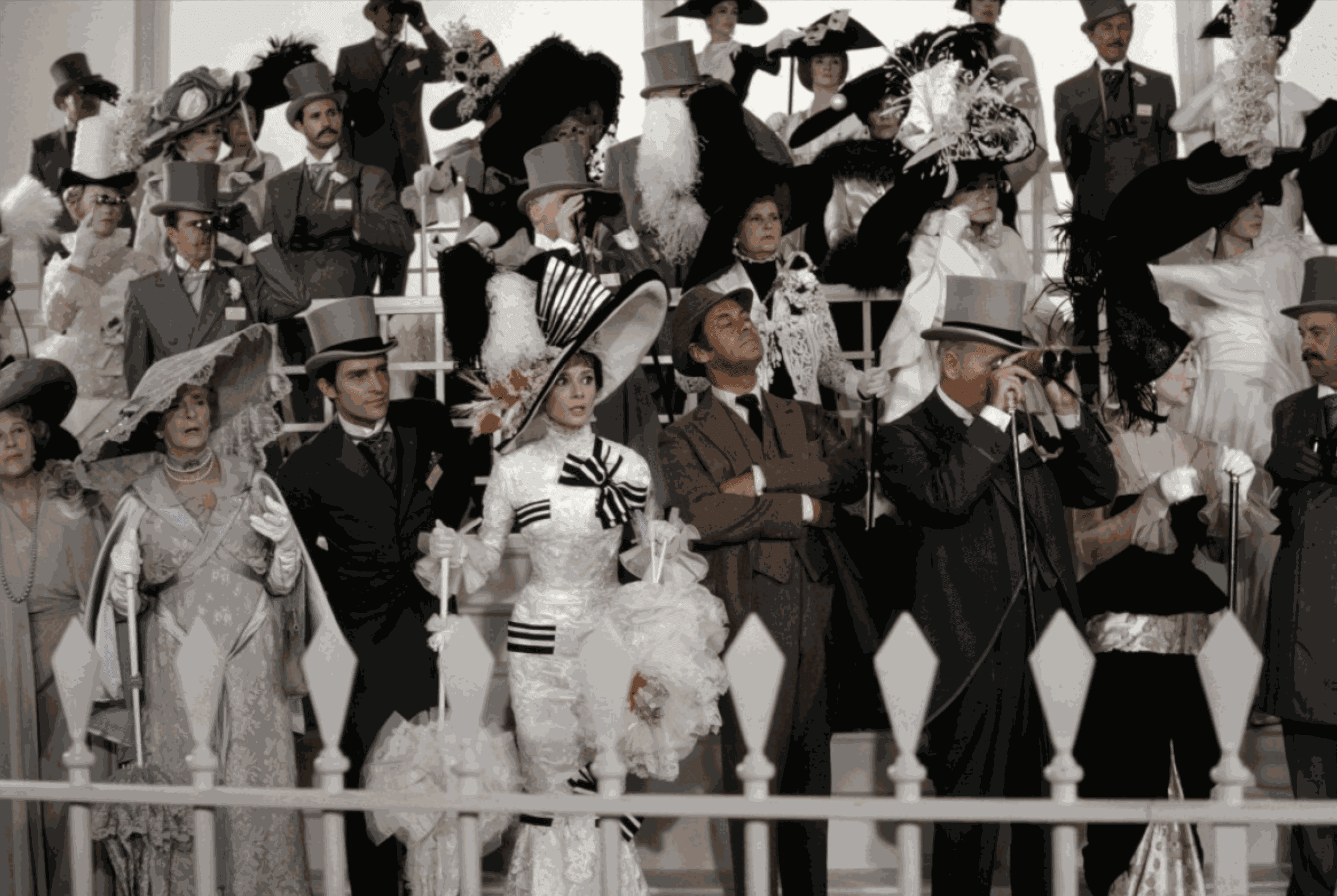 IMAGES
1. Raoul Dufy, Dans les prairies de l'Eure, c. 1919, watercolour, crayon and charcoal on paper, 43 x 57 cm
2. Guillaume Apollinaire with illustrations by Dufy, Le Bestiaire ou cortège d'Orphée (1911, Deplanche)
3. Albrecht Dürer, The Great Horse, 1505, engraving
4. Edgar Degas, Before the Race, 1882-84, Walters Art Museum, Baltimore
5. Dans les prairies de l'Eure (detail)
6. Vanity Fair, Aug. 1934, with a cover by Dufy
7. Raoul Dufy, Longchamp (furnishing fabric designed for Bianchini-Férier), 1919-20, Victoria & Albert Museum, London
8.
The race day scene from
My Fair Lady
(1964, director George Cukor)
November 11, 2020