Josef Herman was a British Polish emigré, bereaved by the atrocities of the Warsaw ghetto in 1942 and inspired by the solemn grandeur of Welsh miners. His work shows how different national and artistic identities can unite in a single person over a lifetime.
Josef Herman
Women on the Shore, c. 1945-50
---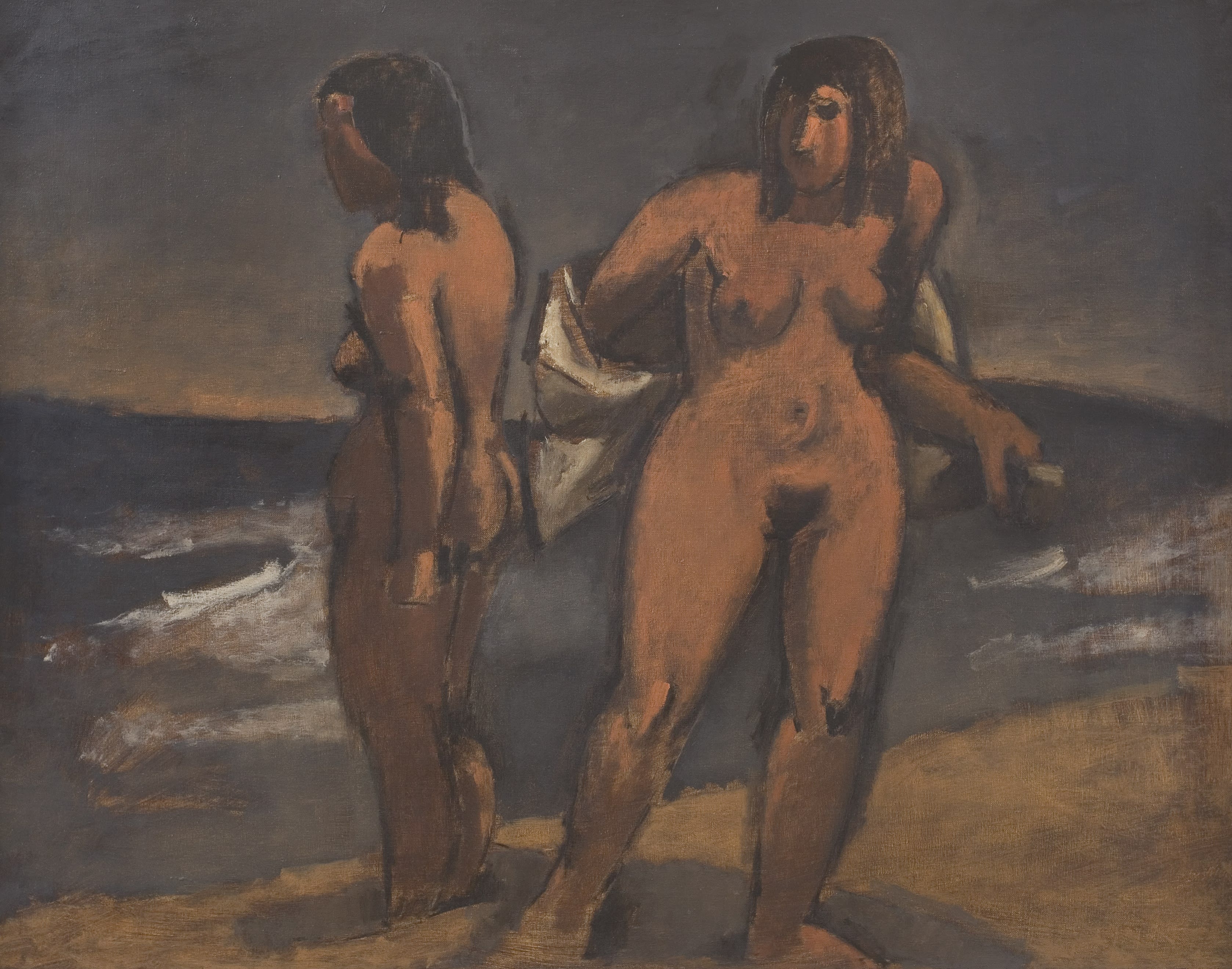 Herman (1911–2000) was an artist with many artistic connections, though none of them can account entirely for the character of his mature work. From his earliest years working in Poland, the country of his birth, he was receptive to Expressionism. After fleeing the country in 1938, a spell in Brussels introduced him to the work of Constant Permeke. From there, he moved to Glasgow to escape the German invasion of Belgium in 1940. In Scotland, he formed bonds with Jankel Adler, another Polish artist living in the vicinity, and Joan Eardley, before moving on again in 1943, travelling to London, taking rooms with his fellow artist L.S. Lowry and holding a joint exhibition at Lefevre Gallery with him. All of these connections were important, especially those with artists interested in effecting social change by portraying the working class. It was not until Herman moved to South Wales in 1944, however, that he formulated a personally distinctive combination of subject matter and brooding atmosphere.
Herman settled at Ystradgynlais, a village in south Powys near the vast, open-cast coal mine at Nant Helen. (The mine continued to operate long after Herman left the place in 1955, being temporarily mothballed between 2016 and 2019, and only now threatened with permanent closure.) The work he made there courted a wider audience and in 1952 John Berger selected Herman for inclusion in a display of 'realist' pictures at Whitechapel Art Gallery, Looking Forward – a moment which signalled growing recognition for his work.
Women on the Shore was painted during Herman's Welsh years, though unlike his depictions of miners at that time, it bears a striking resemblance to some of Pablo Picasso's neo-classical figure paintings of the 1920s. In the 1940s, Picasso was in the ascendant among politically progressive British painters after he joined the French Communist Party in 1944. However, the connection between Herman's Women on the Shore and a work of Picasso's like La Course (1922) is more artistic than political.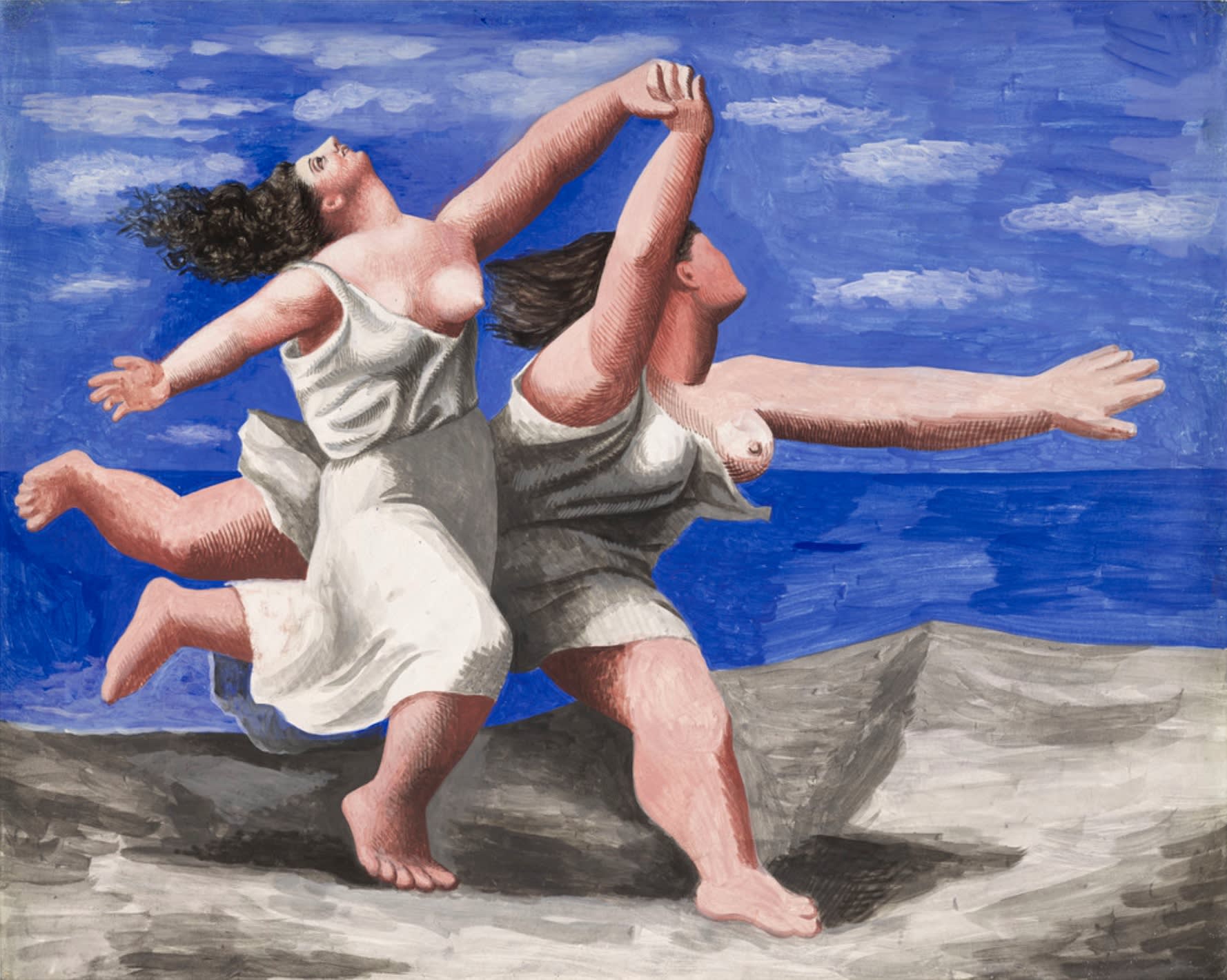 These massive nude figures live on the edge of a plaintive seascape, and their substantial bodies seem like compensation for the world's uncertainties. Where Picasso's treatment of these bathers is marked by high colour and joyously energetic movement, Herman's figures are characteristically dour – a soulful adaptation of interwar classicism with overtones of the Mediterranean, ingeniously conjured from a Welsh hinterland.
His interest in the female nude began to develop from 1950. There are five ink wash drawings of female nudes by Herman from the early 1950s in the Tate Gallery Archive, donated by the artist in 1983. One of these works is explicitly a study of a woman standing beside the sea along the Gower Coast, an hour's drive from the artist's home in Ystradgynlais, and it is likely that the figures in Women on the Shore were also studied from life in Gower. The identity of the women in these wash drawings is difficult to place though it appears that Herman reused figures from the studies. It is possible that Women on the Shore depicts the same woman standing in two different attitudes.
Along with a coterie of significant South African artists, Herman was one of the artists admired by the actor and semi-professional artist Anthony Quinn. An internationally famed and critically acclaimed talent in the 1950s and '60s, Quinn won the Academy Award for best supporting actor for his portrayal of Paul Gauguin in the Kirk Douglas biopic about Vincent Van Gogh, Lust for Life, and he received a nomination for best actor at the Academy Awards when he played the lead role in Zorba the Greek. Women on the Shore was one of the works in Quinn's collection. It is a significant work of mid-century British painting, bringing together the sculptural qualities of European neo-classicism with the poetic, sensuous quality that characterises class-conscious art of its period and, as Quinn's interest shows, a work unexpectedly worthy of Hollywood.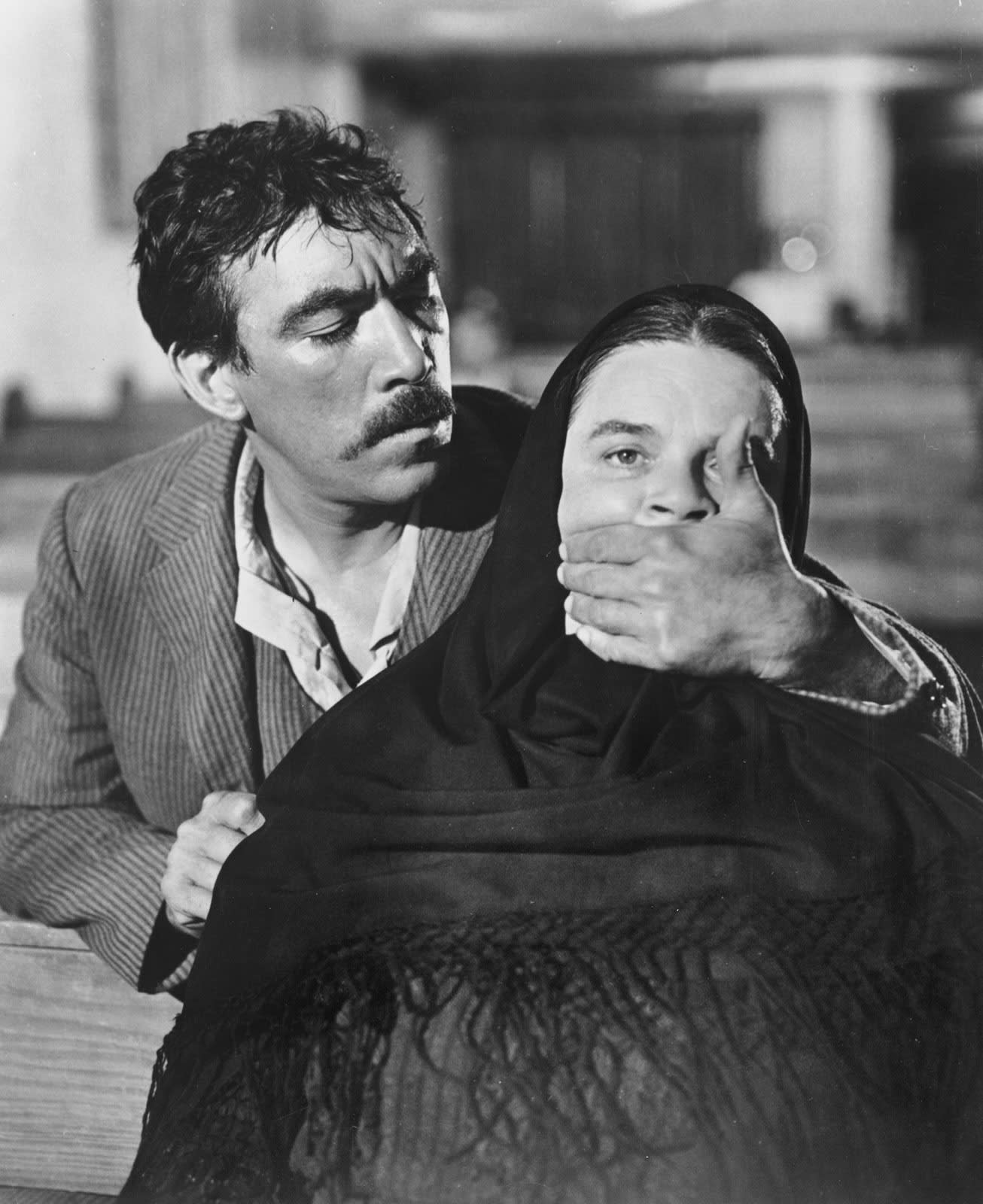 IMAGES
1. Josef Herman, Women on the Shore, 1945-50, oil on canvas, 100.5 x 126 cm
2. A postcard of Warsaw from 1911, the year that Herman was born there
3. John Eurof Martin, film negative of open cast mining near Ystradgynlais, 1949, National Museum Wales
4. Pablo Picasso, Deux Femmes courant sur la plage (La Course), 1922, Musée national Picasso, Paris © Succession Picasso
5. Women on the Shore (detail)
6. Josef Herman, Sketch of a nude study, Gower Coast, 1954, Tate Gallery Archive © The Estate of Josef Herman
7. Anthony Quinn as Paul Gauguin in Lust for Life (1956)
July 29, 2020