Throughout his career, Euan Uglow arranged his female sitters in physically challenging, non-naturalistic poses. For him, the picture mattered more than frailties of the flesh.
InSight No. XXVI
Euan Uglow
Night Scene, 1995-97
Euan Uglow (1932–2000), pronounced 'yew-an yew-glo', had an early experience of the female nude in the staid environment of Camberwell School of Art's life room. He was a south Londoner by both birth and association, growing up in Tulse Hill, going to art school at Camberwell to begin with, and later settling in Turnchapel Mews near Clapham Common. He studied at Camberwell between 1948 and 1950, and it was there that he met the formative artistic influence of his career, William Coldstream, a man described by the critic John Russell as '[a] wiry and unobtrusive figure in black or theological grey'.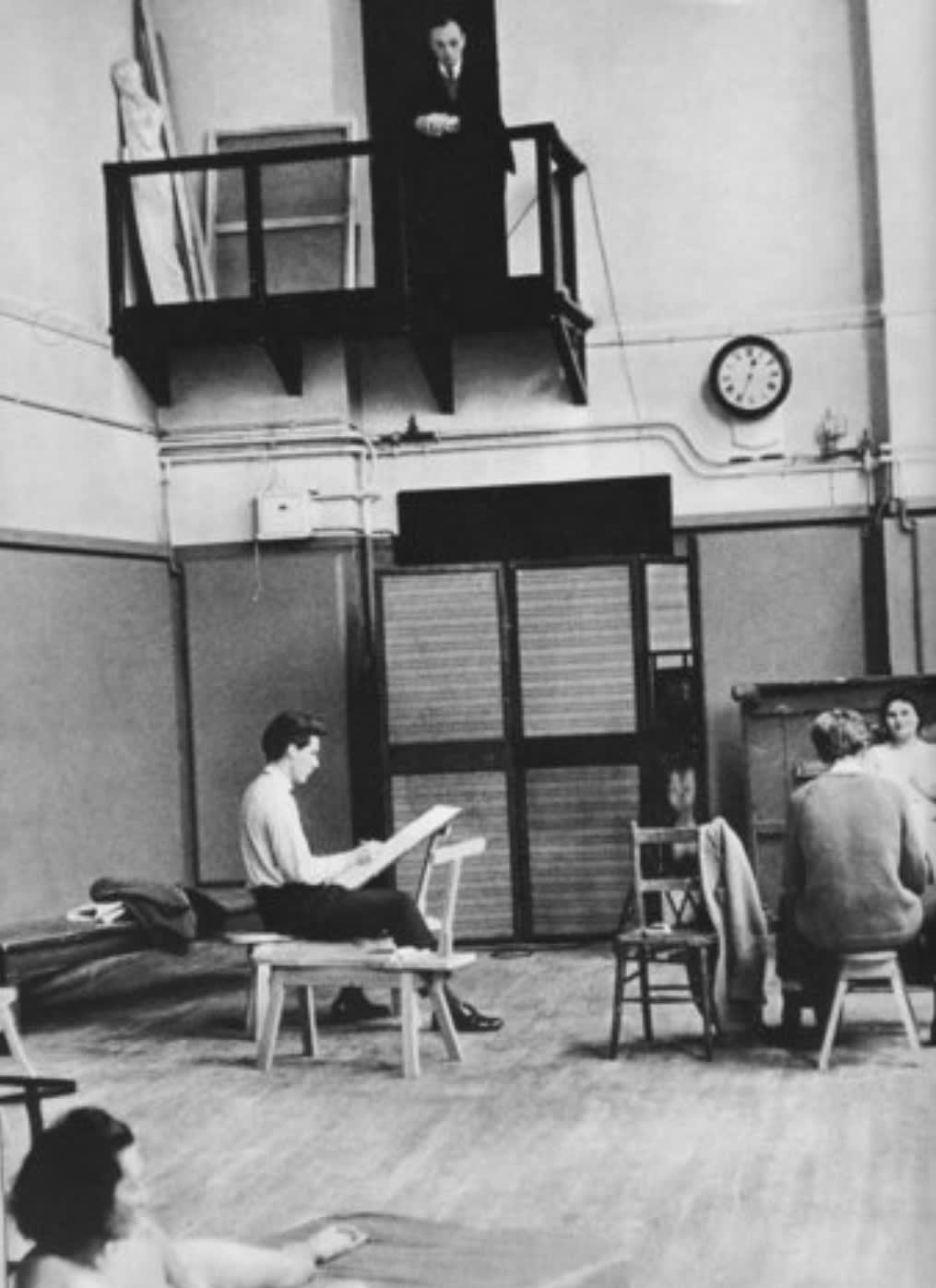 After teaching at Camberwell, Coldstream became the Professor of Fine Art at the Slade School in 1949. His liberal encouragement of wide-ranging creative talents brought on a third 'crisis of brilliance' at the School (the first being the generation of William Orpen and Augustus John, and the second that of Gertler, Spencer, Nash and Bomberg among others). Students during his tenure included Michael Andrews, Craigie Aitchison, Victor Willing, and also Uglow, who followed Coldstream to the Slade in 1950. Uglow started tutoring there part-time in 1961, and he continued to do so for the rest of his life, himself inspiring a generation of artist admirers much as Coldstream had done before him. Towards the end of Coldstream's life in the 1970s, it has been suggested that the master's work came to resemble that of his student and friend. A work like Seated Nude uses an unconventional pose by the standards of his earlier work, and which is at least partly indebted to Uglow's own style of figure composition.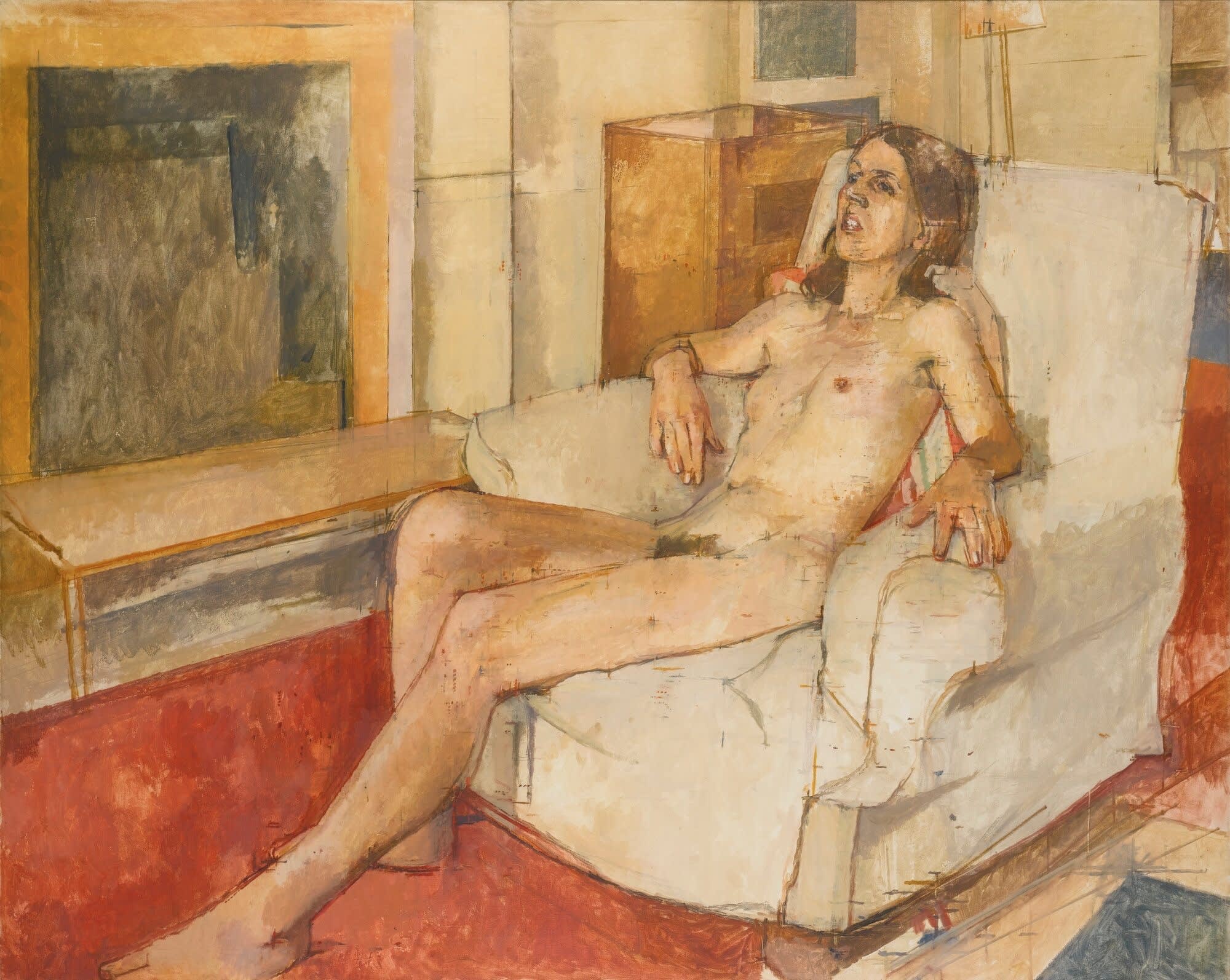 Partly as a result of his time in the art school life room, female nudity was a leitmotif throughout Uglow's career. Though Cherie Blair is known to have modelled for him in the nude when she was studying law in the 1970s, many of his sitters remain anonymous, as is the case with the woman in Night Scene. Unusually for Uglow, this work was painted from memory. At the centre of the picture are the woman's clustered hand movements, unfastening her bra – a gesture which the artist enjoyed not just for its sex appeal but also for its pleasing pictorial awkwardness. Speaking to Martin Gold in March 1989, a few years before this work was painted, Uglow said he had once seen someone put a jumper on over her bra in public, just off the Fulham Road. It was apparently 'one of the sexiest things' he ever saw.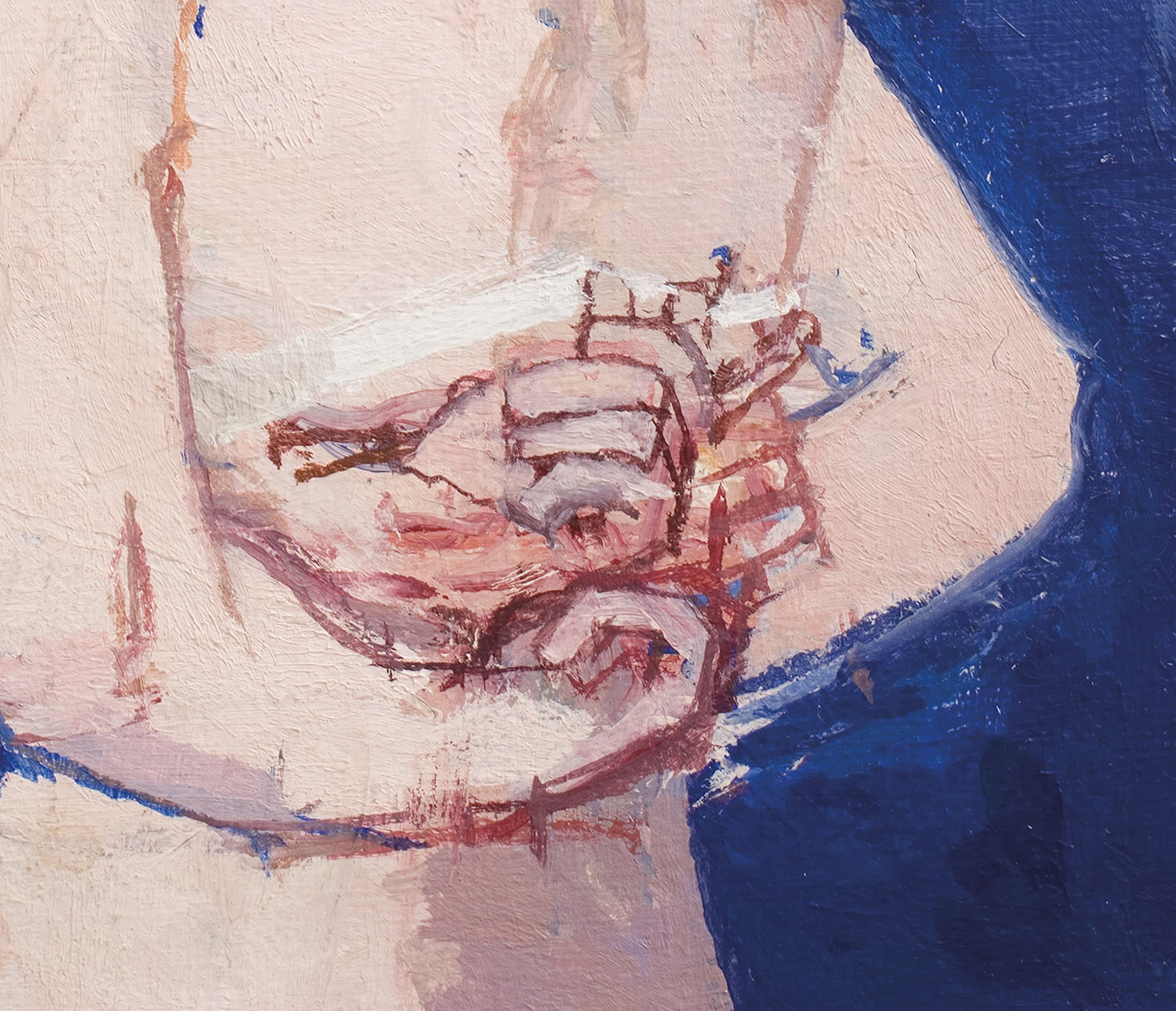 The creative challenge which Coldstream and Uglow shared was in essence a technical one: how can a painter represent volume and spatial relations in the two-dimensional world of a picture? They were not interested in mere approximations and both took detailed measurements to assist their work – the distances between the painter and the sitter, between the sitter and the background, between the nose and the eye socket, and so on. These measurements were systematically translated into a picture in an all-over mesh of small dashes and dots, helping to situate the different components of the picture in relation to each other. Though at first these small markings – often in red or orange – appear like a decorative enhancement of the subject, they were in fact an elaborate practical device for pinning down a real-world subject on the flat surface of a picture. Occasionally, they may also refer to the paraphernalia of chalk markings and string, set up in Uglow's studio to situate a subject in precisely the same place from one sitting to the next.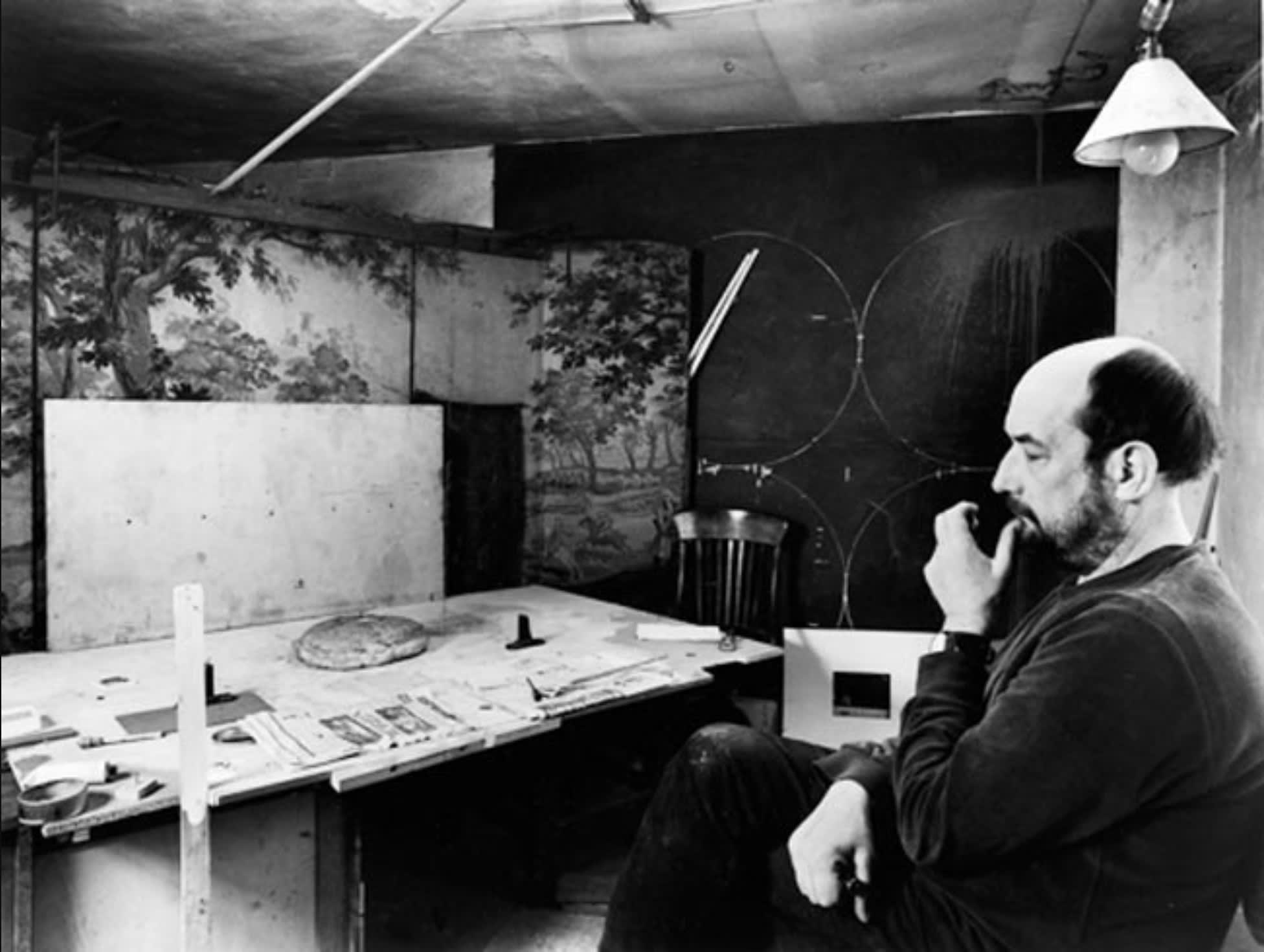 The intention was to achieve truth to appearances, though the resulting aesthetic descended from Paul Cézanne. The French artist's later work occasionally brought together multiple perspectives and always had carefully constructed surfaces, executed with individuated brushstrokes. The incorporation of several different perspectives in a single picture laid the ground for cubism, as expounded by Picasso and his contemporaries, but for Coldstream and Uglow, Cézanne's unstylised experiments were of far greater interest than the distorted imagery of the painters that came immediately after him.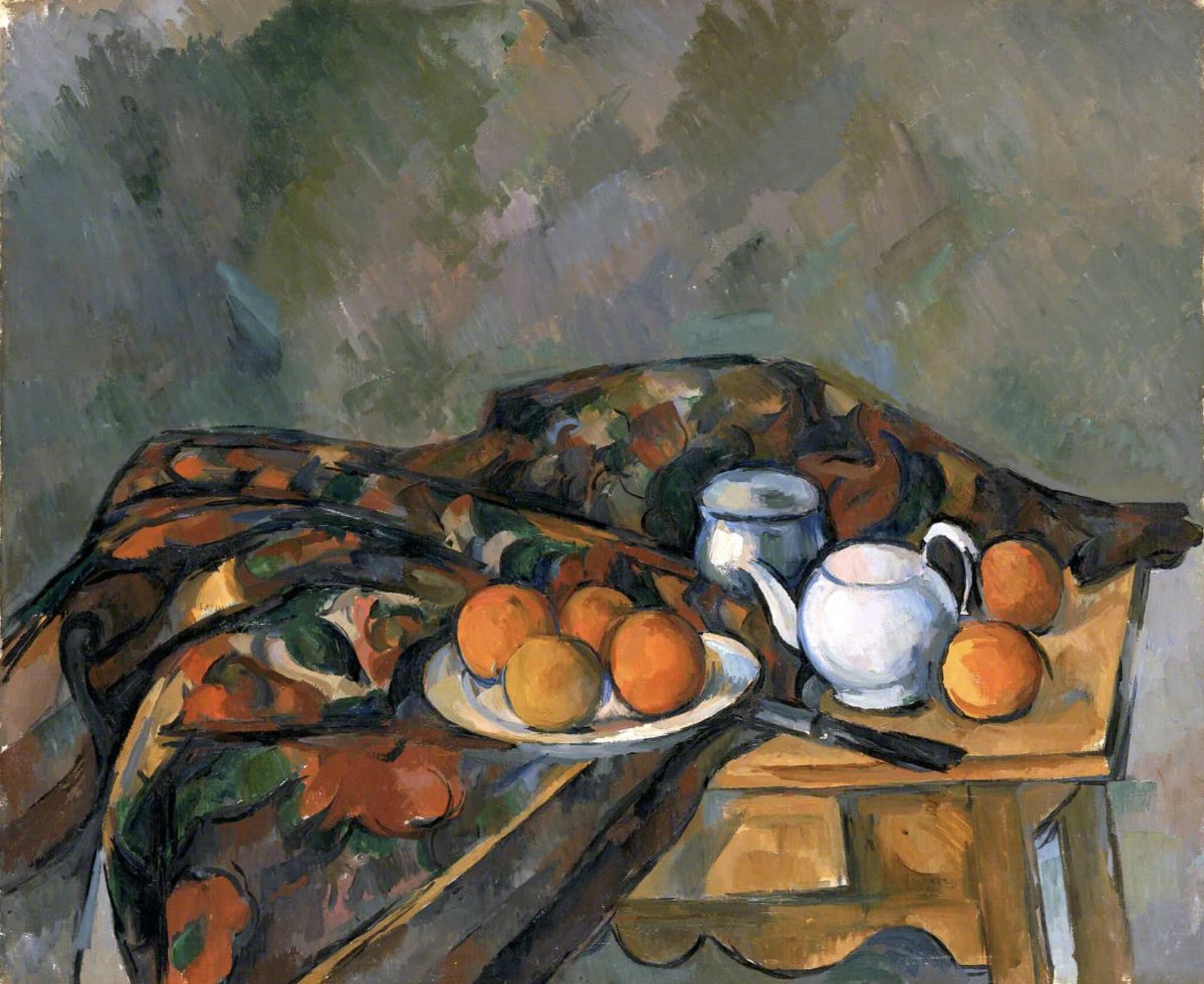 Instead of making pictures which suggested the imperfection of human vision, as in the cubist patchwork of fragmented glimpses, Coldstream and Uglow were interested in exploring and sustaining the conceit that underpinned every representational image since the Renaissance until modernism: an imagined, godlike perspective of the world, viewing things not with two eyes – as in human vision – but with only one. The 'monocular' quality of Uglow's art is part of what gives his paintings their rich sense of flatness. This foundational tenet inspired other aspects of his work, including compositions which tend to place a subject at right-angles to the picture surface, as in a work like Miss Venne, and the sumptuous planes of contrasting colour in a work like Night Scene, which draw attention to the meticulously constructed surface of the image.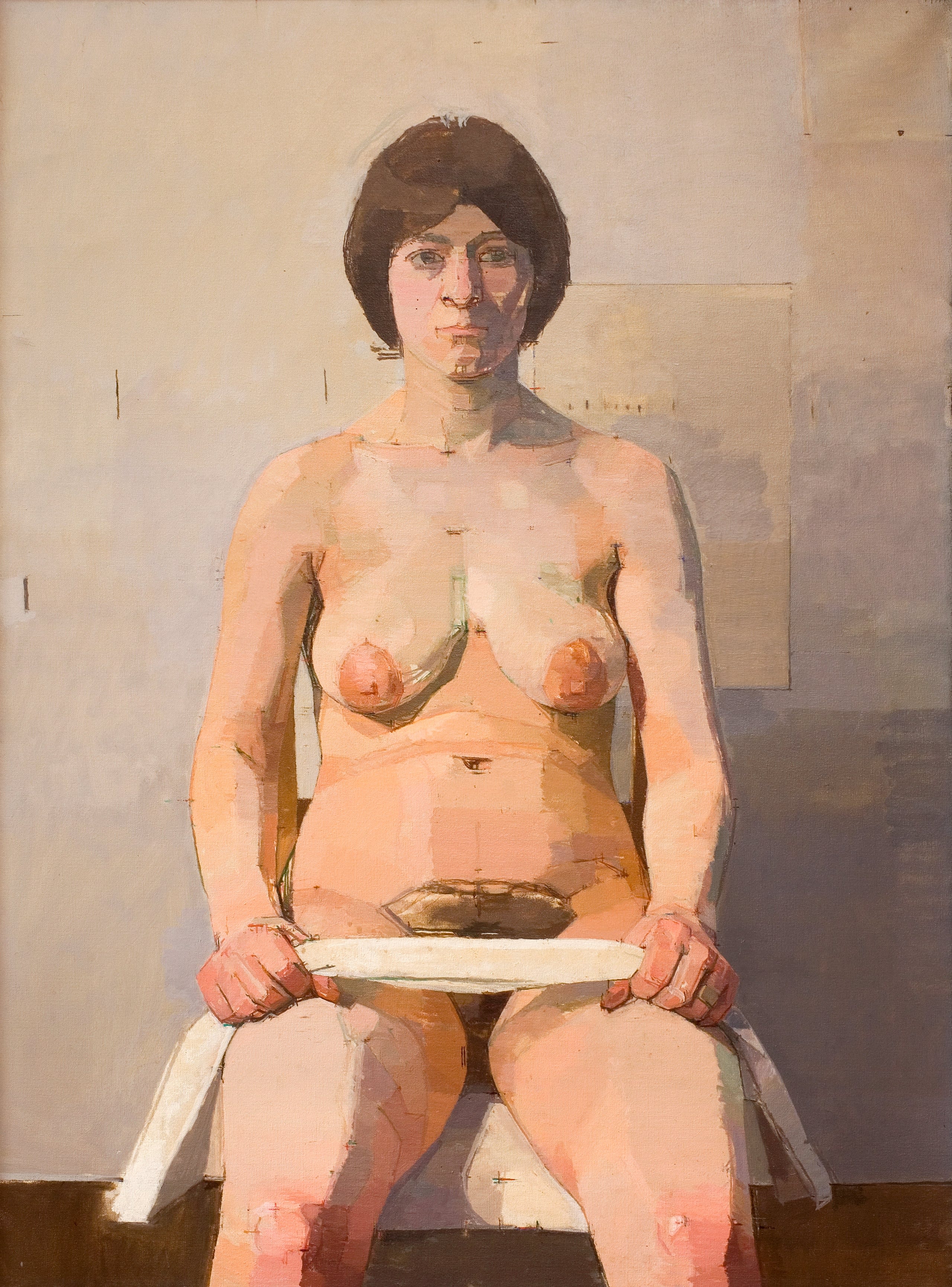 IMAGES
1. Euan Uglow, Night Scene, 1995-97, oil on board, 21.5 x 17.2 cm | For Sale
2. William Coldstream watching over the Slade life room, 1965
3. William Coldstream, Seated Nude, 1973-74, Private Collection © The Estate of William Coldstream
4. Night Scene (detail)
5. Jorge Lewinski, Uglow in his Clapham studio, 1987 © The Estate of Jorge Lewinski
6. Paul Cézanne, Still Life with a Teapot, 1902-06, National Museum of Wales, Cardiff
7. Euan Uglow, Miss Venne, 1966-67, Private Collection © The Estate of Euan Uglow
July 14, 2020