Some neighbours make themselves a nuisance by playing the radio too loudly, crashing about in the kitchen, or having regular shouting matches. When he was working in St Ives after the Second World War, Terry Frost experienced similar problems in his studio on Porthmeor Beach.
InSight No. VII
Ben Nicholson
May 1955 (green chisel), 1955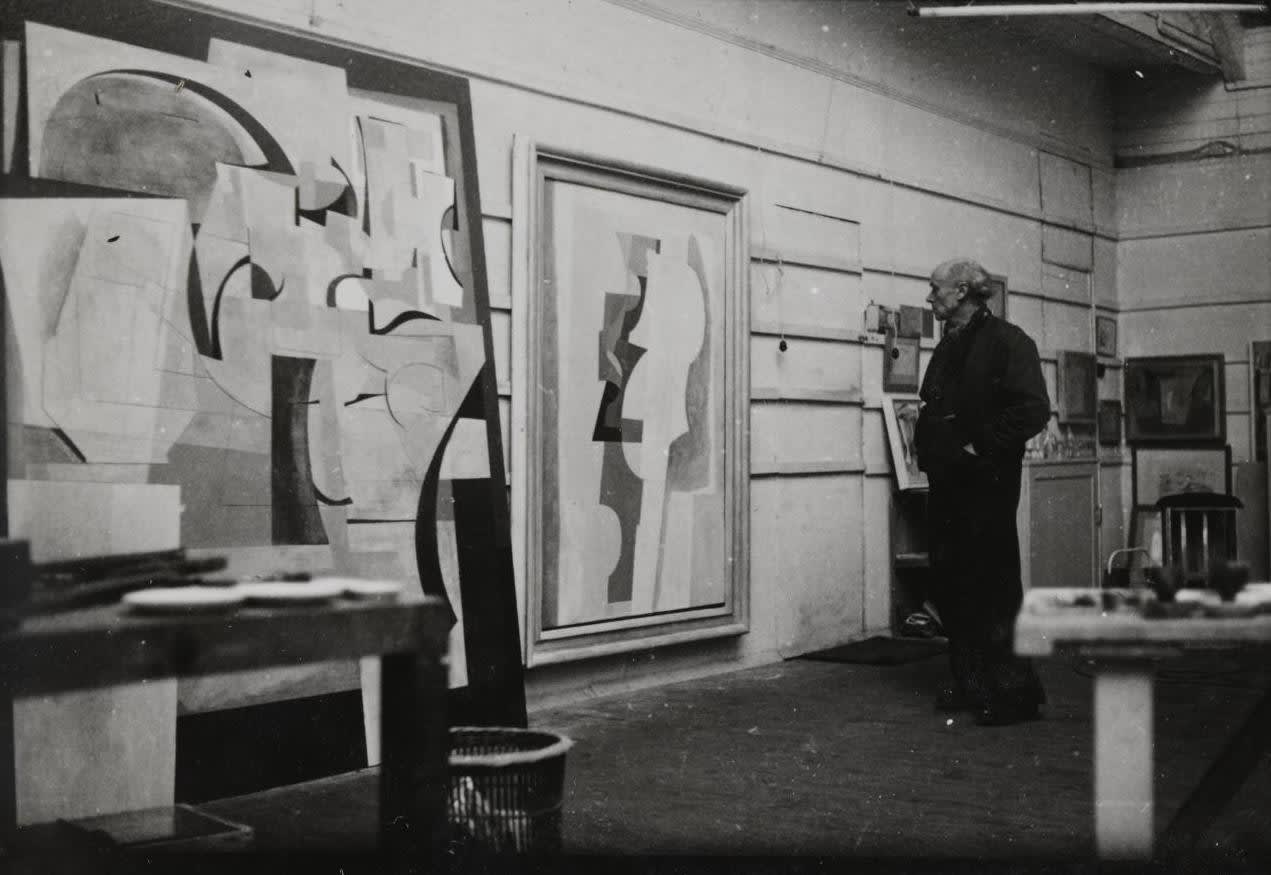 Frost's neighbour was described some years later by another artist, David Lewis.
We could hear [him] moving around with that prancing step of his, somewhat between walking and dancing. We could hear him switch on the little radio he kept on an old orange box, or wind the handle of his gramophone and put on a New Orleans jazz record, and Jelly Roll Morton would strike up the beat. And we could hear [him] begin to scrape at the surface of his paintings with a razor blade, scrrch-scrrch-scrrch.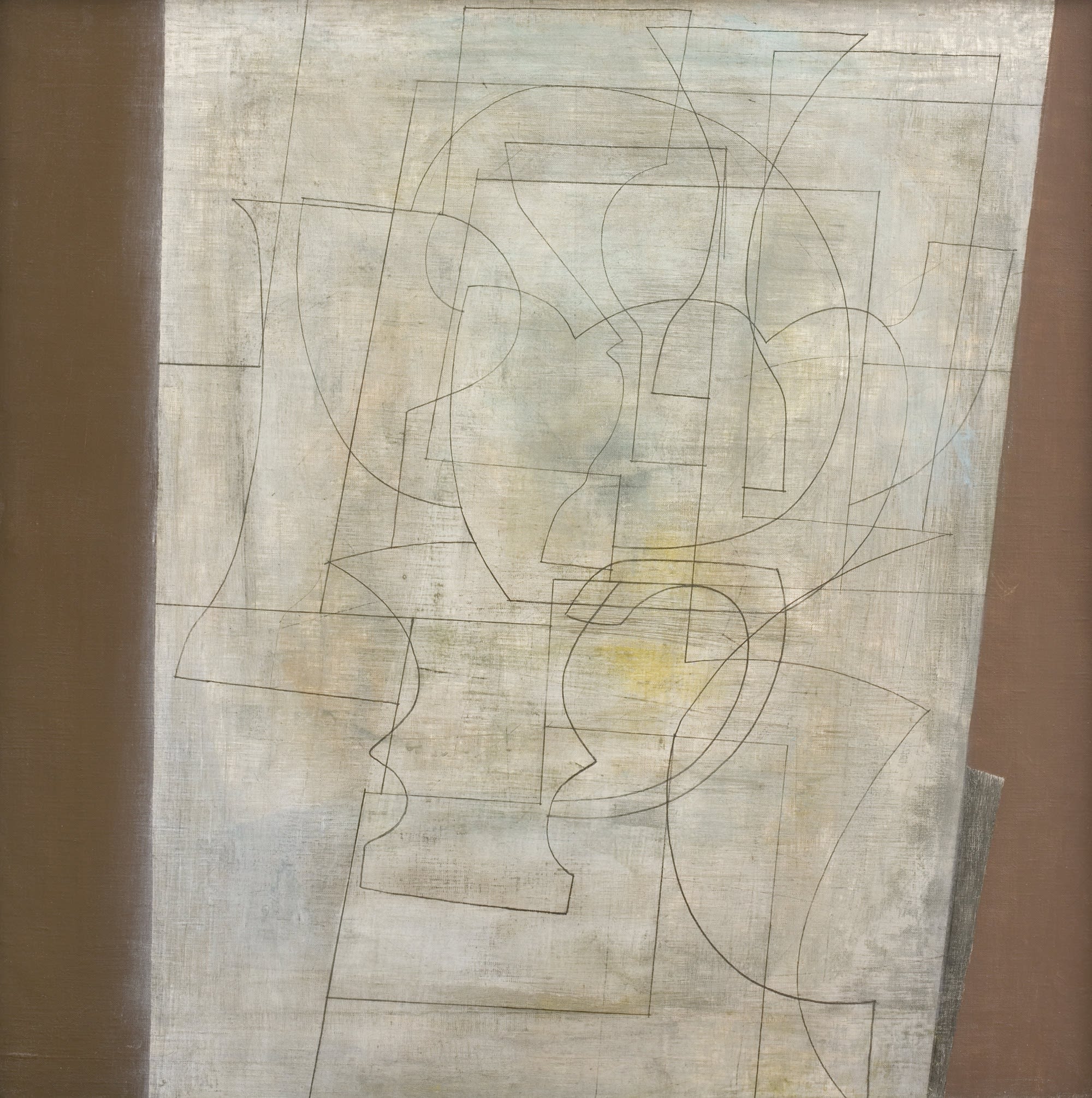 This noisy neighbour was the artist Ben Nicholson (1894-1982). He moved into one of the studios at Porthmeor Beach in September 1949, shortly after the breakdown of his relationship with Barbara Hepworth. In both personal and artistic terms, this spelled a new beginning for him. Freed from the confines of his home studio at Chy-an-Kerris, the expansive new beach-side space allowed Nicholson to embark on a cycle of large-scale, career-defining still-life paintings.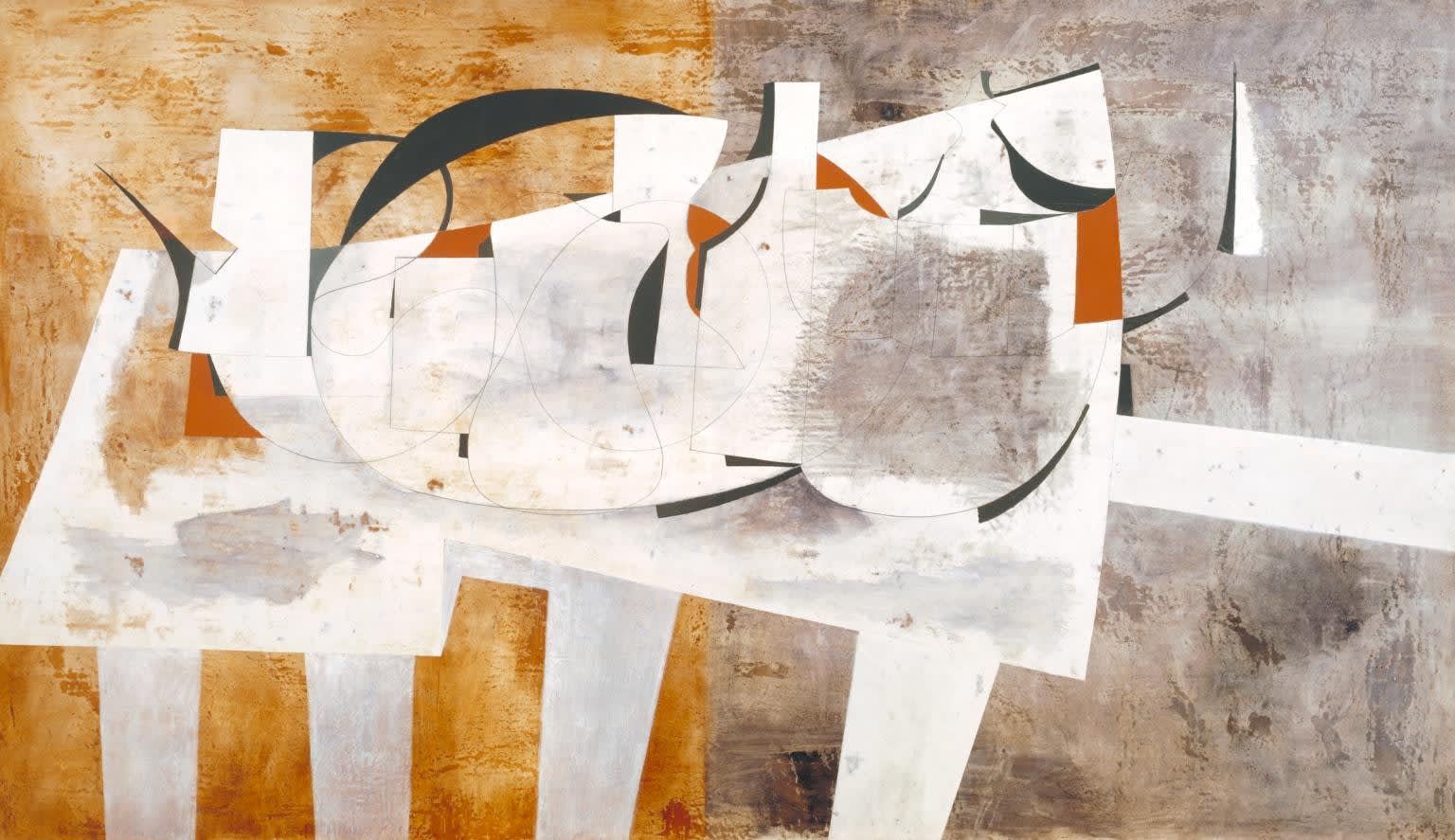 As David Lewis mentioned, Nicholson did not just use a pencil and a brush. His adoption of the razor blade had a transformative effect on his work, helping to introduce a further degree of texture and enhancing the object-like quality of his canvases. May 1955 (green chisel) was one of those significant paintings made in the studio at Porthmeor Beach. Beneath the fluent lines of Nicholson's pencilled-in still-life composition, the paint surface is scabrous from scraping with a razor. As Lewis has written, Nicholson would 'make a ground' on his canvases, smearing them with paint, allowing them to dry, then returning to them with the razor and giving them a coarse, open-grained surface.
Texture was one ingredient of Nicholson's success. Another was his sizeable collection of glasses, mugs, ceramics and jugs. This painting depicts no fewer than six objects, most prominently a square-handled milk jug. These objects have been hollowed out and reduced to their outlines. This act of visual simplification allowed Nicholson to show off the pulsing, shimmering ground beneath. Depicted in the artist's continuous free-hand lines, the vessels overlap and intermingle. The overall effect of this bravura graphic performance is dizzying.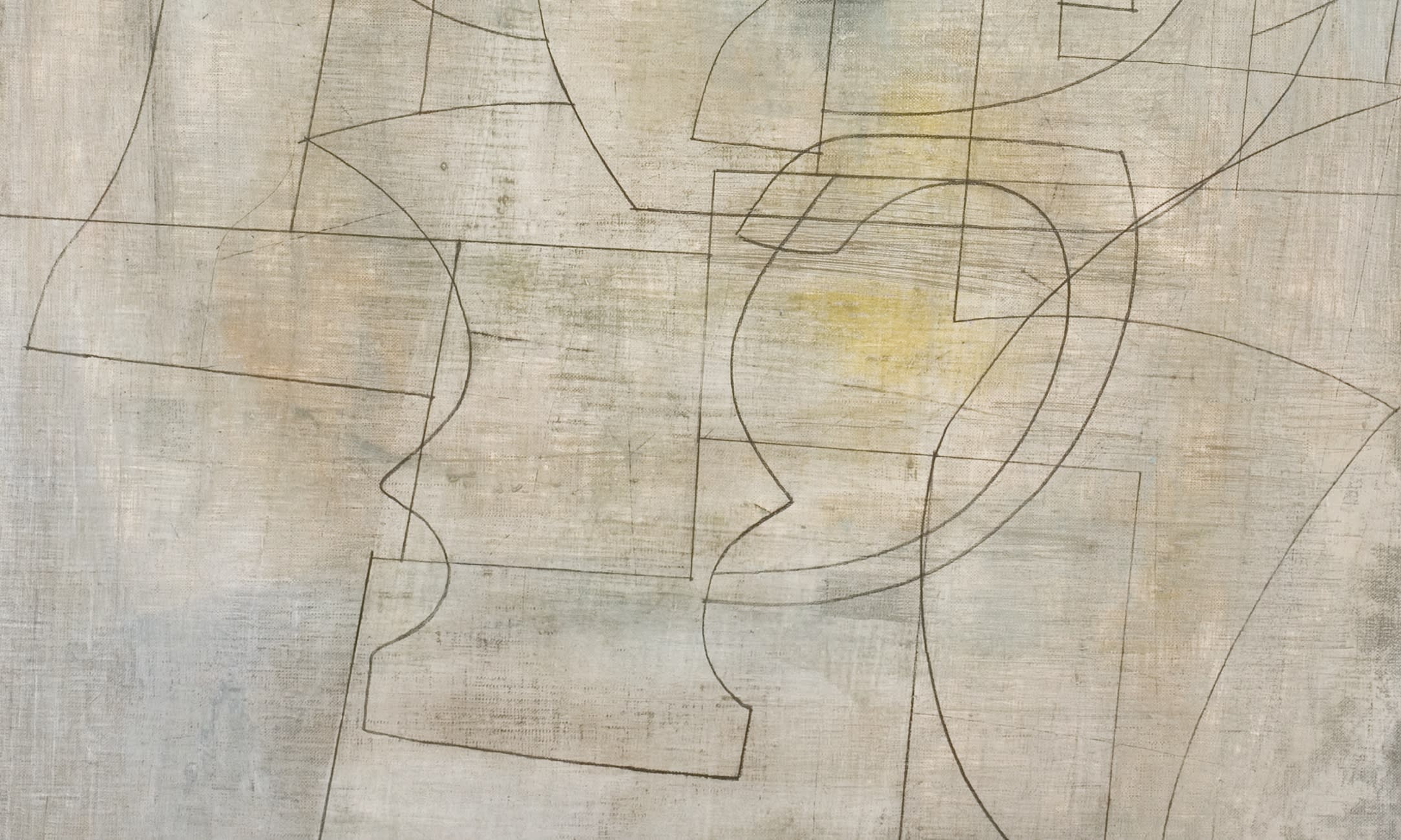 By 1958, however, Nicholson had wearied of his Cornish surroundings. Felicitas Vogler had recently graduated from Munich University and found herself working on a cultural programme for Bavarian radio. She was doing research for a programme in Cornwall when she met Nicholson in St Ives. They immediately formed a connection and married at Hampstead Registry Office a few months later in July 1957. By March 1958, they had relocated to Switzerland. Drawing a line under his highly successful period in St Ives, Nicholson began a phase of work in which travel, drawing and relief-making mixed together – an inspired new practice which will be the focus of Piano Nobile's forthcoming exhibition about the artist, Ben Nicholson: Distant Planes.
IMAGES
1. Ben Nicholson in his St Ives studio, c. 1953 © Angela Verren Taunt
2. Ben Nicholson, May 1955 (green chisel), 1955, oil and pencil on canvas, 61 x 61 cm
3. Ben Nicholson, August 1956 (Val d'Orcia), 1956, Tate Collection © Angela Verren Taunt
4. Julius Bissier, Ben Nicholson standing next to a table with glasses on it, 1959 © Estate of Julius Bissier
5. May 1955 (green chisel) (detail)
April 16, 2020