InSight No. IV
Edgar Degas | Walter Sickert
Danseuse vue de dos: Port de bras, c. 1875-85 | Little Rachel, c. 1906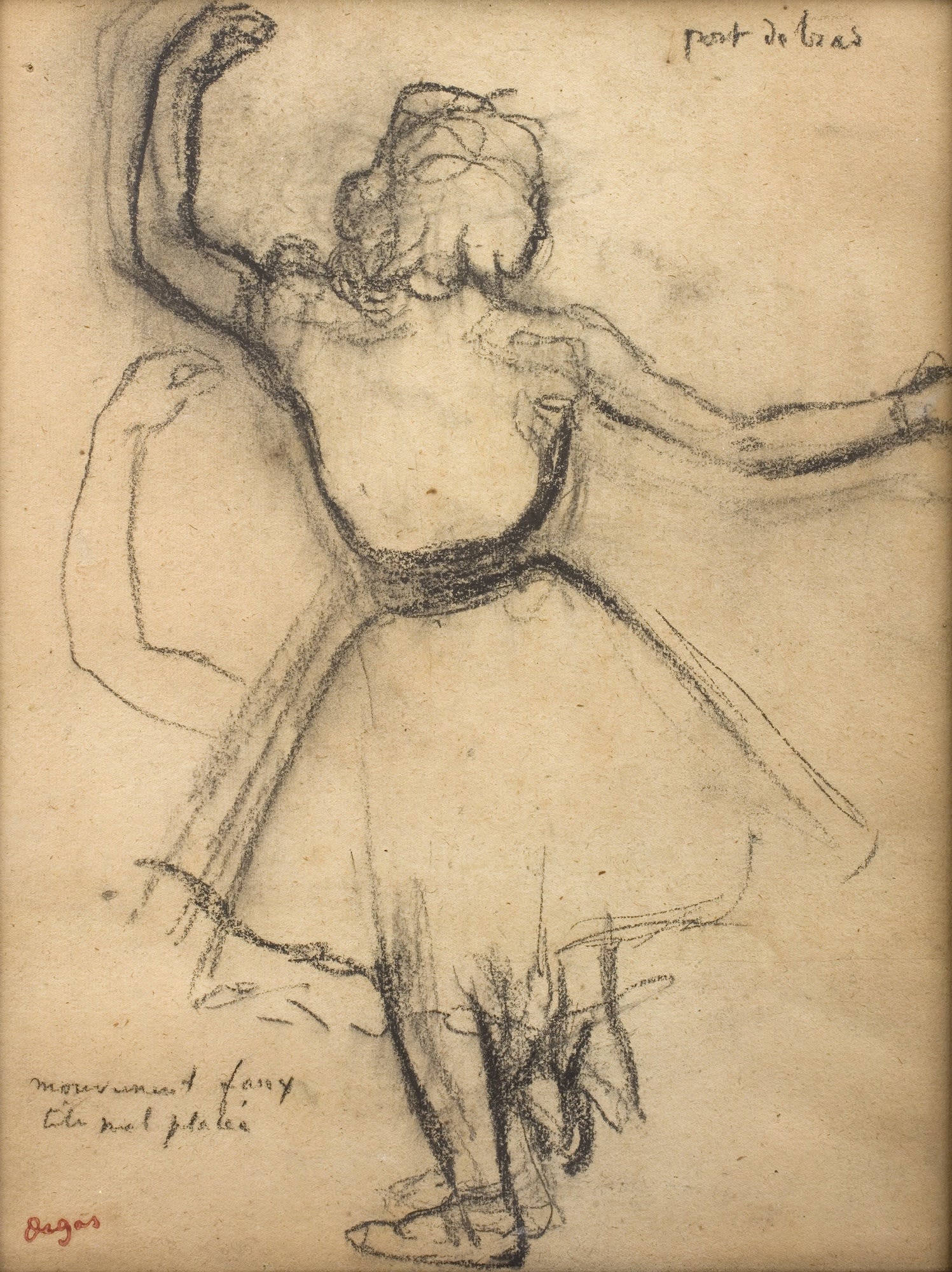 Shortly after Degas' death in 1917, Sickert recalled their first meeting together 34 years earlier. "In 1883, the year in which the portrait of Whistler's mother was exhibited in the Salon [in Paris], Whistler asked me to take charge of the picture, which I did, crossing by Dieppe […]. Whistler had given me letters to Degas and Manet […] and I was to say to them that Whistler was 'amazing'." They met at Degas' apartment in rue Pigalle and began a friendship which lasted until the older man's death.
Degas and Sickert were among the finest draughtsmen of their generations. Both received an academic training – Degas at the École des Beaux-Arts and Sickert at the Slade School of Fine Art. Though both artists had anti-establishment tendencies, their paintings always relied on 'good drawing' of the sort which originated from the art academy. This involved being able to make a succinct and accurate representation of any subject they cared to look at.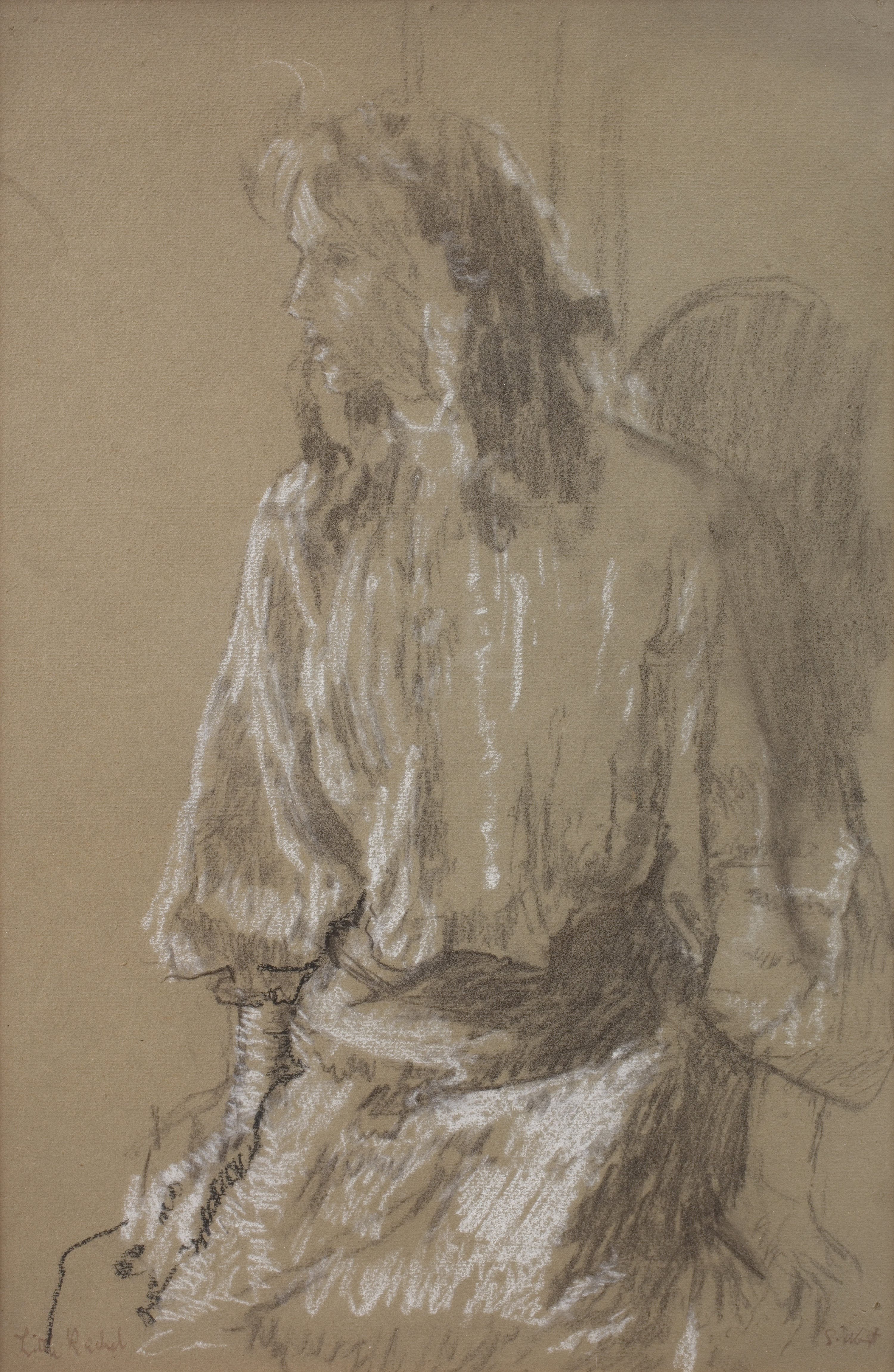 These two drawings depict a dancer viewed from behind ('vue de dos') and a young girl with long hair. Both Degas and Sickert were studio painters and, despite their reputation as 'Impressionists', they preferred to paint from drawings rather than from life. Degas' famous paintings of ballerinas do not necessarily show a moment frozen in time, but rather, a scene which was put together in the studio from life studies such as Danseuse vue de dos.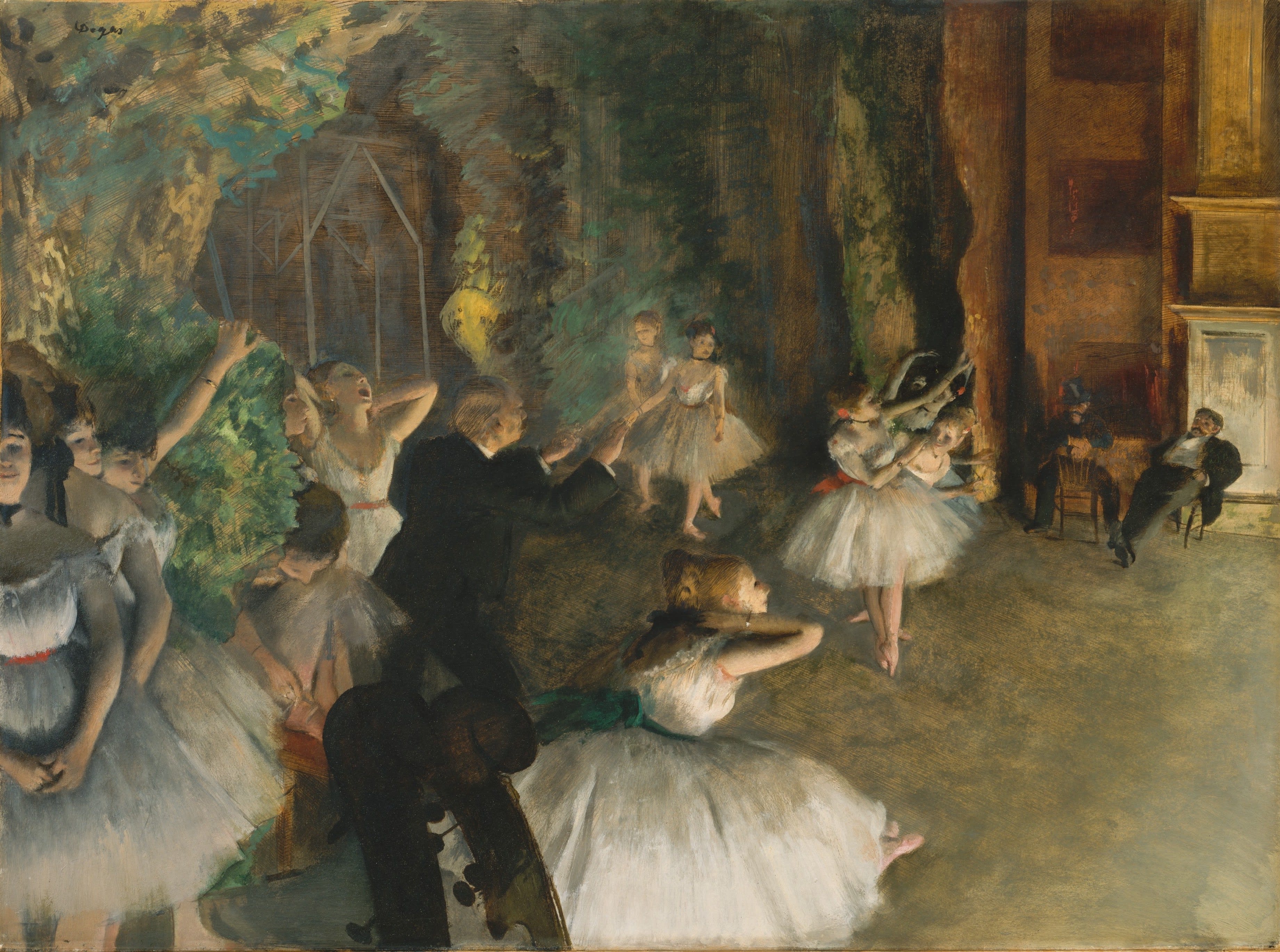 Both these drawings were made using soft, easily manipulated graphic media – charcoal and chalk, respectively. These allowed the artist to smudge contours and create subtle effects of light and shadow. This provided a degree of flexibility that was most useful to Degas in particular, whose subject – the port de bras, a ballet exercise involving the arms – required him to create a sense of movement. The dancer's raised left arm has been drawn and redrawn, creating a visual echo and an idea of their shifting attitude.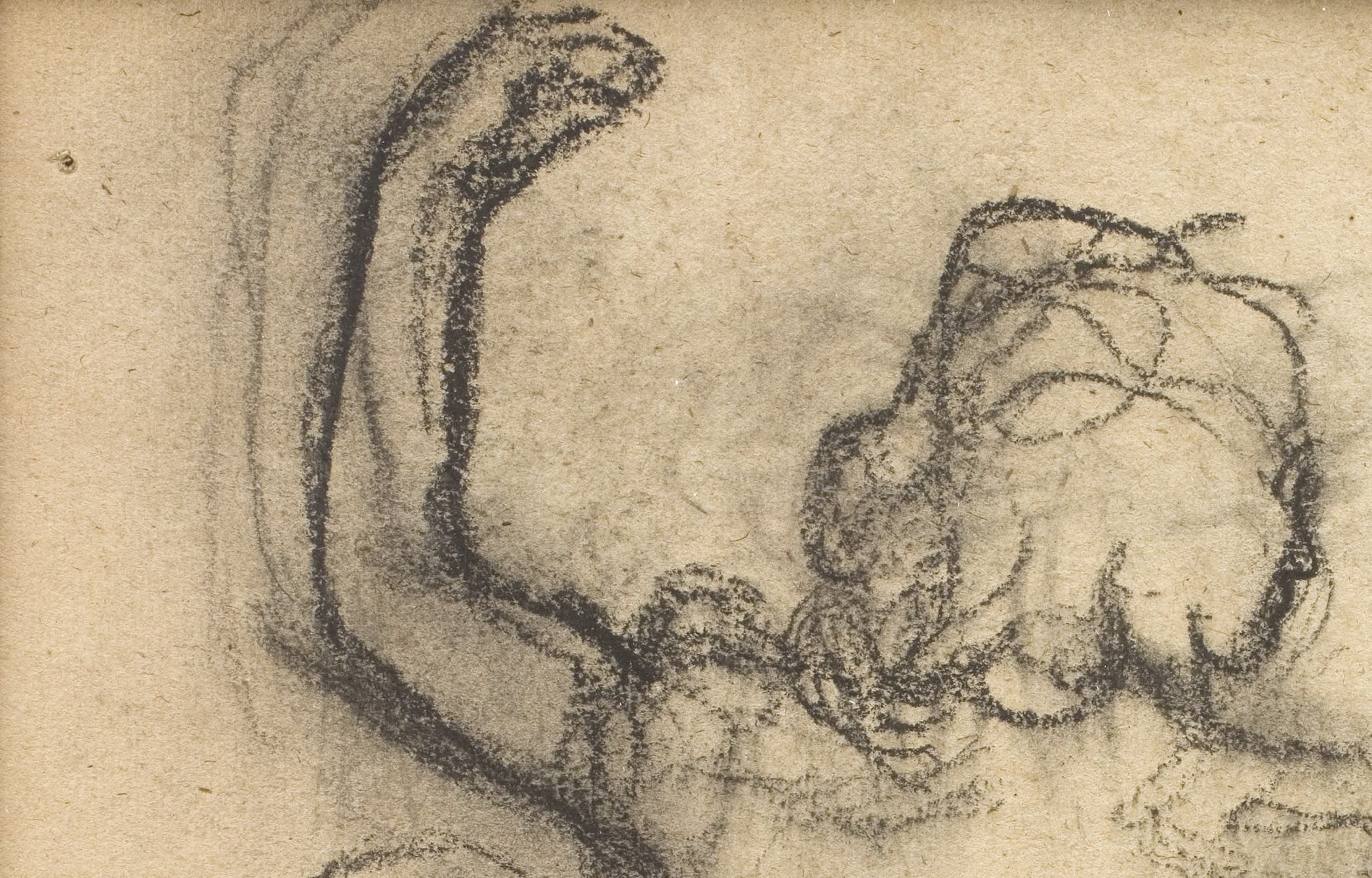 By contrast, Sickert's drawing shows a pensive figure, still and silent. Little Rachel comes from his Camden Town period (1905–1914), in which time he found fame and infamy as a painter of women in darkened rooms. As a friend and admirer of Degas, Sickert was fortunate enough to own a small collection of work by the French master – including Rehearsal of the Ballet on Stage, pictured above. His Camden Town work grew from the twisting figures and hooded eyes found in Degas' painting. Importantly, however, Sickert had his own independent artistic talents, not least as a draughtsman. The combination of smudged and pin-sharp chalk marks in Little Rachel hints to a teeming visual imagination – one all of Sickert's own.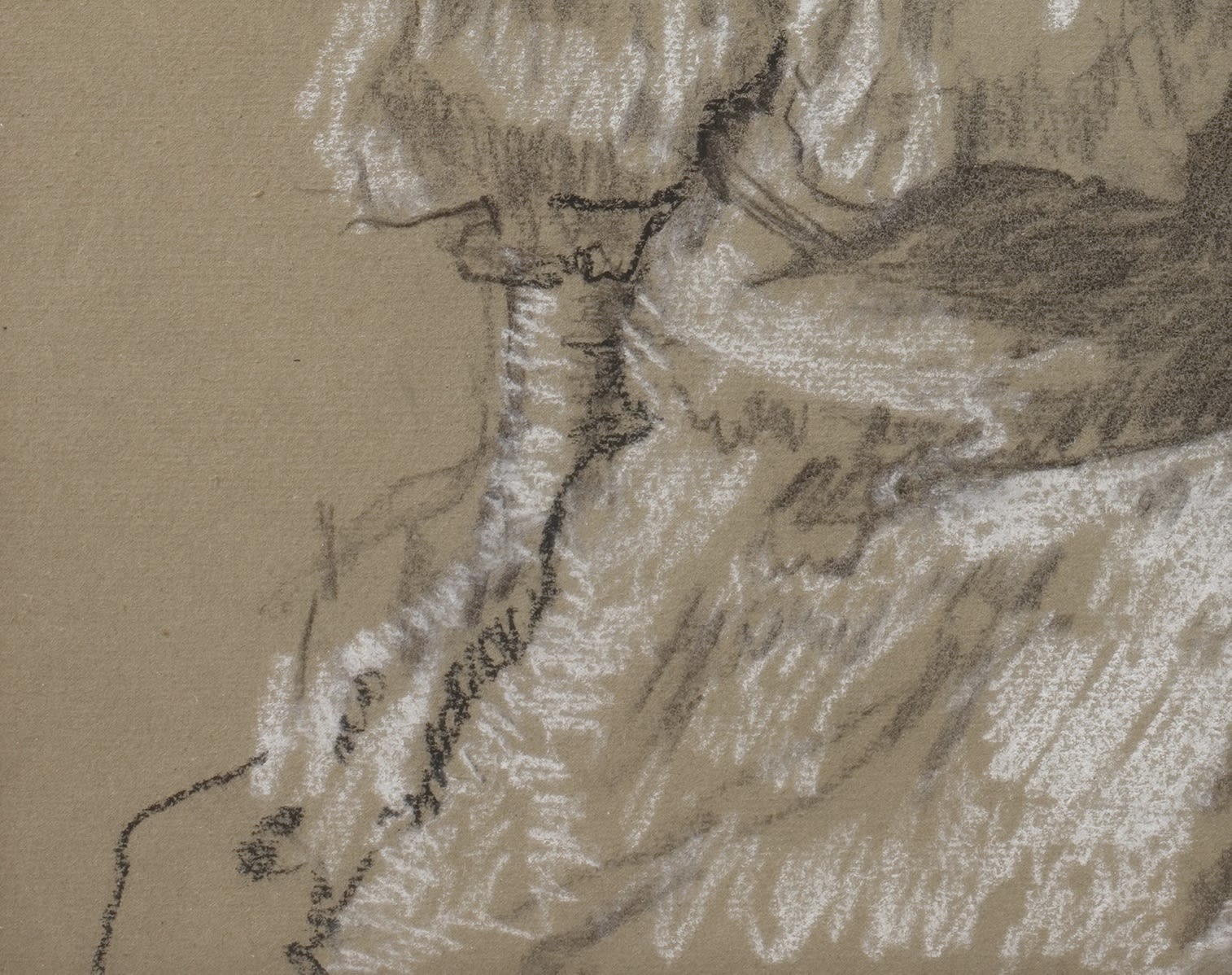 IMAGES
1. Edgar Degas, Danseuse vue de dos, c. 1875-85, charcoal on paper, 32.7 x 25 cm
2. La Place Pigalle, Paris
3. Walter Sickert, Little Rachel, c. 1906, black and white chalk on paper, 36.5 x 24 cm
4. Edgar Degas, Rehearsal of the Ballet on Stage, c. 1874, Metropolitan Museum of Art, New York
5. Danseuse vue de dos (detail)
6. Little Rachel (detail)
April 6, 2020