To coincide with Piano Nobile's Frieze New York Viewing Room and a new exhibition, Grayson Perry: Ceramics and Prints, InSight considers the artist's early ceramics – an area of growing public and academic interest.
Grayson Perry
Essex, Middlesex, Sussex, 1991
Layers of Meaninglessness, 1994
---
Only after completing his fine art training at Portsmouth Polytechnic did Grayson Perry (b. 1960) start to make ceramics. As he has said, 'my first proper pottery lesson was in September 1983' in Sarah Sanderson's evening classes at the Central Institute. For the next decade, he forged an experimental route towards a distinctive ceramic style, the products of which were displayed in several early solo exhibitions with the art dealer James Birch. After a troubled childhood in Essex in which his step-father was physically abusive and he started cross-dressing in secret, his early work was inflected with gender ambiguity and preoccupations of sex and violence. Explaining these urges, Perry has said,
I was carrying a lot of unexamined baggage from my childhood. These fermenting emotions [of anger and bitterness] were at once powering my work, but also, I am sure, making me a tricky character to deal with.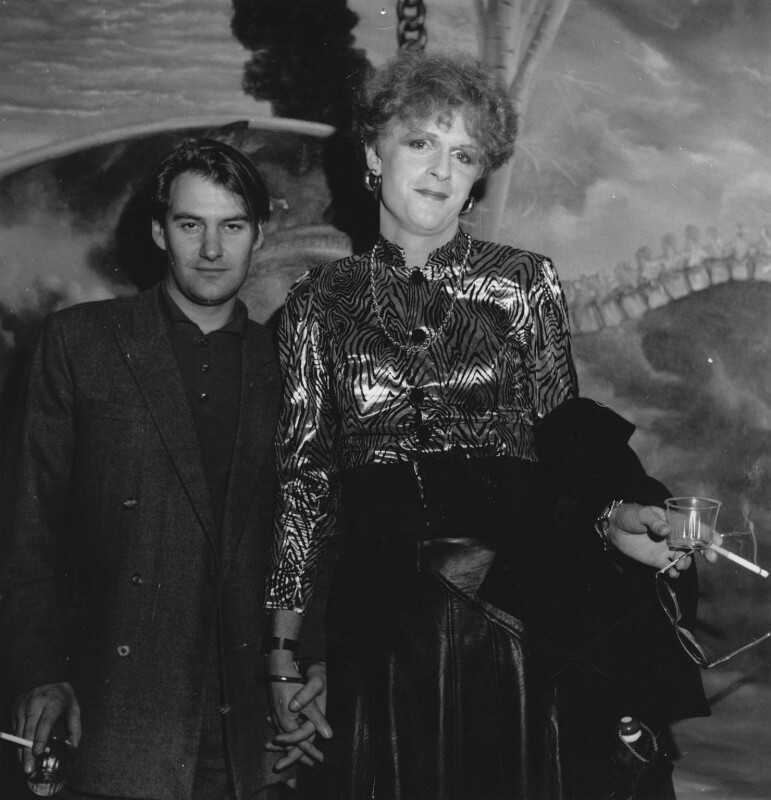 Perry started by making decorative plates, only later progressing to vases. Through the 1980s and '90s, he made continual technical advances with the basic components of potting – clay, slip, glaze – as well as trying a range of additive techniques, adding coloured glass and coins to the clay fabric, incising and printing the wet clay with stamps and lettering, glazing with stencils, and later introducing transfer-printed imagery. Even his potter's marks assumed a role in his work's bustling iconography. He enjoyed 'the low status of pottery', rejecting the bravura studio techniques of throwing and spinning and instead preferring to piece the clay together by hand. The bricolage approach was instinctive to Perry, who confessedly '[finds] it difficult to leave empty space'.

A plate like Essex, Middlesex, Sussex demonstrates the early formation of Perry's bricolage style. A number of incisions and stamps are apparent on the work, imprinted in the wet clay before firing: two potter's marks (including his principal mark, a 'W' above an anchor – a pun on 'wanker'), two line drawings of bird-headed figures, and the titular counties spelled out in letter blocks. A green glaze was then applied around a stencil pattern of three consecutive lozenges with a line through the middle, before the plate was completed with the transfer-printed image of a hop field. Technical complexities here are inseparable from iconographic complexities. Though efforts to interpret the work are bound to be inconclusive, the overarching theme clearly pertains to the artist's home county of Essex and its landscape.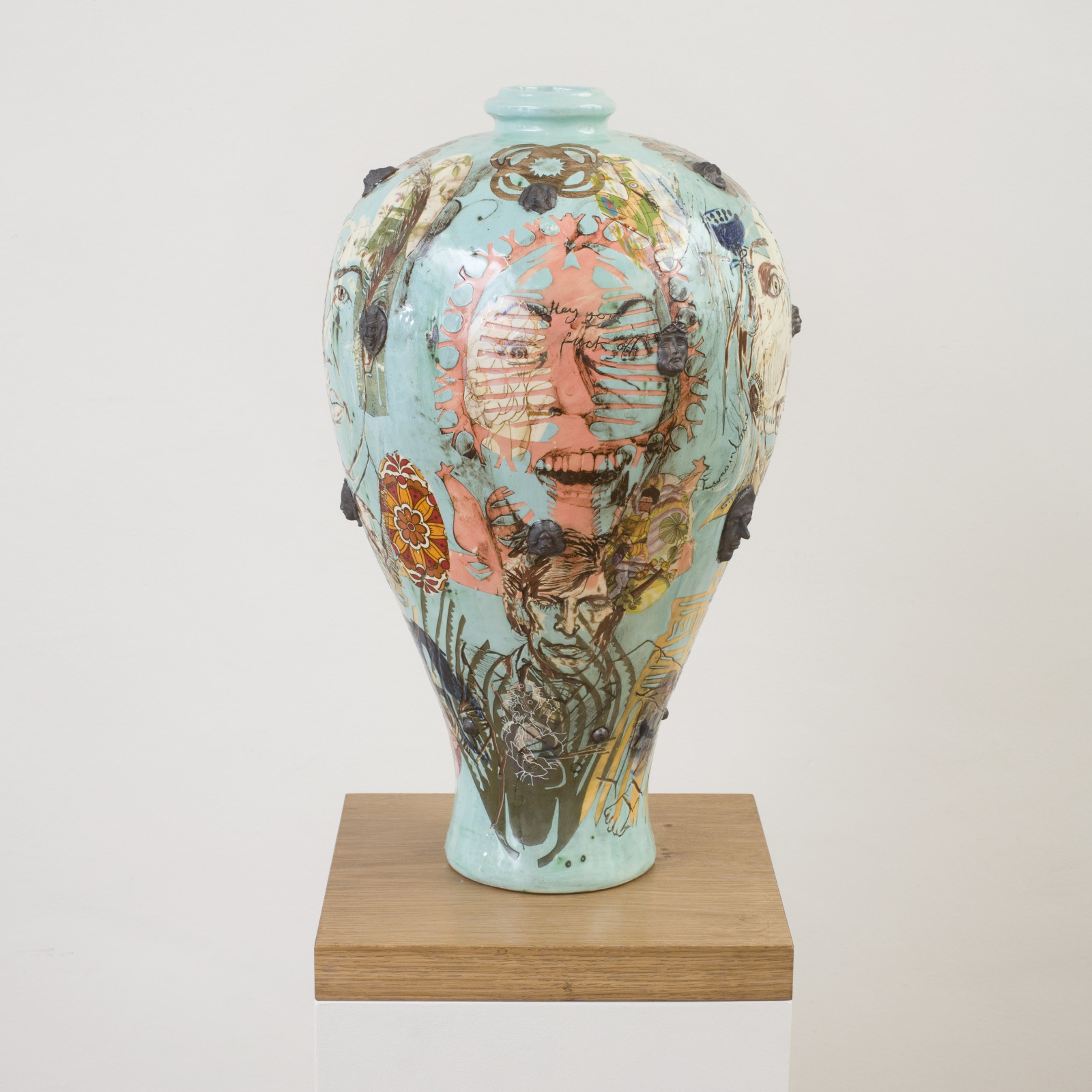 In 2020, the Holburne Museum in Bath held a pioneering exhibition which shed new light on Perry's early period (1982-1994), a time which the exhibition dubbed his 'pre-therapy years'. (The show will travel to York and then Norwich later this year.) As Perry explained in the catalogue,

This show is called 'the Pre-Therapy Years' because I sometimes joke that Victoria Miro was fortunate to take me on as one of her artists in 2003, after I had been through psychotherapy for six years. The relationship between artist and art dealer is often fraught and in the previous twenty years I had loaded a lot of shit onto a few of them.

One of the recipients of this 'shit' was presumably Anthony d'Offay, who gave Perry solo exhibitions in 1994 and 1996, and whose face is stencilled onto the vase entitled Layers of Meaninglessness. Produced in 1994, the vase came at a turning point and shows a new confidence in the artist. The decorative elements of the vase, its glazes and transfer-printed imagery, are harnessed to an overarching concept which is articulated in both the title and stamped lettering on the object itself.
The style that Perry developed in the late 1980s and early '90s is personally distinctive. It resists art historical analysis – its individuality was one of its self-consciously defining features – and relatively few progenitors can be identified. The eclectic effervescence of Britain's art scene in the 1980s does provide clues, however. Perry's dealers at the time, Birch & Conran, held a retrospective of Eileen Agar's work in 1987. Though she had very different reference points to Perry, Agar's late acrylic paintings show a love of sensation and – most importantly – a hatred of stylistic or ideological purity.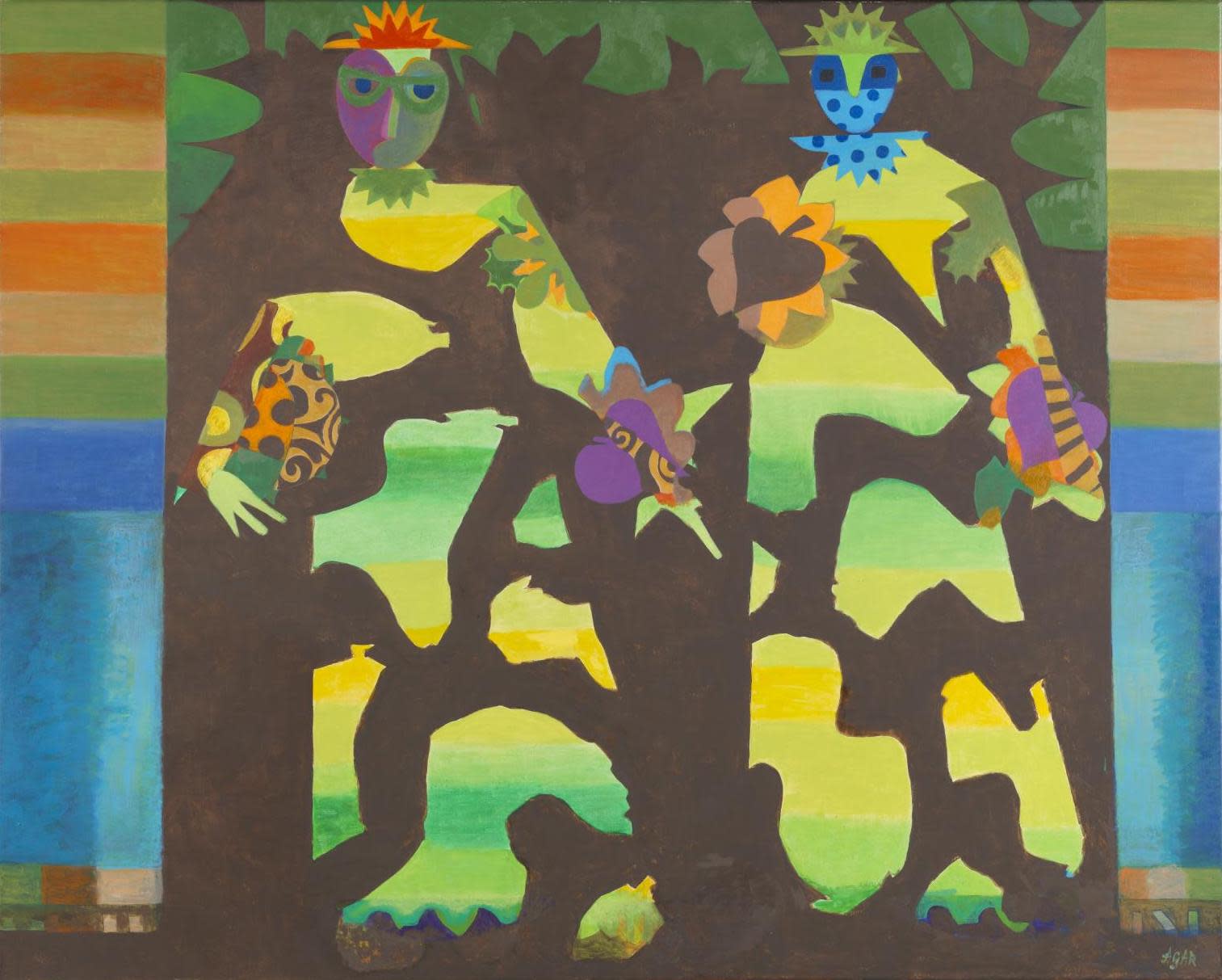 There is no suggestion that Perry responded directly to Agar's work, yet the key to understanding art of this period – Perry's and Agar's alike – was that its eclecticism derived from an avant-garde irreverence towards precedent. Earlier art was of little interest because it was in the past and it was impersonal: a first-person, confessional art like Perry's required not just a personal iconography but also an array of personally assembled devices – the layered glazes, textual additions, potter's marks, transfer-printed images, and so on. It is the 'personality' of Perry's means and his message which distinguishes his art, not just in the work of his 'pre-therapy years' but in the work he continues to produce today.
IMAGES
1. Grayson Perry, Essex, Middlesex, Sussex, 1991, glazed earthenware, 38.5 x 29 cm
2. Matthew R. Lewis, photograph of James Birch and Grayson Perry, 1985, National Portrait Gallery
© The Estate of Matthew R. Lewis
3. Some of Grayson Perry's potter's marks, 1987–1994
4. Grayson Perry, Layers of Meaninglessness, 1994, glazed earthenware, 55 x 35 cm
5. Holburne Museum director Chris Stephens and Grayson Perry at the opening of the Holburne Museum exhibition (2020)
6. Eileen Agar,
Figures in a Garden
, 1979-81, Tate Collection
© The Estate of Eileen Agar
May 4, 2021