Duncan Grant's still-life paintings of the 1910s are remarkable for their stylistic variety. However, they were not just technically accomplished. The objects in these paintings were often of personal significance to the artist and his friends.
InSight No. L
Duncan Grant
Still Life with Compotier and Glass, c. 1916
Whether it is true or not, Roger Fry's two Post-Impressionist exhibitions in 1910 and 1912 are reputed to be the first time a naïve British public saw advanced European painting of the day. Duncan Grant (1885–1978) was an interested visitor to the first and a participant in the second. Important though the exhibition was to Grant's development, however, his experimental period – between around 1910 and 1918 – pre-dated the first exhibition by several months. Returning from a trip around Tunis and Sicily with Maynard Keynes in spring 1911, Grant called in on Matisse at his studio in Issy-les-Molineaux, just outside Paris, armed with a letter of introduction from Simon Bussy. He later recalled that a version of La Danse and a still life of nasturtiums were present.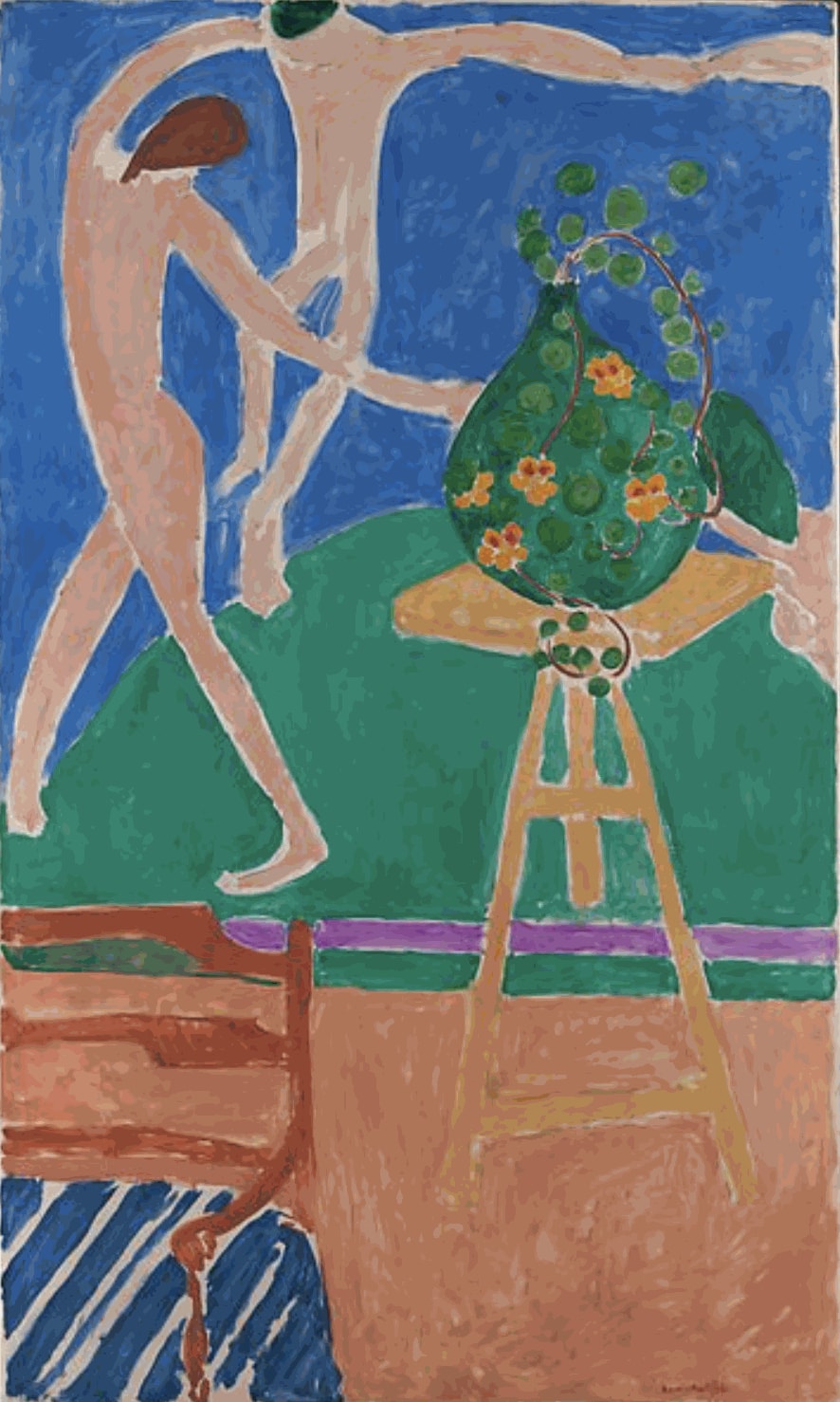 In a letter of 28 September 1912 to Keynes, shortly before the opening of the Second Post-Impressionist Exhibition on 5 October, Grant noted that 'some of the French pictures have already come and are very interesting. The Matisses are radiantly beautiful.' Like Matisse's work, Grant's still-life paintings of the 1910s are remarkable for their technical variety. They abound with high colour (blue, teal green, salmon pink). In many pictures, the image is constructed with an arbitrary mixture of strong outlines and tonal modelling. Fine feathered brushwork, used to make a hatching effect, sits alongside a marble-like soup of colour. In the Hegelian dichotomy of Heinrich Wölfflin, these pictures might be described as a synthesis of 'painterly' and 'linear' painting.
Along with lately deceased painters like Cézanne and Gauguin included in Fry's exhibitions, Matisse was a significant contributor to Grant's creative explosion. One particular feature of his work, almost unknown in British painting at the time, was the systematic use of unpainted canvas – clean, white negative spaces in a picture where the support was allowed to shine through as part of the design. The still life of nasturtiums shows a characteristic use of this device in Matisse's work. The chair upholstery at the bottom left-hand corner has stripes created from alternating areas of pure colour and unpainted canvas. Papier collé –another innovative technique which Grant used – made a similar play upon design, flatness and surface texture. A work like Still Life with Fruit and Coffee-pot shows that Grant was not merely a proponent of advanced French techniques, but an exponent of them too.
Aside from these interesting technicalities, the objects in Grant's still-life paintings were often of personal significance to the artist and his friends. In Still Life with Compotier and Glass, the fruit dish – a 'compotier' or 'tazza' – was a housewarming present to Grant and his partner Vanessa Bell. It was given by Barbara Hiles (later Bagenal), a graduate of the Slade School of Fine Art, who visited shortly after they moved into Charleston in October 1916.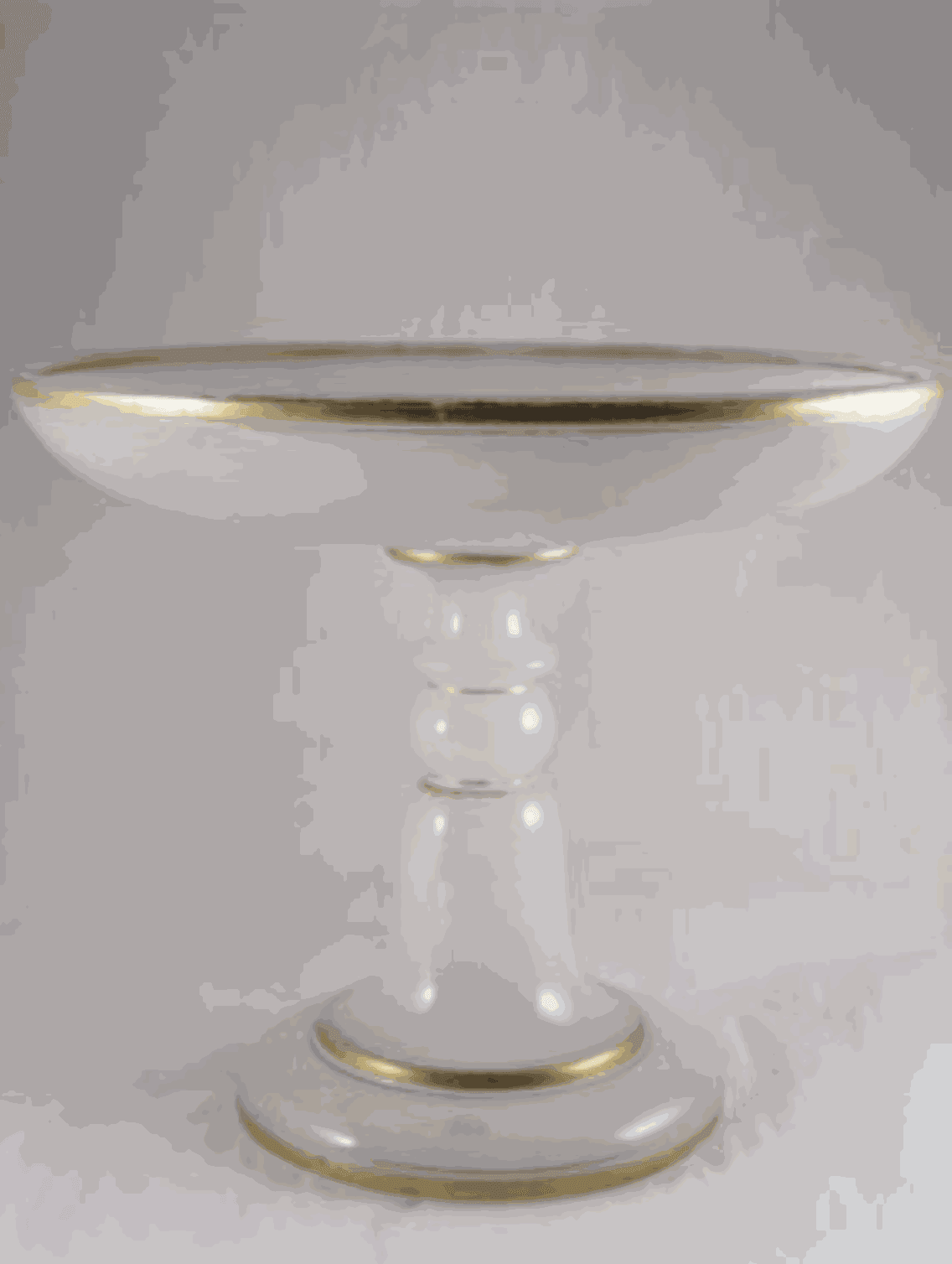 Some years later, Bagenal was photographed on a visit to the farmhouse. The image shows her seated with the very fruit dish which she had given some decades before. She was evidently proud of the gift, and pleased to find it was still there after so many years.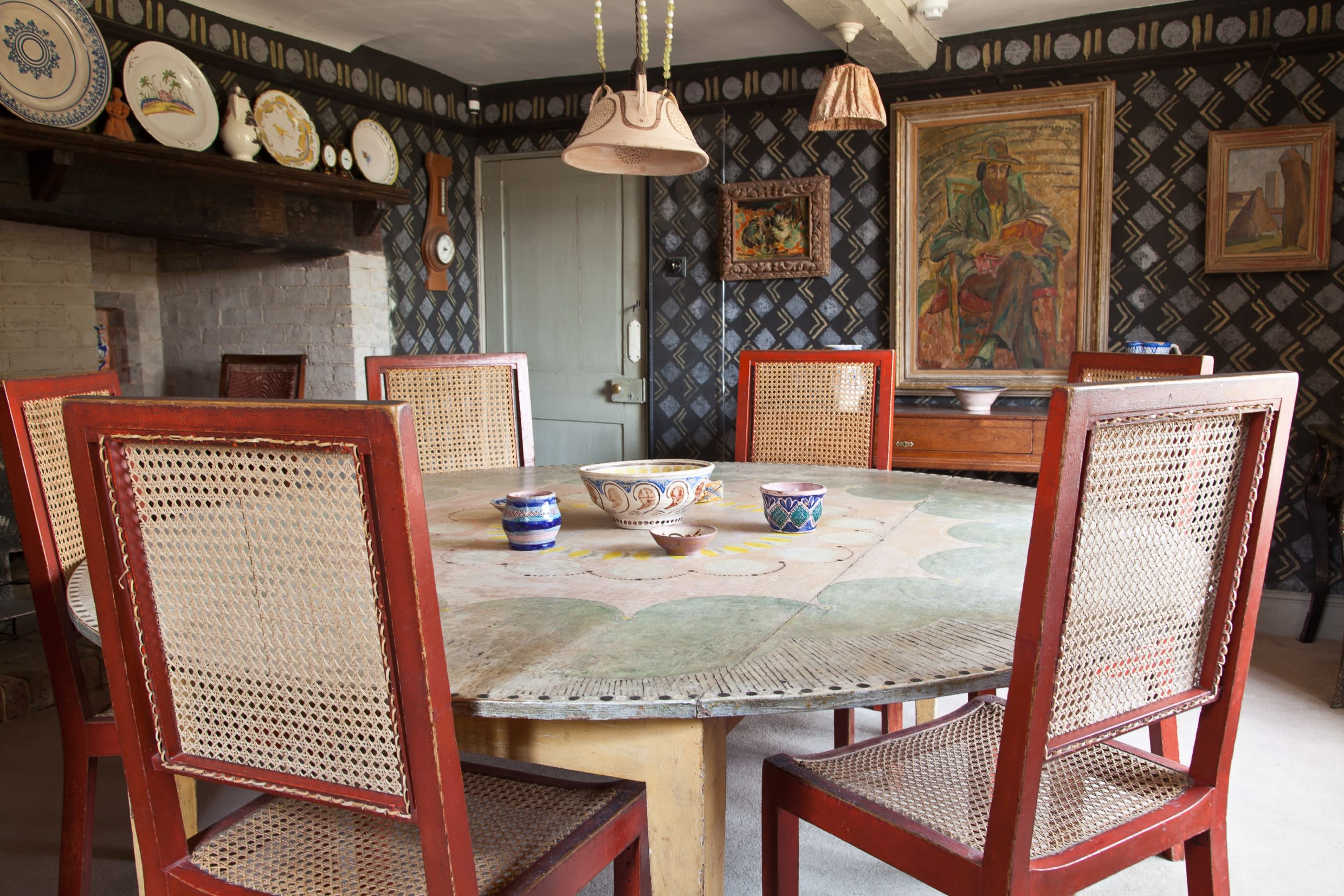 The opaline compotier appeared again in other paintings by Grant and Bell. One example is the large and magnificent painting called Interior – an early masterpiece of the low key, naturalistic style which Grant adopted in his oil paintings after the Great War. Though the Ulster Museum dates the work to 1918, it was not included in Grant's first solo exhibition in February 1920 and was probably not finished until sometime after that. The scene depicts the dining room at Charleston. A vision of studious concentration, David Garnett is on the edge of his seat, poring over his writing, and Vanessa Bell is painting a still life of the compotier, arranged on the dining table. The image taking form on Bell's easel is not dissimilar to Grant's own version from 1916.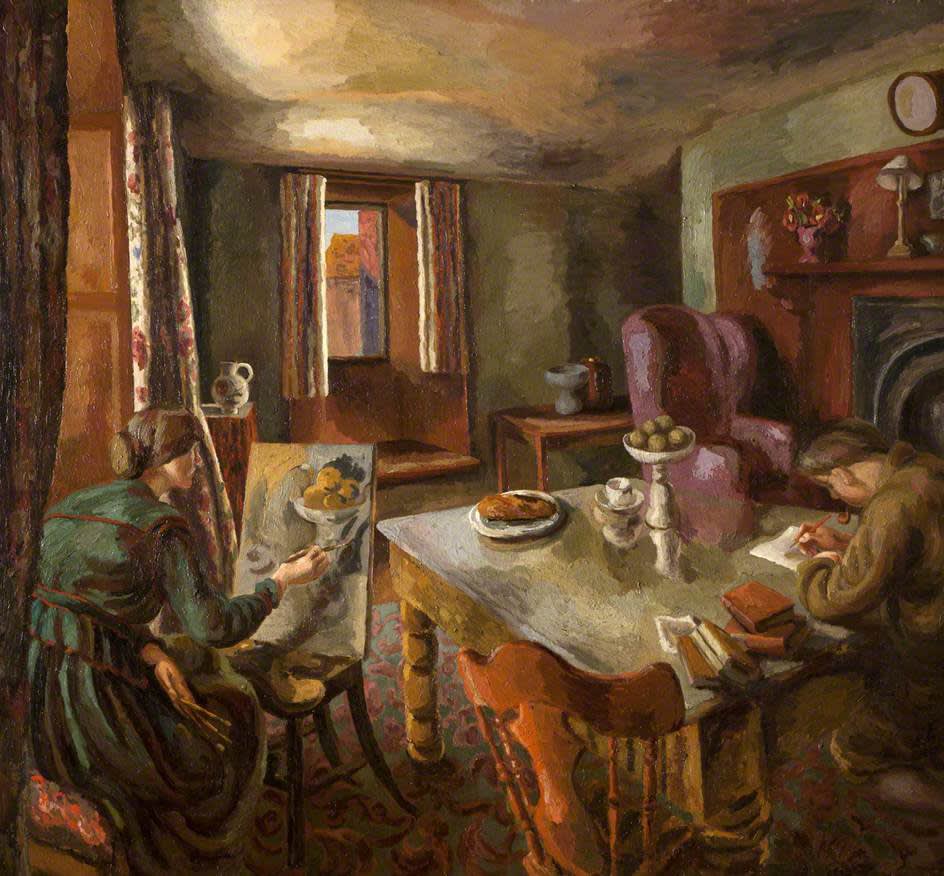 IMAGES
1. Duncan Grant, Still Life with Compotier and Glass, c. 1916, oil on canvas, 16 ½ x 12 ¼ in
2. Henri Matisse, Nasturtiums with the Painting "Dance" I, 1912, Metropolitan Museum of Art, New York
3. Still Life with Compotier and Glass (detail)
4. Duncan Grant, Still Life with Fruit and Coffee-pot, 1914, Private Collection
5. Compotier or tazza, c. 1840, Charleston Farmhouse
6. The dining room at Charleston
7. Duncan Grant, Interior, 1918-20, Ulster Museum, Belfast © The Estate of Duncan Grant
December 21, 2020