Building sites were a recurring subject in Frank Auerbach's work of the mid-1950s. These cavernous, densely painted constructions won him immediate critical recognition following his first solo exhibition in January 1956.
InSight No. LXV
Frank Auerbach
Building Site near St Paul's: Winter
After graduating from the Royal College of Art in 1955, Frank Auerbach (b. 1931) was quickly recruited by the dealer Helen Lessore and held his first solo exhibition in January 1956. It was well received. To some visitors, the art on display was little short of revelatory. Speaking to his friend and sitter William Feaver, Auerbach later recalled Lucian Freud's response.
He would sometimes lunch at the [Royal College of Art] and I would occasionally see him near the common room, occasionally with a little girl on his shoulders. I probably spoke to him once or twice in Soho, but it cannot have been in a terribly familiar way, since I remember seeing him at the Beaux Arts Gallery, at my first exhibition, in 1956; Lucian bowed (slightly) and said "thank you"!
The exhibition marked the beginning of a lifelong friendship between the two painters, who were subsequently identified as central figures in a vaguely defined 'School of London'.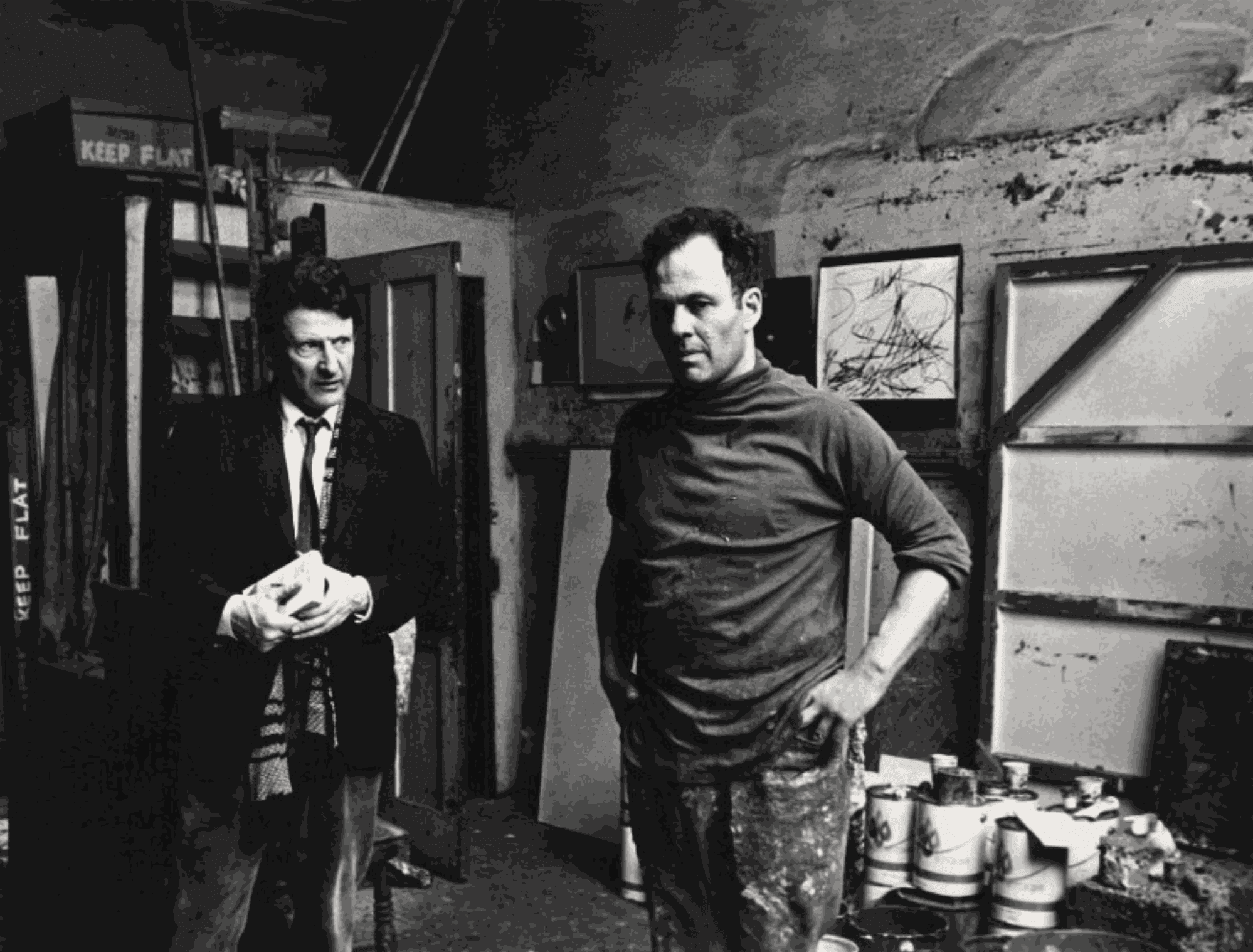 One of the paintings which may have impressed Freud in the Beaux Arts Gallery show was Building Site near St Paul's: Winter. Aside from some small concentrations of unmixed red and blue, the work is constructed from a quagmire of ochre, black and brown – affordable pigments for a young artist, which register the darkness of the season and the coal soot from Bankside Power Station across the river. The main features of the composition are provided by an armature of steel girders and beams, variously converging and overlapping.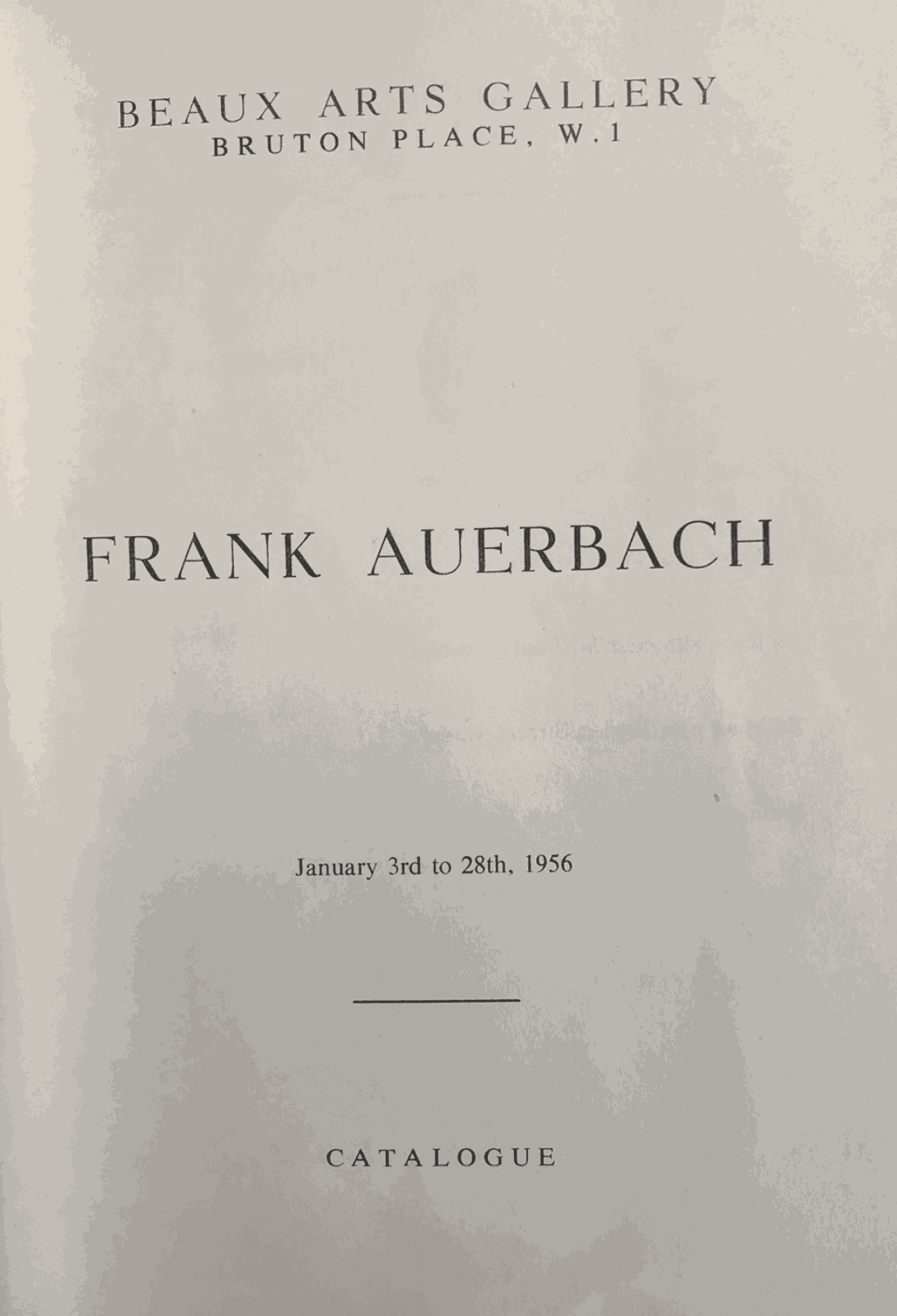 Unlike Auerbach's other building site paintings, Building Site near St Paul's: Winter is one of the few which refers to a landmark rather than a street or an area. St Paul's Cathedral became a symbol of the nation's determination to resist the Nazi threat during the Second World War and it appeared in many paintings of the period, among them a work by Auerbach's teacher David Bomberg. Made a decade after the war had ended, Auerbach's painting provides a sober contrast, relegating the church to a silhouette at the top left-hand corner of the painting, and instead foregrounding the gravelly task of urban renewal.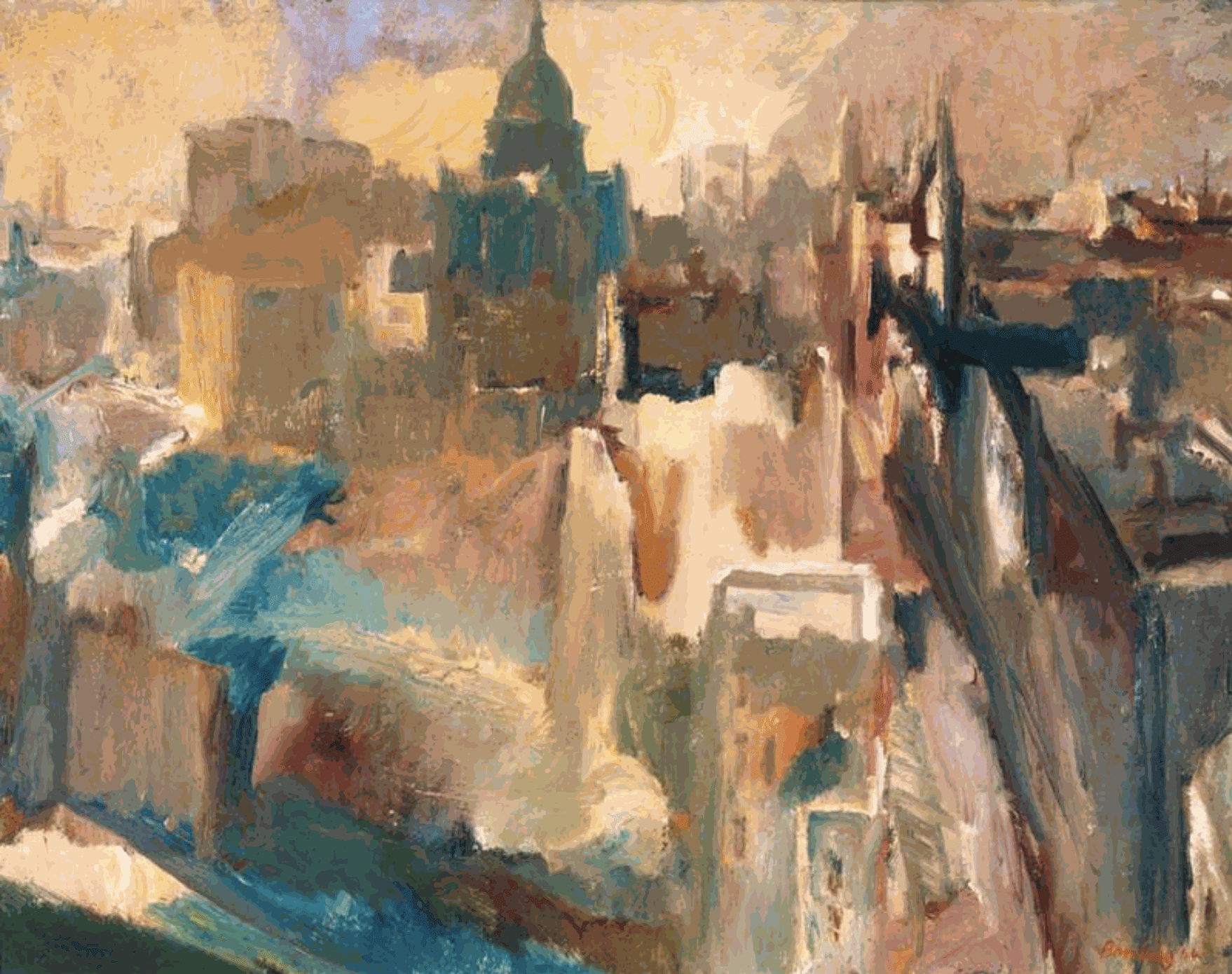 Building sites were a recurring subject in Auerbach's work of the mid-1950s. His inaugural solo exhibition included four further paintings that depicted building sites at St Pancras, Earl's Court, Portobello Road and Bruton Street, just around the corner from Lessore's gallery. (Several of these, including Building Site near St Paul's: Winter, were included in a Courtauld Gallery exhibition curated by Barnaby Wright in 2010.) Though Auerbach had been painting building sites since 1952, it was not until November 1954 that rationing of building materials ended. The subsequent rash of construction activity was an obvious stimulus for his paintings of these years.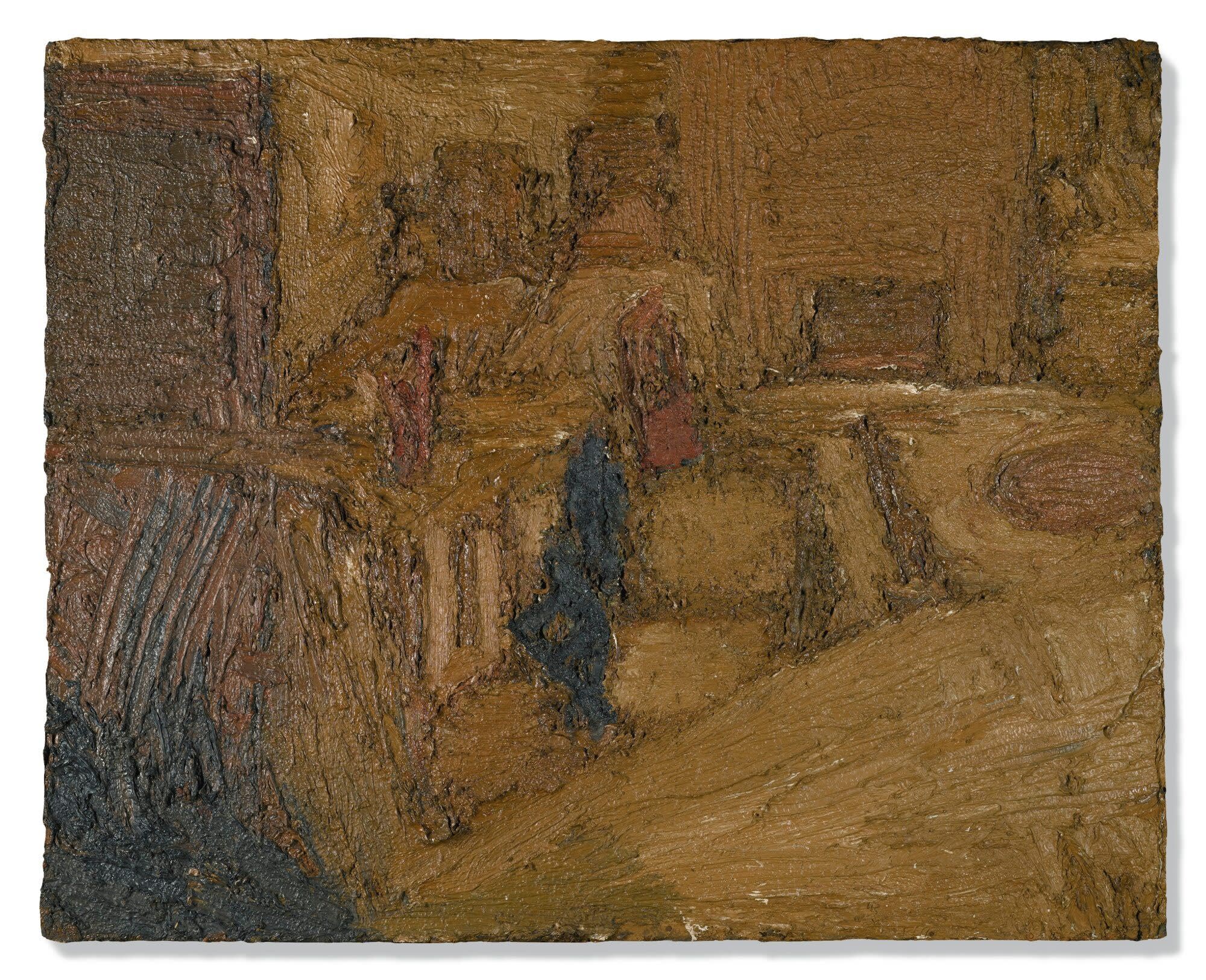 All of these works were made on board and they are notable for the depth of the paint which has been applied, in some places projecting more than an inch from the support. When applied in such quantities, paint loses its representational function and starts to behave as an autonomous recreation of the thing it looks like. Speaking in 1959, Auerbach described the moment he achieved this in a painting.

In the morning I'd been working, very, very conscientiously, painting a building site … suddenly I was conscious of something underneath it … this building site, I'd done it again and again, I knew it intimately … and then there suddenly was the image underneath it … I'd destroyed all the reminders (that is, of painting) to get a unique thing … it began to operate by its own laws …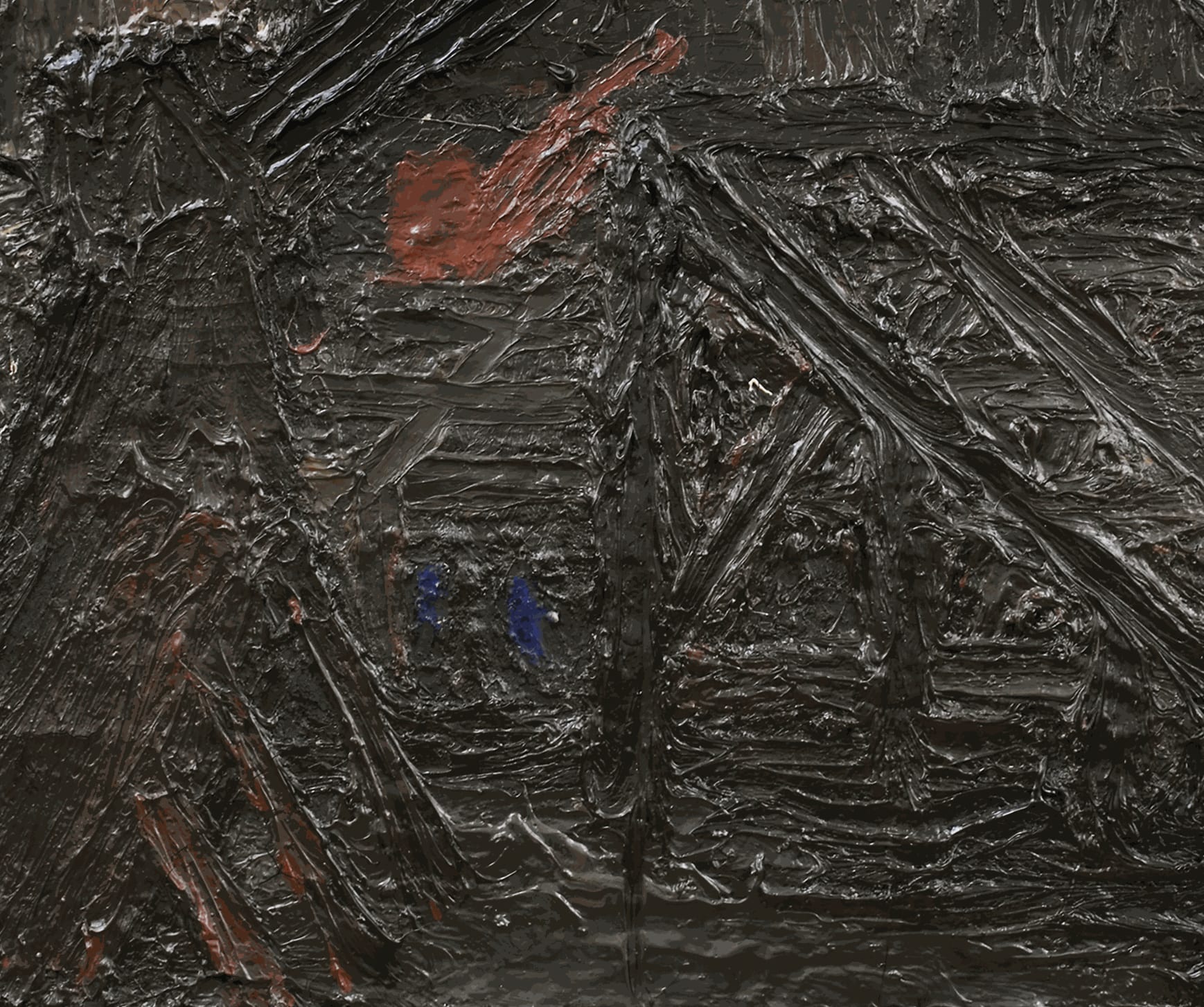 Rather than aspire to clarity, Auerbach was critical about the traditional idea of 'a picture' – a neat imitation using a well-practiced technique. Instead, he sought to reconstitute his subject in paint, the idea being that the paint itself becomes inseparable from the resulting image. The literary equivalent of such a painting is the calligram – a poem which places words so they look like the things they describe, as when Apollinaire creates a woman's mouth using the words 'la bouche'.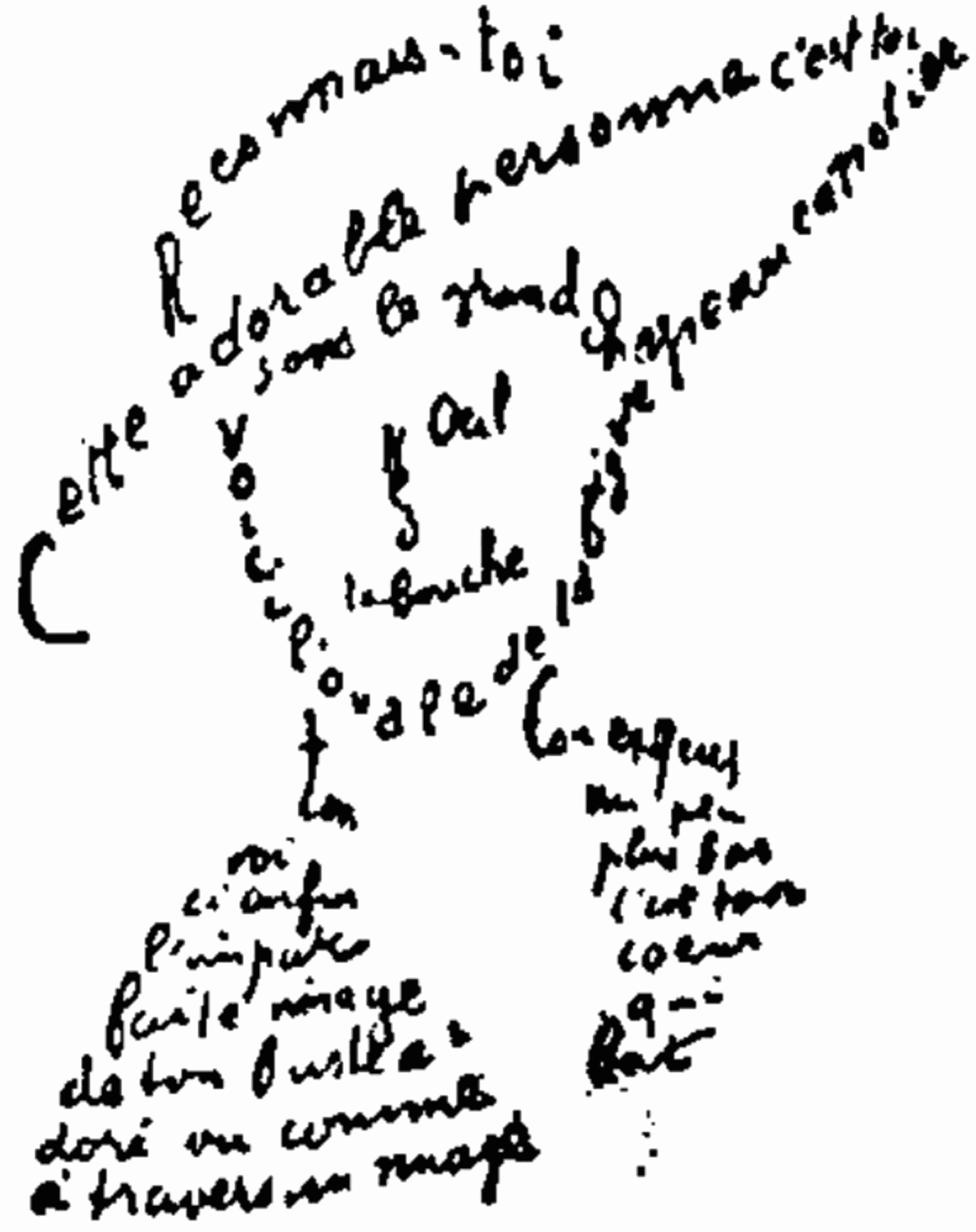 IMAGES
1. Frank Auerbach, Building Site near St Paul's: Winter, c. 1955, oil on board, 80.6 x 121 cm
2. Harry Diamond, photograph of Lucian Freud and Frank Auerbach, May 1975, National Portrait Gallery © National Portrait Gallery
3. Frank Auerbach, St Pancras Building Site, Summer, 1954, Private Collection © Frank Auerbach
4. An excerpt from the catalogue of Auerbach's first solo exhibition, 1956
5. Building Site near St Paul's: Winter (detail)
6. A poem from Guillaume Apollinaire, Calligrammes: Poems of Peace and War 1913-1916 (1918)
7. David Bomberg, Evening in the City of London, 1944, Museum of London © The Estate of David Bomberg
November 18, 2020