Henry Herbert La Thangue belonged to a generation of talented, unassuming English painters. He worked doggedly from the subject outdoors and drew inspiration from the quiet dignity of the rural poor.
InSight No. XLI
Henry Herbert La Thangue
Beachcombers, c. 1891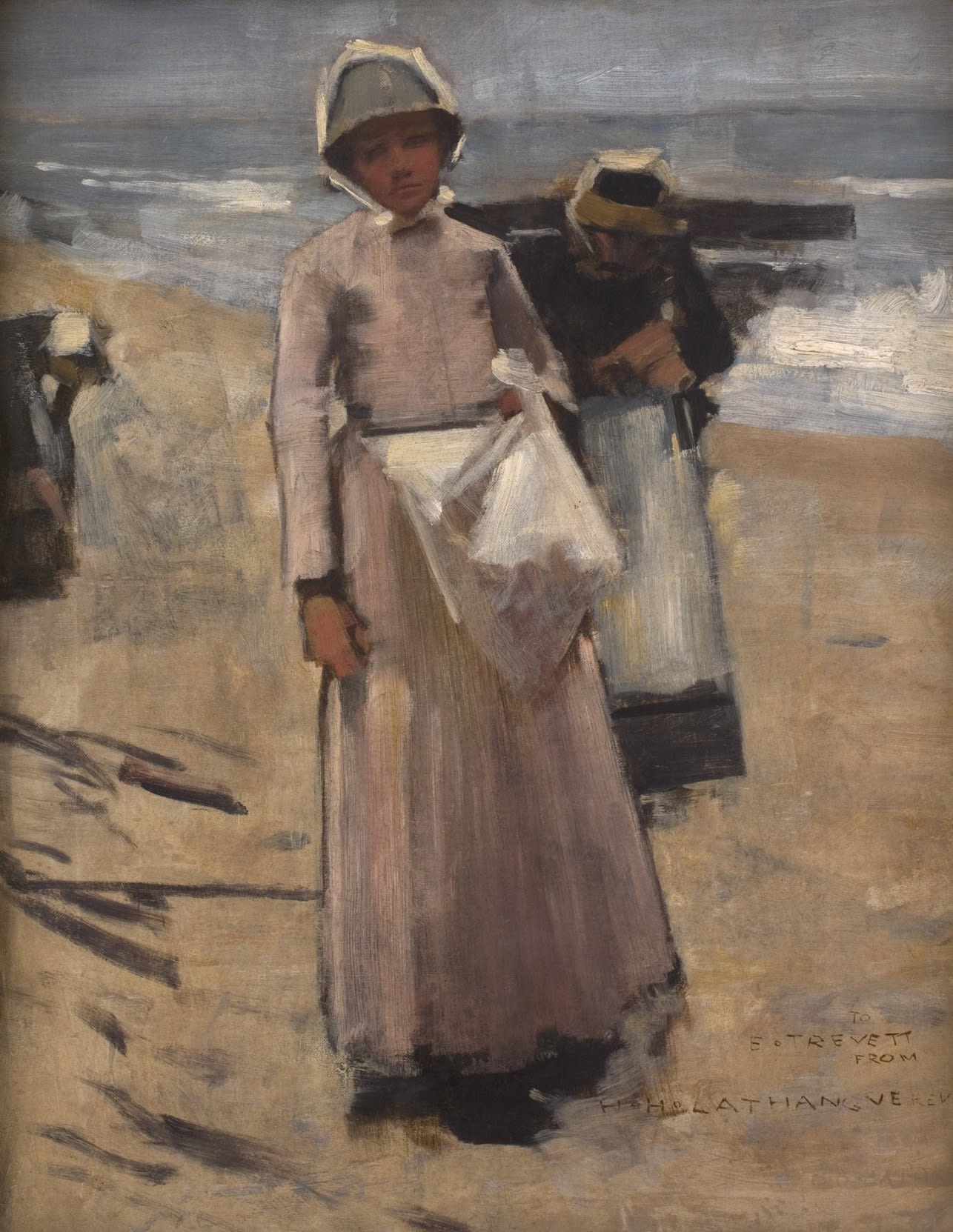 Rural labourers loomed large in the creative imagination of late-nineteenth-century Europe. At a time when networks of travel and communication made distant frontiers seem imminent and the global population had begun its long migration from country to city, the contrasting simplicity of rural life gained a new significance. Earlier landscape painters like Gainsborough and Constable had admitted labourers merely as picturesque ornaments. By contrast, in the later work of writers like Thomas Hardy and painters like Millet, Bastien-Lepage and Henry Herbert La Thangue (1859-1929), harvesters, gleaners, plough boys and other seasonal workers received sustained attention and developed new psychological depths.
Where Constable's painting of Harwich made seaside visitors into small pricks of colour on the coastline, the 'beachcombers' in La Thangue's eponymous picture of the 1890s are the main source of pictorial interest. Bonnetted against the wind, three women scour through sand and seaweed, hand gathering the shellfish which were a staple of a seacoast diet at the time. Their gathered-up aprons serve as a basket. Two of the women are hunched over their discoveries but the third, a little younger than the others, looks directly at the viewer. Her face is tanned, weathered by the elements, and her expression is drawn, suggesting a certain toughness borne of hardship.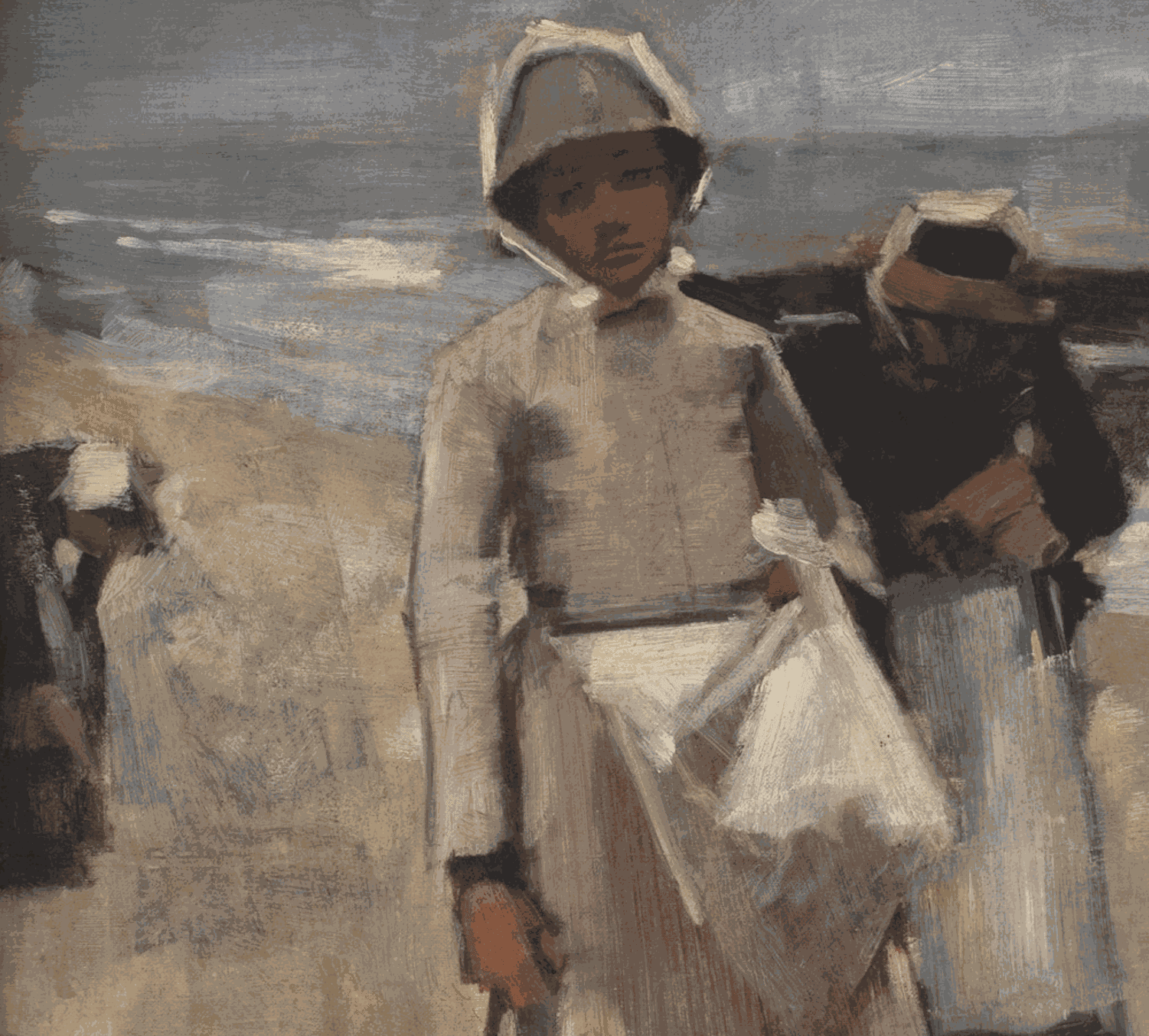 After working at Pont-Aven in Brittany with Stanhope Forbes in 1881 and '82, La Thangue was thoroughly availed of peasanty pathos. His subsequent work of the 1880s and '90s continued to offer sympathetic depictions of rural workers. Beachcombers was painted some years after he settled in England and, though perhaps made during a visit to Brittany, circumstantial evidence suggests that the scene was in fact taken at Bosham, the coastal village where La Thangue lived between 1890 and '98, or one of the neighbouring beaches in West Sussex. The work is addressed to 'E. Trevett' whose family appears to have been native to Bosham and had been settled there since at least the 1820s. Documents in West Sussex Record Office refer to one Edward Trevett, who was a tenant of Bosham manor in the 1890s. La Thangue was evidently acquainted with him and perhaps gifted this painting to him.
The main influence upon rural naturalism in Britain, the kind practiced by La Thangue, was Jules Bastien-Lepage. A contemporary of the Impressionists, he preferred sentimental peasant scenes to the cut and thrust of the Parisian metropolis. Bastien-Lepage made several innovations to the painting of rural life, not only giving convincing human qualities to his subjects but also using a square brush. The result was a painterly texture, leaning to the conservative side of Renoir and Monet's overtly unresolved brushwork, but successfully registering the open grain of life outdoors. A work like The Wood Gatherer is distinguished by its attention to the texture of tree bark and undergrowth. Beachcombers was also executed with a wide, square brush, and the brushwork of the clothing and the waves has a stylish formality.
Writing shortly after La Thangue's death in 1929, his friend and contemporary George Clausen summarised the achievement of his work.
He would never paint except with the object before him: holding this to be the only true way, and that its limitations were balanced by the general truth obtained. This practice he kept to throughout his life: and, to anyone who knows the incidental difficulties of carrying out a picture – not merely making a study – in this way, the result was little short of marvellous, and one that could only be attained by a painter of extraordinary skill.
A subject like Beachcombers has the mood of something passing, swiftly and incisively painted. As the tide made its way out, chased by three lonely figures in search of riches, La Thangue went to work and made an atmospheric painting as much about the people as it was about the place.
IMAGES
1. Henry Herbert La Thangue, Beachcombers, c. 1891, oil on canvas, 66.5 x 52.4 cm
2. John Constable, Harwich: The Low Lighthouse and Beacon Hill, c. 1820, Yale Center for British Art
3. Beachcombers (detail)
4. Bosham, West Sussex
5. Jules Bastien-Lepage, The Wood Gatherer, 1881, Milwaukee Art Museum, USA
October 21, 2020