Isolated from the mainstream trends of British art and warring against recurring bouts of mental illness, Cyril Mann regarded painting as nothing less than a life-long vocation.
InSight No. XXVII
Cyril Mann
Daffodils in a Brass Jug, 1964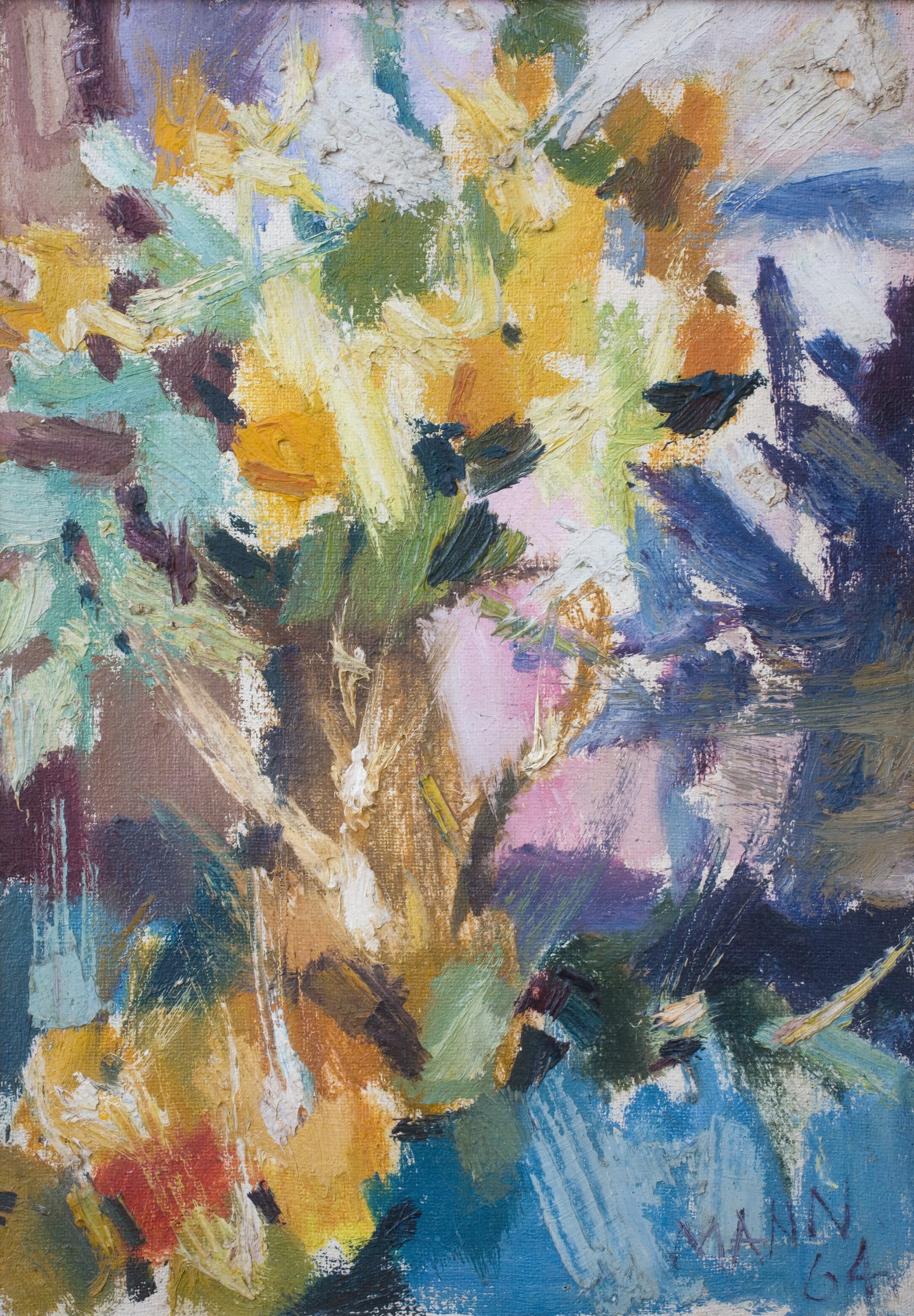 For artists, there is no subject more delicate than that of influence. Aside from any passing similarities which his work bears to other painters, Cyril Mann worked in genuine isolation and wilfully ignored the dominant trends of British art after the Second World War – his work was representational, unlike the colourful abstraction of many American acolytes, and it was colourful, in distinction to the low-key social realism of Euston Road School painting. To sustain himself financially in the late 1940s and '50s, he sporadically held teaching positions at the Central School of Art, Kingsway Day College and the Sir John Cass College, though he formed no lasting relationships at any of these institutions. His work was exhibited from time to time during the period, at venues which included the Park Row Gallery, Nottingham, and distinguished premises in Mayfair like Wildenstein, Hanover and Brook Street Gallery.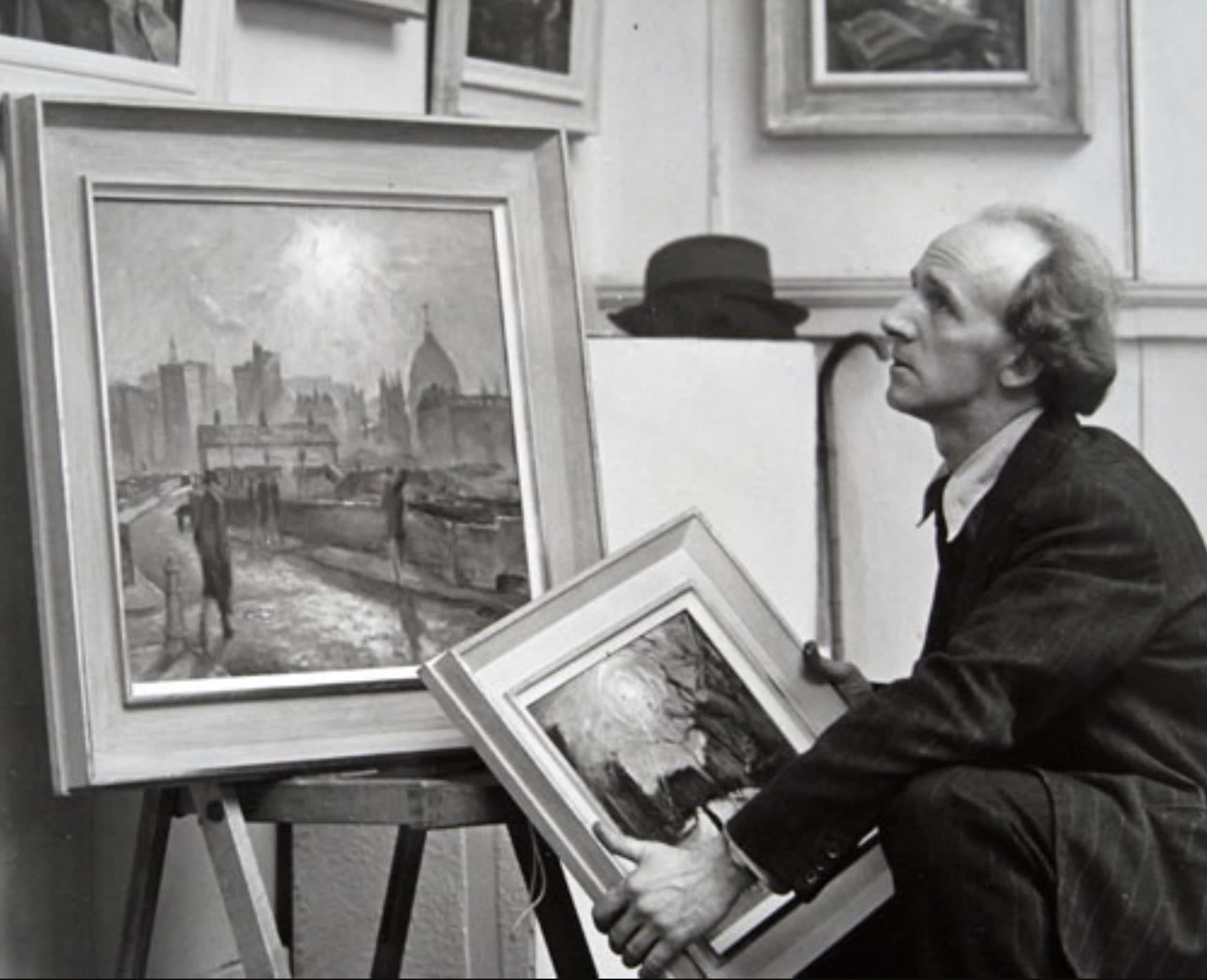 Even as he remained at odds with the London art scene, living uncomfortably in a dimly-lit apartment at Old Street, Mann conceived some of his most original imagery – the 'solid shadow' pictures. It is ironic, for an artist with a career-long commitment to naturalism, that these works appear so imaginatively and successfully stylised. Rather than describing light and dark with gradations of tone, these works give substance to shadow using bold outlines. Though these works rely on an attractive schema, they were nevertheless motivated by the same interest in representing light – the darkness of his flat forced him to study still-life subjects under a bare lightbulb, which produced the sharpened shadows which are so definitive of these paintings.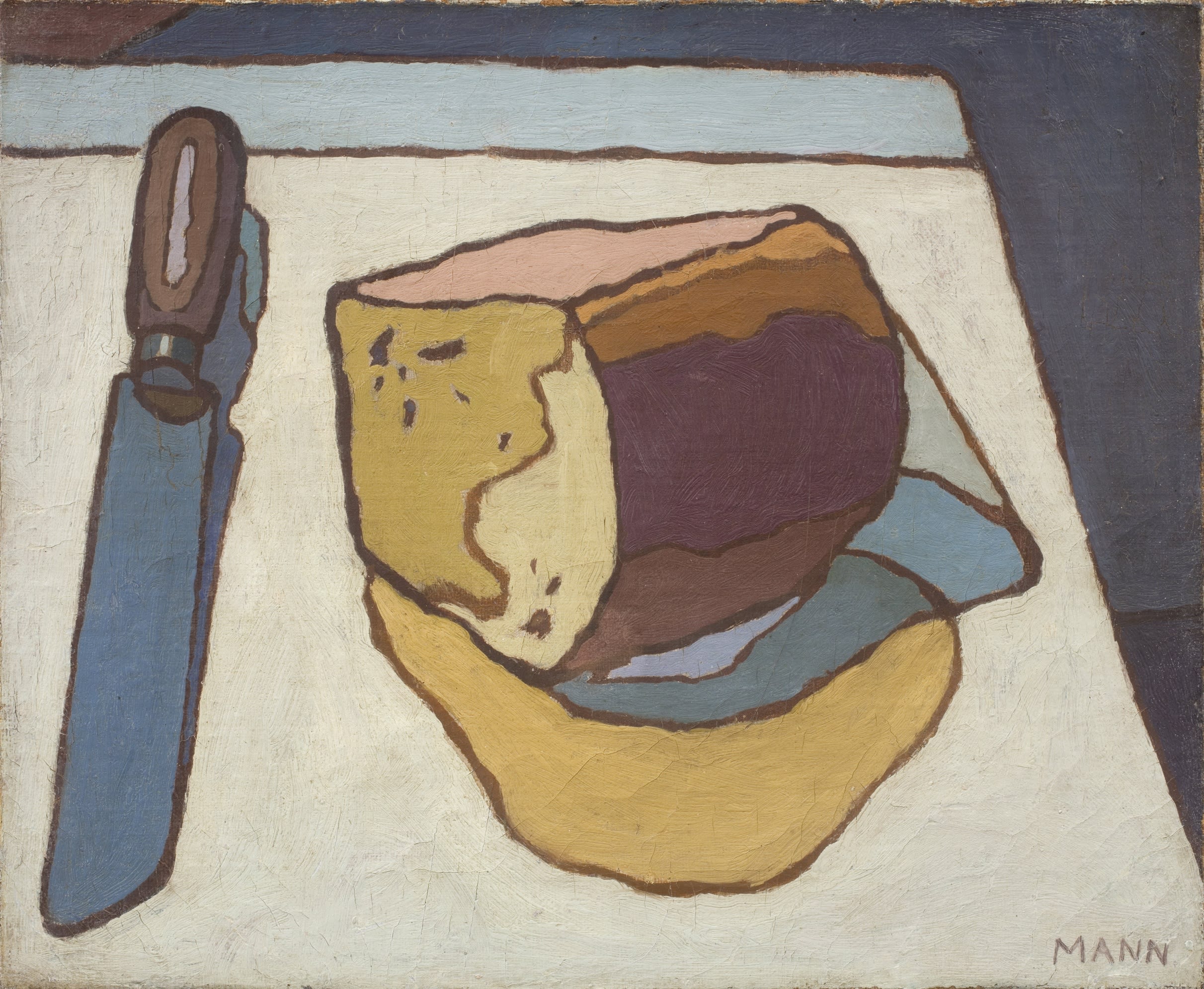 The wilderness drew to a sudden end when he met his second wife, Renske van Slooten, a Dutch art school student in London, who he married shortly after her twenty-first birthday in 1960. Before-hand, Mann had moved to a modernist apartment block in Finsbury, Bevin Court, which had been completed a few years earlier in 1954 to the designs of Berthold Lubetkin. Their apartment was flooded with daylight, a change of environment which encouraged a further change in his manner of working.
Daffodils in a Brass Jug is one of the works which Mann painted at Bevin Court. He claimed that his ambition was 'to pour new wine into an old bottle' and to re-invigorate naturalism in art, and this still-life painting is marked by vital sweeps of impasto and unmixed areas of keyed-up colour, traversing lilac, turquoise and cadmium yellow. The upper register of the picture is structured with brushstrokes of thick white paint, a hint that – as the critic John Russell Taylor has suggested – 'light to him was such a physical presence that it was almost tangible'. This original, Turnerian flourish, painting not just objects but sunlight itself, was one distinguishing aspect of Mann's Bevin Court work.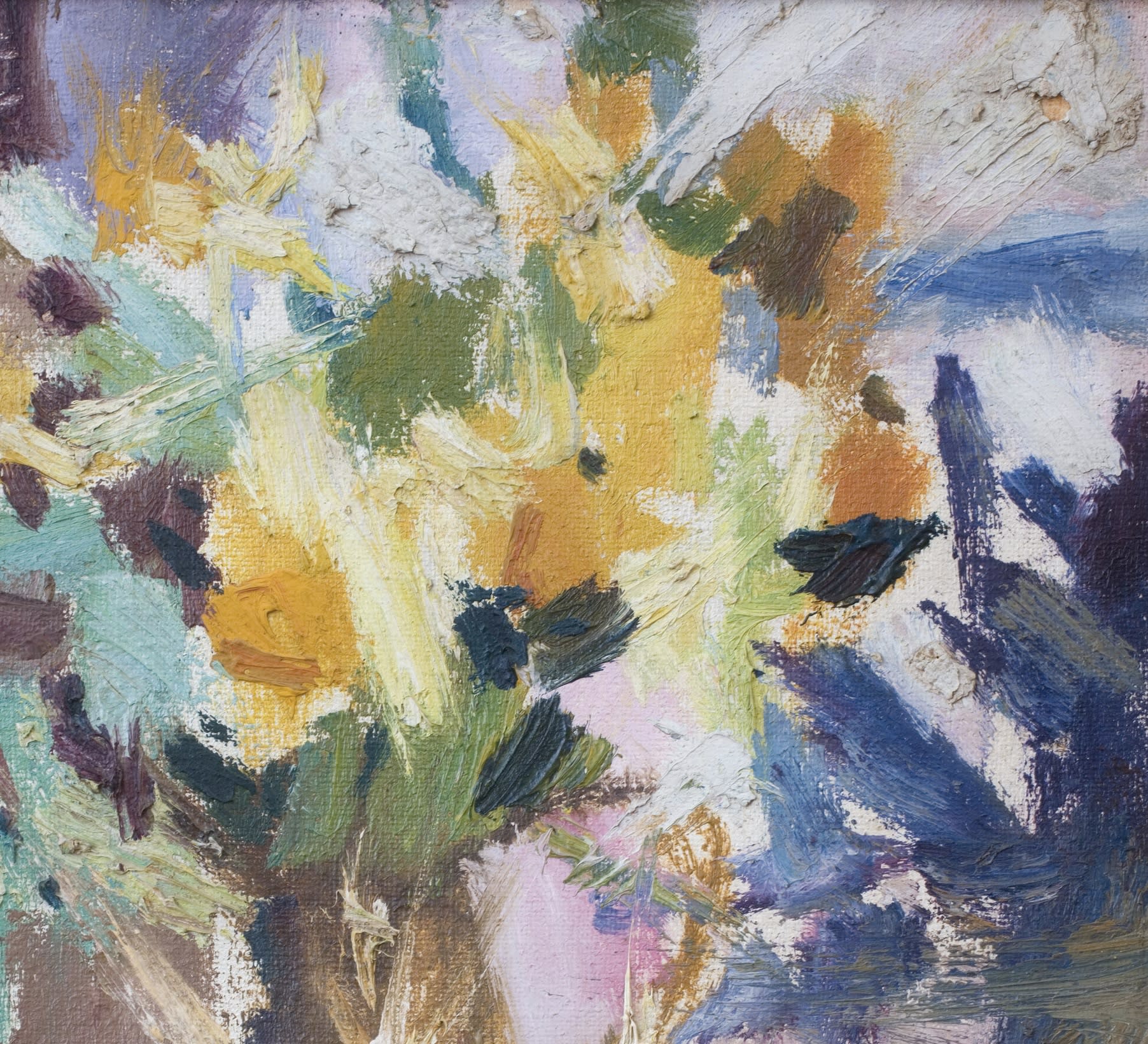 Though it was small, the Bevin Court apartment was an inspiration, and Renske Mann recalls the effect it had on her husband's painting.
When I moved in with him weeks after our first meeting, Cyril had already been rehoused by the local authority in Bevin Court, the Islington council block that today honours him with a commemorative plaque. Unlike in his previous home, his tiny new flat was flooded with daylight. With the light speeding through the Crittall windows, he would paint direct without preliminary sketches. Nudes, flowers, portraits, metallic objects, everything took second place to the enhancing and disintegrating effects of sunlight, bouncing off surfaces.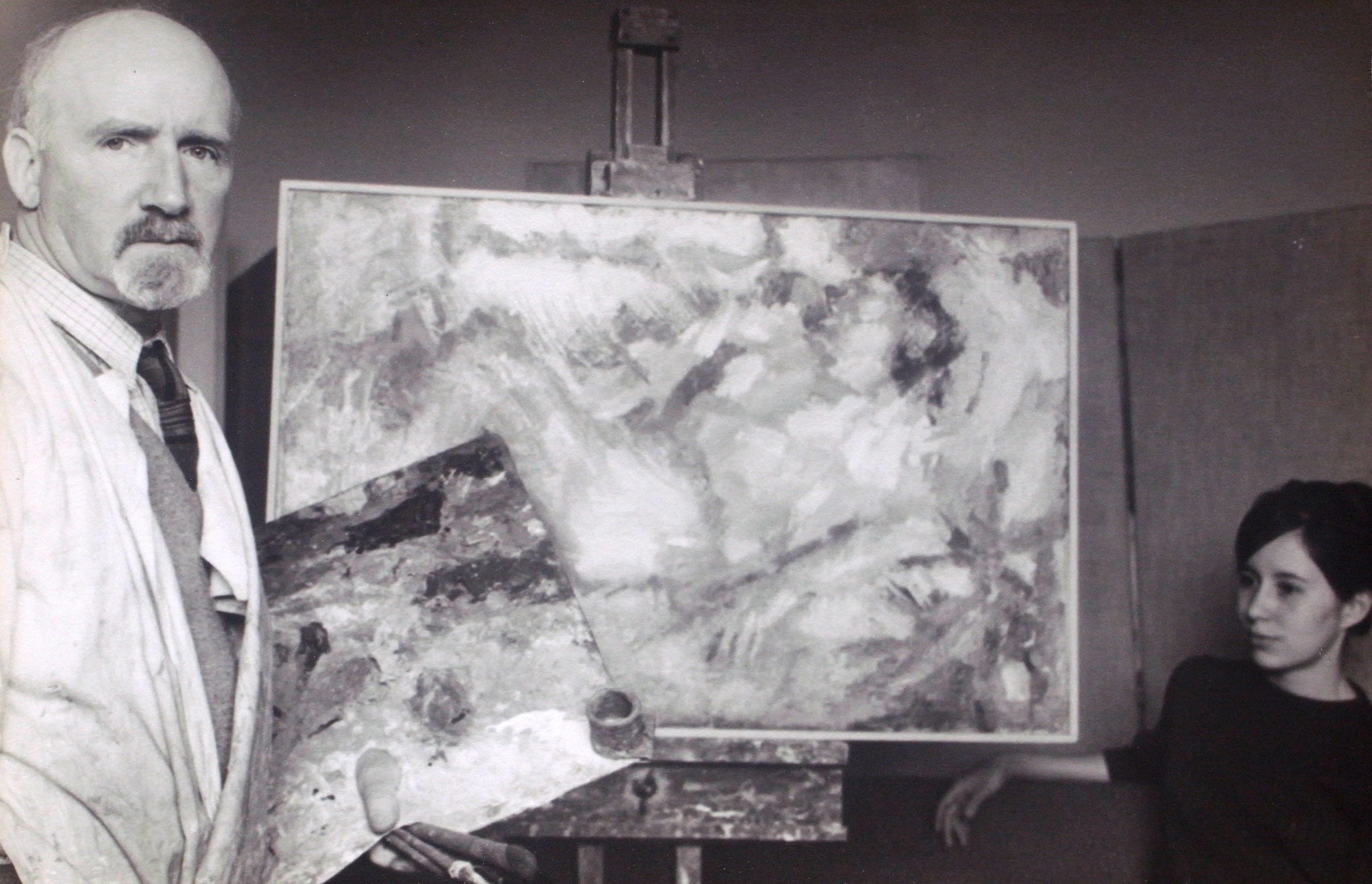 IMAGES
1. Cyril Mann, Daffodils in a Brass Jug, 1964, oil on canvas, 70 x 46.5 cm | For Sale
2. Mann at the Park Row Gallery, Nottingham, 1953 © The Estate of Cyril Mann
3. Cyril Mann, Bread and Knife, c. 1955, oil on canvas, 22.7 x 27.7 cm | For Sale
4. Bevin Court, designed by the Russian modernist architect Berthold Lubetkin
5. Daffodils in a Brass Jug (detail)
6. Cyril and Renske Mann at Bevin Court © The Estate of Cyril Mann
July 17, 2020