At Frieze New York this May, Piano Nobile was due to present a collection of Leon Kossoff's 'old master' drawings. Since the fair's cancellation, we will instead present an online platform to display the drawings virtually. Ahead of the online opening, InSight will present a three-part series dedicated to Leon Kossoff, starting with his large-scale masterpiece:

Study from 'Minerva Protects Pax from Mars' by Rubens.
InSight No. VIII
Leon Kossoff
Study from 'Minerva Protects Pax from Mars' by Rubens, 1981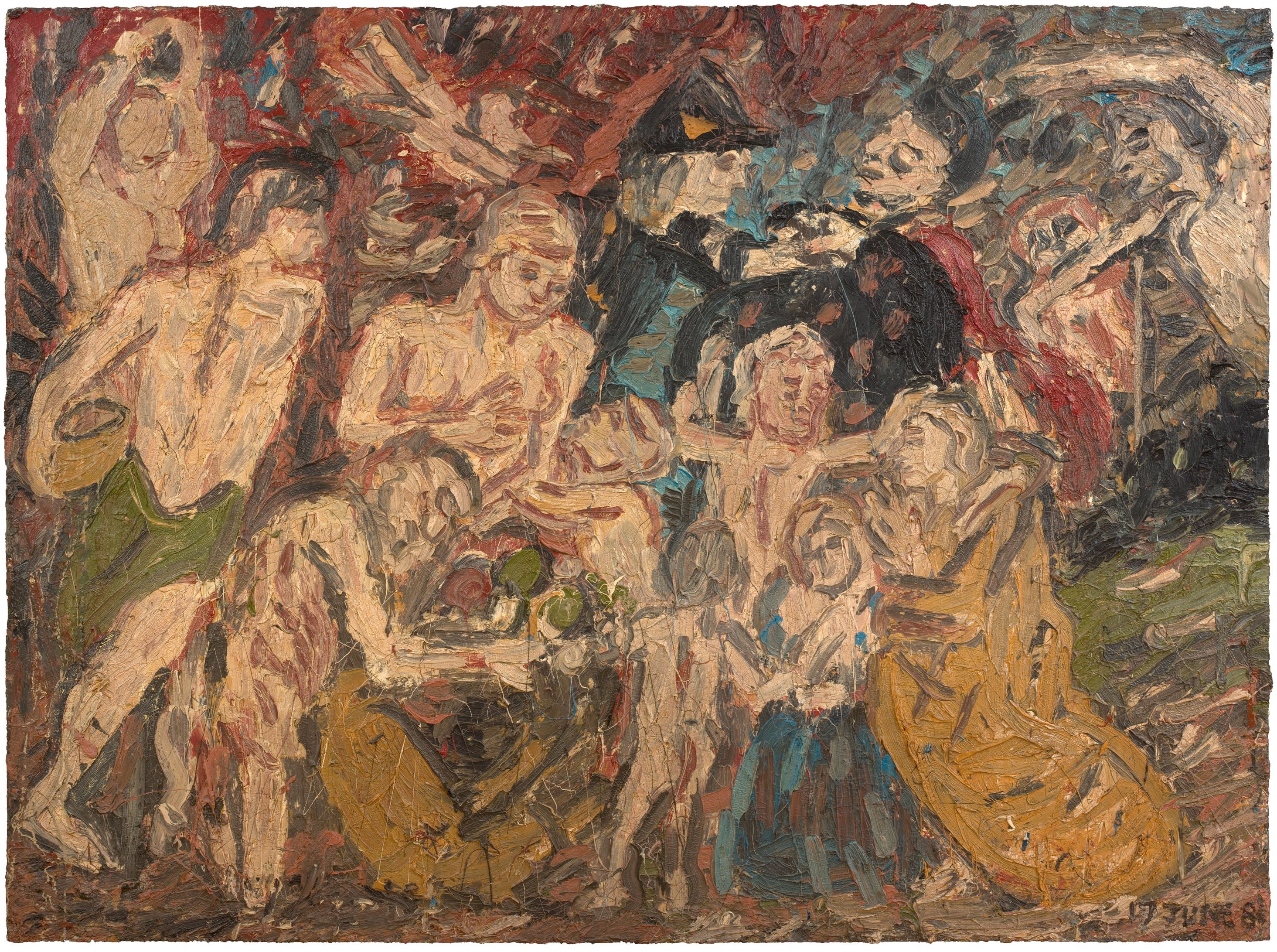 At just under two-and-a-half metres wide this work is one of the largest completed in Kossoff's career. An inscription at the bottom right corner reads "17 June 81". The message is simple: this astonishingly complex, large-scale, multi-figure work was completed in a single day. He would undoubtedly have worked on the same panel before then, making attempts to complete the work and progressing towards a final version. But it was his practice to scrap away these efforts, starting again on the next occasion and working his way over the entire panel in a single bout of activity. As the inscription attests, the final event took place in the summer of 1981.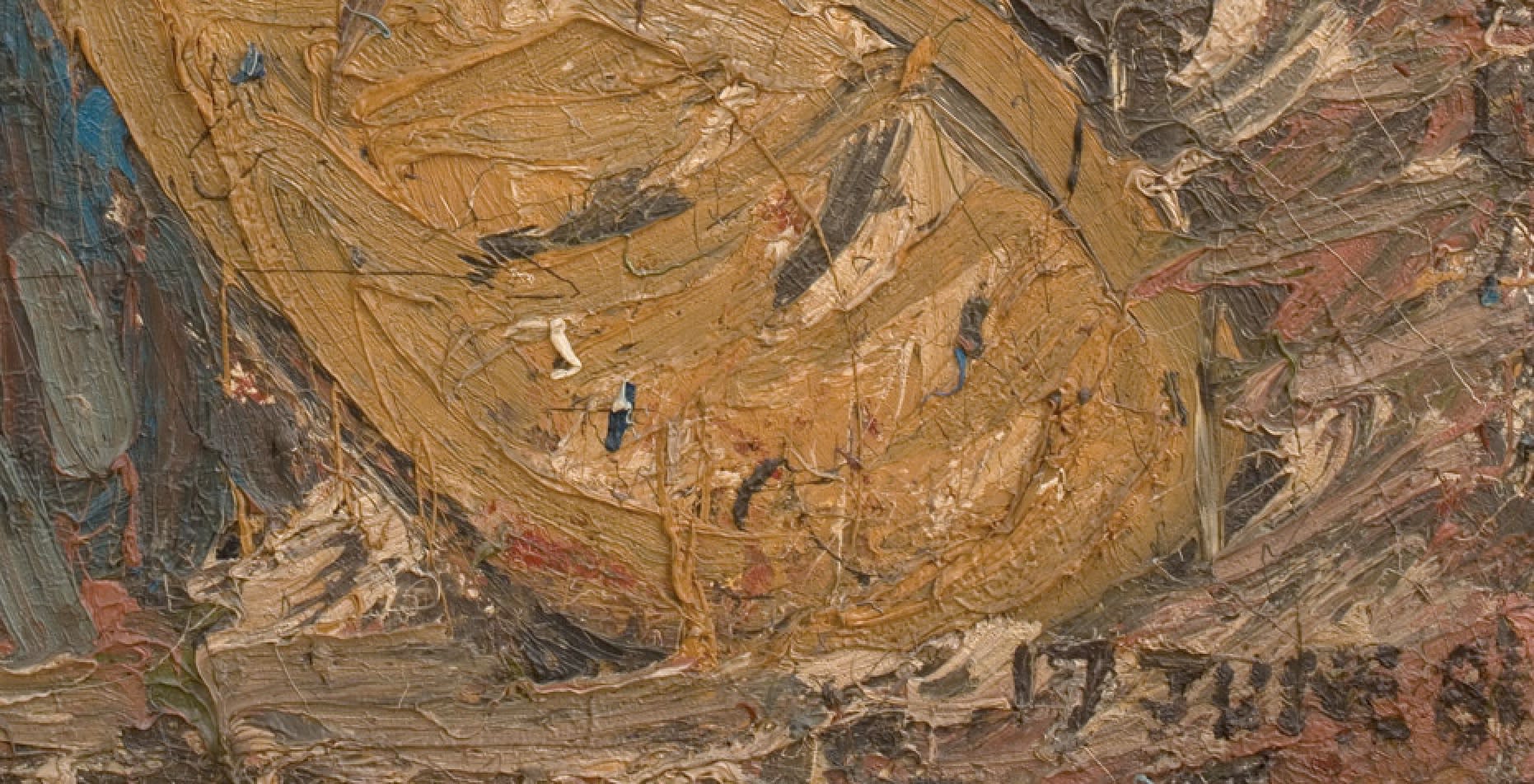 Kossoff started visiting the National Gallery as a young boy, aged nine, and the collection was to be a source of deep and lasting fascination for him. He spoke about his connection with the gallery in a conversation with Jon Snow in 2010. Around 350 years separate the execution of Kossoff's painting and the work from which he made it: Peter Paul Rubens's allegory of Minerva, the Roman goddess of wisdom, protecting Peace from Mars, the god of war. For Kossoff though, this historical remove was irrelevant and he approached the painting as if it were newly-made – an artwork with lessons and secrets which were just as important in the 1980s as they were in the 1630s.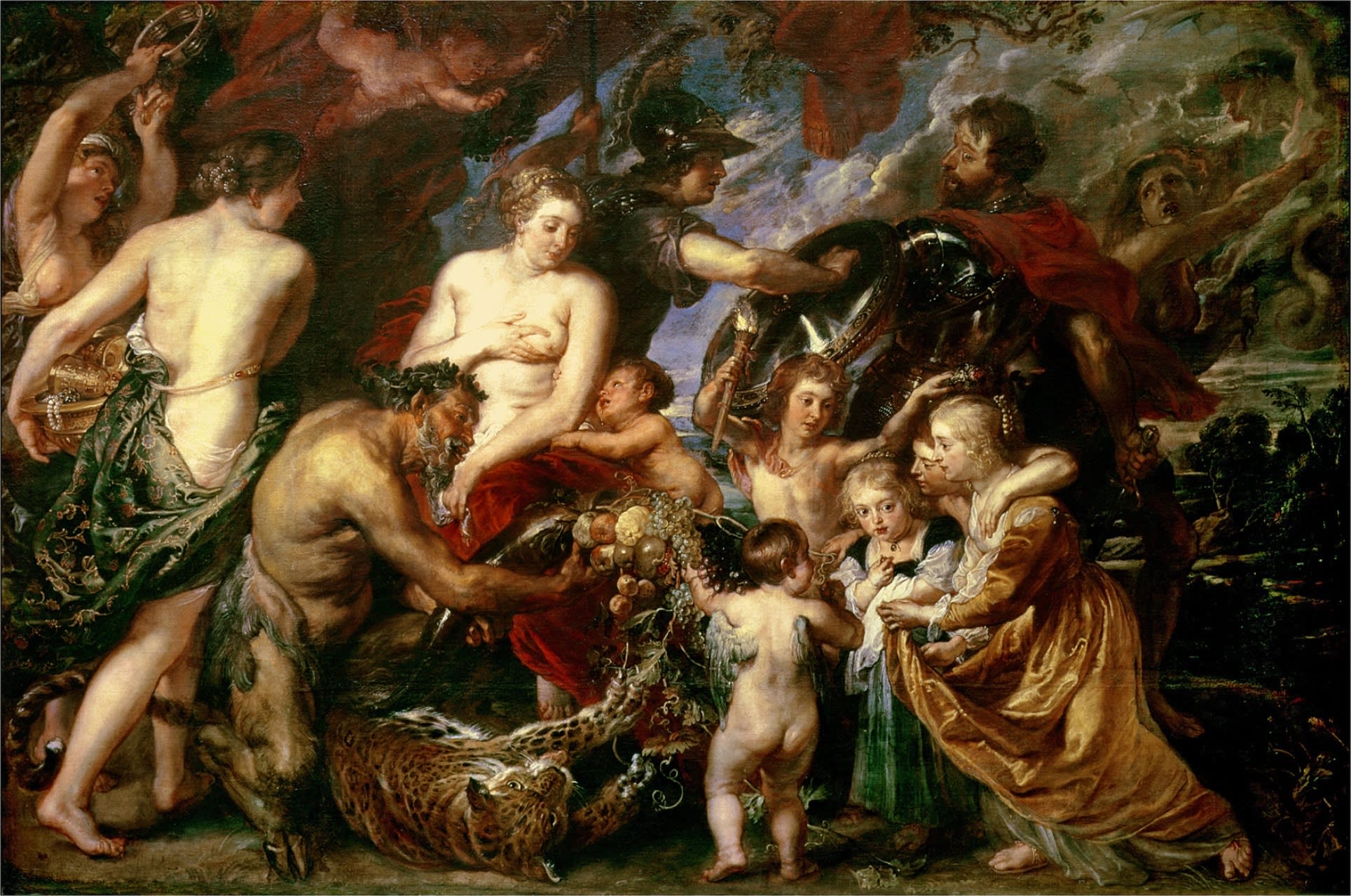 Rubens was one of the greatest polymaths of his century. He was perhaps the only artist in history to be proficient in both Latin and Greek, and he accomplished feats of both great painting and diplomacy. It is unsurprising that the achievement of Minerva Protects Pax from Mars is both artistic and intellectual. No fewer than fourteen figures are included, requiring a supreme technical effort of composition and spatial organisation. What is more, the allegory was of Rubens's own invention – pieced together from his reserves of classical learning and put to use in a diplomatic mission of peace and amity, from Philip IV of Spain to Charles I of England.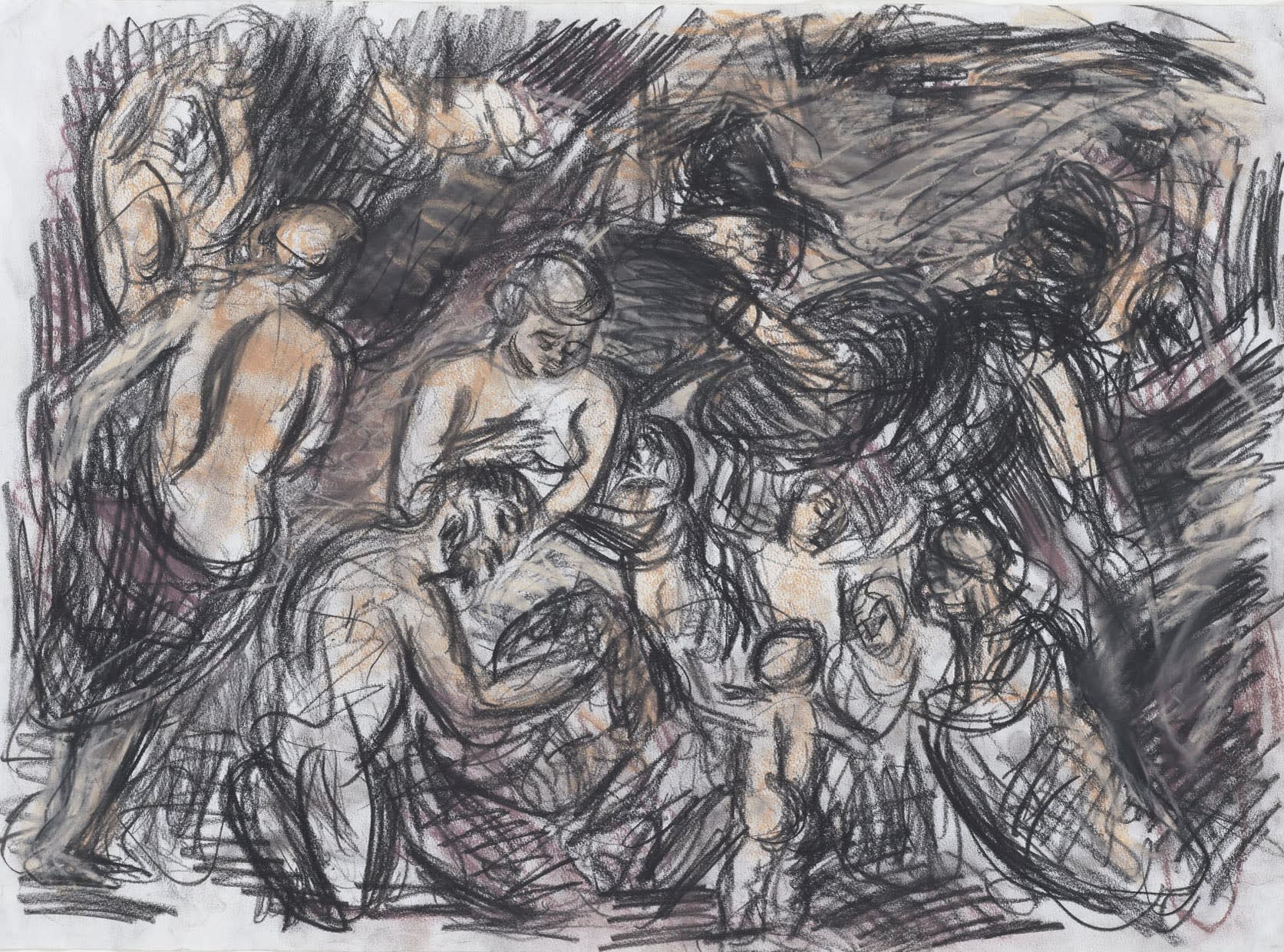 Along with certain other works in the National Gallery's collection, Kossoff had been drawing from Rubens's painting since the early 1950s. Only a small number of these works survive. Nevertheless, by repeatedly studying from the same picture over a number of decades, Kossoff developed a familiarity with Minerva Protects Pax from Mars tantamount to that of Rubens himself. It was this deep familiarity that underpinned the momentous execution of Kossoff's own painting in June 1981. Working from drawings in his studio, the gesture of marking in the salient compositional features must have been almost automatic – a sequence of masses and motifs which flowed from his brush like running water.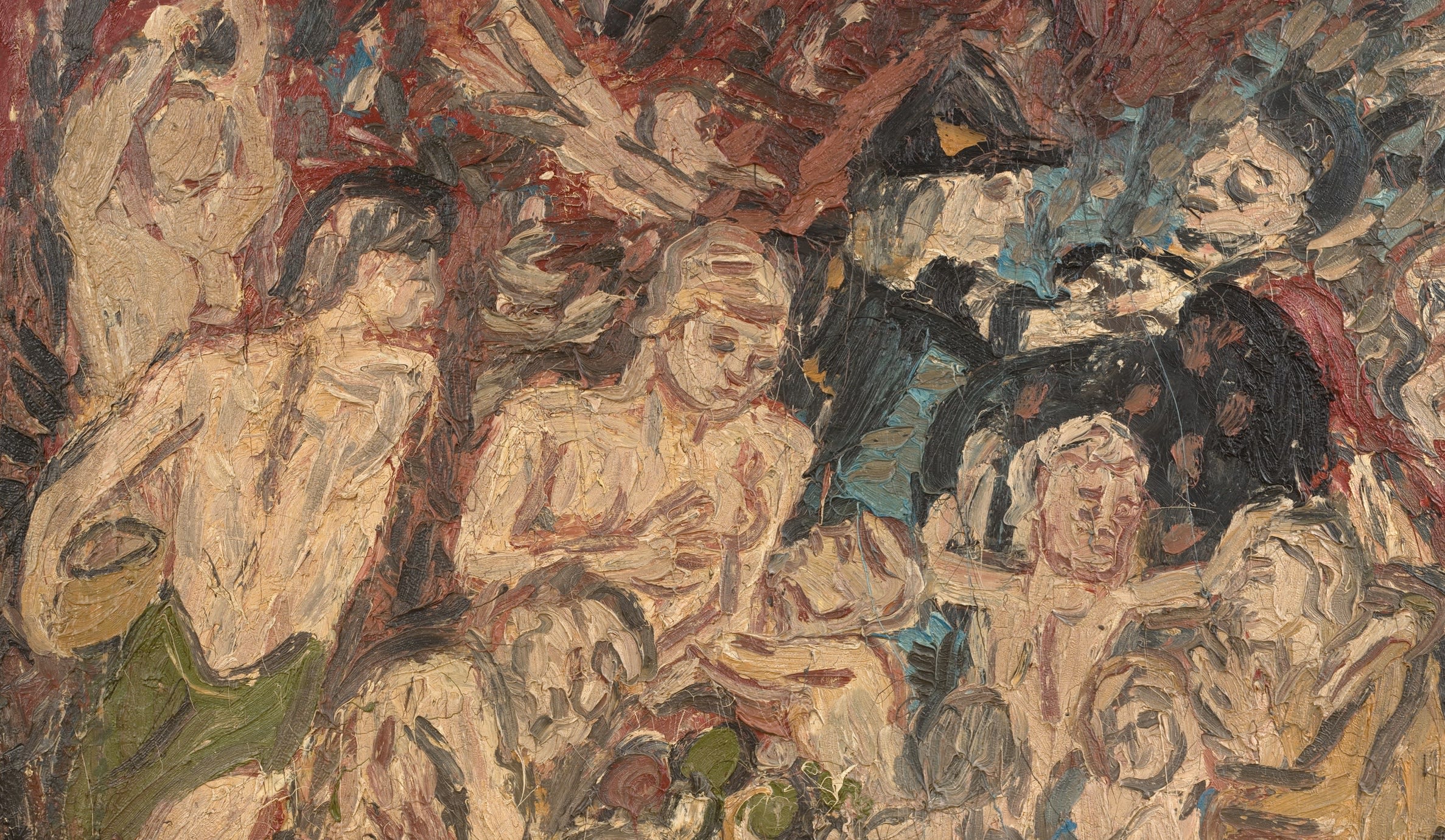 A lifetime endeavour, his engagement with those long-dead painters did not come to an end there. He returned to the work of Rubens, Poussin, Cézanne and others with renewed vigour in the 1990s, further entrenching his distinguished position in the very canon of Western art which he humbly sought to study and learn from..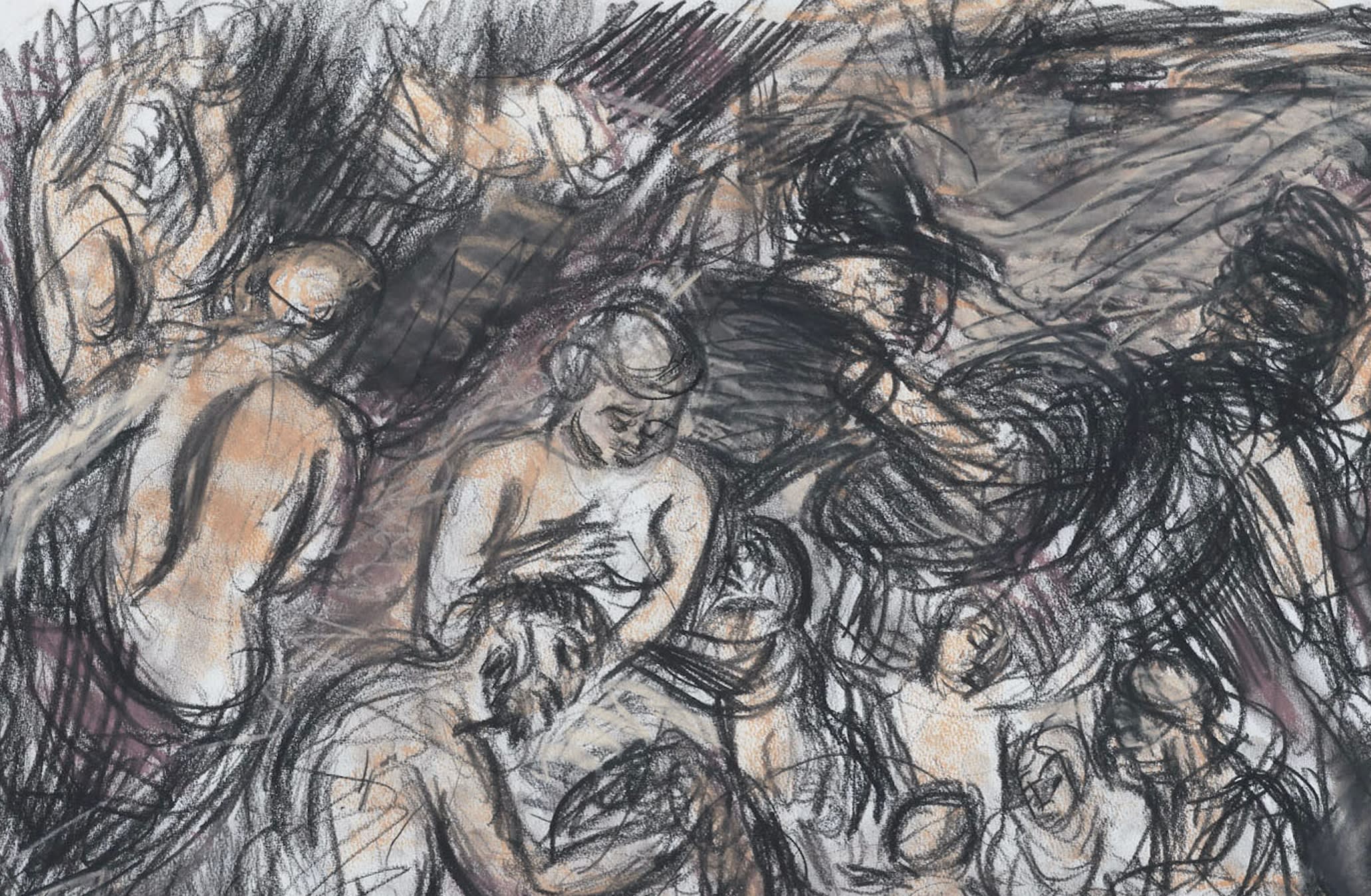 IMAGES
1. Leon Kossoff, Study from 'Minerva Protects Pax from Mars' by Rubens, 1981, oil on board, 183 x 245 cm, Private Collection
2. Study from 'Minerva Protects Pax from Mars' by Rubens (detail)
3. Peter Paul Rubens, Minerva Protects Pax from Mars, 1629-30, National Gallery
4. Leon Kossoff, From Rubens 'Minerva Protects Pax from Mars (Peace and War), 1995-96, compressed charcoal and pastel on paper, 56 x 76 cm
All works by Leon Kossoff © Leon Kossoff Artistic Estate
April 21, 2020