Over half of the UK's pork consumption today is imported. In recent years, a quarter of these imports have come from Denmark.
InSight No. VI
Eric Kennington
Portrait of Carl Hansen, 1938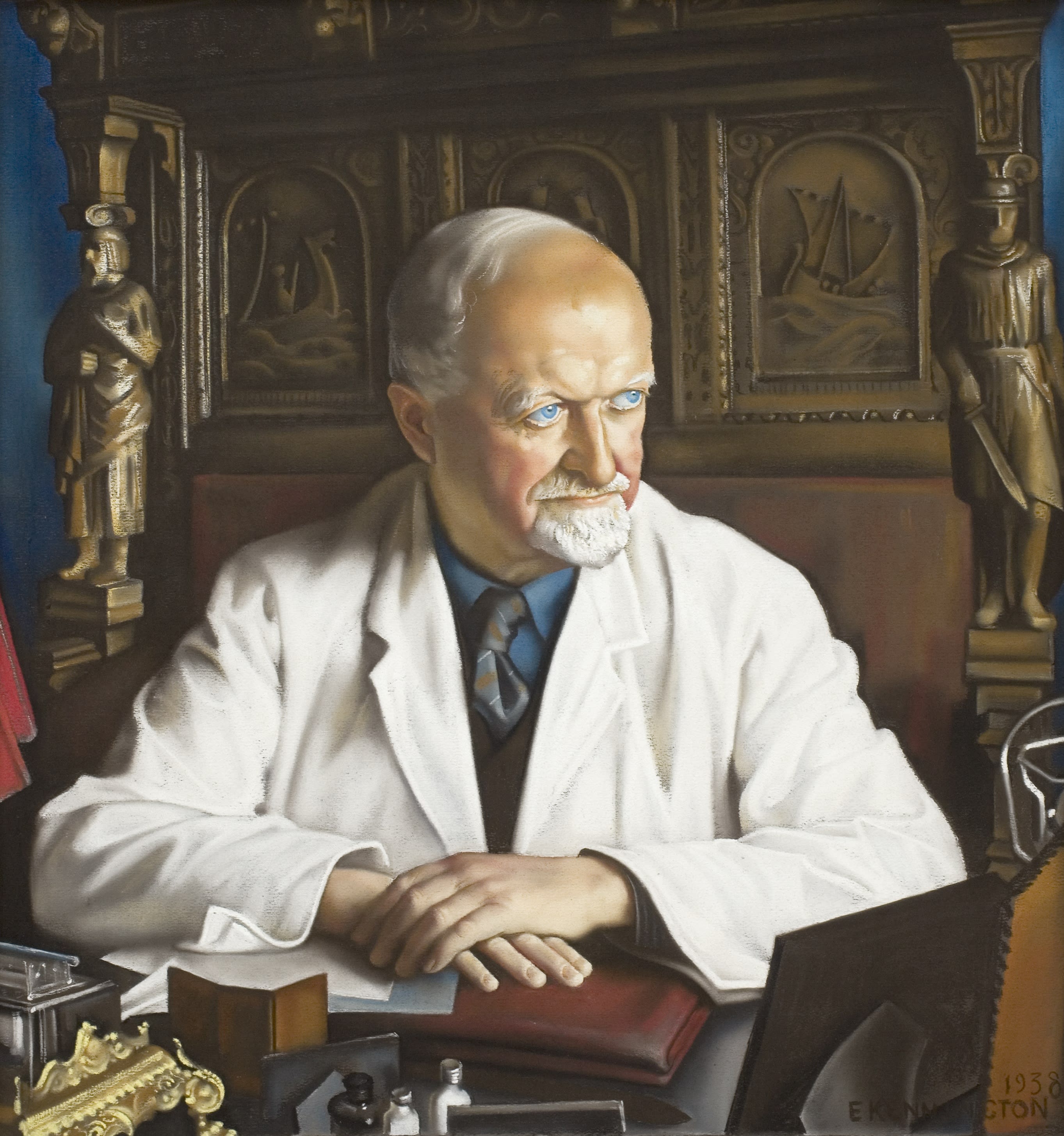 This is not a recent phenomenon but extends at least as far back as 1902 – the year in which the Danish Bacon Agency was established in London, which later became the Danish Bacon Company. The founder of the company, and its managing director for several decades, was Carl 'Charlie' Hansen: the subject of this striking portrait by Eric Kennington (1888-1960) from 1938.
Like his contemporaries Paul Nash and Richard Nevinson, Eric Kennington made his reputation as an official war artist during the First World War. (As it happened both Kennington and Nash attended St Paul's School, where Kennington had encouraged the younger boy's artistic ambitions.) Kennington was one of the first to be chosen as an official war artist, along with Muirhead Bone and William Orpen. This was partly a matter of chance amidst the chaos of war, though it undoubtedly reflected his standing among his peers. Kennington's powers as a portraitist first became apparent in the years before the First World War, and his portrait of an Italian solider from 1910 is an early, understated work showing the influence of Manet's realism and the huge popularity of Velázquez at that time.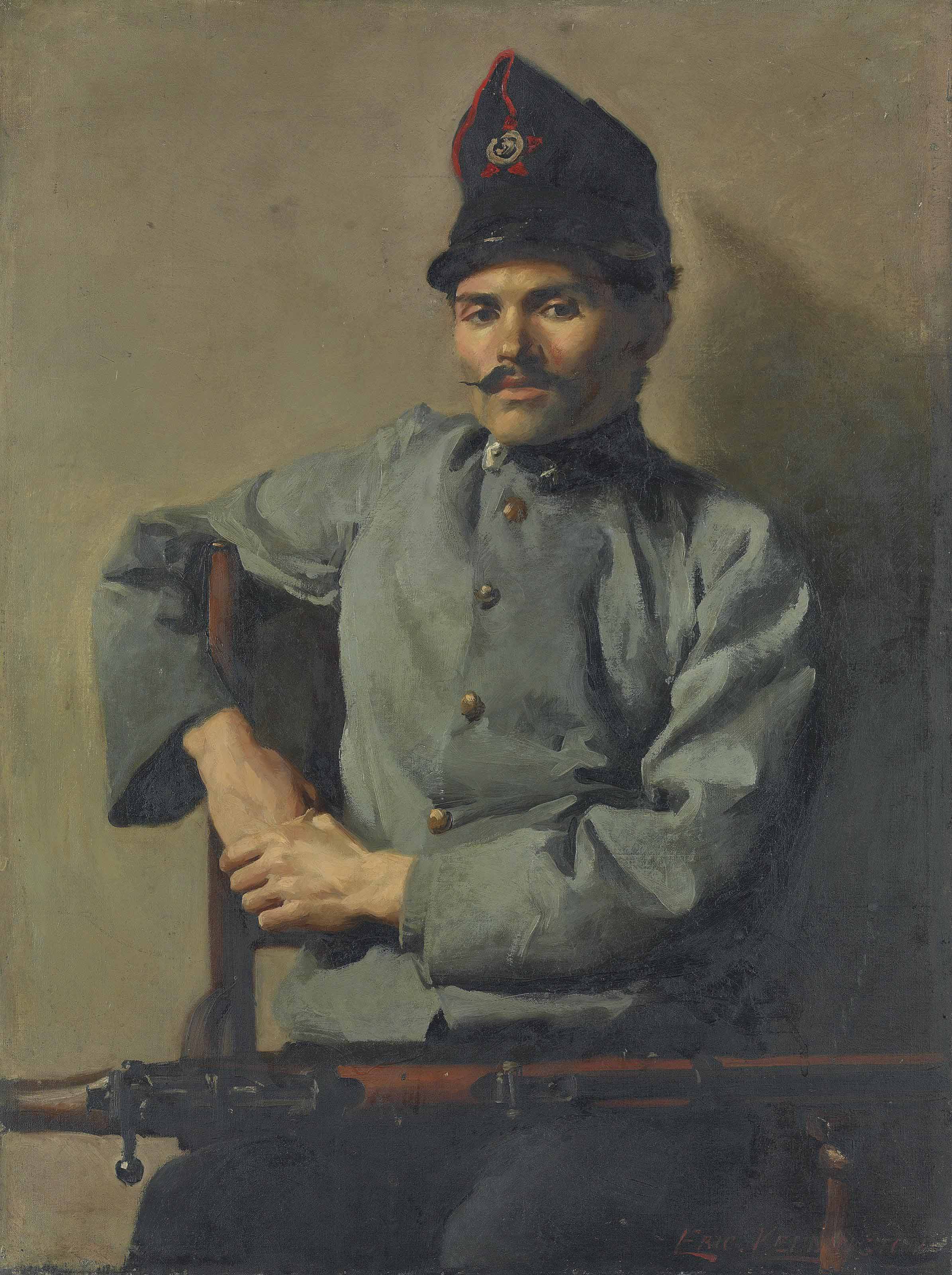 The portrait of Charlie Hansen is executed in a style of vivid, super-realistic figure painting that was current in the 1920s and '30s. Using pastels, Kennington depicted Hansen with an overwhelming quantity of visual information: the neat strands of his beard, the crisp individuated folds of his white coat, the precise highlights glinting on the objects on his desk, and so on. Hansen's skin is luminous, and the shadows in his hands and face are impeccably modelled. All these aspects of the portrait give it a vivid sense of 'presence', as if the sitter were actually sitting in front of us. His piercing blue eyes might turn on us at any moment.
Another super-real portraitist of the inter-war years was Meredith Frampton. This medium of heightened visual accuracy lent itself to a detailed rendering not just of the sitter's appearance, but also of the objects which symbolised their professional identity. Frampton delighted in the professional lives of his sitters, just as Kennington did when he portrayed Hansen in his white coat - that of either a chemist or a butcher. In a painting of Fredrick Gowland Hopkins, a biochemist and lepidopterist, Frampton depicted in vivid detail the paraphernalia of the scientist's work bench: test tubes, a boiling flask, corked phials, a loose electricity cable, and an elaborate tower of distillation equipment. As with Hansen in his white coat, Frampton's sitter wears his professional credentials on his sleeve.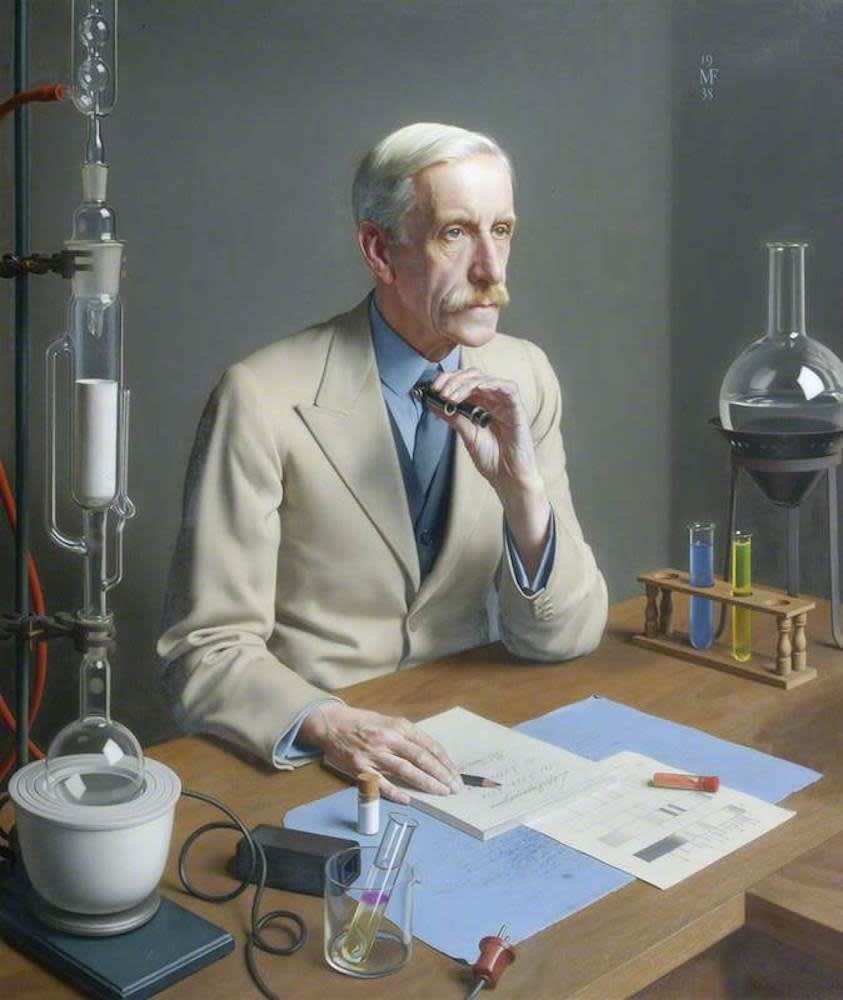 Aside from the middle-class professionalism of their sitters, there is also the ego of the artist to consider. Such detailed paintings were difficult to make. The pastel technique used by Kennington in his portrait of Hansen required a steady hand, a quick eye and agonising patience. The same can be said for Frampton's portraits. It is unsurprising then that both artists took care to give their work prominent signatures – their own unique symbols of professional pride.
The super-realist style used by Kennington and Frampton was not just the preserve of British portrait painting. It was closely related to contemporary Art Deco painting in Europe and, though better known for her extravagantly erotic pictures of the female nude, Tamara de Lempicka also used a similar manner in her commissioned portraits, such as that of the French sailor Pierre de Montaut. Despite its clear-eyed, sharply outlined manner, there is something anti-naturalistic about these paintings. They overstep the mark of what is real and enter the realm of the uncanny. Kennington's portrait of Carl Hansen exemplifies this, belonging to an intensely stylish moment of 1930s pomp and overstatement.
IMAGES
1. Eric Kennington, Portrait of Carl Hansen, 1938, pastel on paper, 97 x 93 cm
2. Lorries of the Danish Bacon Co., Kilnhurst, South Yorkshire, 1957
3. Eric Kennington, The Italian Soldier, 1910, Private Collection © Estate of Eric Kennington
4. Portrait of Carl Hansen (detail)
5. Meredith Frampton, Frederick Gowland Hopkins, 1938, The Royal Society © Estate of Meredith Frampton
6. Portrait of Carl Hansen (detail)
7. Tamara de Lempicka, Portrait of Pierre de Montaut, 1931, Private Collection © Victoria de Lempicka
April 14, 2020