Piano Nobile's

'InSight'

series takes a detailed look at art, artists, critics and collectors, highlighting the stories behind a single artwork, relationship or event. As enforced isolation disrupts our everyday lives, InSight

responds in a small way with words and images to take you somewhere else.
For more information about featured works and prices, please

contact the gallery

.
InSight No. I
EDUARDO PAOLOZZI
Newton After Blake, 1995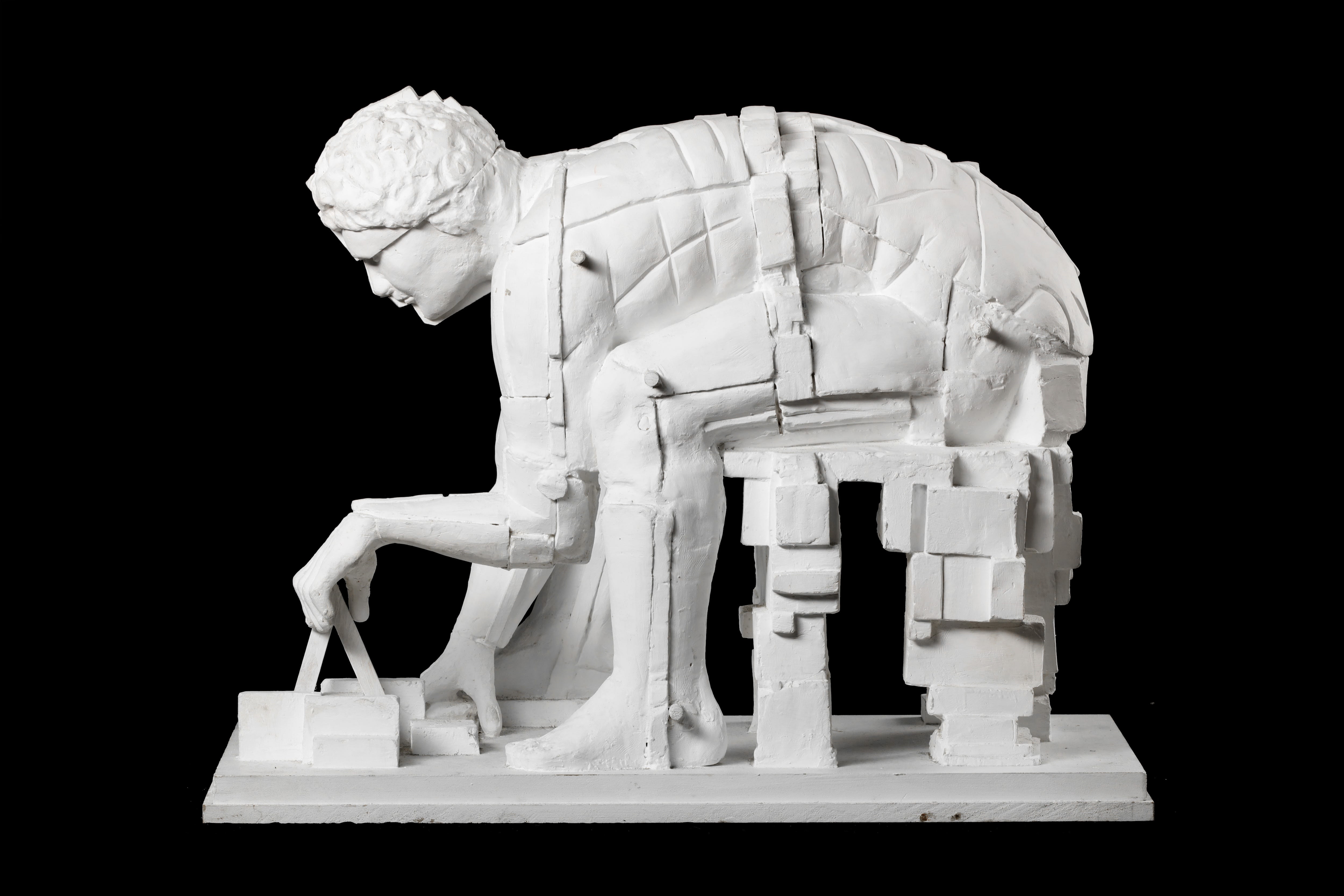 Sometime in the early 1990s, Eduardo Paolozzi was paid a studio visit by his friend the architect Sandy Wilson. At the time, Wilson was working on plans for the British Library – a monumental project on the Euston Road, London. His design involved a high-density perimeter building wrapped around a large open courtyard, at the centre of which Wilson intended a sculptural centrepiece.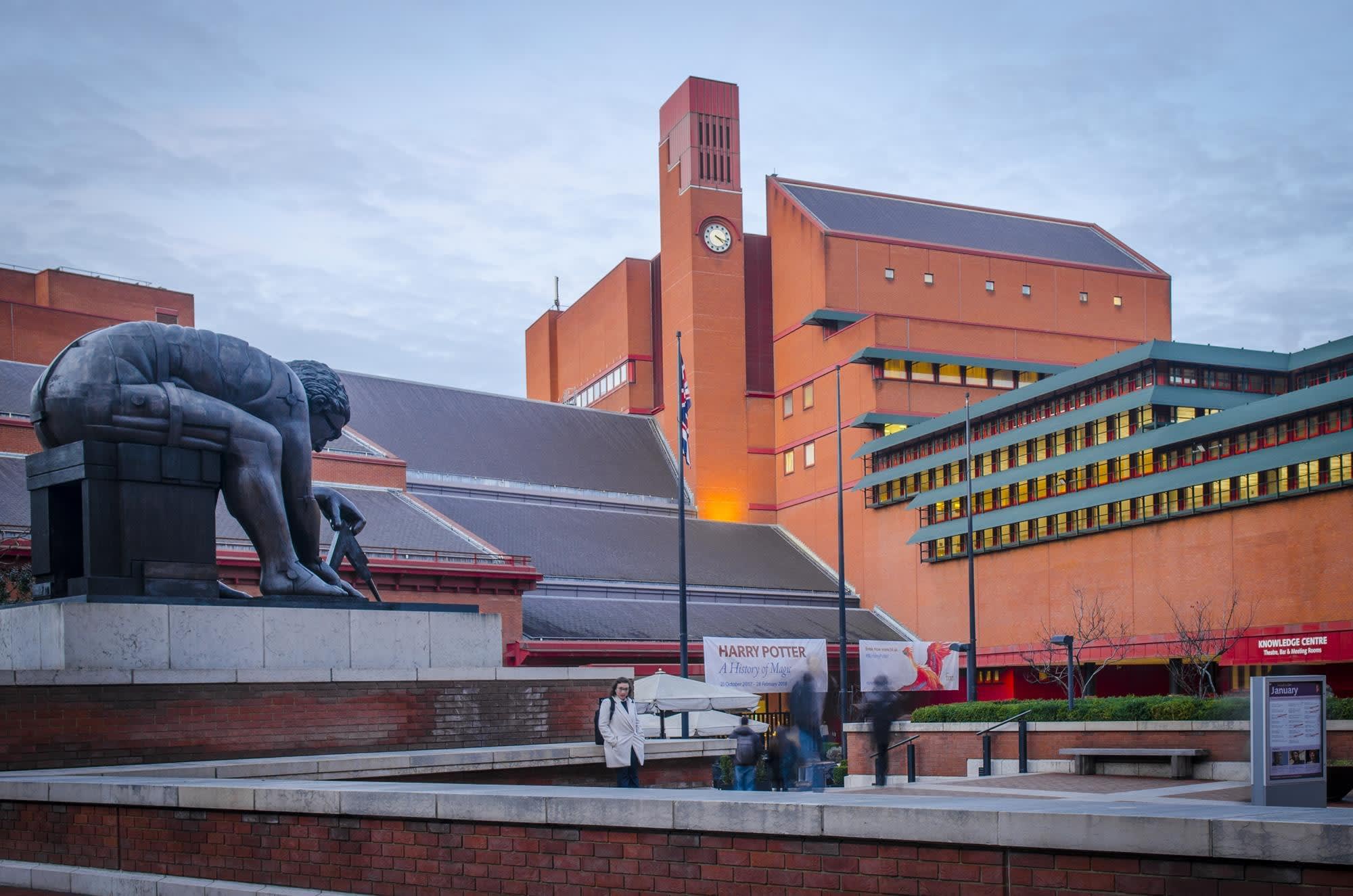 He had sketched out a monumental seated figure but thought no further about it until his visit to Paolozzi. Wilson later described a eureka moment: "Imagine then my delight when, […] on one of my visits to Eduardo's studio, I saw the maquette of a monumental seated figure mysteriously leaning over to perform some strange ritual!" Paolozzi had first started exploring ideas for an Isaac Newton figure in the late 1980s. His composition drew from a unique coloured print by William Blake, a remarkable image which pictured Newton sitting at the bottom of the ocean in the nude.
This specific plaster was produced during the period when Paolozzi was working on the large British Library sculpture. The "ritual" which so intrigued Wilson involves a compass – the traditional iconography of an architect and an understandable lure for him. Aside from the British Library, Wilson was acclaimed as a contributing architect to the extension at Pallant House Gallery, Chichester, which was primarily designed by his wife's practice, Long & Kentish. (The extension was only needed in the first place after Wilson and Long agreed to donate their significant art collection of twentieth-century British art.)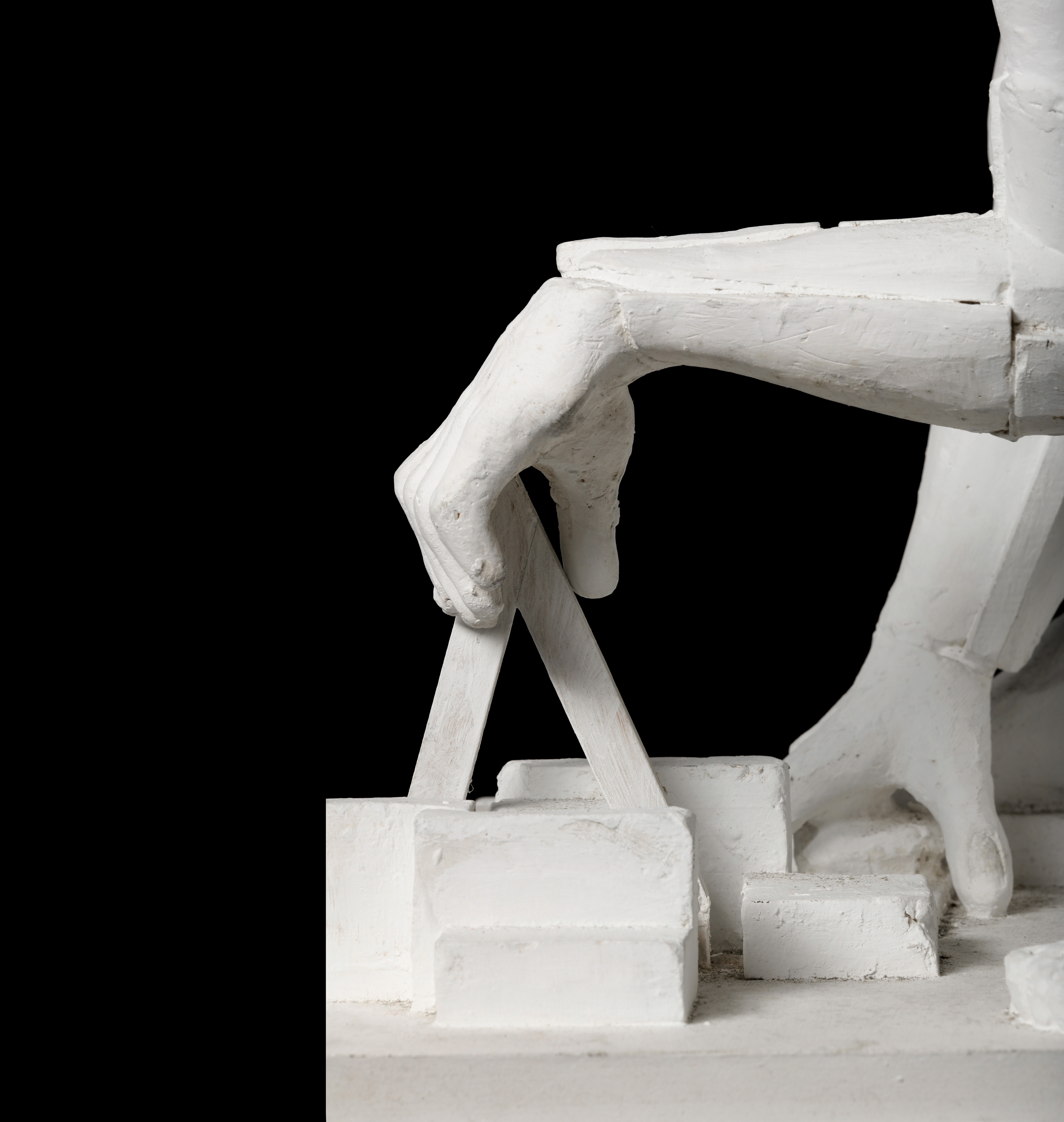 The work started life as a plain cast of the Newton After Blake figure. However, Paolozzi was known to his friends and colleagues as a man who climbed through the rubbish skip, fishing out sculpture-worthy materials to enrich his work. As such, he proceeded to mould the plaster cast and augment it using a mixture of woodwork and reworking. The cranium of Newton's head has been sawn apart, re-placed, and interspersed with a number of gears. The base on which the figure rests has been built-up with individual hand-painted blocks of wood - a small cubic landscape with a mechanical flavour.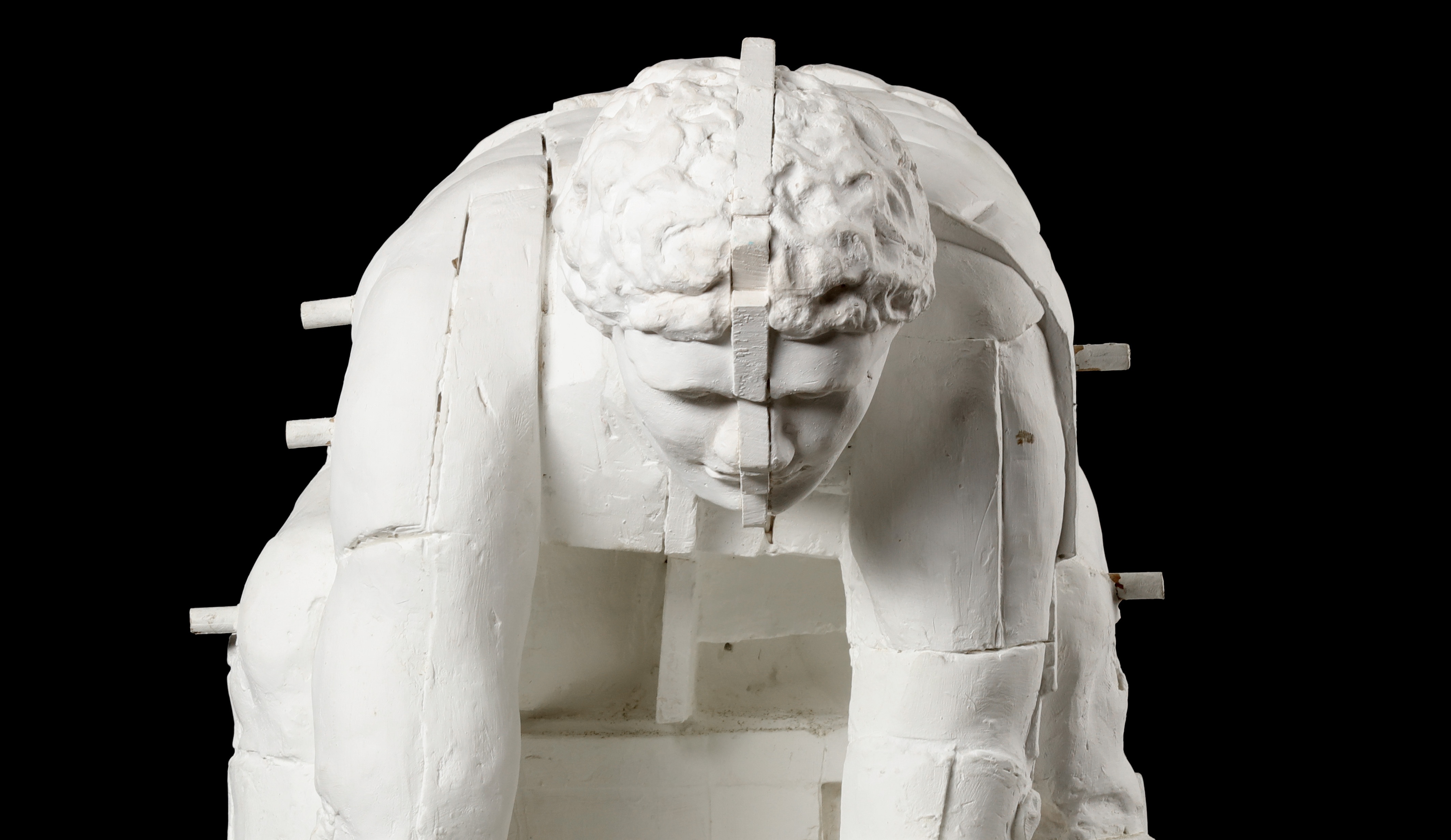 Once Paolozzi was finished, Blake's Michelangelan Newton had been transformed into a cyborg vision and a modern Prometheus – part man, part machine – worthy of Frankenstein's monster. The result is both playful and serious, steeped in art history and embellished from the skip.
Images
1. Eduardo Paolozzi, Newton After Blake, 1995, plaster and mixed media, 25.4 x 50.8 cm
2. The British Library, London, completed 1997
3. William Blake, Newton, 1795-c.1805, Tate Collection
4. Newton After Blake (detail)
5. Newton After Blake (detail)
March 25, 2020